Tasty's New Line Of Toys With Little Tikes Is So Cute, I Wish They'd Existed When I Was A Kid
*Sneaks into playroom when kids are asleep and plays with color-changing cookies because they're just too cute*
We hope you love the products we recommend! All of them were independently selected by our editors. Just so you know, BuzzFeed may collect a share of sales or other compensation from the links on this page if you decide to shop from them. Oh, and FYI — prices are accurate and items in stock as of time of publication.
I don't know about you, but when I was a kid, I was obsessed with my play kitchen and food — which is weird because I don't really cook much now. But when the pots and pans and ingredients were made of plastic??? Count me in!
Of course, this was back in the bygone days of the '90s. Today's kiddos have all kinds of stuff to entertain themselves with, including the world of the interwebs and Tasty videos of people making super fun recipes IRL. So I guess the play food of today would have to have a little something **extra** to keep up with all that. A secret ingredient, shall we say.
Well, enter BuzzFeed Tasty's new line of toys with Little Tikes, which has updated the toy kitchen and play food for 2019 — with cool features from color-changing food to a place to hold a smartphone so they can make their own Tasty video.
First, there's the kitchen and activity set, which can, ingeniously, be adjusted to two different heights so your culinary cutie can keep playing with it as they grow. It's also got tons of adorable details like a fridge, oven, and microwave that actually open and stove knobs that make sizzling sounds!
Next up is the totally OMG-worthy cookie decorating kit that's low-key magic — just pop the adorable emoji face cookies in cold water and they change color (because everyone knows that, besides eating them, decorating is the best part of making cookies)!
Then there's the delightful cake and ice cream playset so they can basically throw themselves a pretend birthday party every day. It comes with toy ice cream they can scoop themselves and slices of cake with different hues inside that they can match up to help them learn their colors!
And of course, we couldn't forget about the most important meal of the day. The breakfast set features stackable pancakes, a peeled banana, smiley bacon, a sunny-side-up egg, a glass of juice, and everything they need to get it prepped (including syrup, obviously).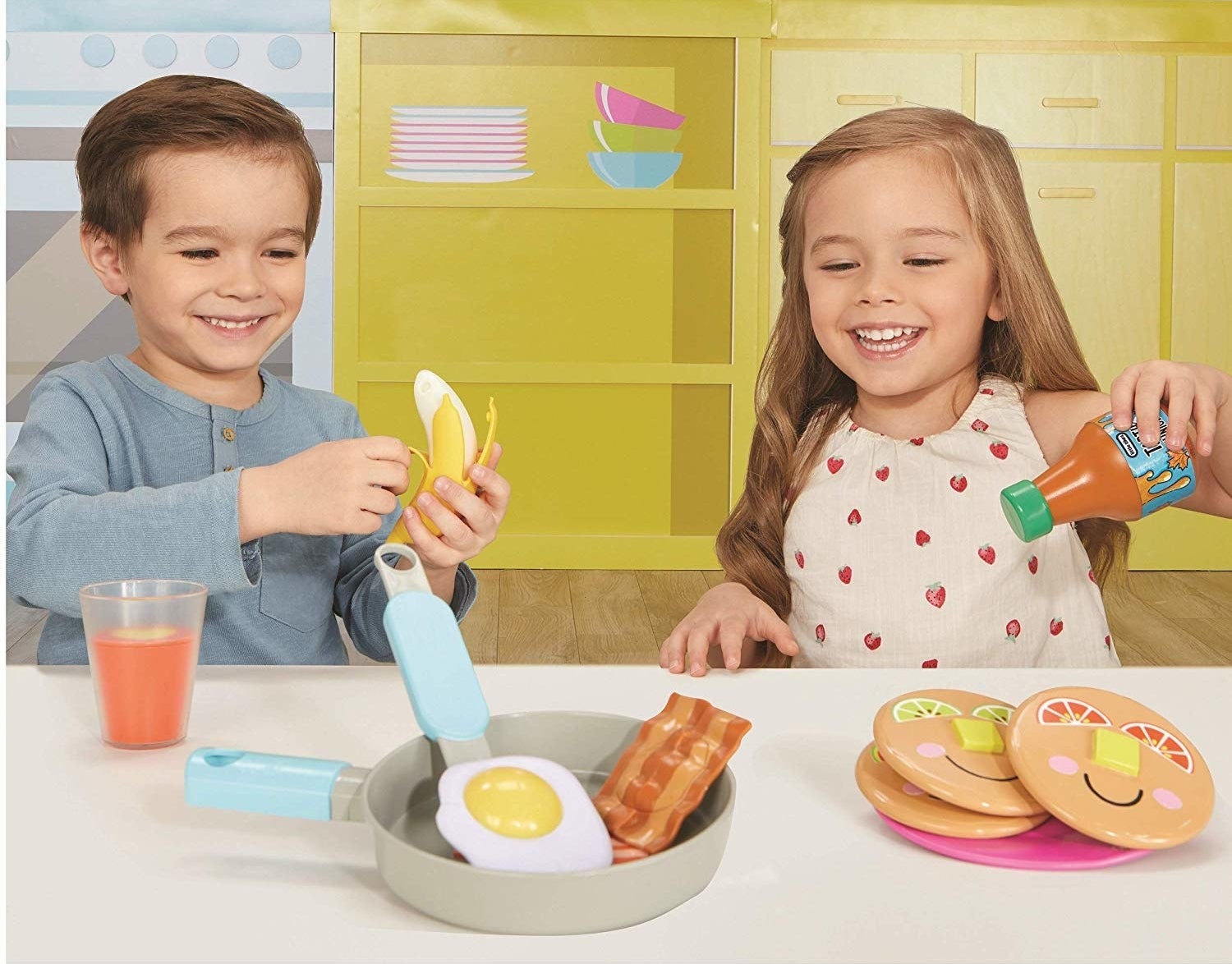 Basically, I'm gonna be super jealous of any kiddo that gets their hands on these, but I can't wait to see what they cook up!
Shopping for something specific? Check out BuzzFeed Reviews to find the best things for every budget!