1.
An adjustable foot hammock to make long days at your desk less miserable. Your tootsies can lounge like they're on a resort vacation while you inch ever closer to inbox zero.
Promising review: "I ordered this hammock because it was the only one I found that offered universal installation AND positive reviews. I attached it to the holes in my work desk that are for cords and cables. It works perfectly!! Bonus awesomeness: I have a pinched sciatic nerve, and using this hammock provides the perfect stretch for the piriformis muscle. If you've had sciatic pain, you know this muscle. It's also inconspicuous under my desk, so it doesn't draw attention when I'm using it." —AuntieD
Get it from Amazon for $20.97.
2.
A Flip It! bottle emptying kit, which'll convert any pesky pump bottle that's impossible to get the last few drops out of into an easily squeezable container you can store upside down without leaks. Whether it's ketchup or lotion, you'll never waste another ~flipping~ drop of product again.

It comes with two stands/caps and six adapters to fit any size bottle. Just make sure it's a bottle that can actually be squeezed, since it won't work with totally solid bottles.
Promising review: "Life-altering. I will never fight with a pump bottle again. As soon as it gets difficult to pump anything out of any bottle, I will waste no time in 'flipping it.' I'm so glad someone created this. Upside-down bottles are such a small annoyance in life, but this simple solution really means a lot. 100% worth the price." —Amazon Customer
Get a pack of two stands and six adapters from Amazon for $16.

3.
Unbelievable stainless steel cleaning wipes for anyone whose appliances are so stained, they're considering buying new ones. Do yourself a favor and try these wonders out before you do.
Promising review: "If it was possible to give 10 stars, this product is definitely worth the 10 stars. I originally bought this in the store and was most impressed by how well it cleaned the refrigerator from all finger and water marks. But then I ran out and could not find it at the store and and bought expensive spray that was horrible. Got online and found my product of wipes again! My friend came over and said, 'what in the world did you clean your refrigerator with because it looks brand-new?!' It is the best product I have ever used on my refrigerator and stove! Just wipe down and let it sink in, then wipe over with a clean soft towel (etc.) for a polished shinny look! IT IS MARVELOUS! I SAY MARVELOUS! Don't bother with sprays! I bought two containers so that I will not run out for a long time!" —Roie
Get a two-pack from Amazon for $12.95.
4.
A fridge- or wall-mountable reminder device to ensure you always remember to take essential medications and save you from the daily mental dance of "I thinkkkkkkk I took my meds...." 🤔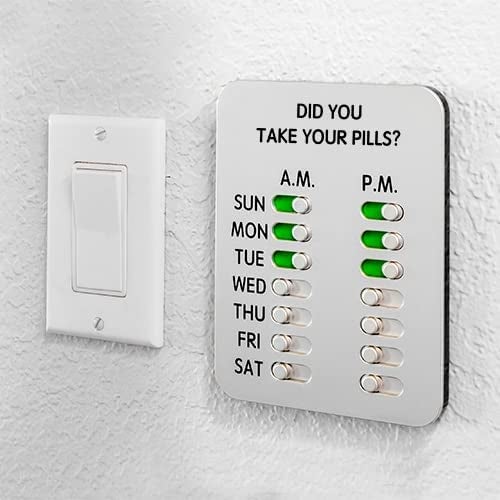 Promising review: "Good product — works well. It's rectangular, about 4 by 6 inches, and is a perfect size for a refrigerator or mirror. It comes with magnetic feet but also with some double-stick pads for use on a mirror. The mechanism works well and slides easily — should not be a problem for use by the elderly. Purchased one for an elderly parent and we use a second one so that my spouse and I don't both medicate the cat." —Jim
Get it from Amazon for $9.95 (also available in five other styles, including "Did you feed the fish?" and "Did you brush your teeth?").
5.
A revolutionary ScratchPad that'll basically get your dog to file their *own* nails while scratching away. Pupper pedis will never be the same, and the long-suffering,  paw-scratched surfaces in your home will be oh-so-grateful.

It's from a small biz based in Atlanta, Georgia!
Promising review: "Like many, my fur child will not allow anyone near his nails. After the first two attempts with this, I thought it wasn't going to work — he just did not want to scratch. But the third day, I got it out and asked him to scratch and off he went! You definitely want to check his nails to make sure they are somewhat even. Mine had a nail that was shorter than the others so it was getting close to the quick. We use hotdogs (chicken and turkey) as his treat, and we made sure that this is a treat he only gets when doing his scratches, which makes it even more exciting. Still have to work on the back paws but I'm confident he will get there. We got the medium and coarse, the medium is just fine. I think the coarse would be too much when first training since you'll want to do it more often. Highly recommend!!" —tinarydar3
Get it from ScratchPadForDogs on Etsy for $44.95+ (available in medium or coarse grit or a combo and in four styles).

6.
An absolutely ingenious purse-cleaning sticky ball, because if you're anything like me, the price of being prepared with anything you could possibly need in your bag = a lot of dust, pretzel crumbs, hair, and bits of chipped nail polish (from rummaging) floating around at the bottom of your precious purse. This lil' friend has a washable and reusable sticky ball inside the plastic casing, so it'll roll around and collect all that grossness and you can continue blissfully not cleaning your purse out for months at a time 😜.

Promising review: "Picks up a lot for being so little. This little ball is genius!! Rolls around in my purse; which I live out of. It picks up a lot lint, debris or even crumbs. Easy to find with the bright pink. Just remove and wash and it's ready to go again. The price was great and something I can use for years. If you live out of your purse this a must-have!!" —dj3biggs

Get it from Amazon for $12.99 (available in two colors).
7.
Miracle-Gro orchid food spikes that are, in fact, miraculous. Just pop 'em in the soil and let them work their plant-saving, bloom-boosting magic. They won't need to be replaced until two months later!
I like to have an orchid in my apartment most of the year, but they tend to lose their blooms after a couple of months under my inexpert care. My current plant bb Ingrid, however, is a survivor. While I admit I have been extra attentive to her (every parent has their favorites), maybe she's just built different (she survived at least a couple of months *and* through travel even before I got her the spikes), but these have definitely extended her life. I got back from a trip where I'd left someone else in charge of watering her and she looked super blah, with very droopy leaves. These perked her up pretty quickly — the leaves are perky again and I even think her blooms started looking less pale. I've now had her for six months and she's just now starting to loose most of the blooms that have been there the majority of that time, but her leaves still look great. Incredibly grateful to these spikes for helping Ingrid live her best life.
Promising review: "Takes the guesswork out of orchid care. Before this I never met an orchid I couldn't kill. Orchids are so sensitive to everything I never had any success in keeping them alive. This handy stick obviously releases the right amount of fertilizer with the limited water orchids require. Highly recommend these. Easy, foolproof, and two months out still alive and blooming!" —GeorgiaGirl
Get a pack of 10 from Amazon for $4.18, and get food spikes for other types of plants here.
8.
A sleep mask with built-in Bluetooth headphones so you can use your soothing sounds to drown out the world around you and snooze hard. Plus, you can play your relaxing audio of choice without bothering your partner. @ my ex who would turn on white noise full blast from his phone without asking me first, please see the below.
They take around two hours to fully charge and can play for up to 10 hours with a single charge!
Promising review: "I love, love love this mask! I was truly impressed by the sound quality of those little speakers! Very comfortable to wear and sleep in various positions. It is a blackout mask and trust me, if you have it on correctly, you will not see any light at all. I normally have difficulty falling asleep, but now I can't wait to put it on, because I Bluetooth it to my phone and turn on my sleep meditation and I promise you I am sleep in about 10 mins or less. I accidentally overslept last week because I forgot to turn my alarm back on and when I took off the mask the sun was shining bright so I knew I was late; thankfully not too late. The charge on the mask lasts a long time as well." —Amazon Customer
Get it from Amazon for $18.99+ (available in six colors).
9.
An Elle Woods Funko Pop! figure (holding Bruiser, obvs) that's what's been missing from your life since that fateful day in the early aughts when you first heard the line "What, like it's hard?"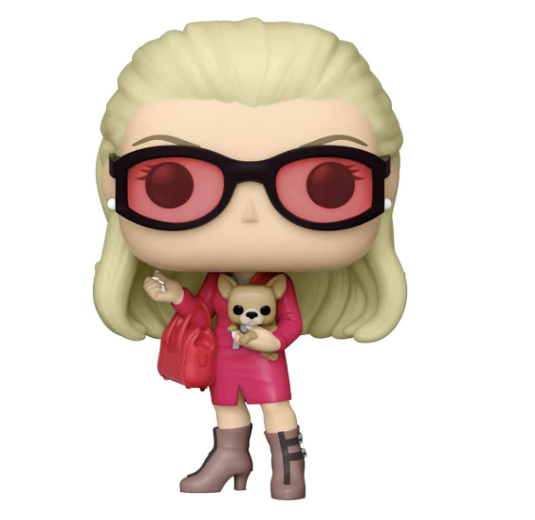 10.
A very helpful soap-dispensing dish brush to keep your hands far away from all the gunk and spare you from ever touching an icky sponge again. Forget reaching for multiple products — just grab this wonder and get all your plates, pots, and pans clean in a flash.

I actually put this in my dad's stocking last Christmas, but it was a gift for the whole household. The handle is the perfect length and thickness to give you lots of control while keeping your hands clean, and the soap-dispensing button is so easy and satisfying. It does need frequent refills, but those are easy — just unscrew the handle! I also didn't even realize it has a built-in scraper on the end till just now, so I can't wait to try it out and potentially fall in love with this thing even more than I already have.
Promising review: "The best dish brush! Bristles are tough but soft. They don't break down over time easily. And they don't scratch my dishes. Soap dispenser has a button to squirt out dish soap easily. Works well, every time. Biggest con for me is how little dish soap it holds. But then again, I'm known for using A LOT of dish soap so it's partly my fault for using it all up so quickly. It's a small con for me since this is easily my favorite dish brush I've had. I bought a second one and filled I with Dawn and white vinegar and keep it in my shower to clean as I shower. Super easy and doesn't feel like a chore. Highly recommend!" —SMH1106
Get it from Amazon for $11.99.
11.
A six-outlet wall charger that truly has everything — ports that work for larger chargers, two USB ports, and an LED light around the side that automatically turns on when the room gets dark, but also has a touch sensor and three brightness settings. It'll make charging your endless devices a breeze day or night and save you from the daily dance of unplugging your computer to plug in your phone next to the couch, and so on and so forth, ad infinitum.
Promising review: "These things are amazing. I have one in almost every room of my house. The light is just enough to be able to see at night to use the restroom or navigate the house without turning every light on. I love that the USB ports are built in — no more looking for an adapter. AND the plugs are set far enough apart you can plug some of the bigger things like Google assistant or large AC adapters and still have plenty of room!!! These are a must have in a tech or smart home." —SeiranCrow
Get it from Amazon for $19.97.
12.
Fenty Skin's Hydra'Reset Intensive Recovery Glycerin Hand Mask, because Rihanna can reinvent pregnancy fashion, find love in a hopeless place, become a billionaire, survive a shower at the Bates Motel, and produce perfect lingerie, so why would we ever doubt she could cure our dry hands, too?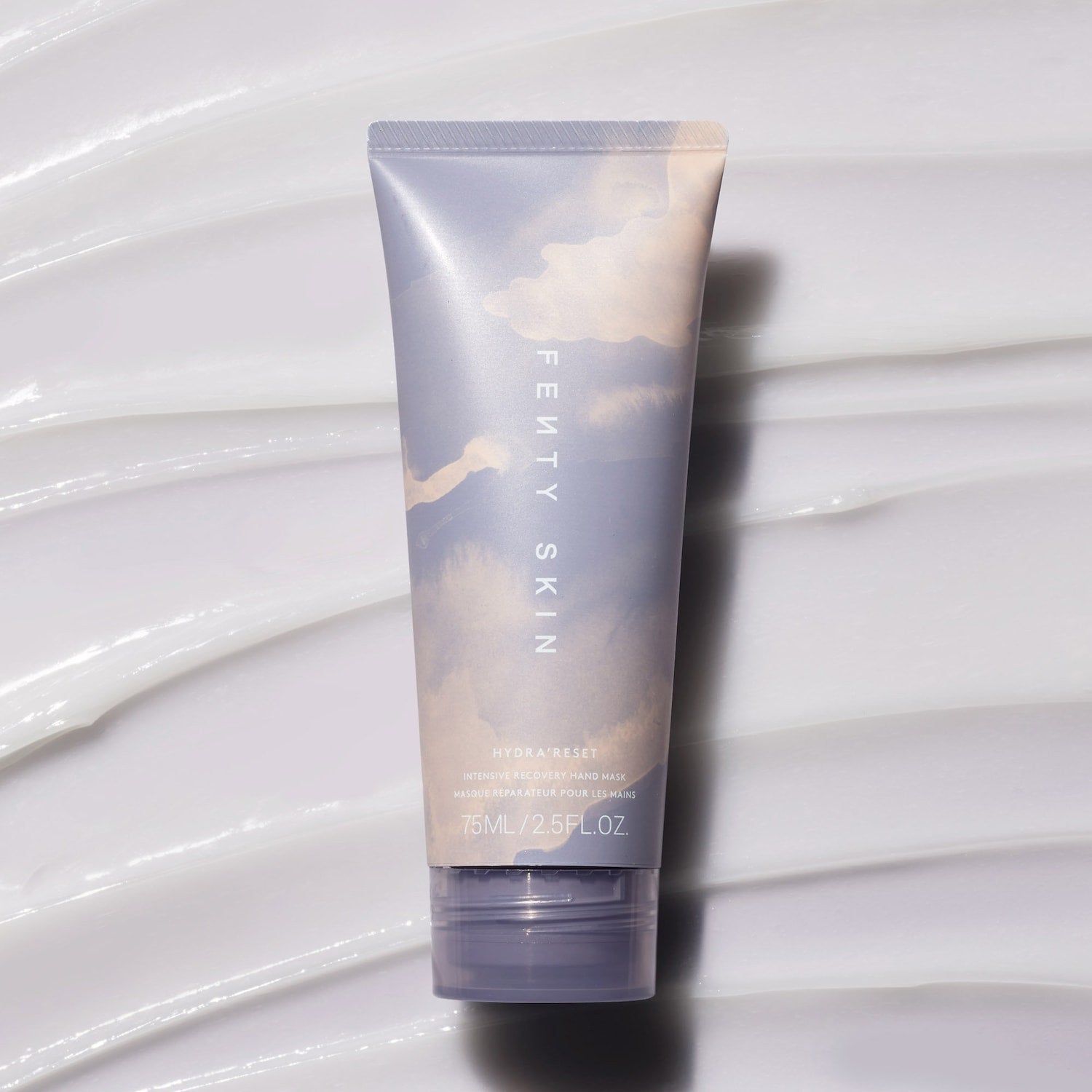 This cruelty-free goodness is meant to be used overnight to get your currently miserable palms and knuckles feeling like new. Did I finish writing about this then immediately order it? Maybe.
Promising review: "I suffer from pretty dry hands due to excessive hand washing. This is a dream come true! I used to put on regular lotion at my hands at night but this is a better, more effective version of that. A little goes a long way. Though I can feel a bit of a residue at first, it's not greasy. Not only do I wake up with my hands feeling softer and still moisturized, but I feel like it helps my hands stay that way throughout the day. it has a very light fresh scent...nothing wild. I also love that the package is recyclable!" —MissJeena

Get it from Sephora for $22.
13.
A clever plush elephant designed to be worn on your baby's back to protect the back of their head when they take a tumble (which they do constantly). As an added bonus, wearing this will make 'em look even cuter, if that's even possible.
Promising review: "This has saved my baby from hitting his head in the floor so many times. He is so determined to walk and even when we are holding his hand or walking with him, he can get wild and go down (parents out there, you know what I mean!). Anyway, this is probably the MVP of all our baby stuff. We call it his 'backpack' and anytime someone is watching him, every always asks, 'where's his backpack???' because they know its powers of padding protection. This sort of helped him when he was learning to sit, but has been an essential item for him as he's learning to walk! Only thing I wish is that the strap across the chest could be tighter." —Michelle H. Nguyen
Get it from Amazon for $15.99.
14.
A clever velvet slip cover set in case you'd like to get a new couch without actually, uh, getting a new couch. Forget paying for reupholstering or all new furniture — this stretchy wonder can cover up damage *and* give your space a whole new look.
The set comes with a couch/armchair cover plus one to three cushion covers (depending on selected size).
Promising review: "Very nice. It does not slip at all! My husband, 7-year-old, and I am constantly on and off the couch all week and it has stayed in place. I did not even attach the straps! Very soft. Made our old furniture look new!" —Kim Davies
Get it from Amazon for $31.49+ (available in five sizes and 10 colors).