1.
A fun and gorgeous sticker (or a full set!) featuring various Kate and Anthony references. I'm particularly losing it over the ones with "Dancing on my own," Newton, and the initials of every word of Anthony's iconic speech.

This Newington, Connecticut-based small biz makes fun flair for lots of different fandoms.
Get the individual stickers for $1.50+ (available in 10 styles), a pack of five for $8, or the full set of 10 for $18, all from TayMasDesigns on Etsy.

2.
A glitter-topped soy wax candle scented like lilies and soap (what else?!?), because "I burn for you" may have been a line from the previous season, but it still accurately describes how you feel about adding this to your collection.

3.
A lavender puff-sleeve, ruched-bodice midi dress sure to become the diamond of your wardrobe this season and start you on your way to having a closet full of seemingly endless perfect purple dresses like Kate does.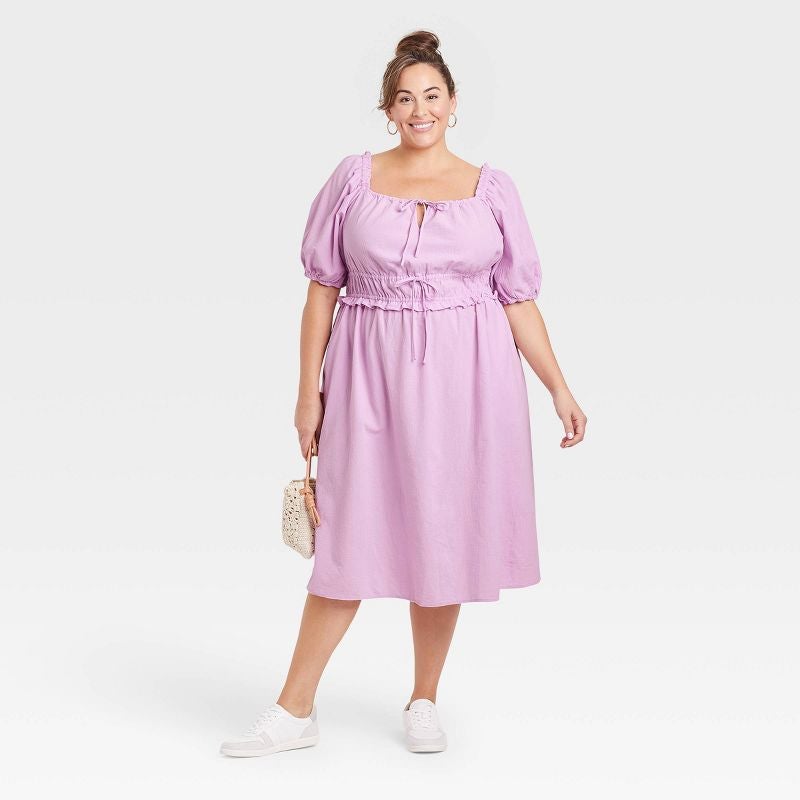 Some reviewers say it runs large!
Promising review: "Got talked into this at the store without trying on. Wow! So many compliments when I wore it. (Styled with slides, earrings, and sunglasses from Target, of course.) My daughter laughed we were going to be late for our flight if folks in the airport didn't quit stopping to ask where I got my dress!" —BND3

Get it from Target for $21 (originally $30; available in women's sizes XS–4X and in six colors and prints).
4.
Or an absolutely stunning tulle and lace confection that honestly tops anything you could get from the modiste.

It's from an Asian American woman-owned small business that creates absolutely stunning dresses unlike any you'd see in stores. Note that the brand runs small!!
Promising review: "This dress is really high quality – I love the lace detailing, and the embroidery is really beautiful in person. The lining is comfortable and good quality, and there's a subtle zipper on the side that blends in seamlessly with the dress. As the description notes, the dress doesn't have much stretch, so definitely check your measurements against the description before ordering. I'm really pleased with this and can't wait to wear it soon!" —jenius12997

Get it from Mr Water New York on Etsy for $149.25 (available in women's sizes S–XXL).
5.
A pretty mug featuring truly inspiring words to live by. Unclear if her wardrobe and a marriage to Anthony Bridgerton are included in this arrangement, but I'm game either way.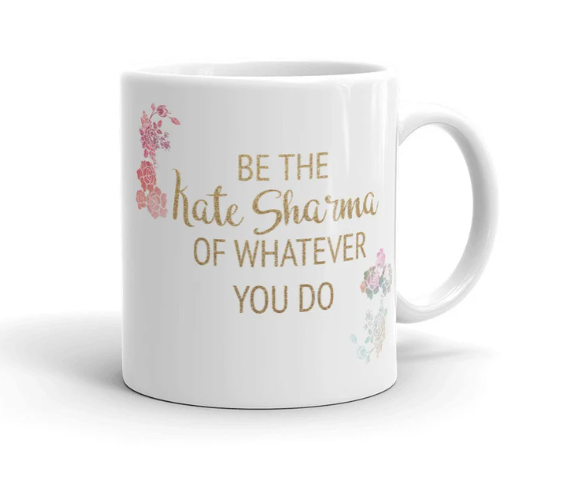 Lilac Fields And Tea/Etsy
This LA-based shop makes designs like this for lots of your fave fictional women, plus other cute pop culture merch.
Promising review: "Super cute and great quality. Love drinking my coffee out of it!!" —Kathryn Galindo

Get it from Lilac Fields and Tea on Etsy for $15+ (available in two sizes and in another design here).
6.
A fuzzy plush corgi pal who'll serve as an excellent stand-in for jumping through your screen to dognap Newton. I mean, just look at that face — pretty sure this guy is an excellent judge of character, too.

Promising review: "The corgi is super cute (cuter than the pictures made it out to be), super soft, and well-made. The only drawback is that it is smaller than I expected (it's about 12 inches butt to nose). But honestly it's not that big of a deal, it's still an amazing product as far as quality goes." —Hannah

Get it from Amazon for $16.95.
7.
And an origami-inspired corgi necklace I'm sure Miss Sharma would scoop up ASAP if she lived in 2022 and had an Amazon Prime account. 

Promising review: "I got the rose gold option, and it matches my outfits with both silver and gold jewelry so it really branches out as far as what it can pair with. My corgi Flynn seems to love that he's represented while I'm out of the house. Enjoy, it's a very cute purchase and I get sweet compliments on it. 🙂🐾 —Brittanica

Get it from Amazon for $14.80+ (available in four colors).
8.
An epic text bubble sticker displaying the kinds of texts you'd truly like to receive, instead of Bumble matches asking "U up?" or sending you a TikTok you've already seen.

9.
A pall-mall tee anyone who ever hopes to wield the mallet of death needs in their closet.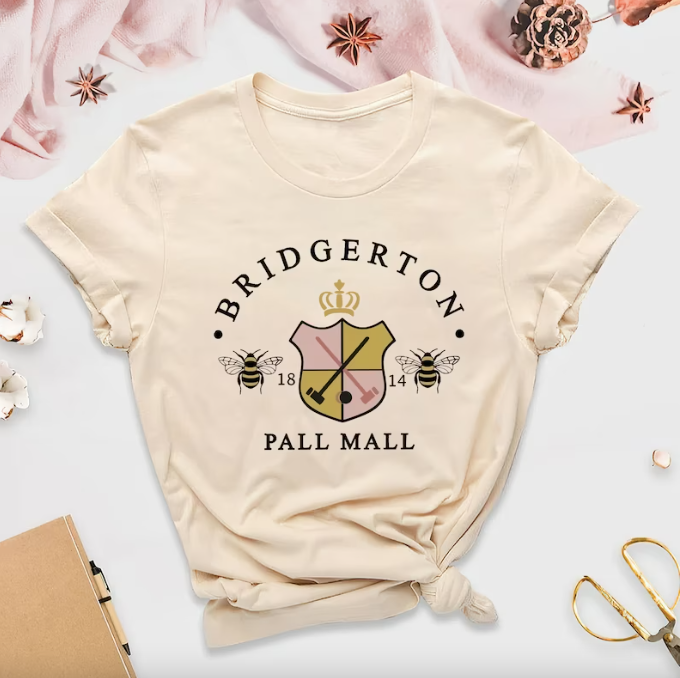 MissPenelopeLaneDeco/Etsy
Also, peep the little BEES on this one!
This small biz stocks all kinds of great pop culture tees and sweatshirts.
Promising review: "I love my Bridgerton T-shirt!! Can't wait to wear it this weekend :). Exactly as described and the quality is great!! Highly recommend this seller. Thank you very much!!!" —Sherry T

Get it from MissPenelopeLaneDeco on Etsy for $16.15+ (available in unisex sizes S–3XL or up to 5XL as a sweatshirt, and in 26 colors).
This California-based shop also stocks other Kate (and Bridgerton in general)-inspired tea sets, including some with gorgeous cups — shop them all here!
Get it from AllCuteLittleThings on Etsy for $8.

11.
A sticker as beautiful and inspiring as our heroine herself, which, dare I say, your laptop or water bottle is simply incomplete without.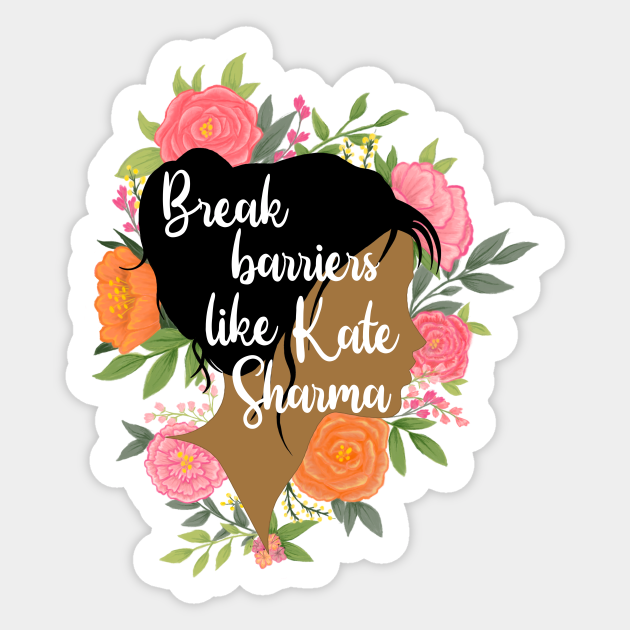 12.
A cozy sweatshirt displaying the title we would all like to have. Also, please tell me you read the word "viscountess" in Anthony's sexy voice.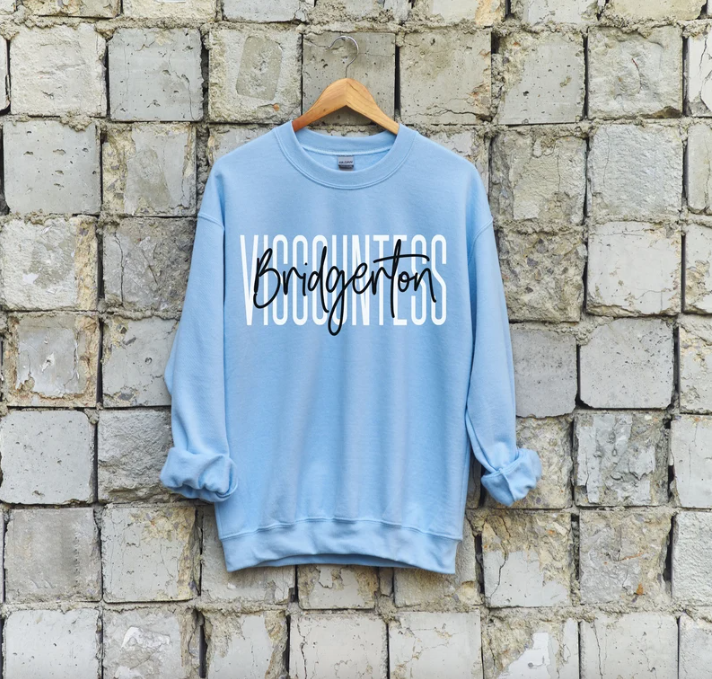 It's from a Dallas, Texas–based T-shirt shop.
Promising review: "Sweatshirt is a vibrant pink, super soft, and extra roomy!💗 Love it!" —Joby Kekapu

Get it from SocialLook on Etsy for $32.26+ (available in unisex sizes S–3XL and in four colors).
13.
Or, if you prefer to rep Kate's maiden name, a regal purple pullover complete with a pall mall crest and paying homage to the Ton's best family.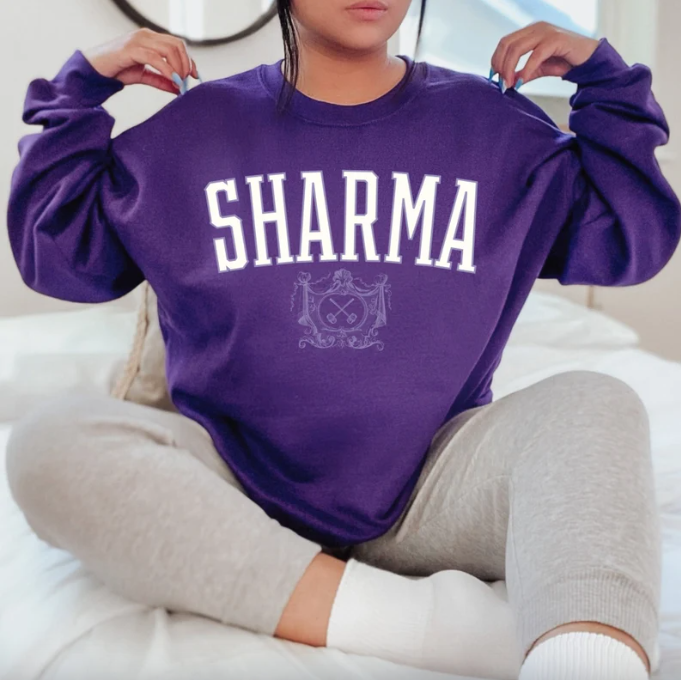 The Shop Between Worlds/Etsy
This Orlando, Florida–based small biz stocks cool Bridgerton, Disney, and Taylor Swift merch, so it's basically your one-stop shop for all your favorite things.
Get it from The Shop Between Worlds on Etsy for $36 (available in unisex sizes S–3XL).