1.
Miraculous Folex instant carpet spot remover, which also works on upholstery to make stains do a Houdini-level vanishing act. Plus, it's odor free for scentsitive folks.

Promising review: "Can I give it 10 stars? I'm really disappointed I lived without this product for so long. However, I have an overpriced wool carpet that my dogs have destroyed with accidents, bully sticks, and just general recklessness. I gave up on this rug ever being clean again. I've had it professionally cleaned and tried a dozen things myself...and no difference. And so I thought I'd try this assuming that it wouldn't work on the stain-determined rug but that'd I use it on my less tenacious ones. I sprayed it on, reading the instructions saying that I didn't need to scrub it, etc. And minutes later, freaking magic. My very pale blue and white rug is virginal. I admit that I did rub it in a little on the harsher stains/discoloration, but there were plenty of areas that didn't require any follow up rubbing. I'm sincerely blown away and just ordered a second bottle. The price of this product is minimal if you're looking to make your rug/carpet like new again, so I would absolutely recommend trying it. I don't think I've ever been this impressed with anything I've ever purchased. I feel cheated for not knowing about this sooner." —bubbleslovesoap
Get it from Amazon for $6.65.
2.
Or Emergency Stain Rescue spray, a water-based, pH-neutral potion that can work its magic on all types of stains and fabrics. It's low-key miraculous, and while it works best if applied ASAP, it can also save the day when it comes to more set-in stains.
Check out a TikTok of the Emergency Stain Rescue in action!
It's made by small business The Hate Stains Co.
Promising reviewz: "I've tried Shout wipes, stain removal pens, and all the other tricks in the book. This removes organic stains from sweat better than anything I've tried thus far. I followed the directions, got the fabric wet, sprayed it on, and left it to chill for an hour. When I came back, I was dumbfounded. I can't believe I didn't have this sooner, I'm about to buy a gallon!" —Mark Bogumil
"I got a super-noticeable stain on the front of my favorite sweatshirt that I could not get out no matter what I tried. It's been months, and NOTHING has worked...until now. A couple of spritzes of this stuff and the stain has shrunk and faded to the point that it's barely noticeable! While it's not completely gone, one use of this spray has done what eight months, half a dozen other products, and more elbow grease than I thought possible couldn't do. The stain is rapidly dying, and I think one more wash will kill it completely. Can't wait!" —Abitahooey
Get a 16-oz. bottle from Amazon for $24.99 (also available in other sizes and multipacks and in wipe form). 
3.
A six-outlet wall charger that truly has everything — ports that work for larger chargers, two USB ports, and an LED light around the side that automatically turns on when the room gets dark, but also has a touch sensor and three brightness settings. It'll make charging your endless devices a breeze day or night and save you from the daily dance of unplugging your computer to plug in your phone next to the couch, and so on and so forth, ad infinitum.
Promising review: "These things are amazing. I have one in almost every room of my house. The light is just enough to be able to see at night to use the restroom or navigate the house without turning every light on. I love that the USB ports are built in — no more looking for an adapter. AND the plugs are set far enough apart you can plug some of the bigger things like Google assistant or large AC adapters and still have plenty of room!!! These are a must have in a tech or smarthome." —SeiranCrow
Get it from Amazon for $17.97.
4.
A genuinely genius butter spreader knife with little holes to help you get spreadable butter from even the hardest sticks, because you're never more impatient than when you're hungry, and hanger and impossible-to-spread butter and broken toast really do not mix well.
5.
A clever velvet slipcover set in case you'd like to get a new couch without actually, uh, getting a new couch. Forget paying for reupholstering or all new furniture — this stretchy wonder can cover up damage *and* give your space a whole new look.
The set comes with a couch/armchair cover plus one to three cushion covers (depending on selected size).
Promising review: "I love this slipcover! It is so pretty and it completely transformed our brown couch into a pretty new one. It fits pretty well, and the individual cushion covers make it nice and easy. The price is well worth it. If you are debating whether to order this or not, just do it! You won't be disappointed." —Cindy
Get it from Amazon for $29.95+ (available in five sizes and 10 colors).
6.
An adorable egg cooker sure to do eggs-ellent work serving you up to six perfect hard-boiled eggs in 12–15 minutes, no actual boiling water required. Because you want a yummy, filling b-fast, but don't have much egg-stra time.
BuzzFeeder Marquaysa Battle swears by this! She writes, "I needed a quick way to make breakfast that worked with the depleted energy levels I was running on. Enter, my beloved, blessed egg cooker. This thing may be small but it makes a big difference! It comes with a removable lid, a book of instructions and recipes, a tray that holds up to six eggs, a tray for making poached eggs and omelets, and a tiny container for filling up the cooker with enough water to get your eggs to the level of 'done' that you like including soft, medium, and hard. And it's so easy to use! All you have to do is fill up the container with the amount of water you need. Then, use the bottom of the container (which has a poker) to put a tiny hole on the smaller end of each egg. Once the water is in and the eggs are properly poked, it only takes one button to get the cooking started (which is my mom's favorite thing about the egg cooker). And when the eggs are done? Those babies are DELICIOUS! I threw some Himalayan salt, paprika, and a green herb mix on mine. They taste better that way to me but I also feel like a lil' chef with the presentation. 🤪 I used my egg cooker the same day I got it in the mail and I have honestly used it almost every day since."
Check out her full Dash egg cooker review.
Get it from Amazon for $18.99+ (available in eight colors).
7.
A draft stopper that'll close up the space under your door, so your summer AC and winter heat stay locked in. Reviewers ❤️ it for a multitude of other uses, too — reducing noise, keeping bugs out, or even keeping pets from sticking paws or knocking toys under doors and appliances.
Promising review: "Why did I wait so long? I've been struggling with door stoppers and/or rolled-up rugs to keep the cold air out. Finally got tired of how unattractive it was to have a rolled blanket in front of the door, but none of the regular door stoppers worked very well and got all bunched up. After researching ways to keep the cold air from coming in under the door, I came upon this under-door seal. Decided to try it and so happy. It was so easy, and it looks so nice. You can't really tell it's there, and so far it's stopped cold air. Just got it today but from what I can tell it looks like it will stay put for awhile, and if not they included some extra tacks that could be used, but the glued strip seems pretty strong. I highly recommend it, and the price is so reasonable." —Nancy H.
Get it from Amazon for $7.99+ (available in four colors).
8.
Handy dandy faucet extenders to make getting your kiddo's (often v nasty) hands clean less of a hassle. They'll also feel so grown-up when they can actually reach the water!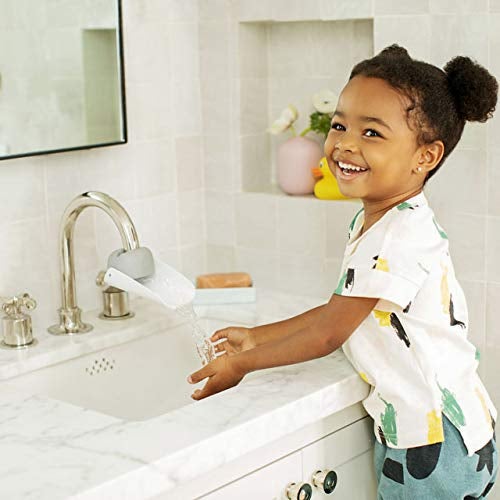 Promising review: "Before I knew a thing like this existed, I spent the time it took to wash my squirming kiddo's hands one at a time wondering how long it was going to take for his arms to grow enough to reach the faucet. I'm so glad I have this thing now! The setup is just taking it out of the box and stretching the rubber part around the faucet; took two seconds plus some time to adjust to the best angle. Now I can wash my 15-month-old's hands at the same time, and the whole process is much faster and easier. He liked it right away too! A bit too much honestly. The worst part about this product is my toddler grabbing it and trying to use it as a water launcher, but that has been easy enough to avoid. The little rubber part pivots a bit so there is flexibility in how you wrap it around your faucet and what angle the water comes out of the chute, but it doesn't pivot THAT much, so as other reviews have mentioned, it won't work with upward-angled faucets." —Michelle G.
Get a set of two from Amazon for $11.49.
9.
A paws-itively amazing rubber pet hair broom with a built-in squeegee designed to sweep up all that shedding (and even liquids!) like no other.
And yes, it also works for cleaning up after humans who shed hair like nobody's business (same). BuzzFeed Shopping editor Emma Lord raves about it for that purpose in her FURemover broom review.
Promising review: "LIFE CHANGER. We have two very floofy cats and I have long, thick hair, so needless to say there is a lot of shedding in our house. I could tell our vacuum wasn't quite doing the trick and I happened to stumble upon this item that looked to be the solution. WOW. First of all, it's a bit of a workout if you've got a medium-pile carpet like I do. I use short, firm strokes with the squeegee side and it pulls the hair up instantly. It's tedious work to do a whole room, but the satisfaction you get when you see all the hair makes it so worth it. Then you'll do a second pass in high-traffic areas and see how much MORE hair there is and wonder how you ever lived like that. Once you've got a nice pile, you can pick the clump of fur up by hand. I like to give it a quick vacuum after to get the dust and dirt that comes up. I haven't used it on our laminate flooring, but I'm sure that will blow me away too. This item is a complete must-have for anyone who owns a furry pet. This broom will absolutely outshine any expensive 'pet-rated' vacuum cleaner out there." —Leanna G
Get it from Amazon for $12.98.
10.
A pre-packed, 100% waterproof backpack that comes equipped with enough survival supplies to serve a family of four for 72 hours in an emergency. Hopefully you'll never have to use it, but you'll feel so much better having this in your closet or car — and it's way easier than trying to put together a go bag by yourself.

It includes a hand crank radio/USB charger/flashlight, duct tape, wet wipes, tissues, a 101-piece first aid kit, a towel, two bottles of hand sanitizer, a multitool, a biohazard bag, seven food bars, 14 water pouches, two emergency whistles, four packs of hand warmers, four glow sticks, four ponchos, four rescue blankets, a pair of gloves, and four dust masks.
Promising review: "This was a great addition to my camping/emergency gear. The extra room in the bag is enough for clothes or my solar power generator." —Andrea D.

Get it from Judy for $156 (originally $195).
11.
A silicone dishwasher bag you'll wonder how you ever did dishes without. You can roll up smaller items (even baby pacifiers!) in it vertically or horizontally so they'll fit anywhere and won't come out filled with water like they usually do!
Promising review: "This is an amazing product. It's perfect for when you want to separate pump parts from dirty flatware, etc. and don't have a lot of room in your dishwasher. It's nice thick silicone so it's very sturdy, and BPA-free. It stretches, bends, and squeezes into small spaces. You can bend it to any shape and size you want. I'm getting this for all my new mom friends — why add another bulky crate to the dishwasher? It can hold plenty of bottle parts. Also, you can really use it for anything...measuring spoons, etc." —Anne Taylor Robertson
Get it from Amazon for $12.99.