1.
A gorgeous journal featuring an illustration of a caring plant mom who reminds you of your BFF when they're tending to their leafy bbs.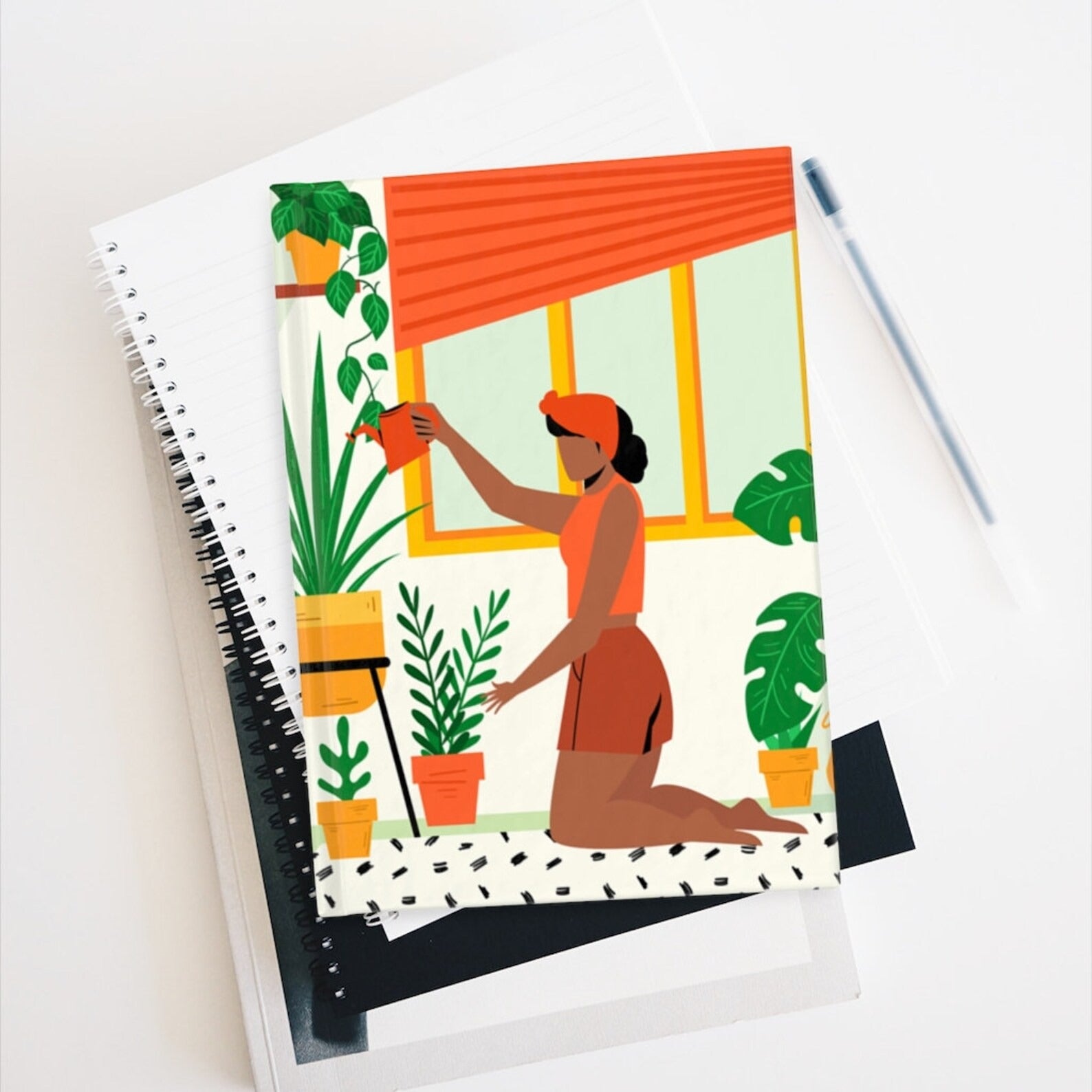 This woman-owned Etsy shop makes all kinds of cool home goods and apparel celebrating Black culture.

Promising review: "Love this notebook. So far I've bought four notebooks, two for me and two for gifts, and they're all gorgeous and beautifully made. I'll definitely be coming back for more." —Sandy Bermanzohn
Get it from The Trini Gee on Etsy for $24.90 (available with blank or lined paper and in more designs here).
2.
A squee-worthy smiling cloud bath bomb that'll transform their tub into a magical rainbow. Plus, it's made with nourishing and moisturizing plant-based oils and shea butter and a yummy fruit blend scent, so you really can't go wrong.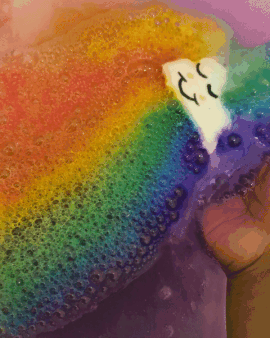 Motherland Essentials is an awesome, Charleston, South Carolina-based small biz founded by a mom that specializes in affordable, plant-based, handcrafted soaps and other delightful bath and body care.
Promising review: "Love these so much. I bought three for my little one and he absolutely loved them! His skin is sensitive to some fragrances and dyes, but these were absolutely harmless to his beautiful skin. Thank you Motherland Essentials for making bath time more fun!" —Elondia H.

Get it from Motherland Essentials for $8.
3.
Fenty Beauty's Gloss Bomb Universal Lip Luminizer to get their pout shining bright like a diamond (founder Rihanna knows what she's doing). This gift will keep on giving and become part of their daily routine, since it's a luxe, cruelty-free, super shiny gloss that moisturizes *and* lasts, according to reviewers.

Promising reviews: "My go-to lip topper. This is a perfect every day gloss. It's not super sticky, but it still goes on in a thick, glassy layer that makes my lips look amazing. The wide applicator is also fun to use. I put this on alone or on top of other lip products, so it's very versatile." —cecnut
"I will buy this gloss over and over. The shine is one thing but it actually makes my lips feel and look softer. IMO it's worth the cost — lasts longer than any drugstore brand and I don't have to keep reapplying to get the glossy shine that one swipe of this has. SO GOOD!" —alysonlora8
Get it from Sephora for $20 (available in five shades).

4.
A fine-tip pen with a removable moon and stars charm your favorite astronomy buff quite simply needs to have on their desk — it's ~written in the stars~.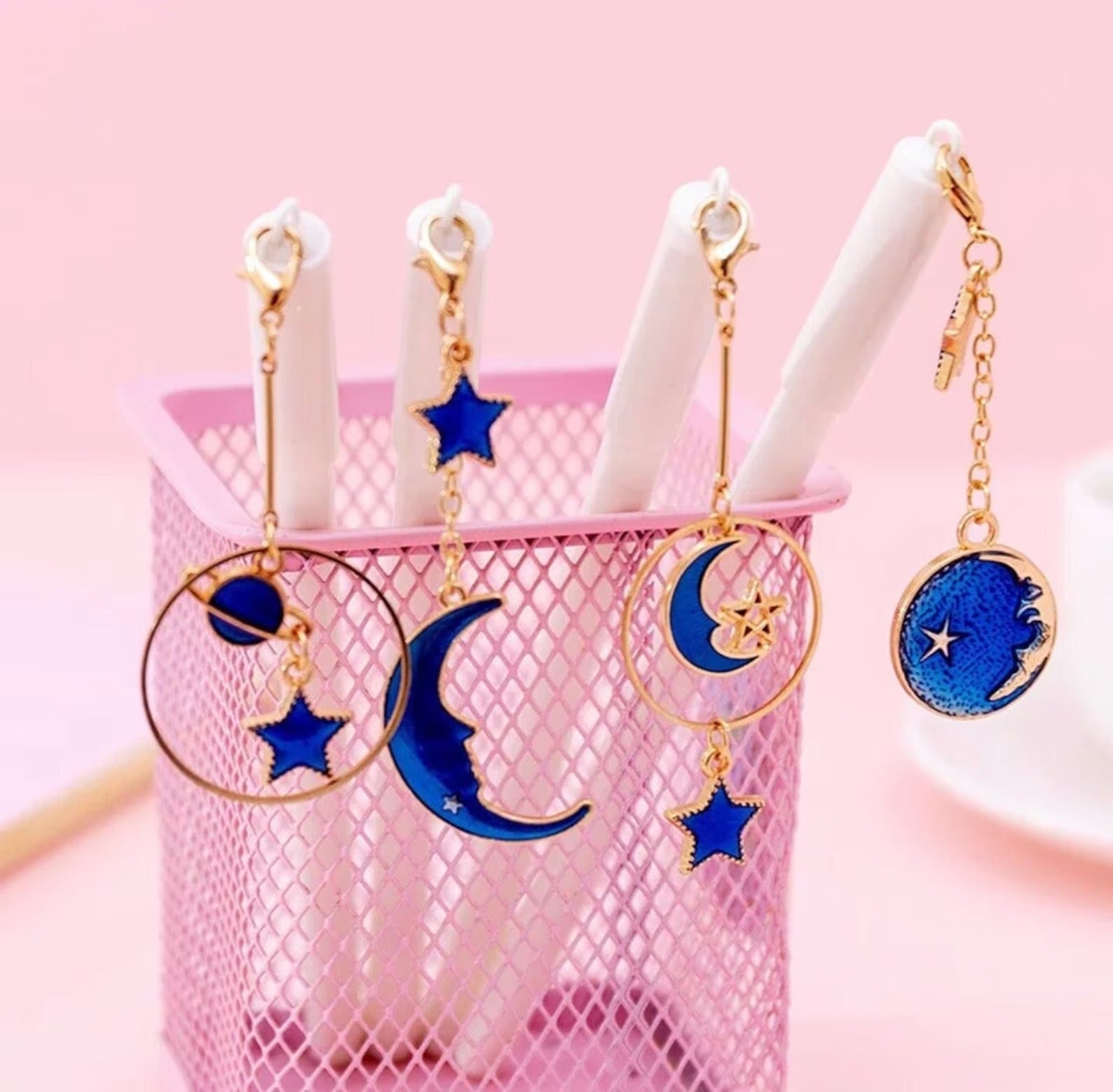 The Fine Print Paperie/Etsy
This Sacramento, California-based, woman-owned small business describes itself as "A stationery lover's paradise!" and indeed it is. They have soooo many cute pens, notepads, erasers, and more.

Promising review: "Great gift for my friend." —moony
Get it from The Fine Print Paperie for $3.25 (available in two styles).

5.
A drawstring-adjustable Grace Eleyae satin-lined beanie that may look like a regular cute and cozy winter hat, but has a secret superpower — it'll protect, not damage, natural hair.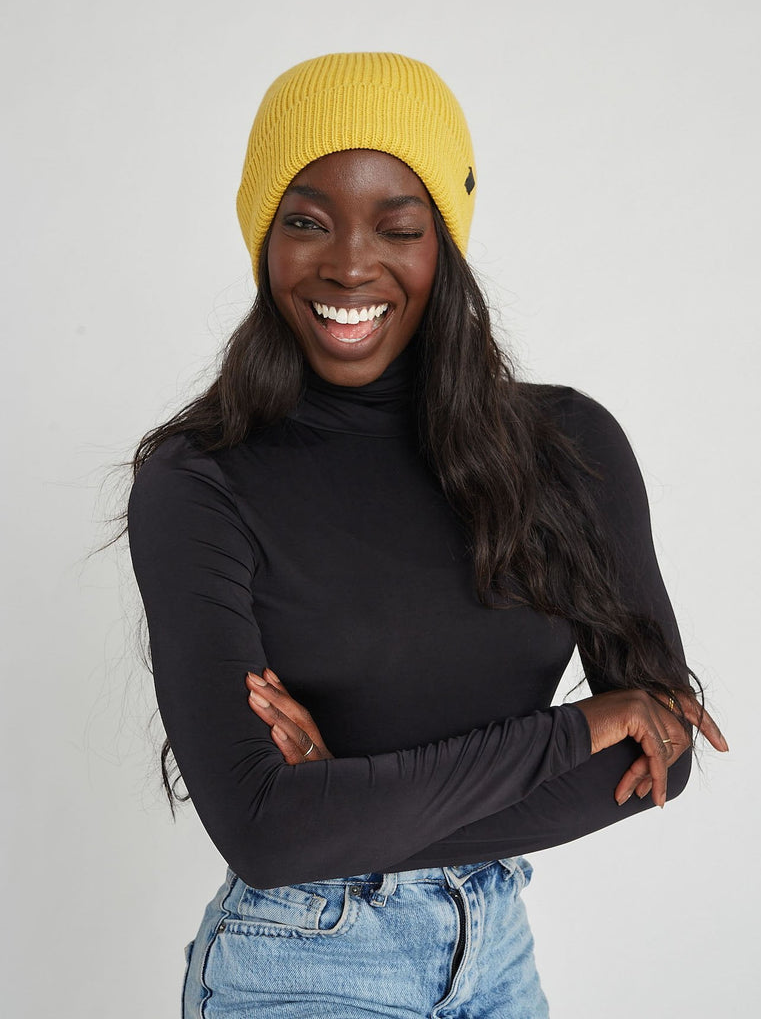 The satin helps retain moisture and reduce breakage-causing friction, and can even help distribute the natural oils in their hair. The brand, Grace Eleyae, is a woman-owned business that specializes in accessories that are both protective and stylish!
Promising reviews: "Got this beanie for my sister. When it arrived I definitely tried it on and wished I had gotten it for me! Fit is perfect." —Zephyra B.
"I have alopecia universalis. No hair and this is the best beanie with the liner, ties, and the look. Cozy warm. Love." —Bethany J.
Get it from Amazon or Grace Eleyae for $42 (check out colors and styles here and here).
6.
A stunning satin pillowcase to reduce frizz, damage, and friction on their hair, but *maximize* the compliments they get on their bedding.

It's from a woman-owned brand that specializes in headwraps, clothes, and more made from gorgeous African textiles.

Get it from Cee Cee's Closet for $25 (available in eight prints).
7.
Epic beaded cheeseburger earrings for your go-to fast-food-eating companion — or the pal you went to see The Menu with (iykyk). Odds are they're the same person anyway.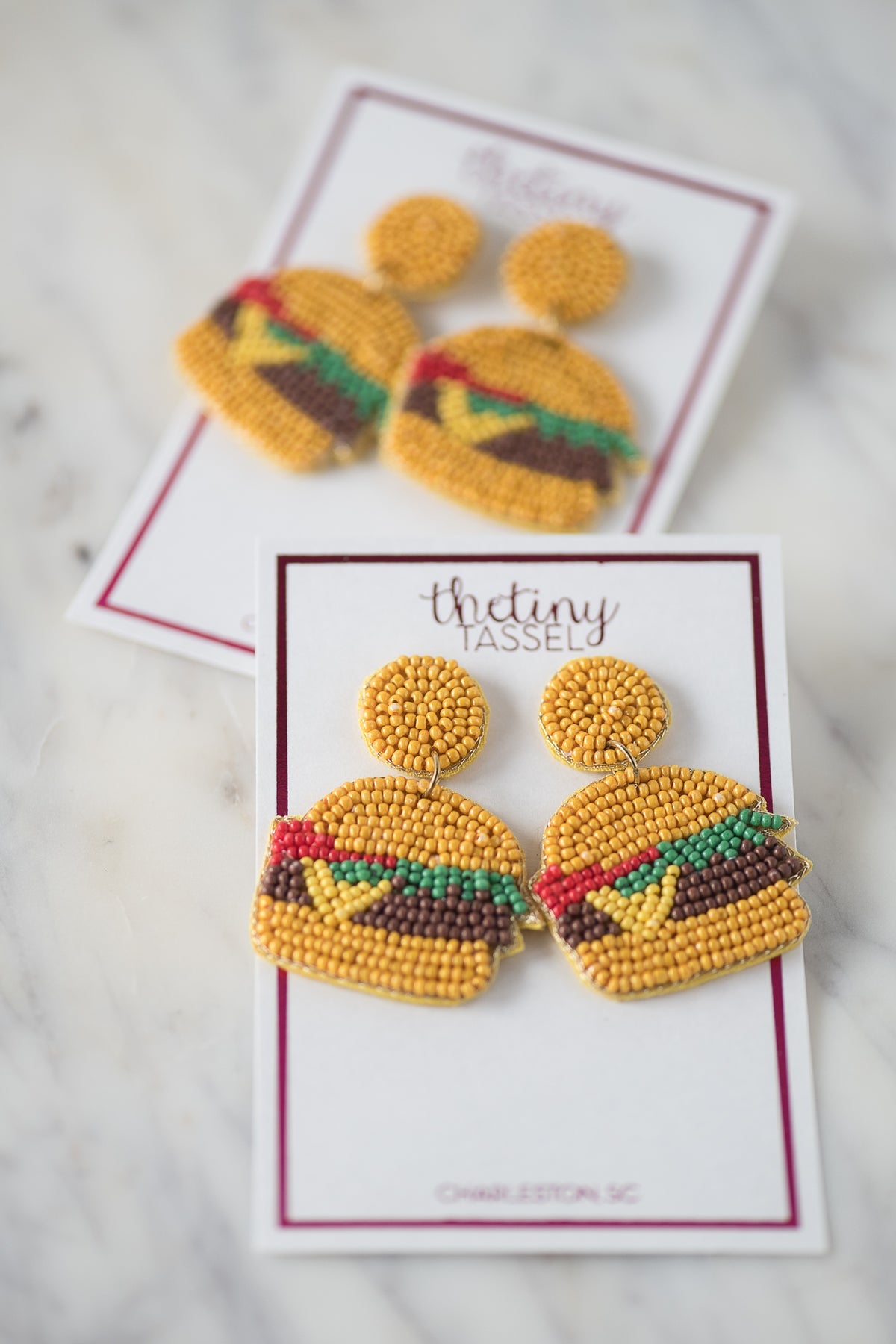 This cuteness is from The Tiny Tassel, a woman-owned, Charleston-based small business that specializes in cheerful accessories (often featuring, yup, tassels) and clothes (designed by the founder's mom!).

Get them from The Tiny Tassel for $36.
8.
Black Girl Sunscreen SPF 30, a vegan and cruelty-free formula specially designed to offer sunny day protection for folks with dark skin, since it won't leave any pesky white residue. If you and your pals are headed on a vacay, bring some of this for everyone!

It's also fragrance-, paraben-, and aluminum-free! This woman-founded brand is all about creating great sunscreen for people of color and educating everyone about sun safety.
Promising review: "I love this sunscreen! It was recommended by several people on a skincare fanatics group. It blends right in and leaves no white cast. It leaves my skin with a dewy look but not greasy. I've used it on my face and body. I'll be purchasing this again — great value!" —Trin
Get it from Target for $15.99.
9.
An 18k-gold-plated gemstone ring sure to become their new signature piece — and it'll be loaded with sentimental value because their fave person (you!) gave it to 'em.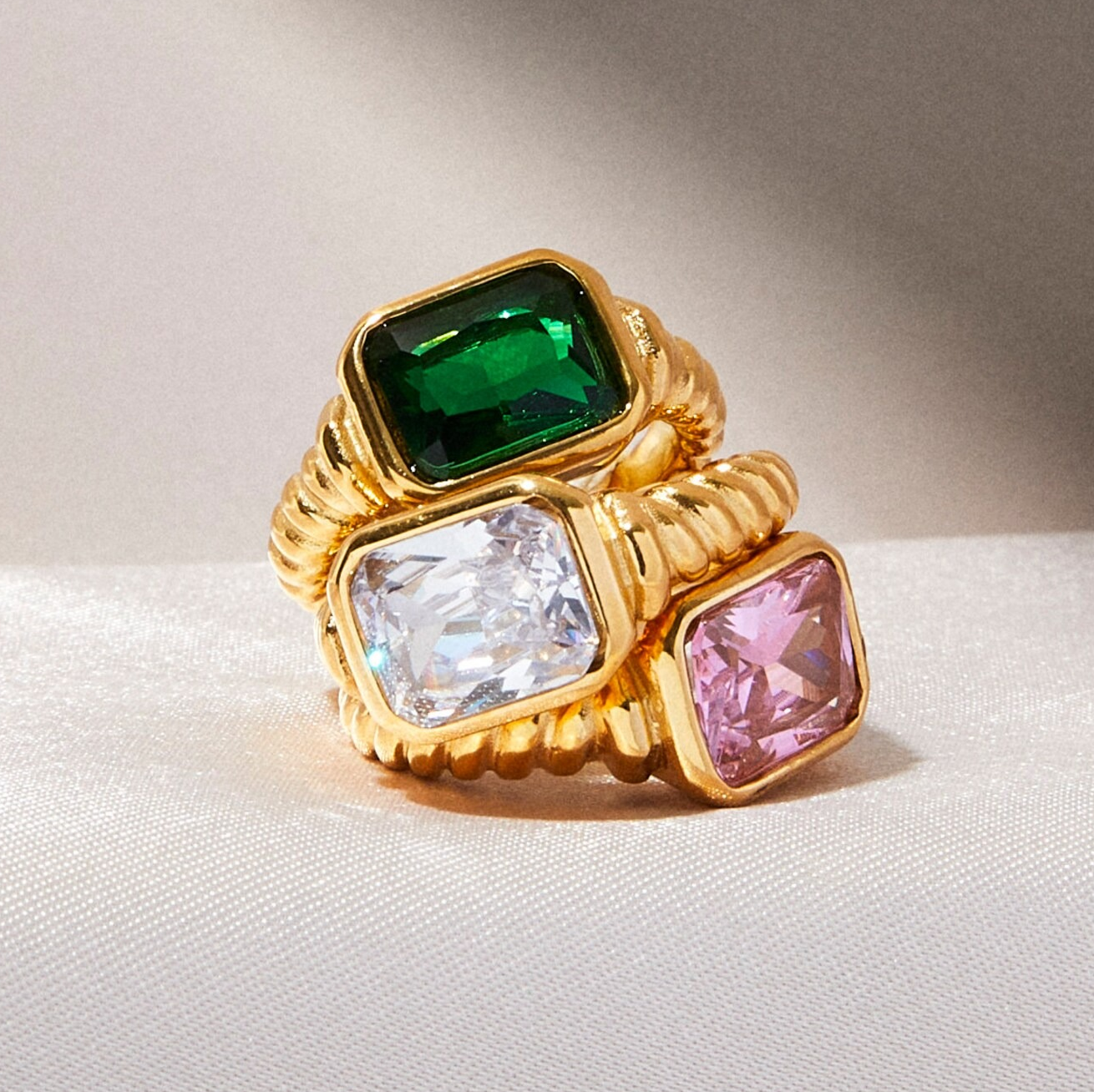 It's from a small jewelry business based in New York.

Get it from SaharasEssentials on Etsy for $21.60 (originally $36; available in sizes 6–8 and in three colors).

10.
A bold reusable tote made from ripstop nylon and capable of holding up to 50 pounds that they'll use on every single errand run from now till forever (and I bet they'll get compliments pretty much every time).

Brand founder Mapate Diop is a second-generation American who was inspired by the Ankara fabrics his mom would bring back from trips to Nigeria. He now creates this inclusive line of bold clothes and accessories for anyone who loves to stand out.

Get it from Diop for $14 (available in 23 prints).
11.
A fun pastel keyboard cover your work BFF will thank you for over and over, especially when it keeps the crumbs from the muffin you brought them from Starbucks from getting trapped in their keys forever.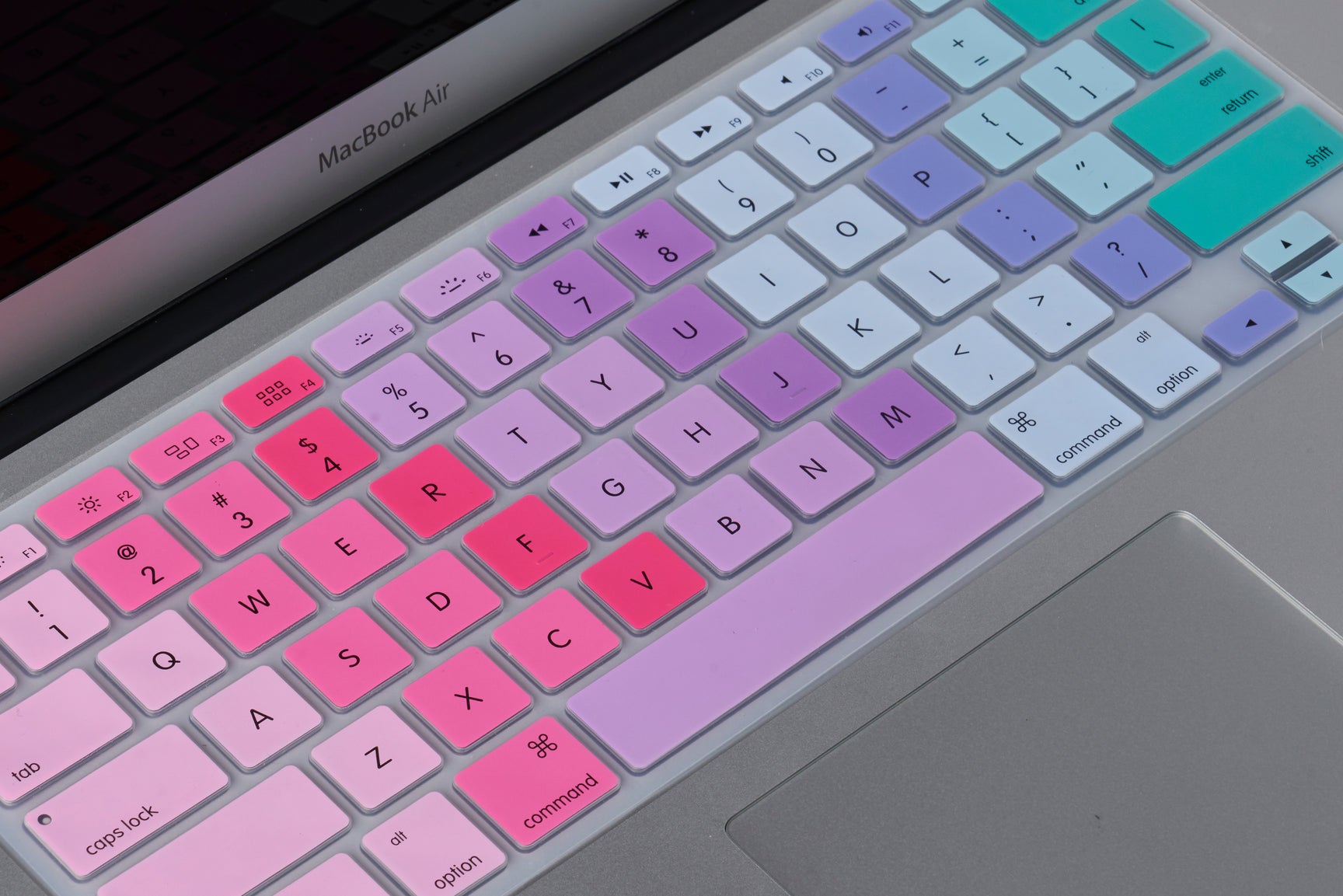 Chic Geeks is a woman-owned business specializing in gorgeous tech accessories.

Promising review: "I love it! The keyboard cover keeps my keys clean, is visually appealing, and makes me happy every time I open my laptop!" —Carmen Solis
Get it from Chic Geeks for $20 (available for six MacBook models and in more colors here).
12.
A beautiful string of waist beads handmade in Ghana and designed to serve as an empowering and confidence-boosting finishing touch to any outfit.
Founder Caitlyn Kumi started her business as a student at UNC Chapel Hill, with the goal of supporting other women and promoting body positivity. The company employs female business owners in Ghana to produce their products and young women interested in business with their internship program, plus helps women-led organizations fundraise through their Women Supporting Women program. The beads themselves celebrate West African heritage and come in different colors, all with different symbolic meanings (read about all of them here).
Get them in gold from Miss EmpowHer for $16.99 (fits sizes 00–18; available in more colors here).