1.
Golden botanical-inspired drops I ~petal~ your pals will covet. And they are — wait a second — only $10!?! I'm truly amazed.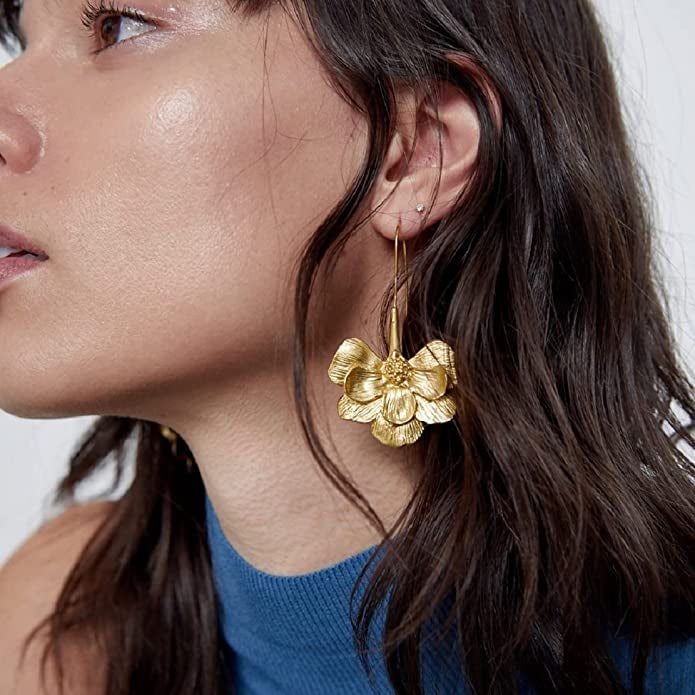 Promising review: "Exactly what I was looking for to pair with an evening dress. They fit well and look great without being heavy. Despite not being heavy, they have some substance to them and they are not flimsy. I would definitely recommend." —Karen M. Young
Get them from Amazon for $9.99.
2.
A glam druzy and tassel style that'll add extra pizzazz to everything from jeans to an LBD to that tank top you wear to WFH every week.
Check out BuzzFeed's full write-up on these gorgeous earrings.
Promising review: "These are super cute and great quality. I like that it's a stone-like effect on the top — I didn't realize that from the pictures. I want more! I ordered a few other similar earrings at the same time that were cheaper. You could definitely tell the difference in the quality. The tassels on the cheaper ones were frayed and not as smooth as these. It was also nice that they sent multiple backs." —Kindle Customer
Get them from Amazon for $12.99+ (available in 44 colors).
3.
Glamorous golden link drops for an upgrade from your go-to gold hoops. These bbs deserve a whole text ~chain~ with your besties to brag about 'em.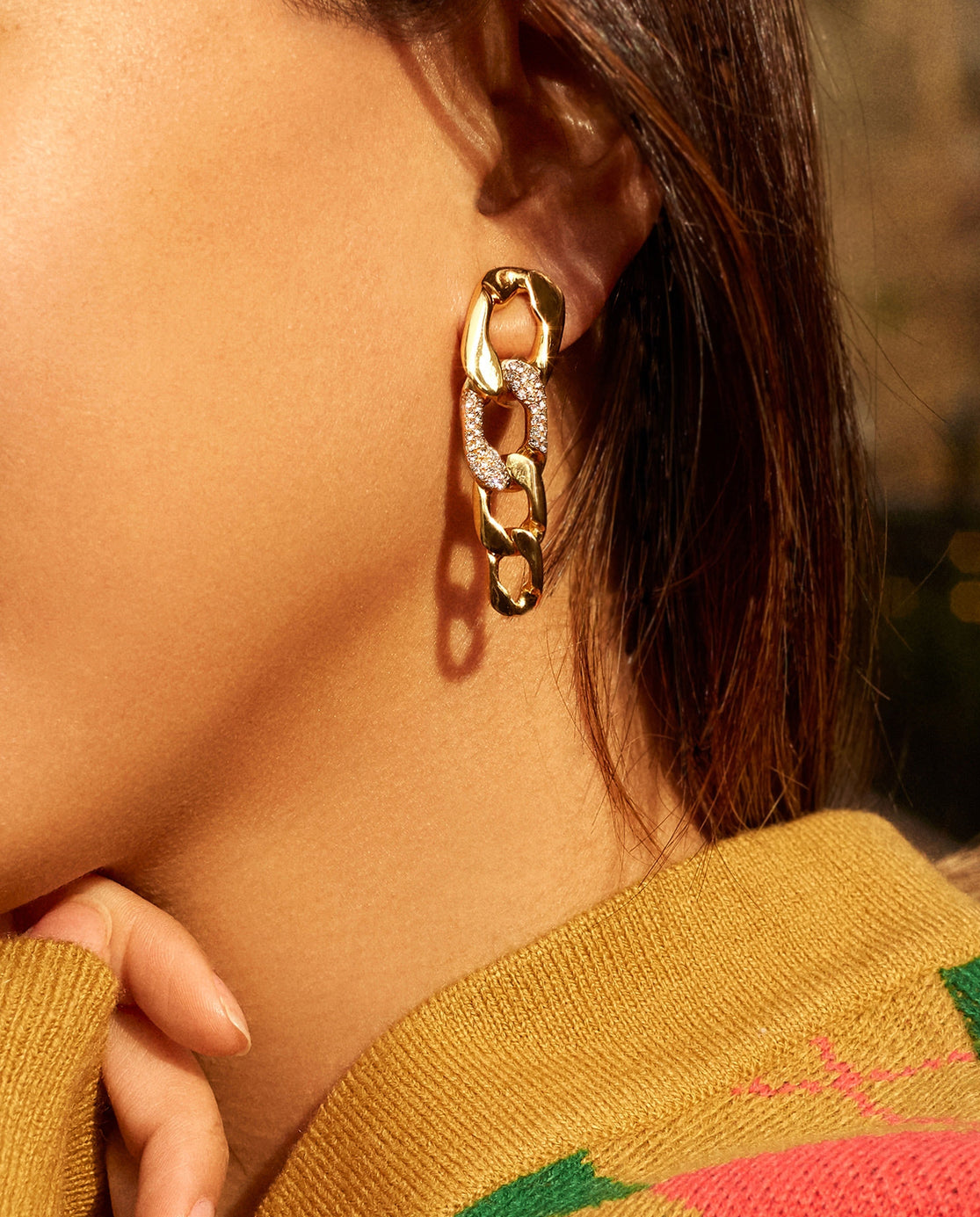 Pssst...J. Lo has rocked these, so you know they've got star potential.

Get them from Baublebar for $44.
4.
A teardrop-shaped, sterling silver pressed flower pair made with real blooms (!!) that'll be like a lil' portable garden you can wear with you wherever you go.
Promising review: "You don't need to hesitate if you are attracted to these. They are beautiful and very well made. This it the second pair of pressed flower earrings I have. I had to order more. I honestly wish there were a few more designs. They so unique. I'm so happy with my purchase." —Wendy L. Simpson
Get them from Amazon for $33.30+ (available in eight styles).
5.
Glam jeweled baubles so pretty, you may squeal with joy when they arrive in the mail. Consider me the devil on your shoulder convincing you to buy more colors.
I've seen BuzzFeed Shopping editor Mallory McInnis wear these beauties many times and I would never have guessed that they were so cheap and from Amazon! Here's what she has to say about them:
"I love earrings. They're pretty much the only type of jewelry I wear and I have dozens and dozens and dozens of pairs. Thanks to this job, I spend a lot of time on Amazon and I've started to accumulate quite the collection of pairs I've purchased there. Sometimes the reallllllllllllly cheap pairs end up breaking after only wearing them a few times...and I don't begrudge them! That's the way it goes with cheap jewelry (whether you buy it on Amazon or from H&M or Forever 21), but sometimes you find something that's cheap and lasts and — so far! — that's what these guys have been doing. At this point, even if they do break, I like 'em enough that I'd buy 'em again anyway and consider it worth it."
Get them from Amazon for $17.49+ (available in five colors).
6.
Acrylic Nicole Miller floral earrings that are heavy on style but light and comfy on your lobes.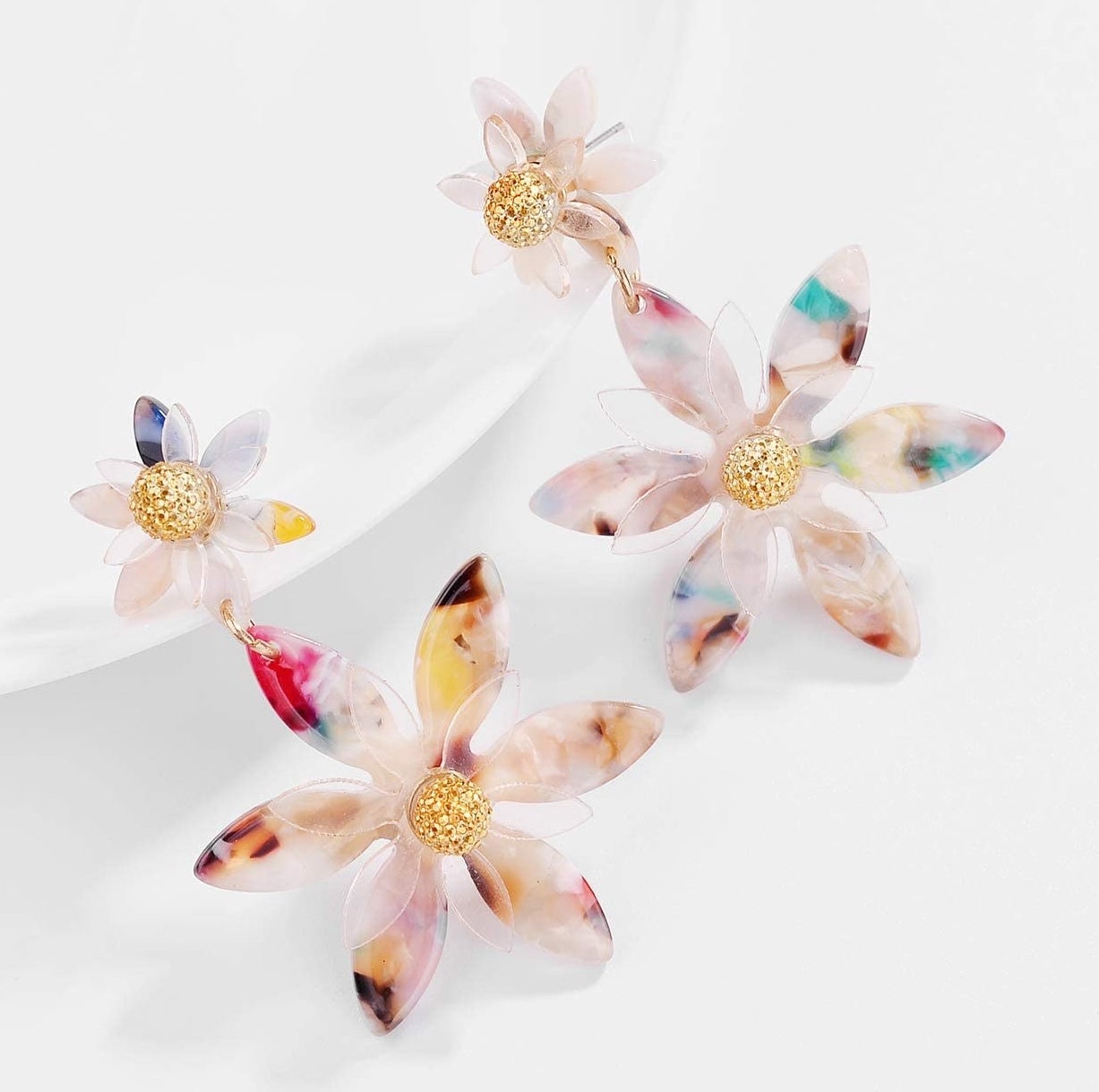 Promising review: "Great, fashionable earrings for the price. Lightweight, great colors." —jennifer coleman
Get them from Amazon for $14.95.
7.
Velvet heart bunny earrings to just plain make you ~hoppy~. Seriously, my heart *leapt* when I saw these...and what an adorable way to celebrate the Year of the Rabbit!

They're from a Houston, Texas-based small business that specializes in quirky accessories!
Promising review: "I love these earrings! They're super light and I can wear them all day." —livbernard

8.
Fringed hoops that'll finish off a boho chic look *chef's kiss* perfectly. They're giving me "music festival headliner" vibes in the best way, and at under $10 a pop, you may as well get a few colors. 😉

9.
Glam floral jeweled Betsey Johnson drops with large stones that'll catch the light gorgeously and match pretty much any color you pair them with.
My earring collection is truly out of control, but these are some of my faves in the whole bunch (my fellow BuzzFeed Shopping editor Kayla Boyd has and loves them too!). I'm a Betsey Johnson devotee, but even I will admit a lot of her earrings are uncomfortably heavy. These are *just* the right size to make a statement but not be super uncomfy. Because of the reflective gem, they go with basically everything and are a go-to when I just need something cute to finish a casual 'fit. They make me happy and I feel so pretty when I wear them, because let's face it — statement earrings' primary job is to draw attention to our gorgeous faces.
Promising review: "Super adorable! I love them and so glad to have something to make my outfits pop. A little shine never hurts anyone, especially in the current pandemic. I feel so pretty with them. I have larger lobes, so I use a plug to wear them. Cute, comfortable and brings style to any outfit!" —K.
Get them from Amazon for $15.47 (available in two colors).
10.
Totally fierce beaded leopard earrings that are just the companion your LBDs, blazers, and tees have been ~on the prowl~ for.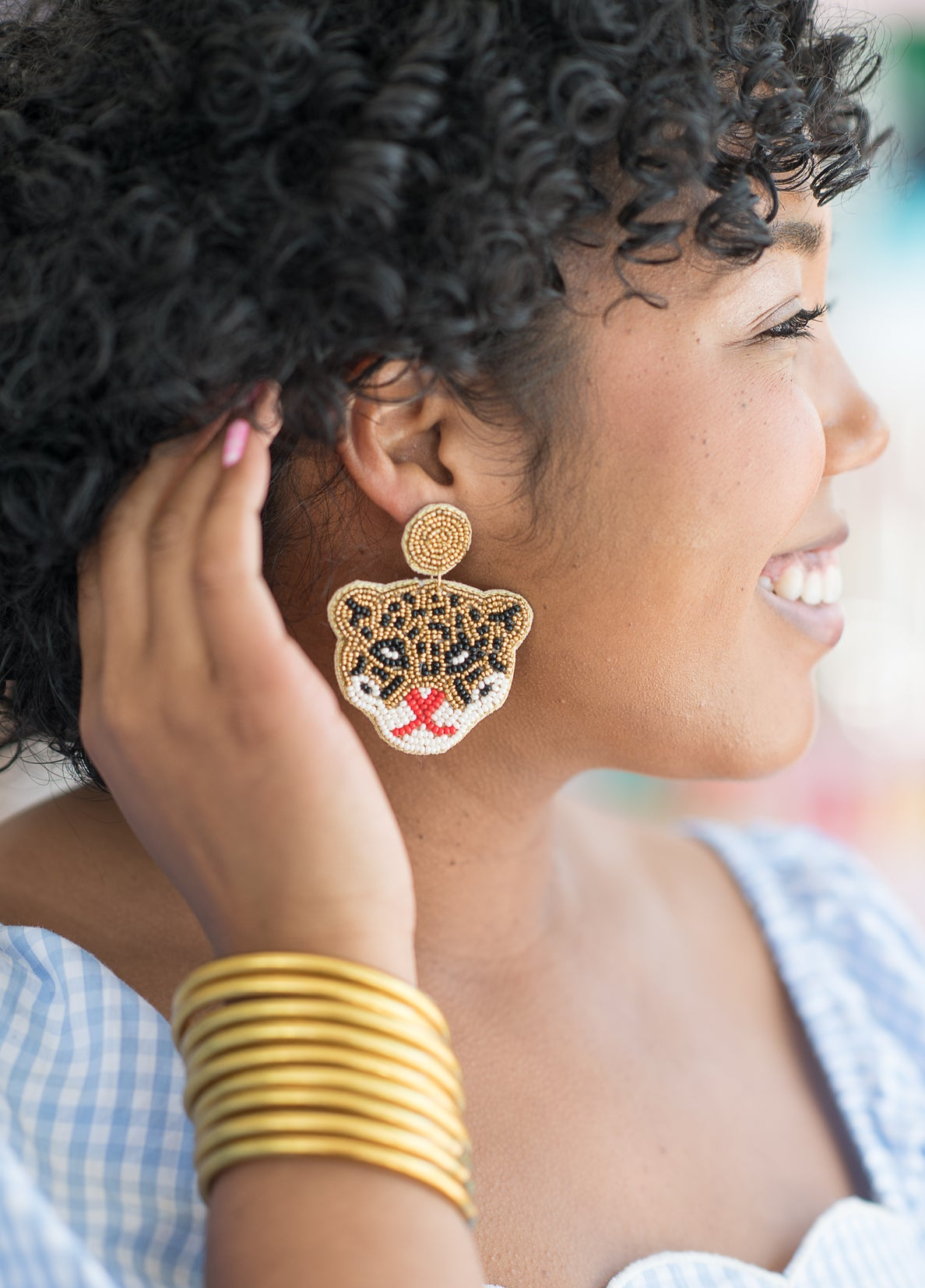 These cuties are from The Tiny Tassel, a Black woman-owned, Charleston-based small business that specializes in cheerful accessories (often featuring, yup, tassels) and clothes (designed by the founder's mom!).

Promising review: "Omg… super cute earrings to make any outfit pop! Although I haven't worn them yet, my plans are to wear them soon with an olive jumpsuit and wedge sandals." —Yolanda Childs
Get them from The Tiny Tassel for $34.
11.
Sweet mismatched heart earrings adorable for V-Day or any day you wanna show your outfit a little extra love.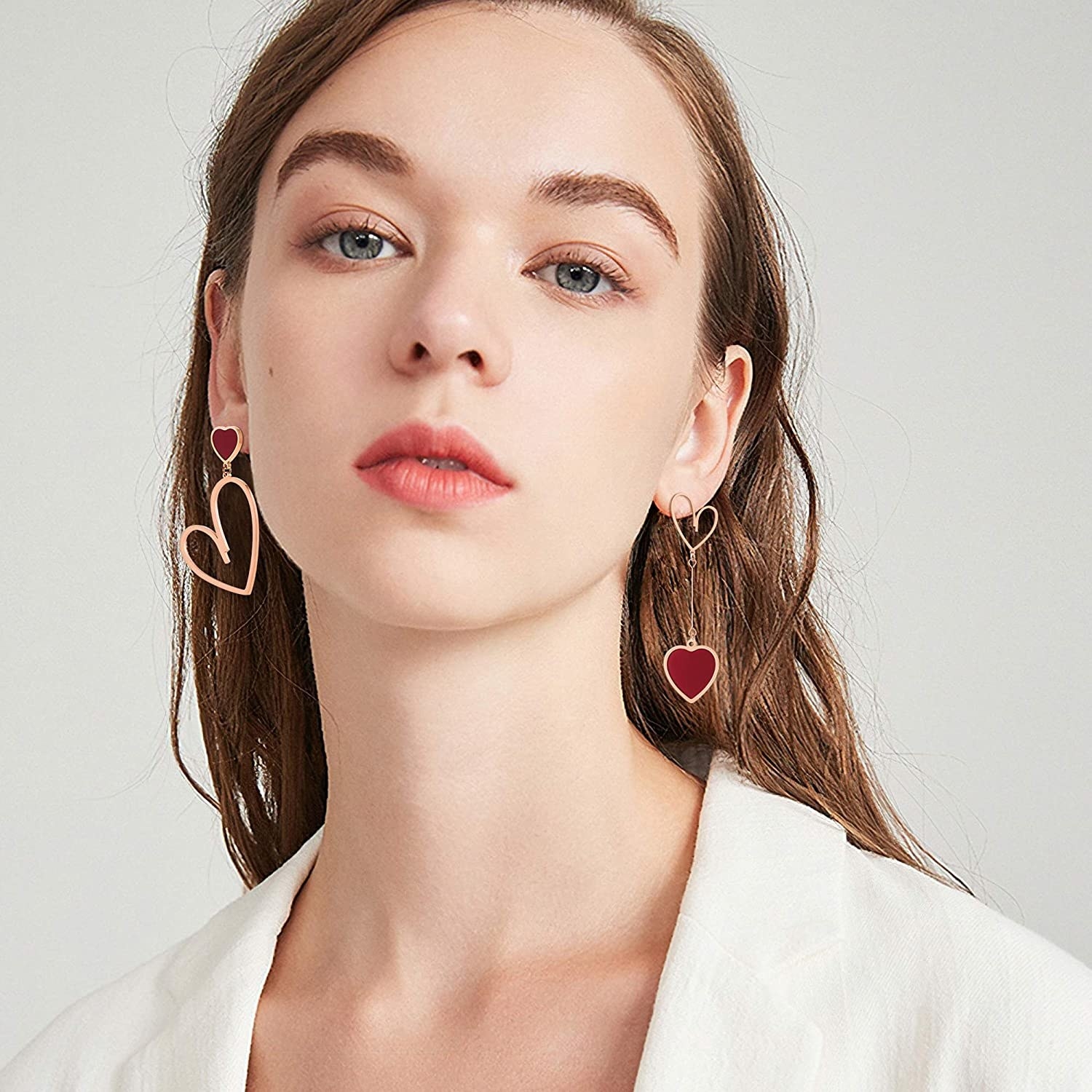 Promising review: "These are the cutest earrings. They are lightweight and very comfortable. I can't talk about how well they will hold up because I just got them, but hopefully the gold plate will hold up well on them. I also received a little, pink cleaning cloth with my earrings. I love that." —D.Shate
Get them from Amazon for $15.99 (available in 31 styles).
12.
Versatile and glitzy celestial ear jackets with optional cascading stars in the back. Rock 'em with the fringe for a bold statement, or wear just the front for a simpler stud that still packs a punch. Either way, your lobes will look ~out of this world~.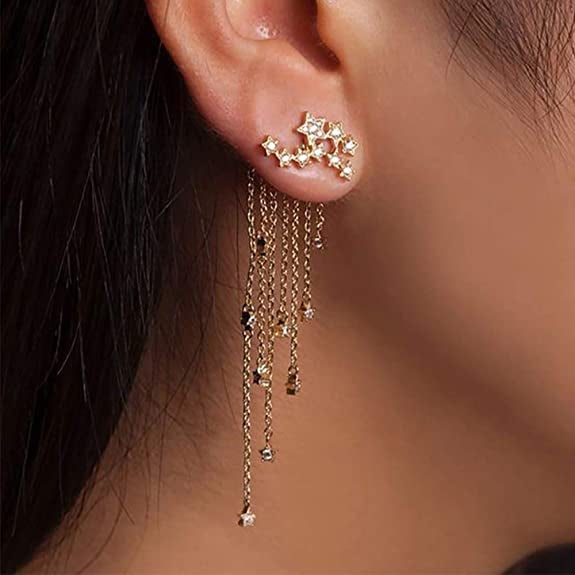 Promising review: "These are absolutely beautiful, and clever with the post being falling stars. The stud sits comfortably and is lovely. Not gaudy or tacky in the least. I'm thrilled with them — and the price? If you are charmed by the picture you won't be disappointed! They're beautiful!" —Amyss
Get them from Amazon for $8.66 (available in two colors).
13.
Glam acrylic and jewel statement stunners I'd love to see paired with a blazer for a totally boss look at your next (in-person or virtual) meeting.
Promising review: "I was looking for some fun earrings to wear with my brown and animal print clothes. These fit the bill. Long but still clear of the shoulders, and really light, which surprised me. I liked the fact that they came with an extra set of the earring backs and two sets of the clear rubber bumpers. Shows attention to detail and knowledge of how often wearers lose them." —A. Leferve
Get them from Amazon for $8.99+ (available in five colors).
14.
Faux pearl hoops that are a jewelry box staple, IMHO. These will take even the simplest outfits and make 'em capital "C" Chic.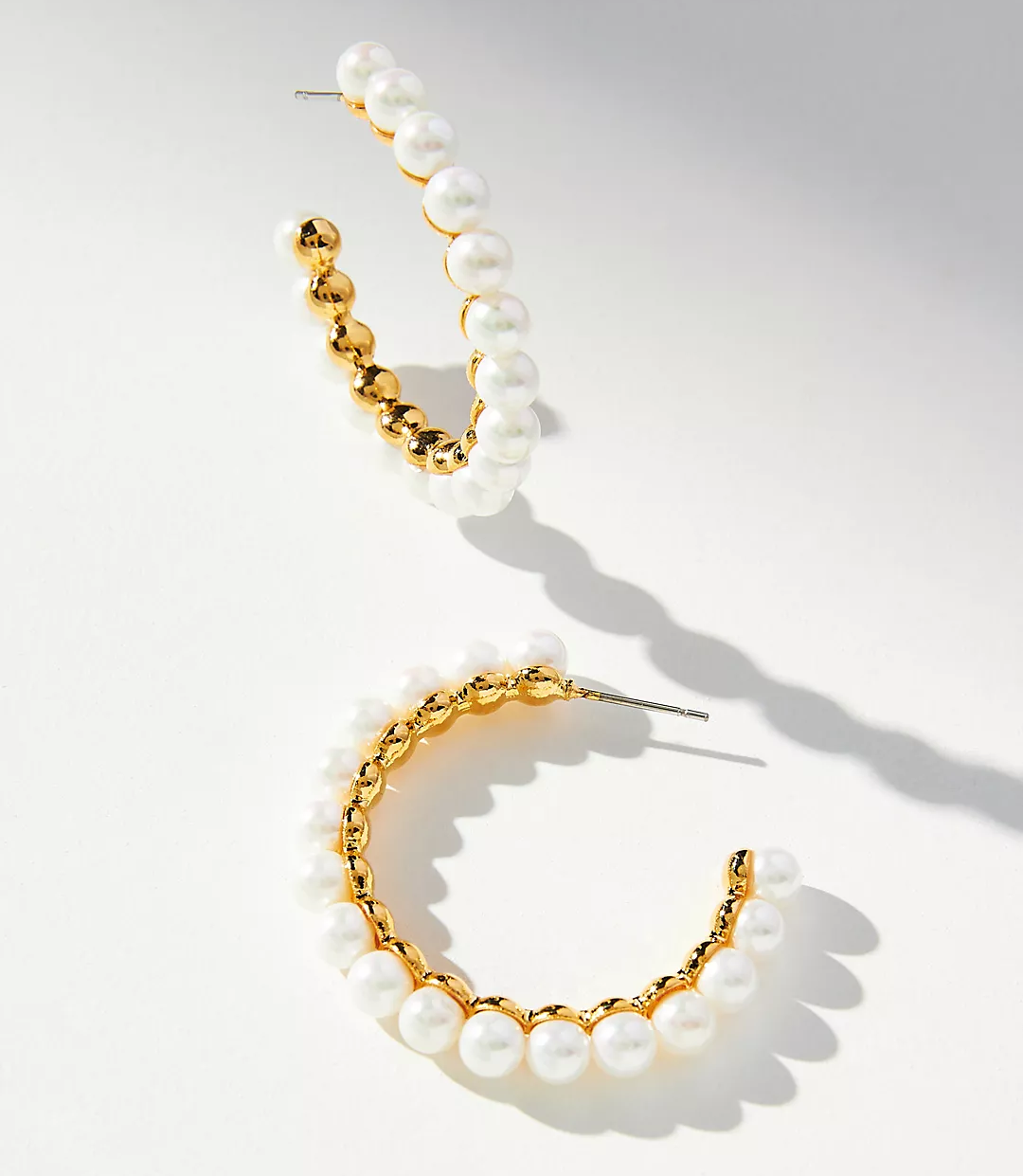 Get them from Anthropologie for $48.