1.
A strong scraper with the right ~skills~ to ~let~ you get every last piece of  caked-on grease and grub off your beloved cast-iron skillet (and other cookware too).
They've got over 4,000 positive reviews!!!
Promising review: "I have been told I cackle wildly when using these. Where there used to be frustration and curse words, there is now glee and sweet satisfaction. Scraping pans, tins, and tray sheets has become a breeze since I bought these. Originally bought for my cast-irons, but the other cookware wanted in on that nonscratch, sweet sweet scrape action." —Amazon Customer
Get a set of two from Amazon for $4.98.
2.
A portable nail polish storage case that can hold up to 48 bottles and has adjustable compartments on the side for other tools and products, because your trusty nail polish collection deserves better than being shoved haphazardly in a drawer (and you deserve better than all that clutter).

Promising review: "They are PERFECT for organizing and storing your nail polishes and tools. You can organize them by color, brand, season, however you want! The polishes take up less space and you can clearly see them and choose what you want for your next mani. Also, you can store them upright just like salons do. They're perfect!" —Arielle Mansion
Get it from Amazon for $22.99.
3.
An impressive peanut butter knife specially designed to get EVERY LAST DROP of goodness out of the jar, without getting your hands all sticky. It'll save you money, mess, and meal-prep time.

Promising review: "It will save your life! Give you wings! Make you taller! More handsome! It will reverse male-pattern baldness!! It will teach your dog to behave! Has been known to bring feuding families back to an amicable place of respect and love! Your glass will always be half full! You will suddenly find yourself only grabbing on-sale items grocery shopping (by accident even!). Just having one PB-Jife in the household has been noted as a confirmed good luck charm and beacon for positivity and fortune to befall you!* Two days on Amazon Prime later, and here I am full of life, typing this with my CLEAN HANDS AND KNUCKLES! After just scraping the bottom of a big ol'peanut butter jar out in two seconds effortlessly. It might look big and awkward (it's a monster of a one-use tool), but seriously if you have an intense dislike for getting PB on your fingertips dealing with jars — this is the solution you've been looking for. Long live PB-Jife.
*Will not do anything in that first paragraph. I'm sorry." —CW
Get it from Amazon for $13.99.
4.
An easily accessible hanging changing table organizer new parents absolutely swear by for keeping everything right at hand when things get messy. One time you never want to be disorganized? When there's baby poop involved.
It can also be hung on a wall!
Promising review: "Don't know how I lived without it! Before I bought this, I had to stash diapers and wipes under the changing table and bend down and grab when needed. I also had a pile of burp cloths on a side table, and all the baby's outfits in drawers. I bought this and it CHANGED MY LIFE. I keep the wipe warmer on it, as intended, always have easily and readily accessible diapers, burp cloths in one side pocket, and outfits in another. I hung this on the wall next to the changing table so I have it at an easily accessible height, ready to use and to grab whatever I need. I Love the nursery organizer and would recommend to anyone who asks." —Louis Klapper
Get it from Amazon for $29.92.
5.
A helpful toothpaste squeezer so you can easily get every last drop out of your tube, saving you time, space, and money and providing some high-quality satisfaction.

Promising review: "This is hands-down the BEST toothpaste squeezer ever, because it also serves as a stand! I first encountered this toothpaste tube squeezer stand at my boyfriend's house. He's a stickler for neatness and tidiness, and so his bathroom is so very neat, and this tube squeezer definitely contributes to that. Instead of the crumpled tube lying on the counter, or being tossed in a drawer, it stands straight and proud next to his cup and toothbrush with its middle unsquoze (yeah, I made what word up), and always ready to instantly serve up your toothpaste instead of having to fiddle with getting at it when the tube is half-empty or more. I *had* to have it. I keep my toothpaste in the medicine cabinet, and so for me the nicest thing about this squeezer is that it allows me to easily store the toothpaste upright, so that it takes up *much* less space in the cabinet! So there you have it — whether you keep your toothpaste on the counter like my boyfriend, or in the medicine cabinet like me, you will love this toothpaste squeezing stand!" —Anne P. Mitchell
Get it from Amazon for $6.89.
6.
An adjustable showerhead with five spray modes to turn every shower into a luxury experience and solve your water pressure woes.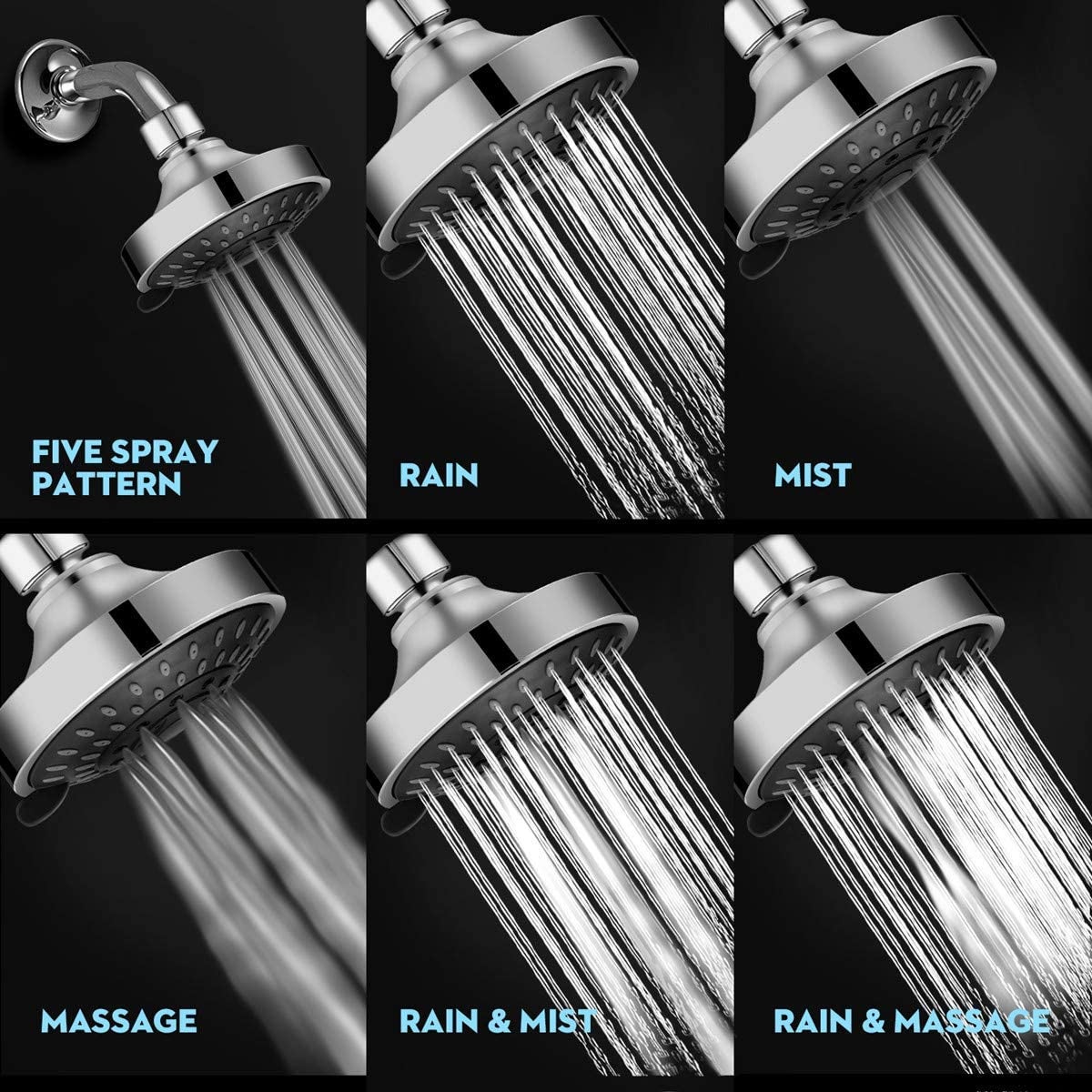 Promising review: "My previous showerhead lost a ton of pressure behind it after a year's use. This head works so well, I almost spend too much time in the shower now. I LOVE the rain and spa setting. Full coverage, plus a massage on my head after a long day's work; nothing beats that feeling." —Cory Sivo
Get it from Amazon for $16.99.
7.
A flameless, rechargeable electric lighter you can use to feel like a powerful sorcerer every time you light a candle. It's long enough to use on candles that have burned down a bit, and both fashionable and functional enough for your to say buh-bye to matches for good.
BuzzFeed Shopping editor Emma Lord writes: "This also comes in other pretty colors, but I am especially partial to this one because I bought it for my parents (their kitchen is entirely pink and one of my favorite places on Earth), and this was SO EASY to use — not to mention super safe! I'm a big weenie about fire (lol, self-preservation) so I've always stuck to extended arm gas lighters, but this is much better for the environment (plus cuter), so I feel a lot better about using it."
Promising review: "Wow. This thing is amazing. Small and so easy to use. My husband kept saying it won't actually light anything and was blown away when it did. We lit candles and paper to use as tinder with absolutely no effort. No fuel needed. Just a quick recharging. And no waste in throwing away those huge and never easy to use butane sticks. Love love it. Easy buying process so I would recommend everyone buy one." —Diane Bold
Get it from Amazon for $11.99 (available in five colors).
8.
A set of transparent fridge and pantry organizing bins, because your messy refrigerator could ~clearly~ use a bit of help (if for no other reason than that you want to make it easier to find a jar of pickles at 2:30 a.m.).
It includes three wide bins, three narrow bins, a bin with special slots for eggs, and a bin with an angled opening that makes it easier to grab cans.
Promising review: "The best thing that ever happened to my refrigerator! We had such a hard time with our fridge. The bins on the bottom broke, but we couldn't afford a new fridge just yet, so I ordered these just to get us by. They are AMAZING! Everything is neat and tidy, in its place. The added benefit that I wasn't expecting was that our food is staying colder than it was! I'm not sure why, maybe the material of the bins, but I'll never be without them!" —Amy M.
Get a set of eight from Amazon for $42.99.
9.
A Pink Stuff combo pack including the magical, TikTok-beloved cleaner in both paste and spray form, so you can scrub anything from cookware to walls and bathroom fixtures to rubber shoes shiny clean. Just ~pink~ of all the icky, stained things in your home you can finally clean with this stuff!
Promising review: "WOW!!!! This stuff is amazing. I literally just have to spray it, let it sit for a few minutes, come back, and depending on what I'm using it for I either wipe it and it comes right off or I just use a scrubbing pad and it comes off. There's nothing out there that is anywhere in comparison to this product!!!! This stuff is the absolute best. I highly recommend purchasing this. I can tell you that half of my cleaning products are now going to be thrown out because all I need is The Pink Stuff 😀😀. Whoever invented this stuff is an absolute genius; if you're a clean freak like me this really is the way to go. Also it doesn't have that nasty chemical smell, it smells great. Just buy it you won't regret it." —Twin33
Get it from Amazon for $18.99.
10.
A multifunctional, adjustable, and collapsible kitchen stand you can use to hold bags open for easier storage and clean-up *or* as a versatile drying rack for tricky things like bottles, graters, or cookie sheets.

Promising review: "Beyond 5 stars. I can't find anything I don't like about this piece of ingenuity. There is absolutely nothing wrong with it. Holds pretty much anything; poles are super tall for large cups and pans and blender containers. It holds Ziploc bags to dry and a gallon Ziploc bag as a container. Holds my reusable beeswax wraps. Folds away out of sight." —Firecracker
Get it from Amazon for $19+ (available in two colors).
11.
An Instagram-worthy set of Monstera-shaped recycled felt trivets for anything you don't want to ~leaf~ directly on your precious table.
They're from a Miami-based, Latinx- and family-owned small business that specializes in sustainable home goods.
Promising review: "It's so refreshing to receive a handmade product that is so carefully and beautifully packed. The small details mean so much to me. Thank you." —Grant Nakano
Get a set of two (one large and one small) from OlveraHome on Etsy for $12 (also available in gray). Get the matching coasters here.
12.
A HyperChiller, which you just need to fill with water and freeze — then it's ready to fully chill just-brewed hot coffee in (get this) only 60 seconds, so you can easily treat yourself to homemade iced coffee every dang day.
Promising review: "AMAZING AND LIFE CHANGING! THIS IS THE MOST AMAZING PRODUCT I'VE BOUGHT FROM AMAZON! I love iced coffee but only kinda like hot coffee. So I've suffered through years of trying to make iced coffee. Pour hot coffee over ice? Diluted trash. Put coffee in freezer? Takes hours! Half the time I'd forget it and have to then microwave my frozen brick of coffee. I ended up buying iced coffee way too much, basically throwing away money. Since I've bought this, I've used it one to three times a day, and over the six-ish months I've had it, have bought coffee maybe three times. If you love iced coffee, you need this! I'm not getting paid to promote this, I promise, it really is life changing for the iced coffee addict. There is an issue with the threading of the top screwing into the bottom. It does unattach and cause issues. But! A small price to pay for the incredible invention. I LOVE THIS PRODUCT! So amazing, yet so simple. Buy two in case something happens to your first. I'm not being dramatic. At the price, it really is magical." —Amazon Customer
Get it from Amazon for $23.74+ (available in three colors).
13.
A ~handy~ grooming glove over 3,000 pet owners swear by for giving their tiny shed monster a groom they'll actually enjoy — and saving themselves from a house full of hair.
Former BuzzFeed Shopping editor AnaMaria Glavan swears by this thing. She says, "The glove is super comfortable and using it couldn't be more foolproof: just put it on and run your hands through your pet's fur. That's it! The silicone grooves pick up so much fur with ease. Like, my dog looks close to hairless. HOW is he shedding so much!?!? After a few runs, I found that I would have to remove fur from the glove before continuing (you can pick up the fur with your other hand or run the glove under some water — either works) but it's no biggie. The silicone actually makes it really easy to keep this clean. We got Rockie when he was 5 and he'd been riddled with skin issues and allergies, so I was pretty nervous to use anything that could potentially aggravate his conditions. However! Not only does this *not* bother his skin, but he…loves this. A lot. He starts snoring after exactly two run-throughs on his back. Also, his coat looks SO shiny after each use! TL;DR: this is one of those inexpensive add-ons that any pet owner should have on hand."
Promising review: "The cats are in heaven!!! We have four cats and bought this to try to cut down on shedding and hairballs. After having it for just a week, we never want to be without it. Even our anti-social cat comes up and begs for a pet when the glove comes out. The only thing that is not perfect on this glove is that I have smaller hands, and the glove is a little big, so my pinky doesn't stay where it should. But hey, if that's the only downside, we aren't going to complain. Long story short, if you love your pets, you will buy this glove as soon as possible." —Amazon Customer
Get it from Amazon for $7.99+ (available in three colors).
14.
An amazing automatic spinning makeup brush cleaner and dryer that'll turn a tedious chore into a super quick and satisfying one. Just put soap and water in the jar, attach the right size "collar" (there are eight, so together they can fit almost any brush) to the spinner, and let 'em spin away in the liquid to clean and in the air to dry.

Get the required AAA batteries here.
Promising review: "I usually don't write reviews, but this is a game-changer! I bought this with very low expectations. I didn't think it would clean the brushes but I heard these devices are great for drying brushes. This cleaned my brushes and dries them in no time. This is probably my greatest Amazon purchase to date." —Dianna K.
Get it from Amazon for $19.95+ (available in two colors).