1.
A double pan you can use to make yummy taiyaki, aka Japanese stuffed pancakes shaped like fish. Add batter and the filling of your choice, then prepare to be ~hooked~ on your new favorite snack.
Hooked? 'Cause fish? Get it???
Promising review: "Great pan, very nonstick, and easy to clean! Made delicious taiyaki just like I had growing up in Japan!" —Shannon Y Nelson 

Get it from Amazon for $24.99+ (available in two sizes). 
2.
An absolutely iconic, reversible Harry Styles dishwasher magnet for anyone who ever doubted a dishwasher magnet could be sexy. Now, while your washer is scrubbing the ~watermelon sugar~ off your breakfast plate, you can be daydreaming about that music video....

3.
A snoozing Pokémon desk buddy whose li'l beanbag serves three purposes: 1) to be a cozy bed for your pocket monster, 2) to be something you can satisfyingly squish during the workday, and 3) to be flipped over and used as a screen cleaner! TL;DR, this desk accessory is the very best — like no one ever was.

I got Snorlax in my stocking this year, and I LOVE him! He can lie down or stand up on his beanbag (though Snorlaxes aren't known for being upright creatures), and he just brings me joy. I futz with him constantly throughout the day. He's my pal!
Promising review: "Bought this guy as part of my girlfriend's birthday present as Bulbasaur is her favorite starter.  She absolutely adores him! Little guy is currently sitting on her PC tower. I catch her smiling at him sometimes while we game together." —Tiphani Hoehn
Get it from Amazon for $14.99 (available in six Pokémon).
4.
Washable, reusable, and — *gasp* — actually cute pet pee pads no one (besides your pooch) will suspect are in fact pee pads. Here's to having a new puppy and actually keeping your house looking somewhat presentable.

Promising review: "Potty training is hard, and even harder with small dogs. My Cavapoo took right to the pee pad mat and even looks for it now when she has to make a potty. I was shocked how fast she adjusted to it. I was also surprised that when she used it to pee, I could hardly smell her pee. When I used the disposables, holy cow, my room smelled terrible." —Red

Get a two-pack from Amazon for $19.99+ (available in six designs). 
5.
Mighty Patch Face for anyone who has ever wished they could cover their entire face with goo-absorbing pimple patches. *Infomercial voice* well, now you can! This set is like a pimple patch face mask and comes with two cheek patches, a forehead patch, a nose strip, and a chin patch to suck out all the goo and stop breakouts in their tracks.

I recently used a whole set of these when I was having a relatively minor breakout (some visible zits on my chin and cheeks — which is about the most I get, as I'm not prone to allover breakouts). I popped them on overnight, and when I woke up in the morning, the pic on the right is what came off of my face!!! Some of the gooiest areas (like the sides of my nose) were places I didn't have visible pimples — the patches just sucked up the excess sebum (aka oil) produced by my face overnight — but it was still so satisfying to be able to *see* that gunk gone. I live for a gross skincare results moment, LOL. The set is definitely expensive since you only get one "mask" per box, but you probably don't need to use it super often — it's worth getting one or two to save for your biggest breakouts/that time of the month where your skin is super acne-prone. For that reason, I think this product is something it would def be worth using Subscribe & Save for! You can, of course, also break up the set, and I've done that in the past, too/probably will going forward — my face felt a bit hot in my sleep with the whole set sealed to my pores, so next time, I might treat my cheeks one night and my T-zone the next. If you're like me and your chin is your most breakout-prone spot, you can also get a pack of just the chin patches (ditto for the nose). TL;DR, these are worth it as an occasional skincare treat for those of you who love grossly satisfying results and/or if you're prone to allover face breakouts!
Get it from Amazon for $19.99 (or $17.99 with the Subscribe & Save option).
6.
And, for once you've drained your zits with the patches, the brand's Rescue Balm to help smooth, fade, and reduce flaking from healing, popped pimples. As the queen of acne scars with a bad habit of picking, I ordered this soooooo fast.

The reviewer above's results are after just five days!
Promising reviews: "I've only been using this for a few days now but within the first day it has cleared active acne that I've had for two years now. It's made my discoloration almost completely go away. I don't know what y'all put in this stuff but it's magic." —Bella
"How did I not know that this magical little balm existed? Feels so good smoothing on broken out skin, very light weight and disappears into the skin. Does not tingle or burn at all, so of course I assumed it would do nothing. I was wrong! Instead of getting all crusty and peely, my breakouts improved greatly overnight and reduced greatly in size. By the next day they were far, far less noticeable. By the day after, they were basically healed. I continue to apply this to my breakout prone areas, and so far no new breakouts. Hallelujah! A little goes a long way so this little tube lasts a long time —a good value for the money. I am a convert!" —Amazon Customer

Get it from Amazon for $12.99 (or $11.69 with the Subscribe & Save option).
7.
The greatest Valentine's Day purse I have ever seen — because your bag, like life, can be like a box of chocolates. The truffles your S.O. got you will be gone by February 15th, but this crossbody? It'll be your Valentine for years to come.

8.
Or, an equally romantic mini backpack featuring everyone's Disney OTP, Flynn/Eugene and Rapunzel, sharing a smooch. It's got adjustable straps and two zip compartments, which is great because just like Eugene has a thing for brunettes, I've got a thing for cute bags that are actually practical.

Promising review: "The bag feels like great quality; the pictures are clear and beautiful. The back of the bag is just as gorgeous as the front, which makes me wish this bag was somehow reversible, but I still love it the way it is! The straps can detach and be modified to how you like your style! It is slightly smaller than a standard Loungefly (this bag is not Loungefly, but I'm just adding it for detail). Overall, I just LOVE this bag!!" —Taylor Lee
Get it from Box Lunch for $59.92 (originally $74.90).

9.
A portable Black + Decker washing machine, because yes, you can have an in-unit washer without all the space and without paying more rent! Buh-bye, saving quarters for the laundromat or the machine in the basement — I won't miss ya.

It's got heavy, gentle, normal, rapid, and soak cycle options.

Promising review: "If it worked for me, I would say it will work for 99% of others. It didn't fit my kitchen faucet, only because I would need an additional piece to make it fit the washer's attachment. It did fit my bathroom sink. The only additional item I've purchased is a water diverter so I can use whatever faucet I attach it to, and not have to disconnect the washer hose. The spin cycle works as well as a conventional/full size washer. It's really quiet. The way to move the unit (if without a dolly or other type of rolling mechanism) is you just grab the two handles at the top of the washer, and rotate it toward you a bit on one side, then rotate toward you on the other side. ... You can't really tilt the washer and roll on the wheels...it doesn't work even on linoleum because of the leverage issue. Anyway, buy it! This thing lets you wash a decent-size load (I would say at full capacity you get 1/3 of a full-size washer). It's pretty nice! I hate going to the laundromat, and was too lazy to even bring laundry to my parent's...so what kept happening is piles and piles of laundry to the last piece of clothing, then finally making the time. Then, you are washing clothes for hours on end. This breaks it up." —"bennryan"
Get it from Amazon for $248.81.

10.
An inspiring "Women Who Broke Glass Ceilings" wall calendar featuring gorgeous artwork and brief bios of real-life heroines — from Anna May Wong to Greta Thunberg to Laverne Cox. Follow in their footsteps, and who knows — maybe next year's version will feature *you*.

11.
A hilarious Ikea bag coin purse with a zip top for securely holding your tiny essentials and an adorable design that'll make you feel like you took a visit to your favorite store every day (without all the schlep).

12.
A hilarious paper clip set complete with an ~out of this world~ magnetic holder and 20 cow-shaped clips ready to be beamed up to the adventure of their lives. Take me to your leader...or at least, your file cabinet.

13.
Bestselling Globbles fidget toys that stretch, squish, and stick to the wall (!!!) without leaving messy residue. You may wanna buy a set for every room in the house.

Check them out on TikTok. 
Promising review: "Bought a six pack for my neurodivergent family. We are all either ADHD or autistic. I struggle with compulsive hair pulling and bought these to help keep my hands busy. They are the perfect size, more satisfying than a stress ball, clean easily, fun to hurl at the wall or ceiling, and so far have lasted very well. I did test the durability of one and did break one when I pulled it as hard as I could — the inside looks something like shaving cream and didn't smell or anything. But if you have a kid who is an aggressive chewer, perhaps keep an eye on them." —Amazon Customer
Get a set of six from Amazon for $10.69. 
14.
A comfy pastel cardigan with the CUTEST ice-cream-cone-shaped buttons you'll wanna rock every day of the week — not just on ~sundaes~.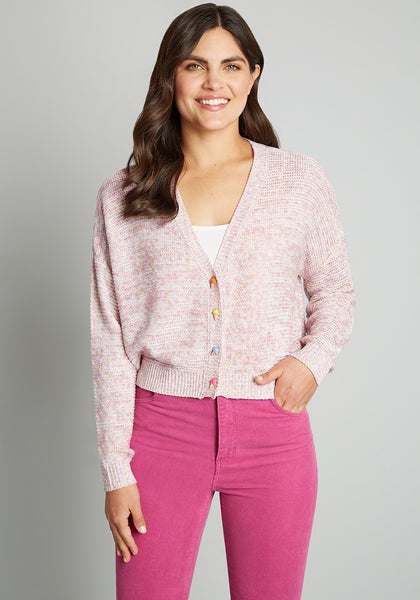 Get it from ModCloth for $69 (available in women's sizes XS–4X).