1.
A wall-mounted mop and broom holder, because you must have your life together if even your cleaning tools are organized (even if you rarely use them).
This organizer has five clamps for holding longer items (mops, brooms, or rakes and other gardening tools) plus six collapsible hooks.
Promising review: "I absolutely love this product! I cleaned my laundry room last week and wanted to organize all my brooms, mops, and even my mini vacuum. This handled the job and then some! It can be installed in minutes and is very strong. I feel comfortable with it holding an item that's moderately heavy compared to the rest. I love the extra hooks as well." —Judyque
Get it from Amazon for $12.72.
2.
Goo Gone's kitchen degreaser, which, well, gets the goo gone! Which is good, because from your stove to your microwave to your counters and shelves, goo seems to be a common theme.
Look at the difference it made on the reviewer's shelf above, which used to be covered in grease!
Promising review: "Cleaned a house with a thick layer of grease on top of the cabinets over the stove. The picture is worth 1,000 words. It sprays out as a foam so I had to spread it out a bit and I let it sit. Still took a significant amount of elbow grease, but it definitely worked." —Ellen 
Get it from Amazon for $6.99.
3.
A trio of power scrubber brushes you can attach your drill and instantly create a super-powered deep-cleaning device.
Promising review: "These brushes are freaking fantastic. I tried them on a portion of my shower and bathroom floor tiles and grout. I immediately had to do the rest because it made the cleaner sections look dirty. I also tried it on the side of my fridge that is next to my stove top. It did a pretty good job there as well at removing grease and stains. The only downside is that it made me enjoy cleaning!" —Eric T. Ma
Get it from Amazon for $14.95+ (available in six colors, each with a different stiffness/purpose).
4.
A set of drawer organizers that'll basically FORCE you to fold your socks and underwear. Your mom will be so impressed next time she visits, she won't even look under the bed!!!

This set includes four organizers: one with six long pockets, one with eight square pockets, one with seven pockets big enough for bras, and one with 24 small sock pockets.
Promising review: "This is a great organizer! No matter what else is going on in my life, at least my underwear drawer gives me the (false) sense that I have it all figured out. This organizer was just what I was looking for. The material is malleable, which makes it much easier to get in and out of my drawer, and it's also very easy to clean. I've been using it for five months now and haven't had an issue with wear and tear at all." —NAD
Get a set of four from Amazon for $13.57 (available in seven colors).
5.
Miraculous Folex instant carpet spot remover, which also works on upholstery to make stains do a Houdini-level vanishing act. Plus, it's odor free for scentsitive folks.

Promising review: "This stuff is amazing! Best carpet cleaner I've used. We have a ton of stains on our carpet — of various sizes, colors, and origins. Some are from our very old dog. Others were due to our crafty yet messy daughter. Others are...well...we have no idea. I bought this figuring 'what do I have to lose?' I sprayed in on some mystery black stains — and then a few hours later walked back into the room to find them all gone. I couldn't believe it! You can't even see where they were! I've gone through two bottles (ordering more!), as I've been spraying every stain on the carpet. Some were gone in one application. Others faded but didn't disappear, so I tried again, and they are gone! It totally removes the mystery black marks without a trace. It's not as good on long-ago pet stains, but I'm still working on that — haven't given up. I've tried almost everything — Oxiclean, every stain remover and pet stain remover possible, and absolutely nothing works like this." —JBat
Get it from Amazon for $12.80.
6.
Washable microfiber mop pads that'll fit on your trusty Swiffer WetJet or similar mops so you can kick wasteful and pricey disposable pads to the curb. You'll be shocked — and perhaps horrified — by how much more ick they can pick up than the mop heads you have been using.
One pad can last up to 100 washes and works on pretty much any surface, from wood to tile to stone.
Promising review: "I wanted to reduce waste with disposable pads and I was pleasantly surprised by these. This photo was AFTER I cleaned the floor with the disposable pad! I was able to get a super clean floor, spots were easier to clean up, and it didn't sound like it was scratching my floors. This was easy to use, didn't use more cleaner then the disposable pads, and got my floor cleaner. Definitely gonna but more if the two I got ever wear out." —Riley
Get a pack of two from Amazon for $14.95.
7.
Durable all-purpose wipes made with aloe vera and vitamin E for everything from your hands to your car to tricky stains like grease, makeup, adhesives, and permanent marker. Paper towels are cancelled.
Note that while these are great for messes and stains, they don't disinfect.
Promising reviews: "These towels are awesome for so many things. They are large and very sturdy, so they work well for household cleaning. The real benefit for me, though, is having a wipe that works for things like the grill, the oven, the dashboard of my car, muddy shoes, chairs and umbrellas that go to soccer games and practices, and lawn furniture. I frequently wipe something down, rinse the towel, and wipe again. The wipes are heavy enough to go through three to four rinses and wipes and still hold up. The smell is mild and doesn't linger on my hands or what I've wiped down. I use these almost daily, so the 90-count canister lasts about three months and the last towel is never dried out when I get to it. The lid closes securely, yet is easy to open and the towels dispense easily through the opening without getting bunched up. Because the canister is heavier than most, and the lid fits well, it's easy to throw one of these in the trunk or cargo area, and I don't worry about it leaking. The canister (minus the lid) is recyclable when the towels are gone — an added bonus." —COMom
"My son had painted on numerous different items in my house. I thought it was the end after trying baby wipes, Clorox wipes, and paper towels....I then tried these after a final act of desperation, and they wiped up the dried acrylic paint like it was butter!!!! 100,000/10 recommendation." —RyanH
Get a pack of 90 from Amazon for $14.94 (or $14.19 with the Subscribe & Save option).
8.
A possibly magical wine stain remover capable of saving you from the effects of your roommate's clumsier moments. Pinot more clothing and carpeting casualties after a boozy night in (or out).
Promising review: "Totally impressed! The unassuming generic packaging and label left me a bit skeptical, but this stuff is almost as exciting as the wine I spilled! This Cabernet stain sat on my ivory faux-fur blanket for over a month before I tried this product. Completely gone in one try! Get this. Seriously. You won't be disappointed." —PersianTess
Get it from Amazon for $10.34.
9.
A roomy rotating makeup organizer that's perfect if your bathroom counter currently looks like a Sephora exploded.
The height of each tray is adjustable, so it can fit several different-sized items. It claims to hold at least 30 brushes and 20 other products!
Promising review: "I love this thing so much. I got the clear kind and it looks fancier than I thought it would. It was super easy to assemble (the instructions are on the box, easy to follow, and have pictures). I also think it's great how customizable it is because I have bottles of all shapes and this design was able to utilize the vertical space in my bathroom cabinet!" —Akash B.
Get it from Amazon for $19.99.
10.
A simple-yet-brilliant lid organizer with adjustable dividers so you can finally, finally, FINALLY find the lid that actually fits the container you're using, instead of giving up and going with plastic wrap instead.
Promising review: "This product does exactly what it's supposed to and does it well. In under 15 minutes I took my nightmare lid drawer and turned it into a functional, convenient storage space. The dividers were simple to install and provided flexibility. Slowly but surely I am getting my tiny, chaotic kitchen under control, and this got me a huge leap closer." —S. Hawthorn
Get it from Amazon for $16.99+ (available in five sizes).
11.
A 100% natural oven scrub made with eucalyptus, peppermint, lemon, and tea tree essential oils that's ready to work oh so satisfying cleaning miracles on baked-on messes (you know, the ones you were planning on just ignoring).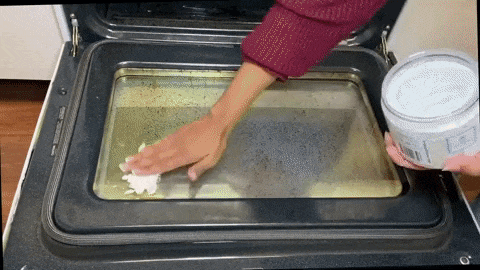 It's from a small cleaning product biz based in Fairfield, CT.
Promising review: "I couldn't believe how clean it got our oven in just a few scrubs with this stuff! It looks brand-new!" —Philip Romanowski
Get it from Everneat on Etsy for $19.99 (available in three scents).
12.
A Command sponge caddy, because why should you to leave the grossest thing in you kitchen out for the world to see (or worse, in the sink collecting more gunk)? This thing proves there's a place for everything and everything in its place.
It also works great for organizing pretty much any other small household items, or even as a soap dish since you can take off the bottom part to let the water drain! Plus, it is dishwasher safe and attaches via Command strips, so it won't damage walls.
Promising review: "THIS is such a great invention! SO happy I found this! I was looking to purchase a flip down cabinet add-on to make the faux front of the sink cabinet a usable tray for a sponge. This is actually not only immensely easier, but also better, since you can empty the water with the pullout bottom tray. Beyond easy to install and made me a very happy customer!" —Sta So
Get it from Amazon for $15.80.
13.
An adhesive cable organizer you can just pop on the side of your desk, back of your TV stand, your car's center console, or wherever you just have a chaotic crap ton of cords.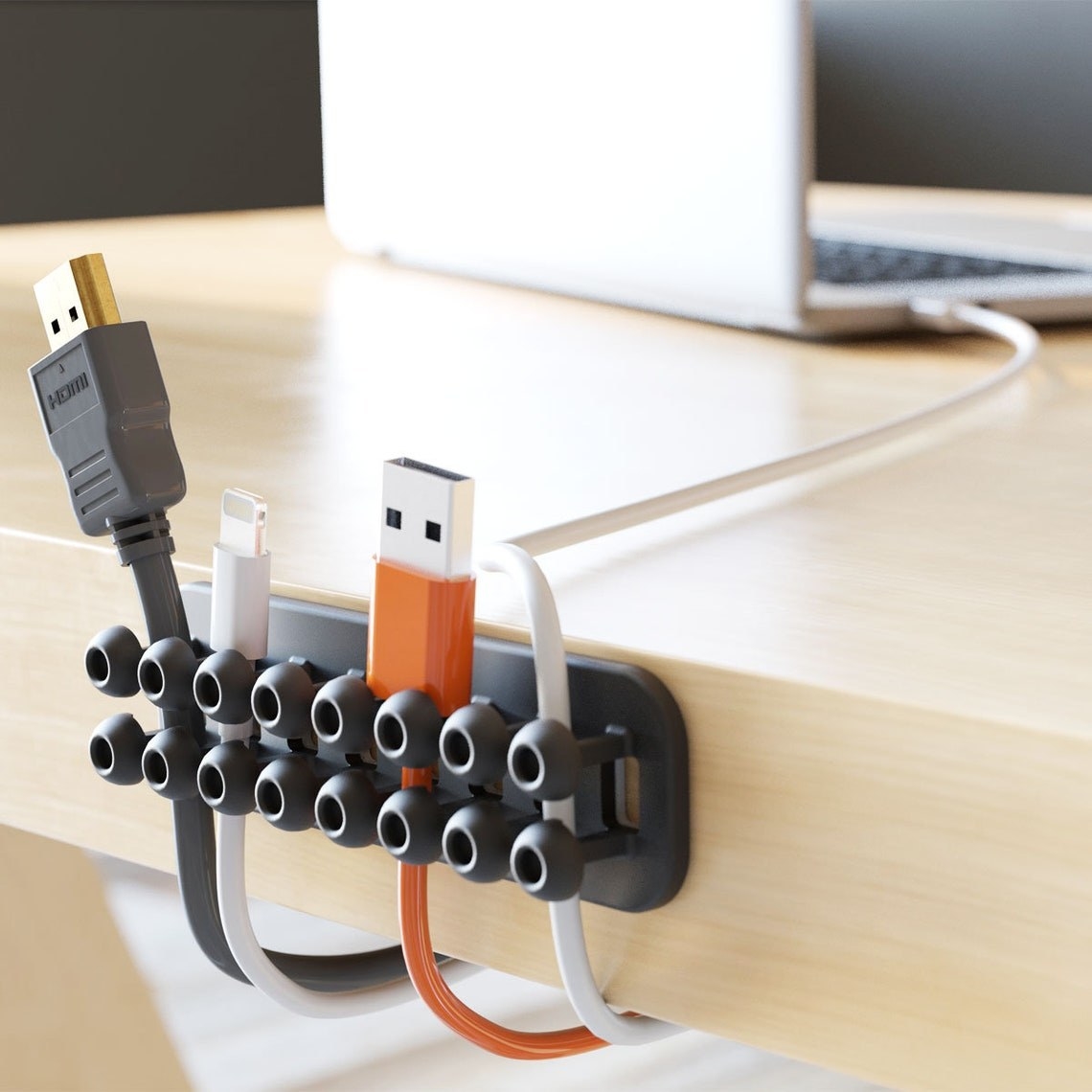 It can fit pretty much any type of cord under 11 mm wide, and it's from a small business based in Winter Garden, Florida.
Promising review: "These work great and blend in with our black shelf. I love that you can stick them right where you need them or screw them down if you want more permanence. I'd definitely purchase again!" —Rae
Get a three-pack from PrismOne on Etsy for $10.48 (available in more styles here).
14.
Majorly space-saving hangers to transform your tiny closet into something you can work with, even if you've got an extensive wardrobe. They also come with the added benefit of helping you convince your mom that no, you do not have too many T-shirts/jean jackets/floral dresses, because look, they all fit in one corner of the closet!!!
There are hanger hooks on both ends, so you can attach either one (like in the pics above for maximum space saving) or both (to hang easily wrinkled clothes a little farther apart) sides to your closet rod. Each one has five slots for more hangers, so one set can store up to 50 pieces.
Promising review: "TEARS OF JOY. Okay, I know that's dramatic, but I cannot say enough about how these hangers have transformed my tiny, odd-shaped closet. I was so desperate for more space, I was considering spending big bucks to have a professional come in and redesign the space. Then I found these and it's like my hanging space quadrupled! It feels downright luxurious in my closet now. I can see all my clothes and nothing is squished together like it used to be. I can also comfortably add a substantial amount of clothing and would still have room to grow. BUY THESE IMMEDIATELY!" —milanina77
Get a pack of 10 from Amazon for $11.04+ (available in two colors).