Despite What The Internet Thinks, People Still Prefer Taylor Over Kim
Despite the internet celebrating #KimExposesTaylorParty, most regular Americans are solidly pro-Taylor. Also: Bad news for Kanye's presidential campaign.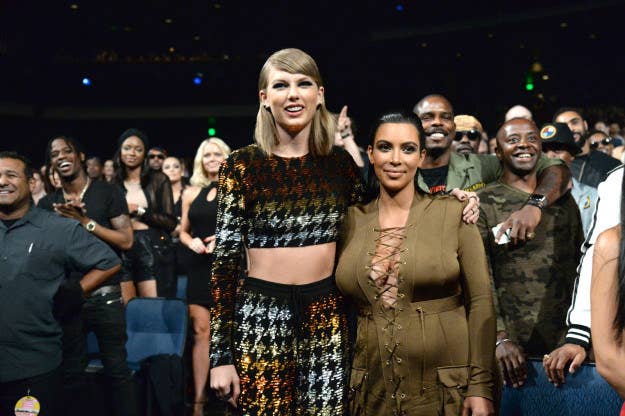 It's been one week since Kim Kardashian exposed Taylor Swift for the she is. And although there was no question internet sided with Kim, a poll of registered votes collected exclusively for BuzzFeed News reveals that the four times as many regular people are Team Taylor.
In case you were in an RNC-induced coma last week, Kim Kardashian posted on her Snapchat the video footage that revealed that yes, Kanye West did have a phone conversation with Taylor Swift asking for her approval to mention her in his song lyrics. Previously, Taylor claimed to be surprised and offended over how he mentioned her in the song "Famous", and denied that she gave any sort of approval.
[There's still some debate over whether the video shows that Taylor only knew about the line "I feel like me and Taylor might still have sex,", but perhaps not the line "I made that bitch famous," and that her offense is about that second line. But let's not get into the weeds here.]
Instantly, the reaction on Twitter and the internet in general was that Kim had delivered a mortal blow on Taylor.
The hashtag #KimExposedTaylorParty shot to the top of Twitter. Here at BuzzFeed, we declared, It's Official! Twitter Has Proclaimed Kim Kardashian The Winner Of The Taylor-Kanye Feud.
But it turns out that most average Americans didn't actually side with Kim and Kanye at all.
BuzzFeed News asked Morning Consult, a media and technology company that often conducts political polls, to find out what the broad spectrum of Americans thought about Kim versus Taylor.
75% of the people polled had heard of the whole feud at least somewhat – this was a big deal! Even old people knew about it! This was huge news!
And in general, people like Taylor Swift waaaaay more than they like the Kardashian Wests. 55% of people felt favorably about Taylor, but only Kayne only had a 15% favorable rating and Kim only 16%.
When they asked who you sided with in the feud, here's what they found:
34% side with Taylor
8% side with Kim and Kayne
58% don't know/no opinion
So it turns out: Twitter is not real life. The opinions of the internet are not the same as "everyone". Or something. Idk.
*A little more about the poll construction:
They polled 2,502 people, all registered voters in the U.S. The margin of error is plus or minus 2 points. Here's some breakdowns of the demographics:
Age: 18-29 16%

Age: 30-44 25%

Age: 45-54 21%

Age: 55-64 17%

Age: 65+ 21%
White 81%

Hispanic 9%

Afr. Am. 13%

Other 6%