One night last fall in Los Angeles, two rising comedians met each other for drinks. The situation could've been awkward, since Courtney Pauroso, a sketch comic at the Groundlings theater, and Beth Stelling, a stand-up comedian who has performed on Jimmy Kimmel Live and Conan, didn't actually know each other. But Pauroso had reached out to Stelling after she heard they had both dated another comedian on the scene. Their ex had been emotionally abusive and had even raped her, Pauroso said. Had he hurt Stelling as well? Yes, Stelling told her. He had.
The two women spent the next month trying to figure out what to do next. They didn't want to press charges — police are notorious for failing to take rape and domestic violence seriously — but considered reporting him to the Upright Citizens Brigade Theatre, where he performed, although Pauroso wasn't a regular there.
"I was so scared people would think I was crazy," Pauroso said. "I didn't want to be the 'rape comic.'"
Instead, Stelling — with Pauroso's blessing — decided to post photos of her bruised arms and thighs on Instagram as part of a "year in review" post on Dec. 28. Stelling's ex, whom she didn't name, had done this to her, she wrote. He had also verbally abused her and raped her. She wrote that she had stayed quiet for fear she would look "weak or unprofessional," but after hearing about other people he had hurt, she realized she had to come forward.
"Unfortunately I'm in a line of smart, funny women who experienced this from the same man in our L.A. comedy community," Stelling wrote. Three days later, Pauroso told her podcast listeners that she was one of them.
"I don't want him here, I don't want him around me, I don't want him to have the chance to work in the community," Pauroso said of her ex, whom she also didn't name. "I think it is an appropriate punishment for him to be ostracized."
Stelling and Pauroso weren't trying to become national news — in fact, they were alarmed by how quickly that happened. ("It's terrifying that this is all over the internet," Pauroso said, "because we can't control it.") The point wasn't to attack their ex, which is why neither woman mentioned his name, although the man — Cale Hartmann — was outed so quickly that he felt compelled to post a public response stating that the "severity" of Stelling's accusations was "false and extremely harmful." (Hartmann directed BuzzFeed News to a publicist who did not comment further.) Their only clear goal was to help other women, Pauroso said, adding that she never would have spoken up without Stelling's validation and support.
"I was like, 'If you think I'm lying, go to Beth,'" she said. "If I was someone who was just getting started in comedy, I cannot imagine ever having the strength to do this, much less alone."
Stelling and Pauroso are not alone. Stelling's Instagram post had barely been up before the members of a private Facebook group for women in the L.A. comedy community identified Hartmann by name and began discussing next steps. For nearly two years, Facebook groups like this one have been a place for the city's female improvisers, sketch performers, and stand-up comedians to vent about how sexism is intertwined with professional opportunity. Last year, they decided to do more than talk — they started naming names, and they got results.
At least three men whom they accused of sexual harassment and assault are no longer allowed at some of Los Angeles's most prominent theaters. One comic is facing a police investigation. Another man's reputation was so thoroughly destroyed that he had to move back to his Midwestern hometown.
When women share unfiltered information, it's often called gossip, or, even worse, a witch hunt. But there's been a cultural shift in recent years, from college campuses to the military, where women have taken advantage of new platforms to speak freely and publicly instead of depending on the so-called proper procedures that have let them down — and institutions have been forced to listen. Some call it groundbreaking feminist organizing. Others call it mob justice. Either way, that sea change has reached the comedy community, and it has raised tough questions about who is responsible for addressing sexual misconduct in a business where sexism has long been a barrier to women's success.
Some of the city's biggest theaters say they take these issues seriously. But as the improv and sketch comedy scene has exploded, theater companies have struggled to be more inclusive while still allowing for the political incorrectness and spontaneity they've always championed.
Last year, UCB and iO West, arguably Los Angeles's most established theaters and training centers, drew up new misconduct policies and hired new staffers to handle allegations. iO West said its initiatives were a direct result of allegations that had been raised on Facebook. UCB, which has yet to post its new student-specific policy online, insisted its guidelines had been in the works for a while.
But the theaters can only do — and are only willing to do — so much, which is why female comedians are sharing their stories with each other instead. Yet some comedians are uncomfortable with how quickly the community has turned on the accused men, none of whom have ever been formally charged with a crime.
"By the end, it wasn't even about me," said one man — we'll call him The Actor — who left L.A. after women in the Facebook group accused him of being a relentless sexual harasser. "I felt like I wasn't even a person anymore, like I didn't have a voice, or that my thoughts and opinions didn't matter. I was just a symbol of this larger issue."
Gina Ippolito, a comedian who has helped broadcast the members' allegations outside of the group, said the women had to act without waiting around for the cops, theaters, or other men in the community to believe them. "It was the best system we had," she said. "No one suggested an alternative."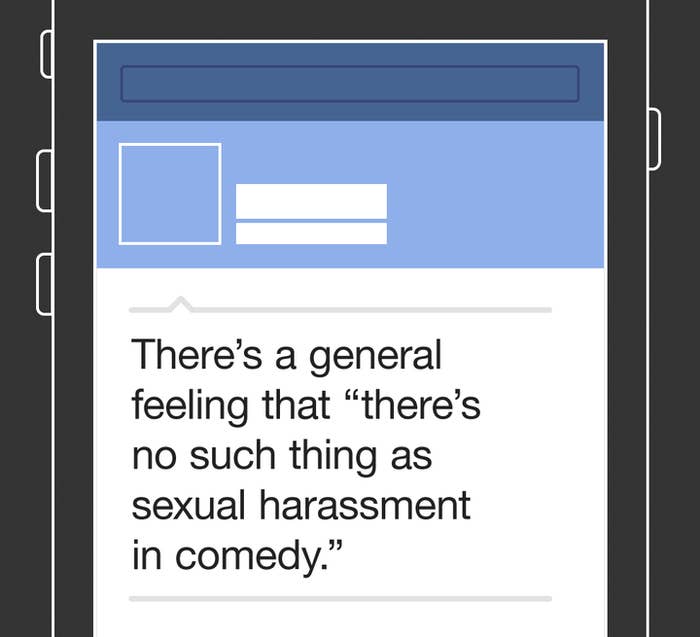 Erika didn't know anyone when she moved to Los Angeles in 2010, two weeks after graduating from Indiana University. After a lonely first year, she discovered the L.A. branch of the Upright Citizens Brigade, and the beloved bicoastal comedy institution soon felt like home. Erika spent all her extra money on classes, interned at the theater, and hung out with her new friends after shows.

"I was at the theater more days than I wasn't," said Erika, who asked that her last name be withheld. "I wanted to meet everybody."
One of the first rules of improv Erika learned was "Yes, And," which means that performers should build on each other's ideas instead of rejecting them: If one person says, "It's raining outside!" the other better open up an imaginary umbrella.
Improvisers discuss the creative benefits of "Yes, And" in near-mythical terms. But some of Erika's male classmates were less interested in being intuitive teammates than launching into their own raunchy material, which often devolved into gratuitously sexist jokes and inappropriate touching. Women felt they were expected to "Yes, And" and play along, not only onstage but off, where the unwanted come-ons sometimes continued.
Erika never considered complaining. Even if she had, who would have listened? Some of the teachers, coaches, and headliners around town — most of whom are men — made a point of calling out bad behavior, but others didn't seem to care. Some even had their own skeevy reputations. The L.A. comedy community was supportive, but it was also fiercely competitive. In some cities, comedy is more of a hobby, but in L.A., actors pay for classes and compete for unpaid stage time in hopes they'll get discovered. Women who spoke out were often branded crybabies, bitches, or — worst of all — unfunny.
"There was this pressure to be down for everything," said Erika, now 26. "I wanted to be unflappable, the type of performer who didn't get freaked out when you had to pretend to give a blow job on stage."
There was one place where Erika could vent: the "Women of UCB" Facebook group.
Lindsey Barrow, then a house manager at UCB, founded the group in February 2014 after attending an inspiring workshop on "women and directing" at the theater. It was meant to be a safe space for women to brainstorm and collaborate, but it "turned into more of a forum for women to talk," Barrow said. Over 1,000 women joined to post about everything from their upcoming shows to dermatologist referrals. As the group grew, the conversations got more personal.
During the summer of 2014, the national media started covering the rising number of women accusing comedian Bill Cosby of rape. The social media campaign #YesAllWomen trended worldwide after the UC Santa Barbara shooter was discovered to be a misogynist, and student activists around the country pushed the White House into launching a task force on campus sexual assault. The group members were inspired by these collective storytelling crusades to write about their own experiences with sexism — stories that women in Hollywood have historically been afraid to tell.
"When I was younger, there were so few women in comedy that we weren't encouraged to have any sense of sisterhood," said 47-year-old comedian Margaret Cho. "We were just so isolated."
Even today, superstar actresses are still paid less than men, have fewer opportunities to audition for leading roles, and routinely fail to make it onto "Best Of" power lists. Many comedians interviewed for this story would only speak anonymously because they were worried about jeopardizing their fledgling careers — and newcomers make up a large portion of the thousands of people paying for classes at theaters that run training centers like UCB and iO West, which started as alternative "DIY" comedy troupes but have grown into booming bicoastal businesses.

UCB, which runs three theaters in Los Angeles that put on 300 shows a month last year, operates the only nationally accredited improv and sketch training school in the country. Hundreds of people regularly try out for a dozen or two spots on UCB's prestigious Harold (improv) and Maude (sketch) house teams, and all of them have to have completed the theater's four-level training program, at around $400 per level. Nearly 12,000 students took classes at UCB New York or L.A. in 2014, about 6,400 of whom enrolled in the theater's entry-level improv class, according to Vulture. Around 5,000 students took classes that year in L.A. alone, perhaps in hopes of meeting creative partners, getting spotted for a commercial or TV show, or even becoming the next Amy Poehler (one of UCB's four founders), Aziz Ansari, or Nick Kroll, who are just a few notable UCB alumni.
But UCB offers more than wildly popular classes and shows (its website warns that "classes sell out very quickly, sometimes less than a minute"): It's a hub for passionate devotees who want to work and play together. Determined performers can go from audience member to regular performer, to coach, to paid instructor or even theater administrator relatively quickly.
It's good for business to blur the lines between theatergoers and actors — and actors and instructors — so that newcomers feel like part of a big, funny family. But there are drawbacks to the informality, one being that there haven't always been clear guidelines for resolving serious problems. As UCB has grown in size and influence, it has received criticism for not paying its performers and discriminating against minorities — and for not taking widespread sexism seriously enough.
Both UCB's and iO West's training centers say they are committed to diversity (UCB even offers scholarships), but, as of now, critics say the numbers still speak for themselves. In Los Angeles, for example, UCB lists 34 men and 15 women in its faculty department, and iOWest lists 18 men and 6 women. The majority are white.
There's a general feeling that "there's no such thing as sexual harassment in comedy," an improv teacher wryly explained in a recent episode of the FXX sitcom You're the Worst, on which sexual harassment in improv was an ongoing plotline. Stephen Falk, the show's creator, said in an email that this was inspired by the writers' own experiences. "There is a sort of dangerous inherent conflict" in comedy in that it "needs to be a 'safe' place where anything goes comedy-wise — where the dirty, honest truth must be free to be expressed, which can lead to some bad behavior," he wrote.
Members of the "Women of UCB" Facebook group told BuzzFeed News they felt pressure to ignore annoying or even abusive behavior if they wanted to succeed — for example, if a guy in class "completely ignores your entire premise and turns you into a prostitute," Carrie Keranen said. Lauri Roggenkamp recalled one improv scene during a class at UCB where a man simulated sex with her so aggressively that he forced her leg up and ripped her jeans. "If you complain about it, you're not viewed as a team player," she said.
The only other option, women said, was to quit. "It's easier just to stop showing up," Jennie Newman, an alum of both UCB and iO West, wrote in one of the groups. She said she had left a theater after repeated harassment.
"I didn't want to step on on any toes, or prevent opportunities for myself," she told BuzzFeed News. "I know that's sad, but I didn't know who I could trust."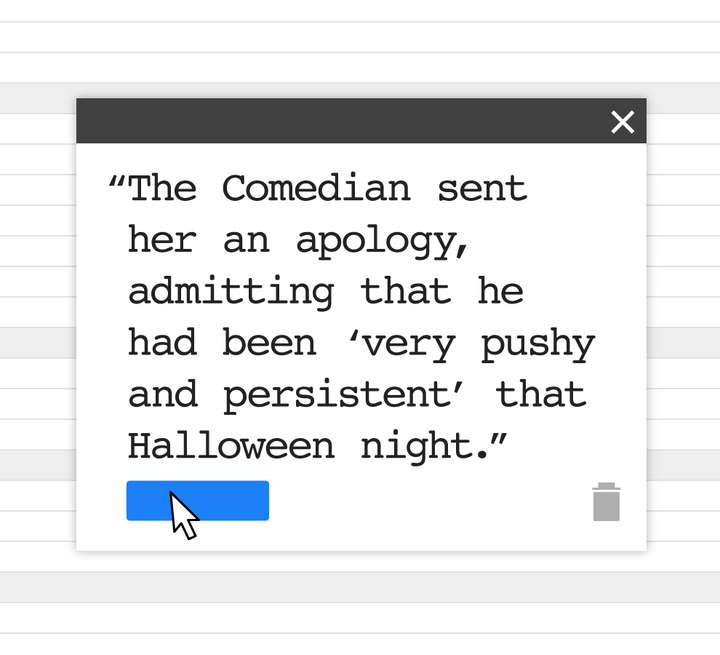 Erika posted in the group for about a year before she gathered up the courage to ask a "serious and very sensitive question" in February 2015.

"There is a man in the community who has sexually assaulted multiple women," she wrote. "This is 100% fact, not hearsay or conjecture." Erika felt "weird" naming him on Facebook, she wrote, but she didn't "know another way to reach out." She wanted to warn the group's newcomers, and she wanted to know if he had harmed any of its members. "This is a strength in numbers situation," she wrote. "I'm not pursuing revenge, I just want to protect women in this community."
She didn't explicitly say the post was personal, but it was. In 2011, a guy Erika knew from UCB — we'll call him The Comedian — offered to walk her home after a Halloween party. He told her he wanted to escort her home to keep her safe, she said. But when they got to Erika's apartment, he asked to use her bathroom. Afterward, he turned the lights off and forced her to have sex, she said. Erika said she said "no" repeatedly, but was afraid to yell or make more of a scene to stop him. He was a showrunner at one of the only indie improv shows in town, and a regular performer at the theaters. Erika didn't think anyone would believe her.
"I thought if I screamed for the police then he would say that I was lying, and I was crazy, and that would be my reputation from then on, for all of these people that I really wanted to be friends with," she said. "He knew everyone, and no one knew me."
But as years passed, and she continued to see him around, Erika couldn't stop thinking about what happened. In 2014, she wrote a blog post about the "nonconsensual sex" she had with an unnamed comedian. A few weeks later, he sent her an apology, admitting that he had been "very pushy and persistent" that Halloween night. He wrote that he had "no excuse" for not listening to her objections, although he had not realized she had "felt violated to that extent," and that he could "never say I'm sorry enough."
His unasked-for apology just made her angrier. By February 2015, Erika had decided to report the man to UCB to prevent him from meeting other young women through the theater. First, she figured, she'd use the Facebook group to make her case against him as strong as possible. (The Comedian declined to speak with BuzzFeed News.)
"Please understand that I don't take this lightly and I'm not into slandering people on the internet," Erika wrote. "I would never post such a thing if there was a sliver of doubt as to his guilt, but there is not."
Over 200 women liked Erika's post, and dozens thanked her for sharing her story. Erika said she also got the corroborating evidence she had hoped for: four women who privately messaged her to say this man had assaulted them, too. Someone else connected Erika with a woman who, Erika said, had even filed a police report against him months earlier. Armed with that information, she wrote to UCB. She also met with the LAPD detective to add her voice to the report, and encouraged the other women to as well. (The detective declined to comment.)
"People always ask why you didn't go to the police, but I wouldn't have had a case if I hadn't posted on Facebook," Erika said. "That group is the only reason I had a chance."
The UCB administrators who met with Erika were supportive, she said, and assured her they would investigate. A few weeks later, UCB asked Lindsey Barrow to remove any mention of the theater from the group, including its name. (UCB told BuzzFeed News that they asked a handful of groups that weren't affiliated with UCB to do so and that it had no connection to Erika's comments.)
Barrow decided the group had become too stressful to moderate and shut it down six weeks later. Anyone was welcome to start a new, non-UCB-affiliated group, she wrote. Soon, another young woman did.
In July, members shared screencaps of texts and Facebook messages they received from another aspiring actor and comedian, A.M. They ranged from gross ("Gurl you got my dick harder than a frozen jelly bean") to outright creepy ("I liked seeing you...I guess I should have followed you home and fucked you"). Some women tried to explain to A.M. why they didn't want to receive sexually explicit messages from a man they barely knew, but that just made him angry. The group members decided it was time to do more than vent. Women reported A.M. to the theaters where he had recently started hanging out, including iO West and UCB, both of which told him he was no longer welcome.
A.M. said he may have been "mildly inappropriate" but didn't do anything "so bad that a few months and apologies shouldn't fix." But within a few days, his burgeoning comedy career appeared to be over, especially after the "LA Underground Comedy Network," a coed private Facebook group for comedians in Los Angeles that currently has over 7,100 members, posted its own warning.
The swift response was heartening, said Gina Ippolito, who has been a part of the theater scene since 2007. She encouraged women in the Facebook group to expose other men who were making them feel uncomfortable.
"Guys in this community were like, 'Oh, you're going to use this group to start a witch hunt," Ippolito said, "but it's only a witch hunt if the witches don't exist."
It didn't take long for women to post another name.
At the start of summer 2015, The Actor was on one of UCB's prestigious Harold house teams and was a regular at iO West, where he performed, coached, and founded a beginners course in sketch comedy. He was constantly involved in side projects, too, from children's nonprofits to commercials and TV shows. Although The Actor was pushing 35, his face was boyish enough for him to play college and high school kids, and he still dreamed that his hard work at the theaters might lead to stardom.
To The Actor, the breezily intimate L.A. comedy community wasn't a minefield: It was paradise. After more than five years on the scene, The Actor was well-aware of his reputation as a shameless player. He often mock-complained about it, but he didn't really care. After all, the theaters were full of lovably maladjusted former teenage geeks who, like himself, had found their confidence through comedy.
"I was known as a giant flirt who hit on a ton of women, but I was up-front about it," The Actor said. "What you saw was what you got, and a lot of times, women wanted exactly that."
Or so he thought. In July, dozens of women in the secret Facebook group described The Actor as an unprofessional creep. None of them actually accused The Actor of a crime. But he had made them so uncomfortable, they said, that they had turned down professional opportunities — quit teams he was on, chosen not to sign up for classes he coached, or stopped going to theaters where he performed — because it was easier to stay away from him than put up with his behavior.
Many of the women said they had felt their stories were inconsequential until they shared them with the group. For example, one of The Actor's former students said she was creeped out when he started messaging her on Facebook and continued to do so throughout the first half of 2015. The woman didn't feel comfortable telling him to stop, she said, since The Actor helped judge auditions for the theater's house teams, which she hoped to join. Instead, the woman told him repeatedly in messages reviewed by BuzzFeed News that she just wanted to be friends.
The Actor wouldn't let up. When the woman said her friendship was "nearly as good," he said, "I bet the making out is much better...you're probably a fireball as much as I am a powerhouse." The woman decided it was easier not to audition for the team than to tell him to cut it out.
"I felt like he would think I owed him something if I got a spot," she said.
After reading each other's stories, the women in the group got angrier and angrier. Why had they let The Actor hold them back, while he became more and more successful? They decided he had had enough warnings — in fact, several women told the group, they had repeatedly asked The Actor to reconsider how he treated his female colleagues over the years. "I'm not the only one that thinks you go too far," one former teammate wrote to The Actor in a 2012 email obtained by BuzzFeed News. "I just think you should be more cautious not just with me, not just in our group, but overall." The Actor said she later quit his team.
In 2014, The Actor's iO West sketch group held an "intervention" to warn The Actor about his behavior and encourage him to get help. He sent a few women apology messages, he said, but admitted that he didn't stop hitting on his teammates and students.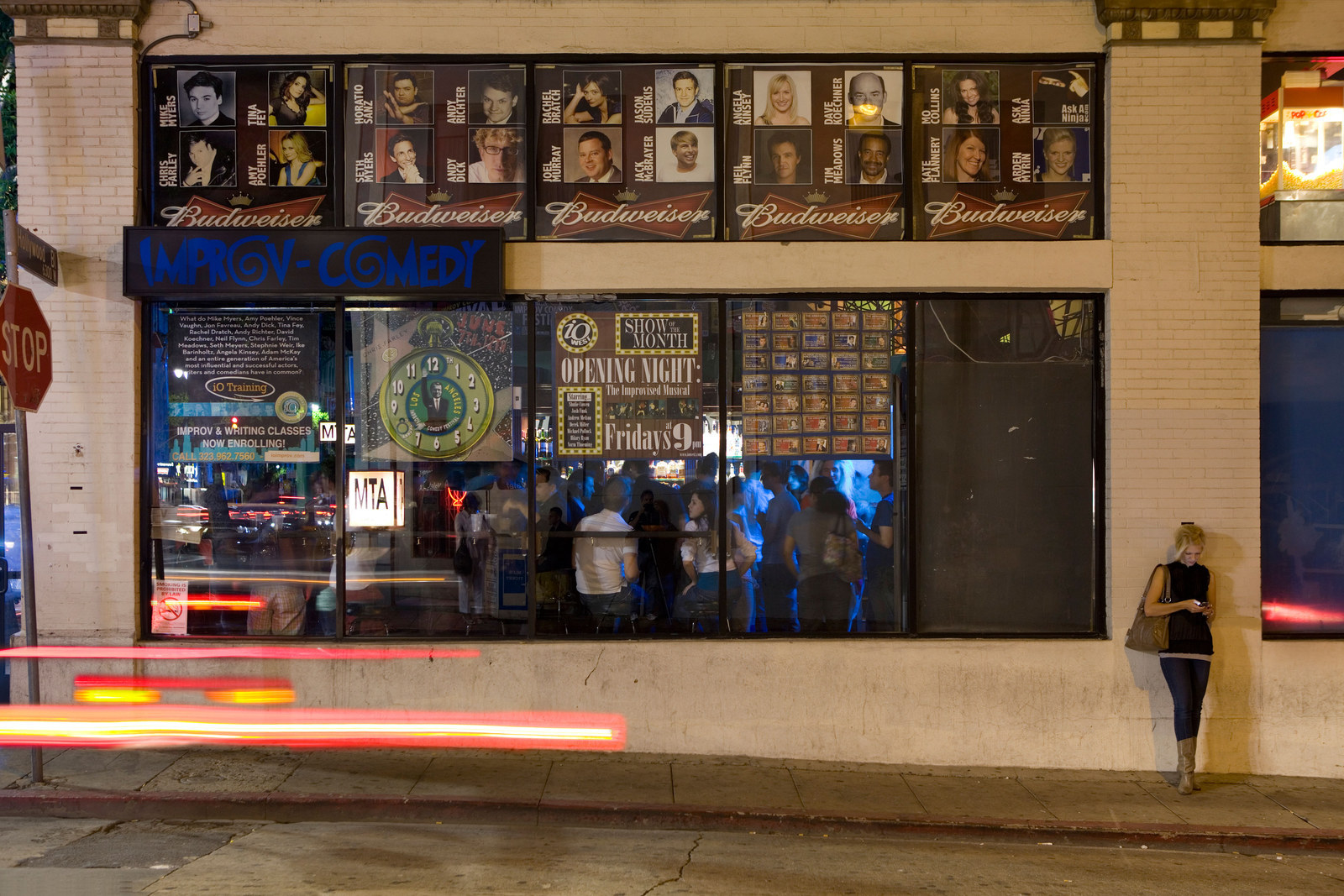 For the third time, the women sent the complaints around to the theaters. iO West made the decision in a matter of days to ban The Actor and shut down the beginners course he founded. UCB was more cautious, according to The Actor, who said the theater told him they wanted to fully investigate the complaints and suggested The Actor take some time off.
He did — but he didn't stop messaging women who rejected his advances. When one more woman sent screencaps of a conversation they had during that break, in which The Actor blamed sexual comments he made about her Facebook photo on going "stir crazy" at home, that was the end.
"I understand that these are just words, and sure...I can brush them off," the woman wrote to UCB. "But, I shouldn't have to, and I don't deserve to be talked to or treated like this by him. Nobody does." She said it was "disheartening" that the theater thought The Actor's behavior was OK, especially coming from a Harold team member.
When The Actor returned to L.A., UCB told him that he was no longer allowed to participate in any UCB activities. Other projects The Actor was involved with, including a nonprofit theater group, followed suit. His agent soon dropped him, too. After the women heard The Actor was still telling people he was the innocent victim of spurned ex-lovers, they posted a dozen of their anonymous allegations in the larger, coed Facebook group. It received over 500 likes and more than 300 comments, some from those who knew The Actor but many from those who did not. In contrast to the supportive atmosphere within the private women's group, things escalated quickly. Comedians started calling him names — sociopath, sexual predator — and rallying for him to be kicked out of town.
"I have not met [The Actor] but I believe you and stand with you," one wrote. "[The Actor] will not be part of any comedy I'm involved with."
"I hope he gets lit on fire," said another.
If anyone asked for more context, questioned whether Facebook was the proper venue for such serious charges, or argued that sexual harassment allegations should not be conflated with claims of abuse and rape, they were told to shut up or, in a few cases, banned: Critical opinions were "irrelevant," since the group was a "safe space for victims," as one man wrote.
Still, the point of posting about The Actor wasn't to "demonize" him, Erika wrote in the coed group, or that "there was one person in the community who was a problem, and if we run him out we never have to worry about it again." It frustrated her when people said the accusers should care about the men's feelings: Before now, she felt, they had cared too much. "One of the reasons that it took so long for anything to happen is because women felt too much empathy for the men who did this to us," Erika said.
Two days after The Actor was slammed in the larger, coed group, Erika decided to name The Comedian — the alleged rapist — there as well. "If you haven't seen [him] around, it's because he got banned from every comedy theater in LA because he's accused of raping five women," she wrote. (UCB confirmed he was no longer associated with the theater.)
Afterward, Erika said, three more women wrote to Erika and said he had assaulted them too. Two of them told her they would contact the detective on the case.
Sexual harassment and assault claims are notoriously hard to prove, especially when it's just one person's word against another's. Since the theaters had no clear systems in place for women to report harassment without fear of retaliation, the Facebook group was the only venue they felt they had. There, they were in control, and they could decide that their perspectives were evidence enough. The problem was that they weren't all telling the whole story.
Some of the women who accused The Actor of sexual harassment had been friends with or consensually slept with him in the past — and they didn't always share their complicated history when they accused him. (Erika had slept with The Actor a few years before, and added her voice to the anonymous allegations, but she disclosed that history in an email to UCB when she reported him. "My personal history with him is irrelevant," she said. "Just because you sleep with someone doesn't give him the right to harass you.") Others claimed they said no in situations when they had actually said yes.
One woman, for example, wrote in her anonymous claim that The Actor wanted her to role-play "daddy/daughter stuff" but that she "shut that shit down." But texts she exchanged with The Actor, obtained by BuzzFeed News, show that she enthusiastically participated at the time.
The 24-year-old woman told BuzzFeed News that, in retrospect, she could see how her account was misleading, but that she had struggled with their relationship internally. She met The Actor when he was her teacher for the beginners course, and he was "able to abuse his position of power as a way to make or break your improv career," she said. "Unfortunately for me, he has the proof that I did not stand up for myself," she said. "It was just easier to say yes."
The Actor did have supporters, but they were too afraid to say anything or even ask questions once they saw how quickly others were shut down, they said. "I get what the women were trying to do," said one woman who dated The Actor (without any problems) after meeting him at UCB. "But as it escalated, it got to the point where there was no accountability." The comparisons to Cosby made her sick, she said, since she was a survivor of sexual assault herself. "Cosby was drugging and raping women. These were just some inappropriate text messages."
Even some of the women who reported The Actor to the theaters regret the way it all played out once the women's stories made it to the larger Facebook group and beyond.
"People used my story as a catalyst to berate [The Actor] in such a terrible way," said the woman who reported The Actor's comments about her Facebook photo to UCB. "It was important for women who didn't feel like they could stand up for themselves to realize that their words are powerful. But I hated the free-for-all that happened next. It wasn't about raising awareness. It was about jumping on a bandwagon to bash someone they didn't even know."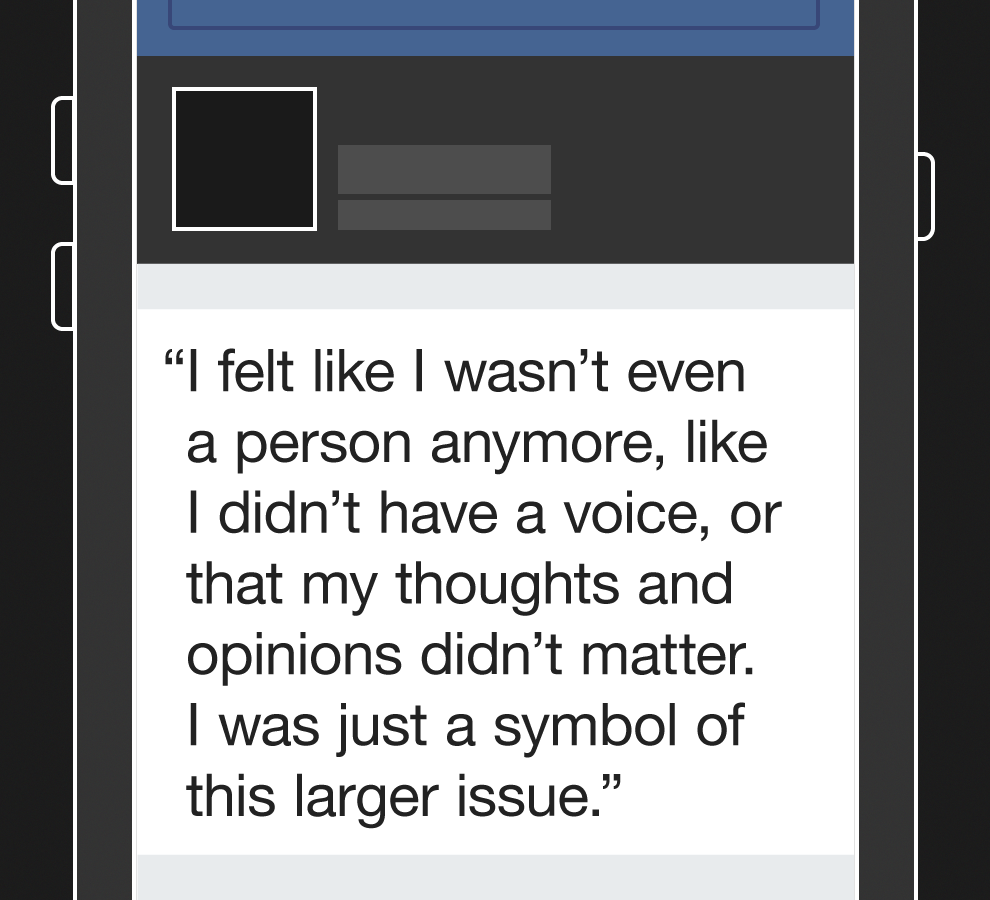 By the end of August, The Actor had sold all his stuff and moved back to his hometown. Now he's living in his aunt's basement and working at a hotel restaurant. The only improv he does is at a local medical school, where he helps students practice doctor-patient interactions. Therapy has helped ease his depression, The Actor said, but he's still struggling to accept what happened.
"I've copped to being thoughtless and insensitive, but I've never treated women with willful, malicious intent," he said, picking at his untouched grilled cheese one snowy afternoon in late November. This is the first time he's spoken publicly. He has rehearsed his lines. He knows what he should say if he wants to be allowed to return, even grudgingly, to the L.A. comedy scene one day.
"I've realized my behavior and thoughts and feelings need to be re-examined," The Actor said. "I'm sorry that I've hurt people's feelings. That's not right to do. Maybe in a year they'll say, 'We still hate him, but he's at least trying to be a better person.'"
But The Actor still can't shake the idea that women were flattered by his unrelenting advances. "Yes, And" and other rules of comedy taught him to exude confidence both onstage and off, he said. "What attracted people to me is that I was good at what I did," he said. "I thought that's what women were drawn to."
The Actor had enjoyed his climb from regular performer to coach and instructor: a common trajectory in the community. But now he wishes the theaters had a form of training or guidelines regarding conduct between performers and higher-ups.
"I clearly wasn't prepared or aware enough to take on that role fully," he said. "The theaters sit somewhere between an art form and a business, which leaves a lot of gray area."
Some theaters find that "gray area" easier to address than others. Newer, indie theaters and groups quickly banned The Actor and other men, along with iO West. "Of course, we immediately removed the man from our theater," iO West founder Charna Halpern said in a statement posted online. "I am a woman and these issues are serious to me."
In October, iO West, which said about 1,500 to 2,000 students took classes at its L.A. theater last year, announced the hiring of a new human resources director tasked with overseeing the theater's new, mandatory sexual harassment and discrimination policies, along with working on diversity outreach. Those initiatives were directly inspired by what happened on Facebook, said James Grace, the theater's artistic and managing director. "You have to make everyone feel safe to create and perform," Grace said. "We're really trying to make a real effort to reach out and actively make people feel more included."
UCB was the only theater that directed BuzzFeed News to a publicist and refused to comment on individual investigations. But the theater's cautious professionalism doesn't mean it isn't taking care of its community, said Johnny Meeks, UCB's academic supervisor. In May, two months after Erika reported The Comedian to UCB, the theater announced that a licensed therapist named Shireen Oberman would take on the newly created position of director of student affairs. The hire was "significant" because it isn't a creative or academic position, and because UCB hired an independent contractor "outside of the community" to make people more comfortable, Meeks said.
Oberman, who also offers UCB students a limited number of free therapy sessions and other mental health services, said UCB does its best to address allegations in a way that is fair to both the accused and the accuser. It can be hard to explain why UCB can't always take action if the alleged misconduct happened outside of the theater, she said, or why they don't accept anonymous complaints.
"I think the hardest thing to communicate is that we have an obligation to keep everyone safe," she said, which, in addition to people who file complaints, also means "protecting someone who might be the subject of what can feel like mob mentality."
Oberman was blunt about her concerns about the Facebook allegations, and said she had received more complaints from women who were attacked online for asking whether Facebook was the best venue for serious claims than from the alleged victims themselves.
"It can be very difficult to differentiate between the people that genuinely have experienced something versus people who are kind of wanting to join in with the group," she said.
Through its publicist, UCB denied rumors that The Actor might be allowed to return to the theater. But in an Aug. 12 email, UCB's artistic director, Mike Still, told The Actor he could appeal the decision in a year.
"We cannot be in the middle of this," Still wrote in another email. "We wish you well, and hope that you use the resources that we recommended, but ask that you do not involve us with this in any way."
UCB's publicist stopped responding to emails and calls from BuzzFeed News after Stelling's post blew up on Instagram, but another source confirmed Hartmann was banned from the theater. Hartmann's performer page was also removed from UCB's website.
"It is unfortunate that today it's becoming more and more the norm for an accusation to be taken as fact and the sentence carried out immediately by the anonymous public," Hartmann wrote on Facebook a day after Beth uploaded photos of her bruises. "My career and life do not deserve to be taken away without some basic level of due process just because of an allegation on the Internet."
But for some women — and, it increasingly appears, some businesses under pressure — allegations are enough.
The private Facebook group for women in the L.A. comedy community is now in its third incarnation, launched in late August after former members were accused of leaking screencaps. It was dubbed "Evil Misandrist Comedy Witches," in honor of the criticism they received, and now has more than 850 members.
On Jan. 5, Ippolito wrote that she had started keeping a private spreadsheet of men in the community whom women have come to her about and made accusations against of harassment and more. "I'm up to 23 names and I have a bad feeling that's just the tip of the iceberg," she wrote. A few hours after posting, she said she was up to 30. The next day, 46.
The women had learned from what happened over the summer. Ippolito, who is also currently taking sexual assault counseling training, said that she didn't want to invite a free-for-all in the comments — that's why she was keeping the list private — but that she had already been able to connect several women who had the same harasser or abuser, and some of them were now working together to go to the theaters to file complaints.
One comedian said some of those women had been told by UCB to file restraining orders if they were in immediate danger but were asked not to mention their allegations publicly. "It seems like they're just pulling the same legal crap universities do to cover their asses at this point," she said.
When one woman worried the list could lead to spurious claims, Ippolito got frustrated. "There's apparently no right way for women to speak out," she said. "What is the best method for letting the highest number of women know that a predator is loose in the community so that they can keep themselves safe? What should they have done when, in some cases, they had already gone to law enforcement, or people in power, and that had yielded no results?" Maybe there's no best way, Ippolito said. But that won't stop her from trying.
When Erika goes to comedy parties these days, she said she's often the subject of stares and whispers. She doesn't want to be labeled "difficult," but she doesn't regret posting online. "If I hadn't posted on Facebook, it would just be my word against his, and it would've never gotten anywhere," she said.
And it's still unclear whether anything at all will come of it. In September, the LAPD detective submitted the case against The Comedian — Erika's alleged rapist — to the district attorney. The detective told Erika in a January 2016 email that the DA was still deciding whether to press charges.
"Unfortunately [he] has the right to come back into the community," the detective wrote. "But at least you women have the knowledge to make sure it does not [happen] to anyone else."
CORRECTION
This piece originally stated that UCB puts on 300 shows a year, it is 300 shows a month. The story has been updated to reflect the change.