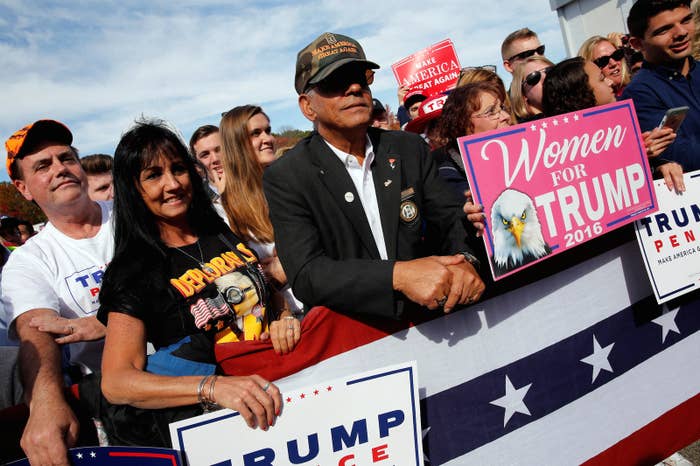 PORTSMOUTH, NH— Donald Trump's supporters in New Hampshire want him to stay strong. They don't want him to let his opponent Hillary Clinton's campaign or the "corrupt media" get to him. But they also wish he would, well, shut up.
"Shut your mouth," said Lauren Foley at Saturday's rally at a car dealership in Portsmouth. "Stop saying shit that is going to bring you down. Stop talking about it."
"It" refers to the multiple women who have said in recent days that Trump groped them, kissed them on the mouth, or made other lewd and unwanted propositions.
In response, Trump went on the attack at multiple campaign stops last week, denouncing press coverage of the allegations as a conspiracy against him and the women themselves as liars or, in some cases, too unattractive to assault.
Polls have shown his numbers slipping nationwide, as well as in crucial battleground states, where Trump will need to win over more women voters. According to two prominent election forecasts, Clinton now has at least an 85% chance of winning on Nov. 8.
Before Trump took the stage around noon, former New York City Mayor Rudy Giuliani and Alabama Sen. Jeff Sessions revved up the crowd by calling the Clintons "crooked" and the election "rigged." (Trump later claimed that 7,000 people attended the rally — his fourth visit to New Hampshire in four weeks — but local authorities said fewer than 3,000 people attended.)
Although rally-goers whooped and chanted "lock her up" when prompted, many told BuzzFeed News they were sick of the drama.

"Stop talking about the women and focus on the issues," said Alexa Moore, a blonde 17-year-old who came to the rally with her father and said she was supporting Trump because she wants the US "to be the country that it was in the '50s."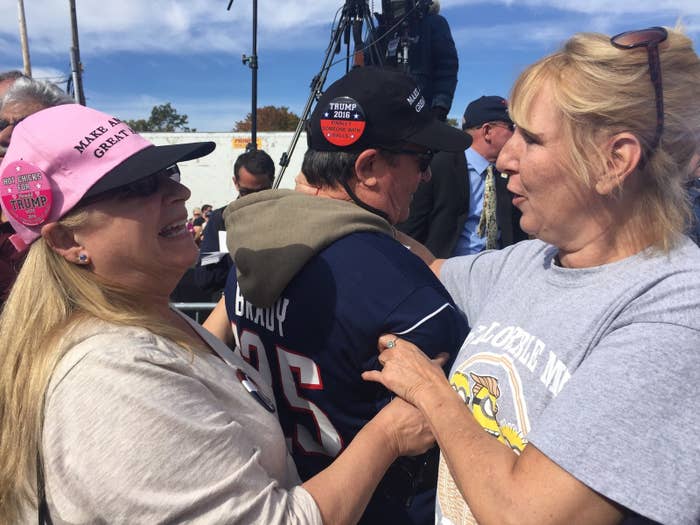 "Don't take the bait," said Dave Burke from Gloucester, Massachusetts.

"Be careful with your mouth," urged Nicole Perez, a 31-year-old from Portsmouth. "Be more calm."
"It's easy to want to defend yourself," said Sherry Muder, a Newmarket resident who said she's still an undecided voter. "But you have to let it go and move on. Whatever was said was said."
The sentiments were shared by those attending a later rally in Bangor, Maine.
"I'm interested in the basic positions, not the fringe stuff," said Steve Blood before the Bangor rally. Blood dismissed Trump's criticisms of the media and Clinton, as well as his conspiracy theory about the election being rigged, as distractions. "I'm more interested in his economic policy, immigration policy … not the fringe," he said.

For the most of his New Hampshire speech, Trump did appear to stick to his teleprompter and focus on policy issues, in particular saying he would "solve" New Hampshire's heroin crisis. But this didn't receive as many cheers as his repeated claims that the election is rigged.
But Trump also went off script to suggest that Clinton is being "pumped up" with drugs ahead of Wednesday's debate and challenged her to a drug test.
He also again ridiculed the women who have accused him of sexual assault.
"How about this crazy woman in the airplane?" he asked, referring to a woman who told the New York Times last week that Trump groped her on an airplane in 1979. He mocked her claim that the assault lasted fifteen minutes. "With the ladies in this place," he said, "It would be one second and it would be a smack."
Saturday's rally may have been less exciting than those in previous days, where anger was palpable and Trump spoke more off the cuff, but his supporters also seemed relieved he stuck to the message.

"I think he did an unbelievable, excellent job," Marilyn Takvorian, 70, said while standing in the parking lot after the rally. "He didn't mention Bill Clinton at all. I think he's too good for that. He shouldn't waste time on trash."
John Stanton contributed to this report.