Travellers At UK Airports Said No One Is Telling Them What To Do Or Whether To Self-Isolate
As other countries lock down, people returning to the UK and expecting answers at the airport have found chaos and confusion.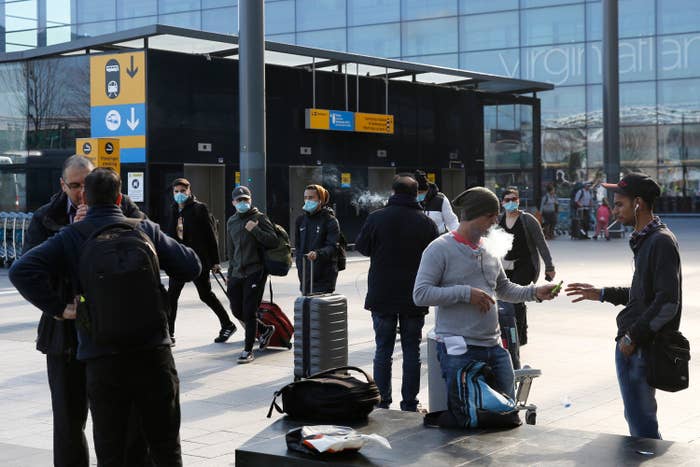 When Roxy arrived at London's Gatwick Airport on Saturday after frantically booking a flight from Barcelona, she saw guidance on the arrival video screens. It just wasn't the type she was expecting.
"Keep African Swine fever out of the UK," the signs read, warning visitors not to bring pork and meat products into the country due to a disease that has "caused the deaths of more than 800,000 pigs and wild boar across Europe."
Roxy had been travelling for months, including throughout Spain and France, two countries that imposed national lockdowns over the weekend. But no one at Gatwick — the UK's second busiest airport — asked Roxy any questions about where she had been. She didn't hear any relevant announcements over the loudspeaker as she went through the automated border control system, grabbed her bags, and walked out the doors. The only signs she saw about the coronavirus before she got on the London Underground reminded her to wash her hands for 20 seconds.
"As I recall the hand-washing sign didn't say anything about special treatment protocols for the virus," said Roxy, a New York resident who like others who spoke to BuzzFeed News, did not want her last name to be published. "I think the friend I'm staying with is the one who told me that if you show symptoms you're supposed to go to a specific place."
As the European Union closes its borders to all nonessential travel and countries impose lockdowns in hopes of containing the ongoing spread of the coronavirus, travellers arriving at major UK airports say that officials are waving them through without giving them any advice. No one has told them to self-isolate. Many are confused and dismayed by the lack of protocol, including airport employees.

One Gatwick Airport check-in agent told BuzzFeed News that she and her colleagues had not been given any instruction whatsoever. The lack of information — for them, and to provide to travellers — is terrifying, she said. "No one as of now is being told to self-isolate," she said. "There is a massive hole in our protection of the country which is being ignored totally." She did not want to use her name because she doesn't receive sick pay, but BuzzFeed News has confirmed her identity.
When the coronavirus outbreak hit Italy a few weeks ago, the UK government advised anyone returning from quarantined towns to self-isolate for 14 days. Now there is no such guidance for people returning from hard-hit countries, even prime minister Boris Johnson has announced — based on new models suggesting hundreds of thousands of people would die without stringent social distancing — stricter measures inside the UK, including warning that everyone in the UK must avoid any unnecessary contact with other people.

Travel history "is not relevant anymore," a spokesperson for Public Health England said, because the coronavirus is already spreading within the country. "The move is now for everyone to self-isolate if they have symptoms, so including those who have travelled, but everyone else too." She didn't answer specific questions on how the guidance is enforced and monitored at international airports.
In lieu of guidance, people have been tweeting about their experiences at the UK's airports.
Heathrow and Gatwick — the UK's largest airports — said that they were following protocol from Public Health England and were in regular contact with authorities to continue to follow their advice. One airport official said Public Health England have enhanced monitoring procedures in place for flights from affected areas – some of which aren't necessarily widely visible to passengers.
"In line with Public Health England's advice, we have enhanced thorough cleaning processes, increased the availability and provision of hand sanitisers for our colleagues and continue to advise anyone working or travelling through the airport to follow the Government's advice to maintain good hand hygiene," a Heathrow spokesperson said.
A Gatwick spokesperson said the latest advice from Public Health England was displayed throughout the terminals and enhanced cleaning is taking place in public areas across the airport.
"The airport remains in regular contact with the relevant authorities to ensure that all the appropriate processes are in place and we will continue to follow their advice on this matter in full," the spokesperson said.
While disconcerting, airports might not be providing further information because it's no longer useful, said Francois Balloux, an infectious disease epidemiologist at University College London.
"I think it's a bit of a mistake giving no guidance to people. It's empowering to be given information, and if people just walk through and they feel, Why is no one worrying about me? that's not completely optimal — but maybe it's just not a main priority at the moment," he said.
"To be absolutely honest, at this stage I'm not sure it's the best use of resources," he said, given the number of rising cases in the UK.
On Monday, the same day that Boris Johnson advised Britons to avoid nonessential travel, Amar landed at Gatwick after a 17-hour layover in Madrid, swept through border control, and walked out the door without any issues.
The 32-year-old software company CEO had left a trip to Colombia early with his wife to rush back to the UK, upgrading to business class to keep them as safe as possible. But the ticketing change prompted a nearly daylong layover. He tried his best to isolate themselves but couldn't help falling asleep in an airport Burger King. When they arrived at Gatwick, they expected screening of some kind. Instead, he got a "cursory" passport check, went through automated gates, and grabbed their bags.
"Not a single person asked us a question about where we had been or where we were coming from," Amar told BuzzFeed News. "It was pretty scary."
CORRECTION
Roxy flew into Gatwick Airport. An earlier version misstated the name of the airport.