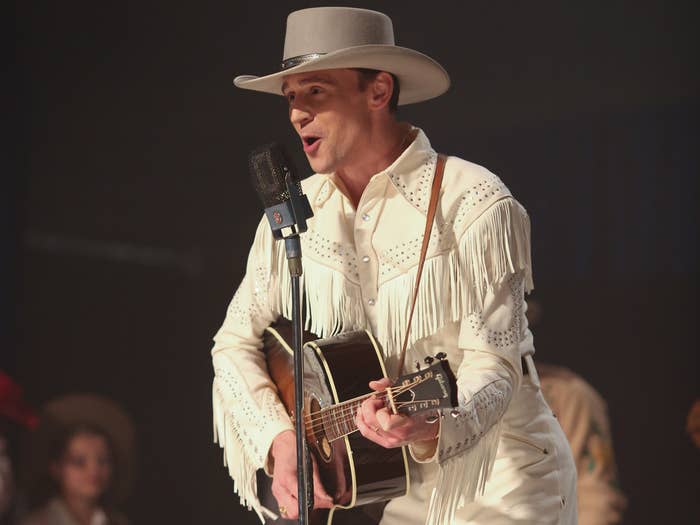 On the day Tom Hiddleston performed "Hey Good Lookin'" as Hank Williams for the biopic I Saw the Light, director and writer Marc Abraham lined the rows of an arena with as many extras as he could muster. It was freezing cold in the venue, and the logistics of doing multiple takes of a music performance in that setting — which had been designed to resemble a large cow palace in Montgomery, Alabama, in the early 1950s — meant long hours for the cast and crew. At that point in the Hank Williams story, the legendary country star was thin and exhausted; the scene was one of personal strife, bodily wear, and bittersweet homecoming.
With all the potential for chaos and fatigue that day, Hiddleston sang. And then he sang some more. Even between takes, the actor would perform the swaths of Williams' catalog for the entire ensemble. "Tom was brilliant. He kept the crowd going by singing songs endlessly," Abraham told BuzzFeed News in a phone interview. "He would sing the whole repertoire, just to keep them warm."
Here's "Hey Good Lookin'," as sung by Hiddleston, exclusively on BuzzFeed News.
Sony Pictures Classics
But Abraham explained that the film — due in theaters starting on March 25 — is less of a "typical biopic," and more about the entertainment industry and "what it is to be an artist as a young man." He added, "It's not about following all this guy's greatest hits."
Adapting Colin Escott's Williams biography I Saw the Light for the screen came with risks that started long before that cold day spent shooting "Hey Good Lookin'." Simply securing the rights was "insane," then came the fact-checking for historical accuracy, and then the music itself, which Abraham insisted be performed live by his cast, as opposed to lip-synched or performed by a separate vocal artist.
"When I first talked to Tom, I said, 'One, you'll have to be able to sing the songs,'" Abraham remembered. "'And, two, you'll never sound exactly like Hank Williams.'"
Instead of attempting a carbon copy of Williams' songs, Abraham directed Hiddleston to approximate the "emotional impact" that the legendary singer inflected. The British actor has sung for other projects, and can play piano and guitar — plus, he's undergone plenty of physical transformations for roles, like Loki for the Marvel movies or Thomas Sharpe in Crimson Peak.
For I Saw the Light, he went through a sort of Southern bootcamp to fully absorb the iconic role of Williams: He lived with country singer-songwriter Rodney Crowell in his house for a month for an education on blues, country, and gospel music, and he learned to sing with a twang. The film's dialect coach broke down the script phonetically, so that Williams' Alabaman accent was literally spelled out on Hiddleston's pages.
"He really had a great ear. The Southern regional accents are more complicated, so I hoped he would get into the nuance, and he did," Abraham said of the actor's efforts to transform his voice.
But no matter how naturally the role came to Hiddleston, Abraham could still tell he was nervous.
"There were moments when we would argue, and I knew that what we were arguing about wasn't what we were arguing about. I think it was a delay tactic," the director said with a laugh. "He is such a perfectionist. I don't like to do a lot of takes. The most takes we did on this film was 11. But Tom would do 400 if he could. We would still be making this movie if it was up to Tom."
"Hey Good Lookin'" is the first track on the I Saw the Light soundtrack, due March 25 with the release of the movie. Check out the tracklist below.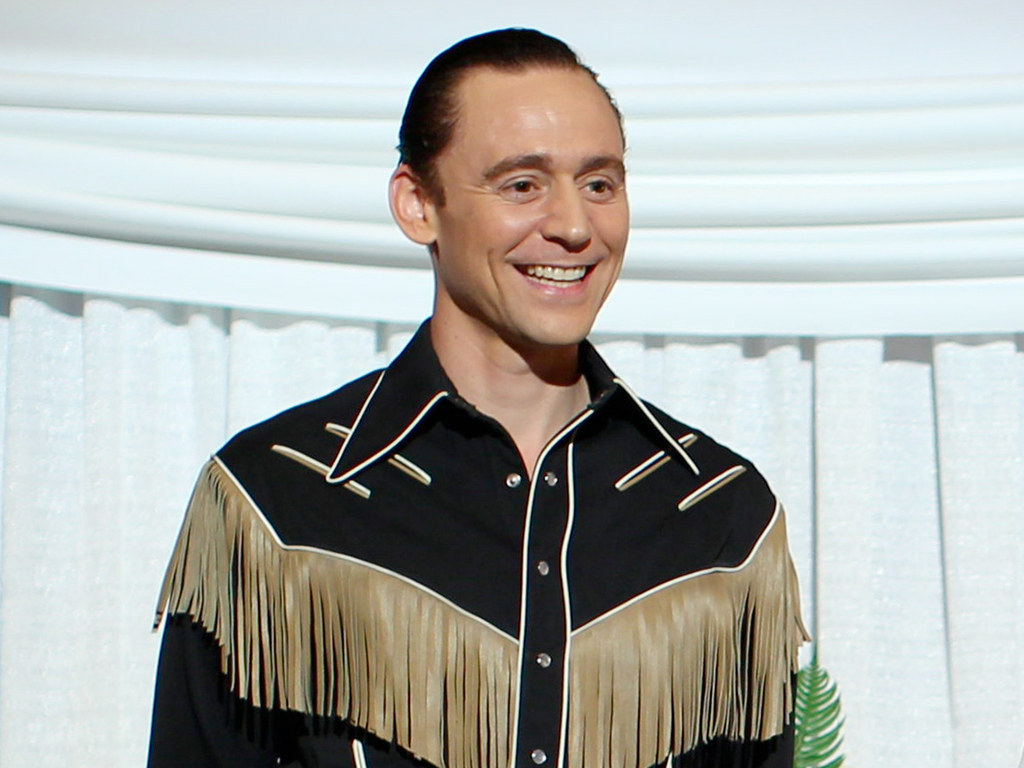 1. "Hey Good Lookin'," Tom Hiddleston and the Saddle Spring Boys
2. "Move It on Over," Tom Hiddleston and the Saddle Spring Boys
3. "Anytime," Eddy Arnold
4. "Field Hand Man," The Delmore Brothers
5. "Jambalaya," Tom Hiddleston and the Saddle Spring Boys
6. "The Tennessee Waltz," Jo Stafford
7. "My Bucket's Got a Hole In It," Tom Hiddleston and the Saddle Spring Boys
8. "That's What's Knockin' Me Out," Tom Hiddleston and the Saddle Spring Boys
9. "Santa Baby," Eartha Kitt
10. "Why Don't You Love Me," Tom Hiddleston and the Saddle Spring Boys
11. "Please Don't Let Me Love You," George Morgan
12. "Honky Tonkin'," Tom Hiddleston and the Saddle Spring Boys
13. "Lovesick Blues," Emmett Miller