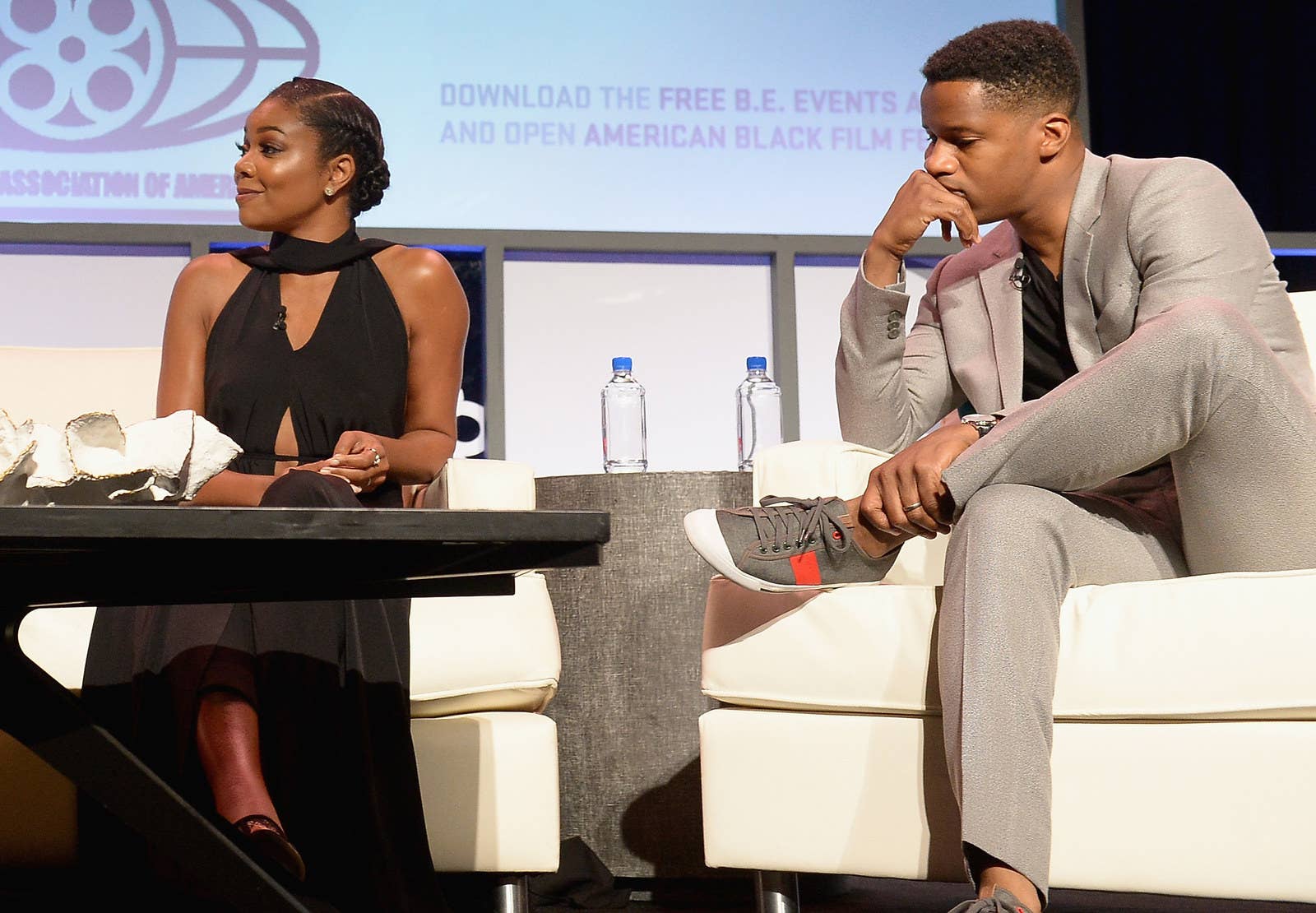 TORONTO — It's been just under two weeks since Birth of a Nation actor Gabrielle Union published her op-ed in the LA Times about her mixed feelings on the film's director, screenwriter, and lead actor Nate Parker, who was accused of rape while at Penn State in 1999.
About 90% of the reactions she's gotten from the piece have been: "You are not broken, forsaken, there is a community that will love you," Union said during the Birth of a Nation press conference at the Toronto International Film Festival on Sunday.
"Five percent," she continued, "feels I threw Nate under the bus, and 5% feels I'm a rape apologist. I strongly encourage those two 5% [groups] to talk to each other. I think everyone takes something different away from the conversation."
She didn't say which percentage Parker, who was sitting five seats away from her at the press conference, fell into. But that isn't stopping Union from talking.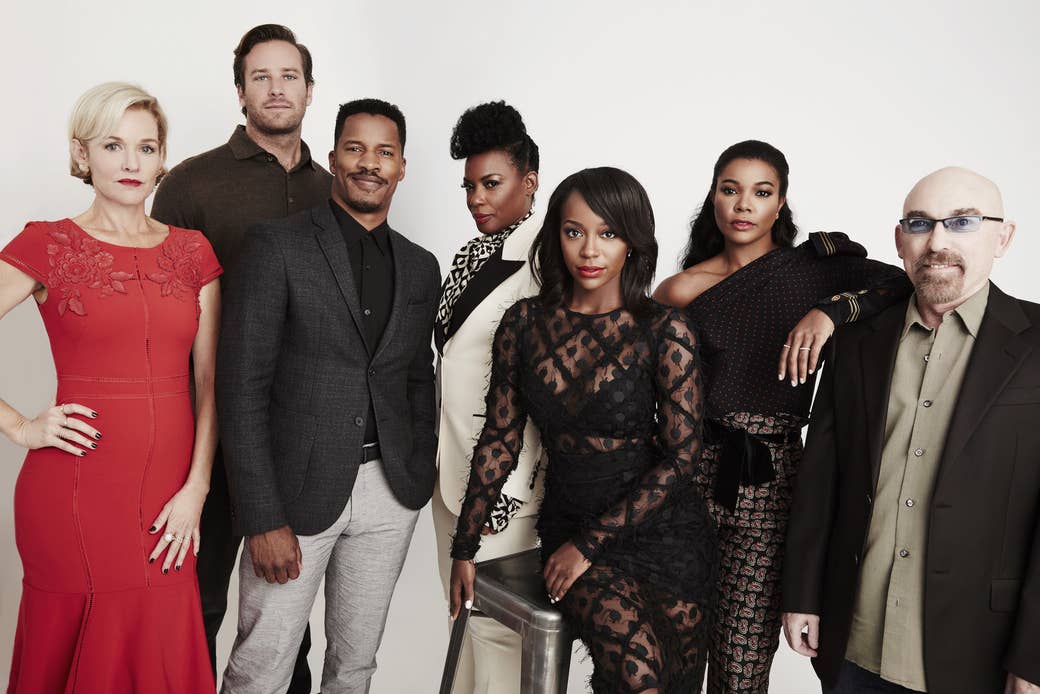 Parker and his friend Jean Celestin were accused of raping an unconscious woman when they were 19. Parker was tried and was found not guilty. (Celestin was found guilty but appealed, and his conviction was later overturned.) Parker's accuser claimed that she was harassed by her alleged rapists and their friends; she filed a civil claim against Penn State for violations of Title IX and won a small settlement.
Union is herself a rape survivor, and in the years since her assault at age 19, she has acted as an advocate for other victims. "Every time I talk about sexual violence, I wanna puke. There's never been a time in the last 23 years that I did not want to vomit. But my personal discomfort is nothing compared to being a voice for people who feel absolutely voiceless and powerless," she said at the presser. Parker's foot shook nervously beneath the conference table, his brow furrowed, his eyes serious. His accuser, Variety recently revealed, killed herself in 2012.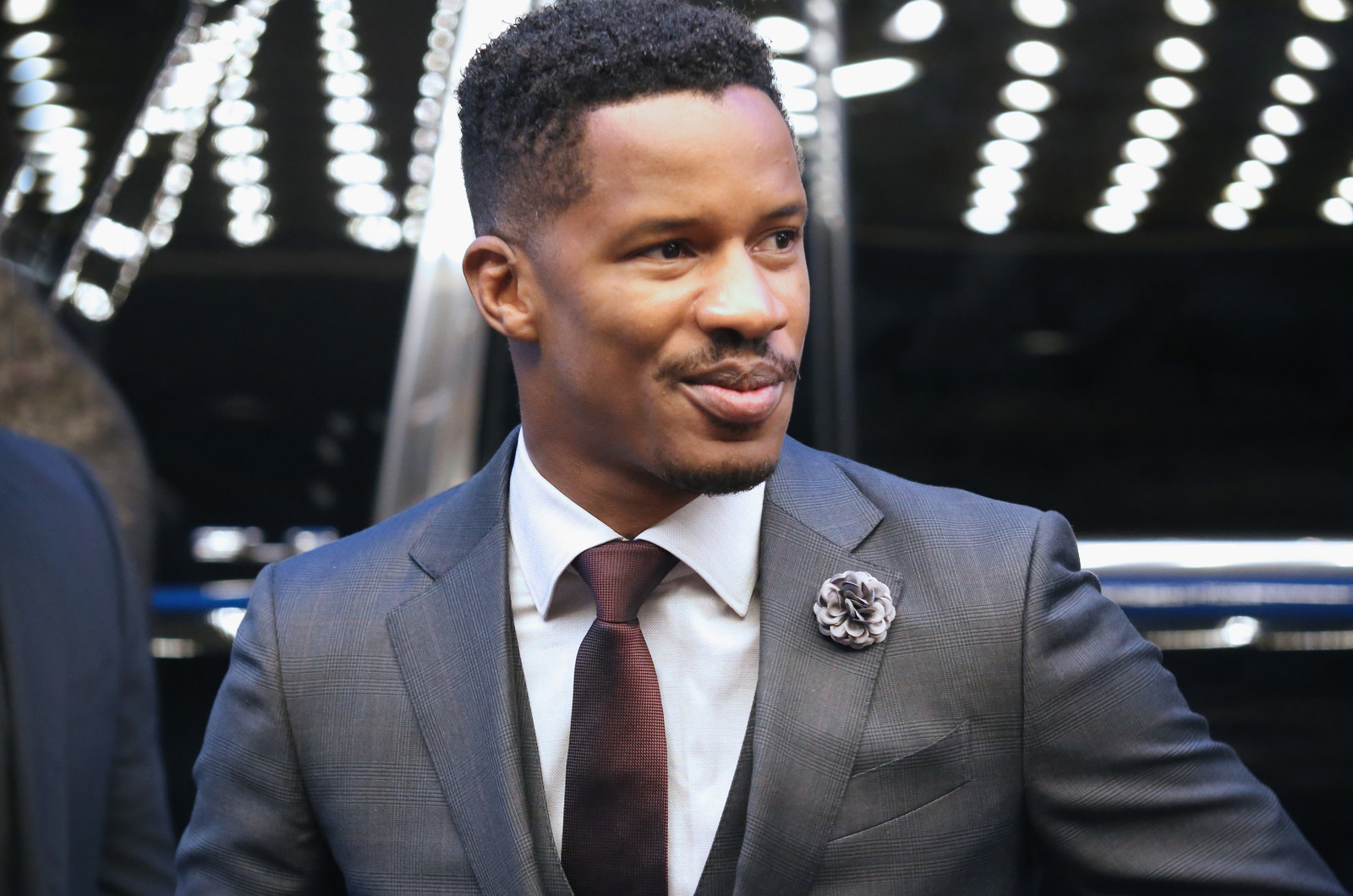 While Parker has had the opportunity to engage further in the conversation in an open media forum, the responsibility for serious discussions about rape has instead fallen on another victim, Union — even if unconsciously.
Parker likely wishes The Birth of a Nation would simply spur conversation as a piece of art — a "movement," as he and other cast members referred to it — igniting dialogue about representation, black identity, racial injustice, and American history, but not necessarily about his personal history. Instead, much of the conversation around the film surrounds his former rape allegations and their impact on the movie he spent the last 10 years making.
And while the allegations are part of Nate Parker's story, during the press tour for the film, it's Gabrielle Union who is leading the conversation.
"When I was 19 and laying on the floor after being raped on the floor of Payless shoe store at gunpoint, I decided, 'Never again,'" she said at the press conference. "I decided I was gonna use my celebrity, my platform, anytime anybody stuck a microphone in my face to talk about the horrors of sexual violence and what it does to your soul, and to your psyche, and to your sanity, and to your family, and to your relationships."
In an interview he gave to Ebony shortly after the details of the case resurfaced, Parker was asked if he had thought about the incident or alleged victim in the 17 years since the allegations were first made against him. "No, I had not," he responded. "I hadn't thought about it at all."
But since he spoke to Deadline and Variety in August — in an effort to take charge of the inevitable conversation about a past that would come to light as the film's release date approached — the Birth of a Nation star almost certainly has been thinking about his former case. After those interviews, he posted a personal note to Facebook about how he felt devastated upon newly learning that his accuser had killed herself. In fact, he spent much of the Ebony interview expressing his regrets about his time as a young athlete, for being a "dog," under the spell of toxic masculinity, ignorance, and male privilege.

And yet, in the multiple instances Parker was asked about the charges during the TIFF press conference for Birth of a Nation, he said, "I've addressed it a few times, I'm sure I'll address it in different forums. I definitely don't want to hijack this with my personal life."
Over the weekend, CBC reporter Eli Glasner asked Parker about the implications of his former charges and their effects on the film multiple times, in various ways; without getting an answer, he was told by a representative, "We gotta wrap up."
It was clear that the more than a dozen people who lined up beside Parker at the TIFF premiere, and the seven actors who sat beside him at the press conference, probably would have rather talked about anything else but rape. But as the topic has proven ineludible, Union has refused to sit back.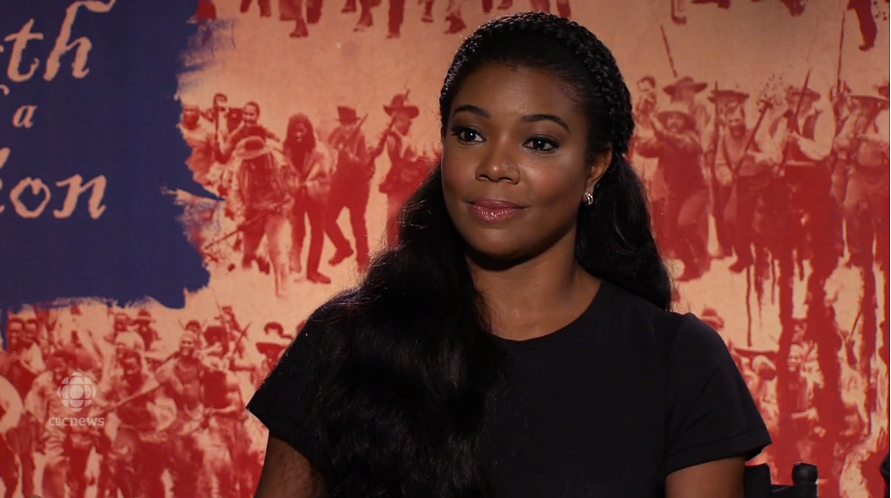 When she was interviewed by the same CBC reporter, alongside her Birth of a Nation co-star Colman Domingo, Union said, "Burying our heads in the sand about the difficult issues and the facts of reality is not helpful for any of us."

After Union brought up the term "affirmative consent," Glasner asked, "Do you believe Nate understood the issue of affirmative consent?"

"At the time, 17 years ago? I mean, I can't get in his brain at the time," Union said. "From what I could gather, probably not. We were taught 'no means no.' And those are the words you listen for. In school, that's what's drilled into your head. I wish I could be that person and be like, 'I was there and I know...'" Domingo quickly interjected: "But we weren't there. Out of respect for all parties, it's like, we were not there."
And while that's true, it wasn't going to stop Union from making her point. "What I can say is, I know that [Parker] is learning as a grown man who is raising girls that will be out in the world. And I hope that I have drilled it and other people have drilled it about toxic masculinity, misogyny, sexual violence, rape culture, because it's not like he's disappearing. As much as we would like to have people who we don't agree with disappear, he's not going to disappear. What happens from now on is really up to him."
"But I want to make sure that I leave him in a different place than how I found him. And I hope ... we can touch a lot more people who might've had some archaic ideas about consent, verbal affirmation, rape culture, toxic masculinity, misogyny, sexual violence, as well as racial inequality," she concluded.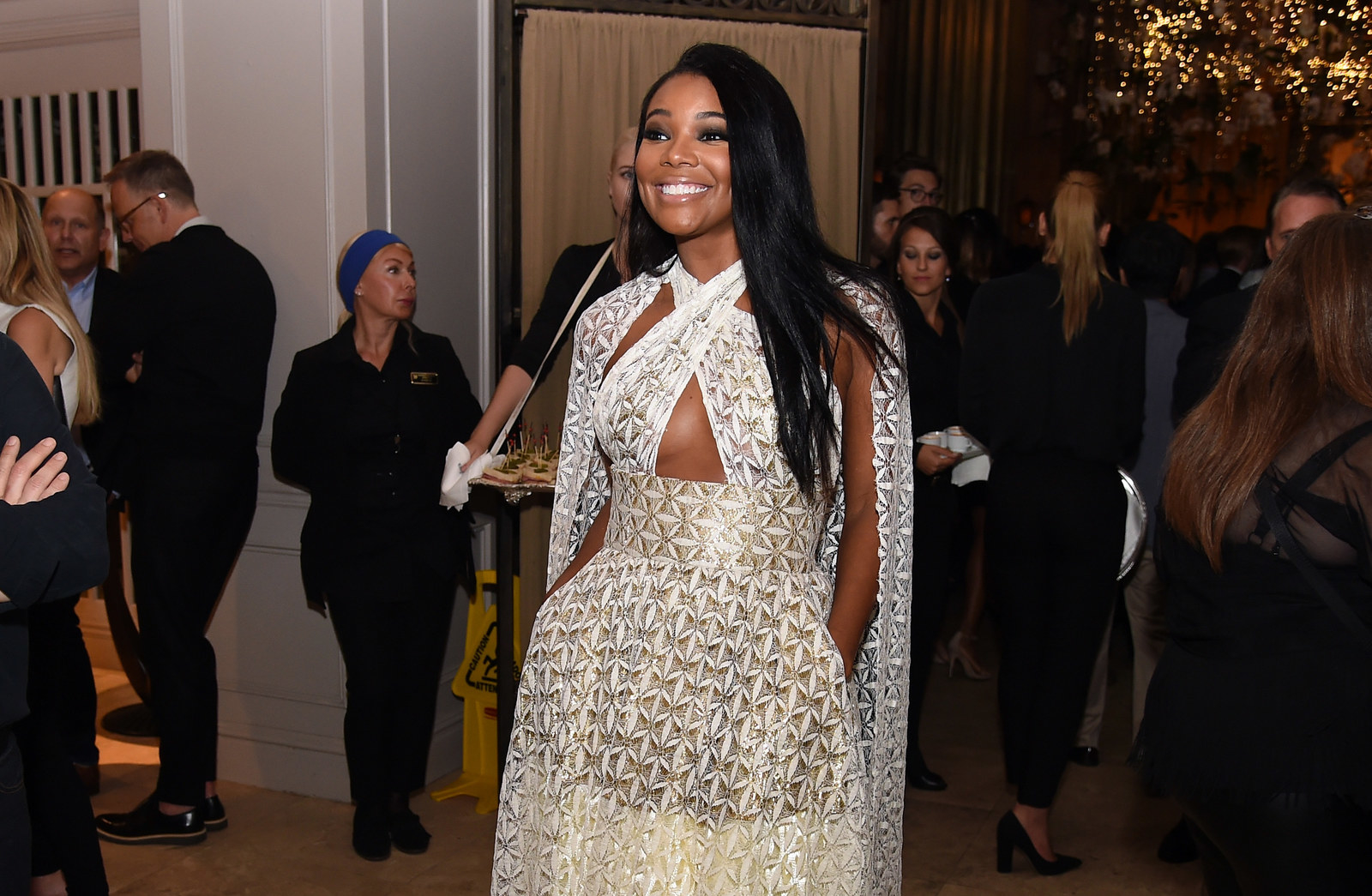 Actors frequently sign contracts guaranteeing participation in helping to promote a film, and failure to do so can result in a dispute. Similarly, as Parker and his cohorts plead for the public to head to theaters for The Birth of a Nation, there is something of a social contract: When a filmmaker urges audiences to buy movie tickets (a fiscal investment, albeit a small one) in order to participate in what they dub a political "movement," then other personal-political issues should also be fair game for argument.
Had The Birth of a Nation not featured instances of rape and assault and wars over women's bodies; had Parker not emphasized personal details like those regarding his relationship to his wife and daughters; if rape wasn't so frequently used in cinema to propel men's stories forward; if women's movements had not been so often suppressed during other American social revolutions — then, perhaps, the statute of limitations of this social contract would expire sooner.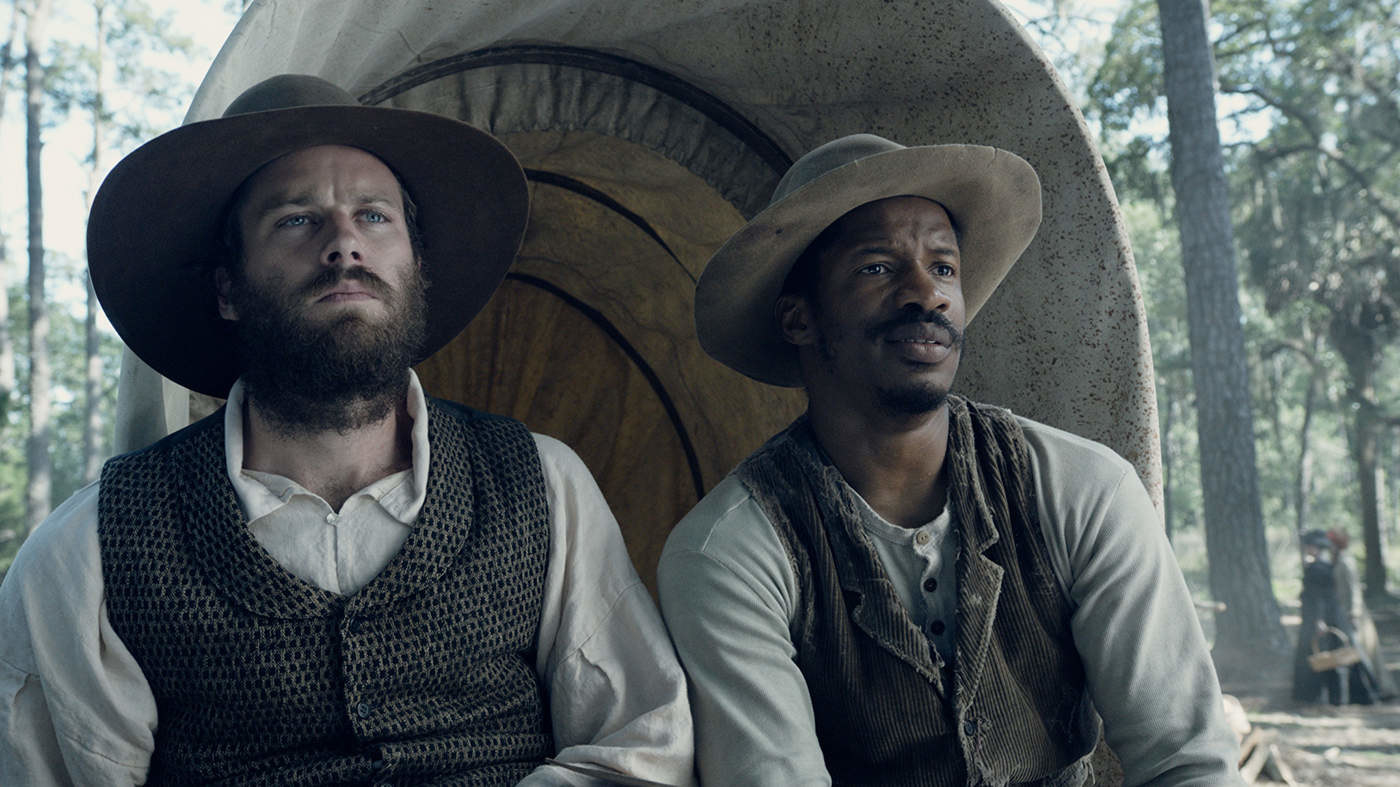 Union might have given Parker a heavy hint about his social-contractual obligations on Sunday. "Whether you speak out or you want to keep your pain personal, you are real, you are valid, you are loved, and you are worthwhile," she said at the press conference to any fellow survivors who might be listening. "And maybe that's what we all need to hear a little bit more often. And maybe not from the people we want to hear it from."
Her response came after New York Times reporter Cara Buckley addressed Parker at the press conference, saying, "Since it is a film about moral responsibility, a lot of people felt you should have apologized for what happened 17 years ago to the victim and the family. Why haven't you, and would you now?"
Parker responded in part by saying, "This is a forum for the film, this is a forum for the other people who are sitting on this stage. It's not mine, I don't own it, it does not belong to me."
So Union decided to own it.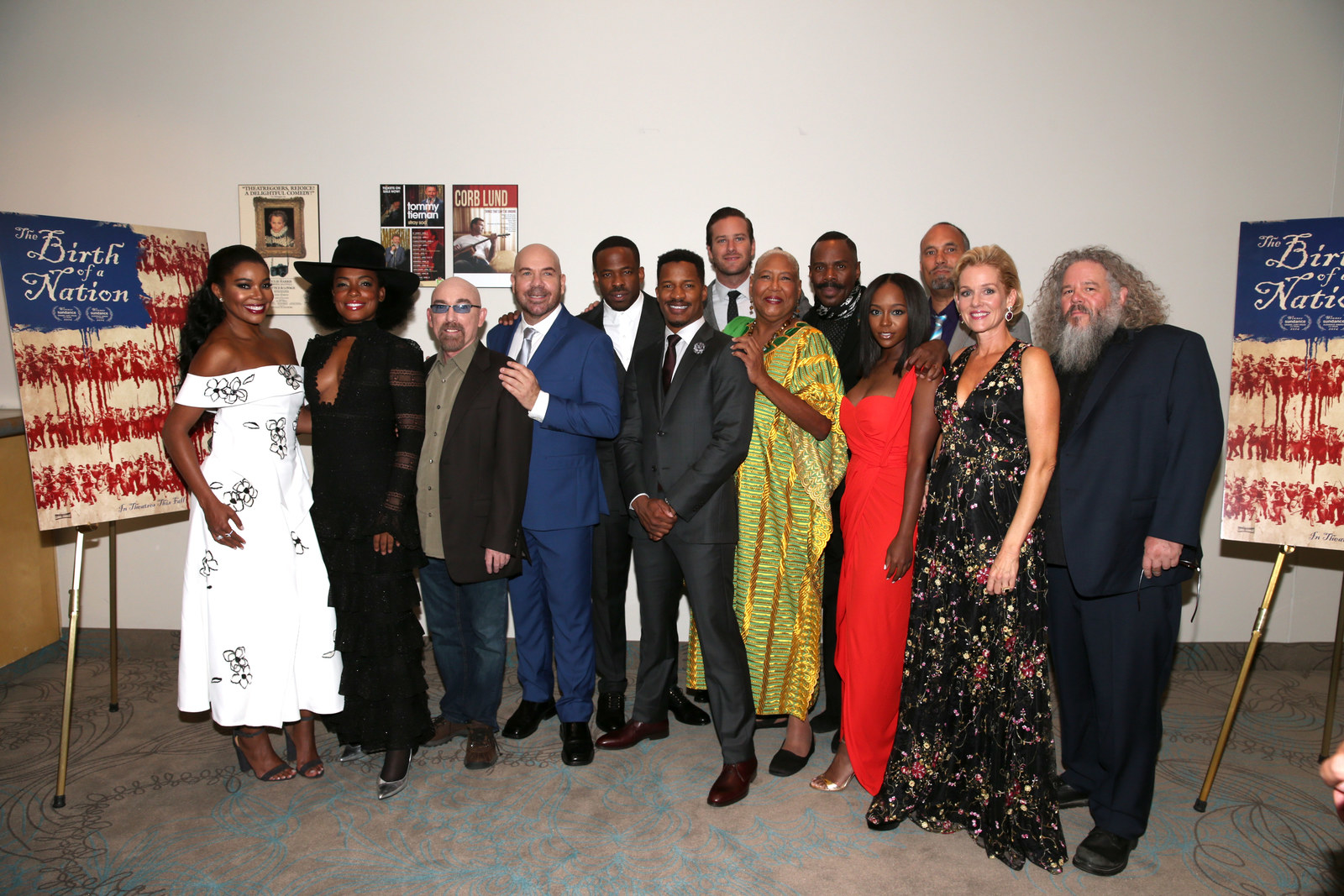 According to Rape, Abuse & Incest National Network, 1 out of every 6 American women and about 1 in 33 American men have been the victim of an attempted or completed rape. More than 400 people worked on The Birth of a Nation — as Parker has mentioned — so, statistically speaking, Union is almost certainly not alone in her experience of sexual assault among the film's ensemble. Yet she is the only one who has gracefully engaged with that end of the so-called contractual bargain with the public thus far. Her point of view comes from unfortunate firsthand personal experience; she has the expertise, vocabulary, and maturity to discuss such a sensitive topic with fire and mercy.

When answering a question at the TIFF press conference as to whether or not he would be talking about issues of sexual assault during his tour of college campuses, Parker wasn't specific. Instead, he defaulted to Union. "I talked extensively with Gabrielle [Union] about different things. But when I made this film — and I often say it — healing comes with confrontation with the past," he said, failing to mention what those "things" were, and tying in the themes of the film with his history. "So as we move forward with this film, we need to deal with injustice everywhere." But dealing with injustices of rape and sexual assault, at least on this press tour, seems to be falling to Union.
CORRECTION
Celestin's conviction was overturned, but an earlier version of this post misstated why he won the appeal.