1.
Let's travel back to the beautiful moment when the clouds parted and Jack emerged before you, as perfect as he could ever be. 2.
You probably remember when Jack clutched a bucket with gentle firmness, letting the warm water spill over and glisten from his magic touch. 3.
How about that time his finger marked the spot for you to find the buried treasures in and around his mouth? 4.
I'm sure you've dreamt about his hand on the tip of that wheel, staring into your eyes, penetrating your soul. 5.
And that time he heroically dove into the depths of the sea, risked his beautiful life, and tortured you with the thought of losing him forever. 6.
You probably remember when his lustrous wisps of hair bounced around his angelic face, like a dolphin's flipper spanking the water's edge. 7.
And that time he gave this mischievous glare and made you wonder what kind of ~things~ were on his mind. 8.
I'm sure you can recall the intimate moment when the ink on his arm created a world-wide force that grabbed your panties and sent them to the floor. 9.
Remember when Jack swung in the wind like a majestic eagle soaring in the skies? 10.
Or when his eyes behind bars took you to a world where children dance and sing among angels? 11.
Think about the breath-stopping scene when Jack wore cuffs and chains, reminding us that he's experienced with...you know. 12.
And the moment when his crotch illuminated from the dimly lit jail cell and shined with the brightness of a golden, glistening sun. 13.
There was that time he covered his blessed head with a canoe to create a heavenly ambiance...a cocoon of magic, awe, and mystery just for you. 14.
And that glorious moment when he flashed you a ravishing smile that could make a thousand old men weak at the knees. 15.
Let's talk about when his God-like aura shielded his divinity from the dangers of the storm. 16.
OR WHEN HE GRIPPED THOSE APPLES. 17.
And then nibbled on one and it was the most magical bite that ever existed. 18.
There was also that time he smiled and babies stopped crying and there was world peace for everyone. 19.
And that scene when his luminous glow shined brighter than all the others, looking like a swan in a land of geese. 20.
Relive the moment he frolicked over the cellar like a unicorn in an enchanted forest. 21.
Or the time when you could observe Jack sleeping, and know his body looked just as sexy asleep as it did awake. 22.
You probably remember when the island burst into flames, but the real fire came from the radiance flowing through his beaded braids. 23.
And that time his man hands were so close they felt as if they were on you. Everywhere. All over your body. 24.
Think about the moment Jack emerged from beneath the ocean waters, coated in a glorious wetness like a god of the sea.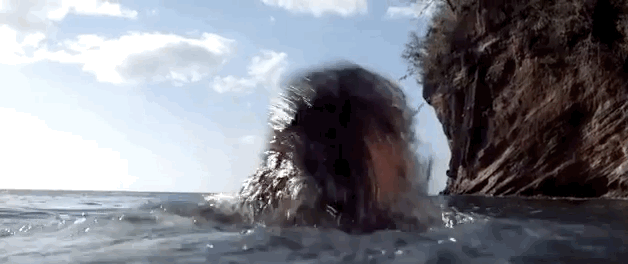 25.
And finally, let's remember when Jack sailed into the horizon, had you by his side and guided you into the heavens. Yeah, that's pretty much what happened.