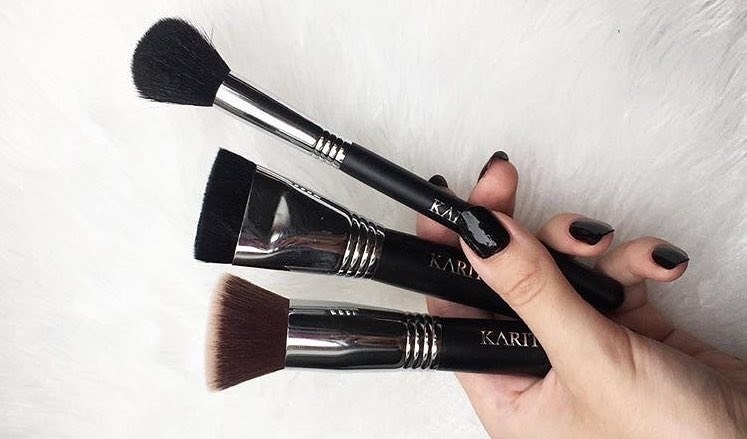 Like most women, you probably take care of your appearances and try to always show your best face to the world. And like most women, you know that it can take a little bit of time and money to curate a makeup collection that suits your personal style. Having a great selection of makeup is important and, of course, you want to use only the best quality products. But one thing that many women often forget to focus on is the quality of your makeup brushes. Brushes are the tools that you use to apply your favorite makeup, which is why it's so important to have the right tools to make sure you look your finest all the time.
No Shedding
Some brushes tend to shed strands from the base of the brush, which doesn't bode well for good makeup application. The four-ring Karity brass ferrule has secure and reliable brushes that don't shed at all. This makes sure that you can apply your makeup without a hitch and have a smooth and even application across your whole face.
Even Application
Cheap brushes sometimes make your makeup look blotchy or unevenly applied. Using high-quality brushes prevents this problem and gives you the confidence you need to apply your makeup evenly and consistently. Karity brushes feature weighted wooden handles that make them easy to use when applying makeup. Balancing the handle also helps direct the majority of the weight toward the bristles themselves so that you can apply makeup smoothly and evenly.
No Cakiness
Some brushes have thick and heavy bristles that end up picking up a lot more product than necessary. Karity brushes are made of the finest synthetic and natural bristles, so there is just enough product pickup. The brushes don't swallow too much makeup, so you can be sure you are applying just the right amount and looking your best.
Long-Lasting
If you've ever used cheap makeup brushes, you've probably found that you need to replace them pretty often because they tend to lose bristles and get caked up with makeup over time. High-quality brushes will stand up to the test of time, and you'll actually end up saving money because the bristles will last longer. They are also easier to clean and maintain than cheaper kinds.
Our appearances matter! Investing in high-quality makeup brushes like a Karity collection will help ensure that you look and feel great wherever you go.
This post was created by a member of BuzzFeed Community, where anyone can post awesome lists and creations.
Learn more
or
post your buzz!