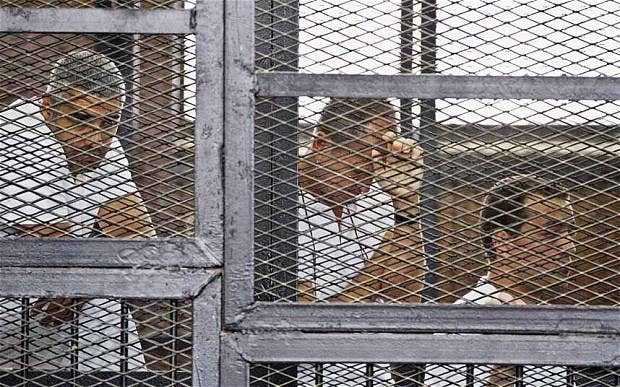 Today marks the one year anniversary since Al Jaeera's Peter Greste, Mohamed Fahmy and Baher Mohamed were arrested in Cairo. They had been in Egypt only weeks, working on a short relief posting as a journalist for an international TV news network.
After a trial which attracted worldwide attention, on June 23, 2014, Peter, Mohamed and Baher were convicted of reporting false news and endangering Egypt's national security. They was sentenced to seven years jail. He remains in Cairo's Tora Prison.
Calls for the release of Al Jazeera staff have been made by the White House, the British Foreign and Commonwealth Office, the European Union, the Australian Government and over 150 rights groups, including Amnesty International, the Committee to Protect Journalists and the International Press Institute.
Over 200,000 people have signed petitions globally, including two petitions signed by 150,000 people presented to the Egyptian Vice Counsel in Sydney by Australia's leading journalists.
Similarly public calls of support for the release of the journalists has occurred throughout the social media campaign #FreeAJStaff, with over 137,000 people who have shared their support on Twitter, reaching 112 million people, and delivering over 2 billion impressions.
This has been the second-worst year for journalists jailed, according to a report released Wednesday by the Committee to Protect Journalists (CPJ). There are at least 220 journalists imprisoned around the world, with 132 of them held on anti-state charges of terrorism or subversion.
The list of the top 10 worst jailers of journalists was rounded out by Eritrea, Ethiopia, Vietnam, Syria, Egypt, Burma, Azerbaijan, and Turkey. Egypt more than doubled its number of journalists behind bars to at least 12, including Peter, Mohamed and Baher.
But there is new hope that Peter Greste could be freed from Egypt, with Foreign Minister Julie Bishop revealing "fingers [are] crossed" the jailed Australian journalist could be home before the New Year.
Bishop said on December 24 that she had spoken to her Egyptian counterpart Sameh Shoukry in the last two days and urged him to release the al-Jazeera reporter in time for Christmas.
"He said it was under consideration, so we are hoping that our representations will result in a release for Peter Greste," Ms Bishop told the Seven Network's Sunrise program.
"We've got our fingers crossed but we don't know yet whether we have secured this. But I'm hopeful, I'm optimistic," she said.
"His appeal against that sentence is listed for the 1st of January, so it would be very exciting if there were some steps taken before then but we'll continue to make representations at the very highest level to make sure that Peter Greste can get home as soon as possible," she said.
Egypt's court of cassation will rule on whether a full appeal can be heard on January 1, 2015. The court will look at the process behind the original trial, a process that many observers have stated was flawed, and which has caused outrage around the world.