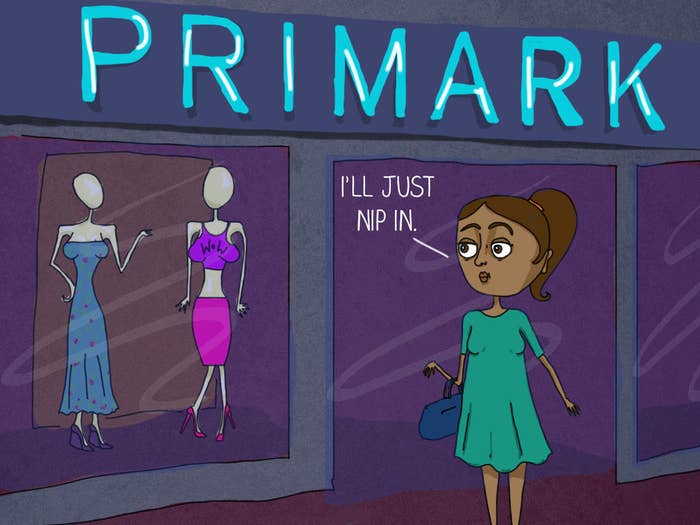 1. I'll just nip into Primark quick. I bet they'll have a handbag to match my new jacket.
2. Are the models in the window even wearing Primark clothes?
3. I swear I have never seen anyone look like that in a Primark dress.
4. Ugh, I hate how everyone hovers around the door.
5. GET OUT OF MY WAY! THIS IS AN IN AND OUT STYLE OPERATION!
6. I don't really get why they are selling t-shirts with Disney characters on them. Like, who past the age of 6 years old is going to wear a Snow White t-shirt?
7. Woah, is that a Saved By The Bell t-shirt? MUST. HAVE.
8. Umm, what's with all the crop tops? Who is even buying these?
9. Ooh, wait, what's this?
10. Oh, no, it's another crop top
11. Do Primark only cater for 14 years olds with a rock hard abs now? When did this happen?
12. I could definitely do with a couple of new strap tops and t-shirts actually.
13. I feel too anxious to search for my size whilst this shop assistant is folding here.
14. I messed up her display. Must move on immediately.
15. PYJAMAS. Oh my goodness, unicorns and kittens!
16. PUGS. DOUGHNUTS. SATIN. ONESIES.
16. Ok, 5 pairs is probably enough.
17. I'll just throw some old ones away to make room.
18. Should I have gone for a sexy pair too?
19. I feel like all of my pajamas are just "safe".
20. Comfort is key though.
21. That set does NOT look comfortable.
22. Maybe I'll just get some sexy undies instead?
23. Then again, my last few bras from Primark have died horrible, uncomfortable deaths.
24. Maybe I can find a nice pair of knickers though?
25. Ummm, that elastic band will NOT be flattering.
26. Oh, these are nice!
27. Wait, why would they put the seam right THERE?
28. How about a 5 pack of lace trim hipsters?
29. It'll be like sexy but functional. I think that works.
30. I may as well grab myself a pack of every-day ones whilst I'm here too.
31. Wait, the 5-pack of hipsters cost £10?
32. I feel like that's a bit steep for Primark.
33. Yeah, I'll just just get 2 packs of everyday pants instead.
34. Right, handbags.
35. Wait, where are the handbags?
36. Why do they always move everything around in here?
37. WHERE THE HELL ARE THE ESCALATORS?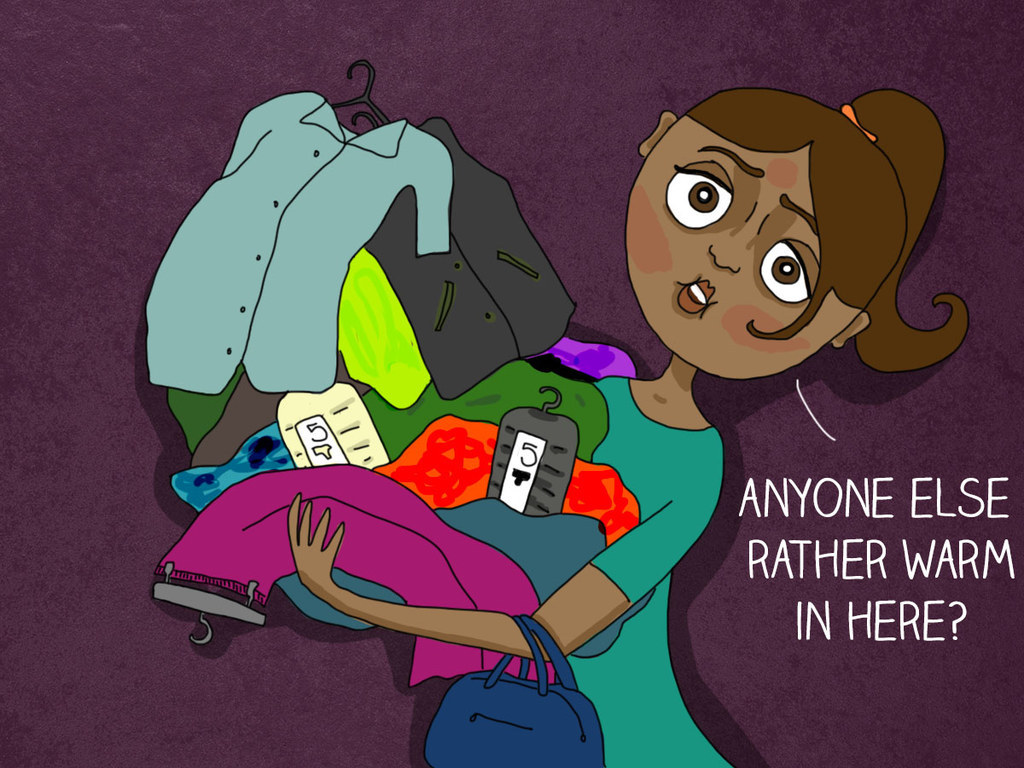 38. I'm like, sweating.
39. Is anyone else exceeding warm in here?
40. Oh, the "dressy" section. I really should try to glam up my wardrobe a little bit.
41. This blouse is cute, maybe I'll go and try it on?
42. If I'm going to the changing rooms, I may as well take a few bits with me.
43. Didn't I see that waistcoat in a Zoella haul video?
44. Yep. I'll take it.
45. I wonder if they have any jumpsuits here?
46. Ew, that is one ugly jumpsuit.
47. When did all over denim become a thing again?
48. Seriously Primark, that's your ONLY jumpsuit?
49. I wonder if I can pull off culottes? They would be PERFECT for summer.
50. But am I, like, on trend enough for these?
51. What would I even wear with them?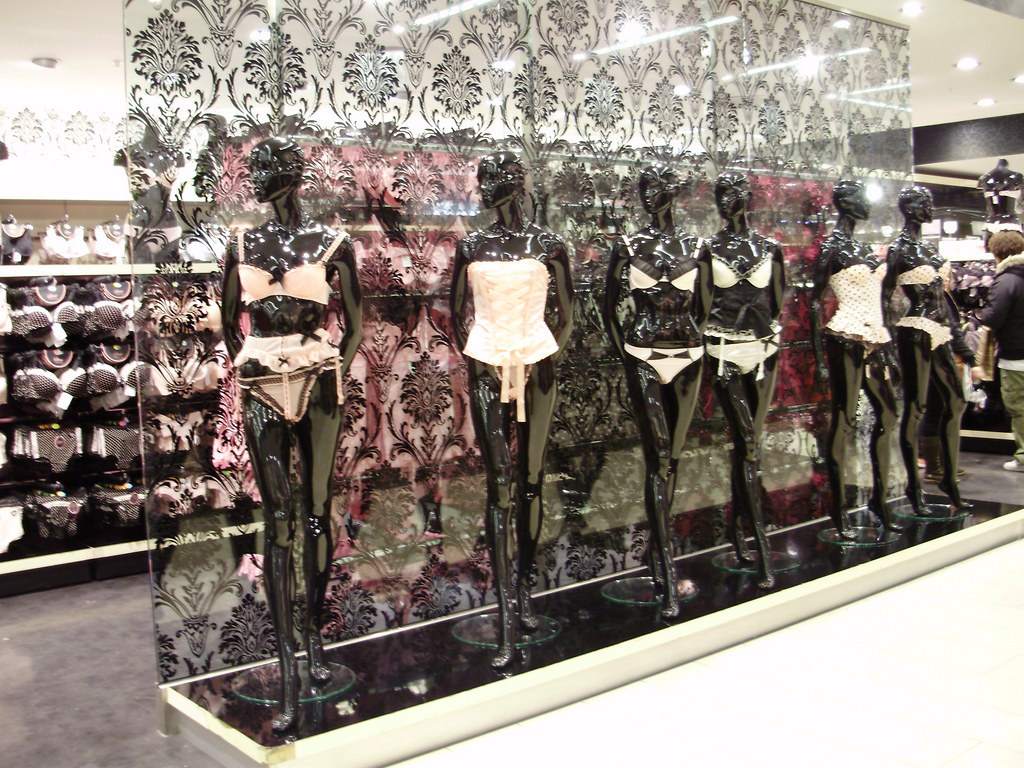 52. Wait, how many items are we allowed to take in the changing rooms again?
53. Good god, this queue is ridic.
54. I swear I've been waiting for like twenty minutes now and we've barely moved.
45. Ooh, those sunglasses are cute. I'll grab them on my way out.
46. FINALLY. Her changing room is MINE.
47. OMG, why are they being so slow taking all of her stuff?
48. Thank god they let me take all of my items in.
49. LET'S DO THIS.
50. Oh my god. I look like a whale.
51. Does this cut flatter ANYONE?
52. Why is everything so short and boxy?
53. Seriously?
54. I would like to meet the person they used to model this.
55. Actually, no I don't. At all.
56. I hate myself.
57. WHY IS IT SO HOT IN HERE? I need to sit down for a minute.
58. Ok, pull yourself together. Just a few more bits to try on.
59. Thank god for elastic waistbands.
60. I probably shouldn't have eaten lunch before coming in here. I am SO bloated.
61. Elastic waistband but I still have a muffin top.
62. Culottes, you had one job.
63. Needless to say, you failed.
64. I'm clearly not the kind of girl who can pull these off.
65. This oversized jumper looks good.
66. Summer is coming up though, when am I gonna wear it?
67. I guess I can save it for next year's jumper collection.
68. And it's only 7 quid. What a bargain!
69. I'm not even going to bother trying that other blouse on.
70. Like, it's definitely the cut of their clothes.
71. Nowhere else has blouses with such offensive cuts.
72. I can't handle it.
73. I am done.
74. Right, I just need to make my way to the checkout and get out of here.
75. Oh these candles smell so good!
76. They always put the best stuff by the checkout.
77. Wait. Ugh. I don't really have time to do a full smell test because I don't want to lose my place in the queue.
78. SOCKS.
79. Oh, more candles! I'll just grab 3 or 4 of this one quickly.
80. Um, no bitch. I'm in this queue. THANKS.
81. Wow, how did I spend 70 quid?
82. It's definitely too late to put anything back now.
83. Right, time to get out of here.
84. JESUS, PEOPLE. MOVE!
85. Oh my god, I'm free.
86. I didn't even look at the handbags.
87. … I can't go through that again. I'll just look in H&M.