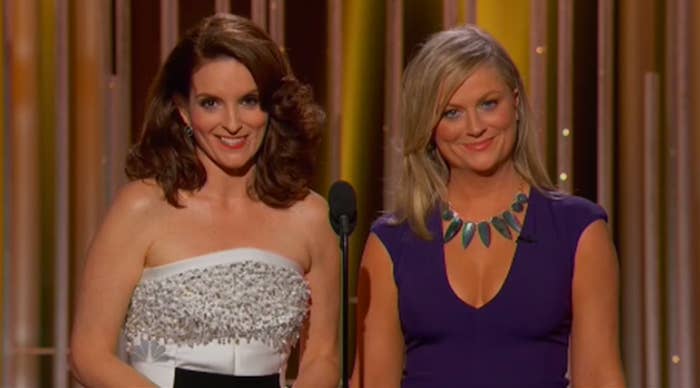 Well, they said they were gonna do it, and they did.
Toward the end of their opening monologue at the Golden Globes on Sunday night, co-hosts Amy Poehler and Tina Fey described the nominated movie Into the Woods.
"In Into the Woods, Cinderella runs from her prince, Rapunzel is thrown from a tower for her prince, and Sleeping Beauty just thought she was getting coffee with Bill Cosby," Poehler joked.
Many audience members laughed and clapped. There were audible groans and some hooting as well. And others looked like Jessica Chastain, who, sitting in the front row, both laughed and seemed to be entering a full-body cringe.
But, the joke wasn't over yet. "I don't know if you guys saw this on the news today, but Bill Cosby has finally spoken out about the allegations against him. Cosby admitted to a reporter," Fey said, before busting in to a Cosby impression, "'I put the pills in the people! The people did not want the pills in them!'"
Poehler replied, "No, Tina, hey. That's not right. That's not right. It's more like, 'I got the pills in the bathrobe and I put 'em in the people!'"
To which Fey responded, "You're right, it's gotta be, like, 'I put the pills in the hoagie.' That's fair."
"That's it," said Poehler.
Fey and Poehler's monologue tackled topical issues from the Sony hack to George Clooney's marriage, so after months of headlines, it seems inevitable that they would take on Cosby.
The first allegations against Cosby emerged in 2006, when he settled a lawsuit with a woman named Andrea Constand, who said the comedian had drugged and molested her in 2004. As part of the suit, 13 other then-anonymous women agreed to testify on her behalf, saying they had similar stories about Cosby. The settled lawsuit was mostly forgotten until last year, when Dylan Farrow's explosive open letter in the New York Times renewed rape accusations about her father, Woody Allen, and led journalists to cast a wider net about powerful celebrities who have been accused of sexual assault.
Once that door opened, questions about Cosby ended up snowballing, in part because so many women were willing to put their names on allegations against him, including models Janice Dickinson and Beverly Johnson. The deluge ultimately led to the cancellation of an NBC sitcom that was in the works, and The Cosby Show being pulled from TV Land.
Lena Dunham, as well as the rest of the Girls table (including Judd Apatow, the anti-Cosby Twitter crusader), loved the routine.