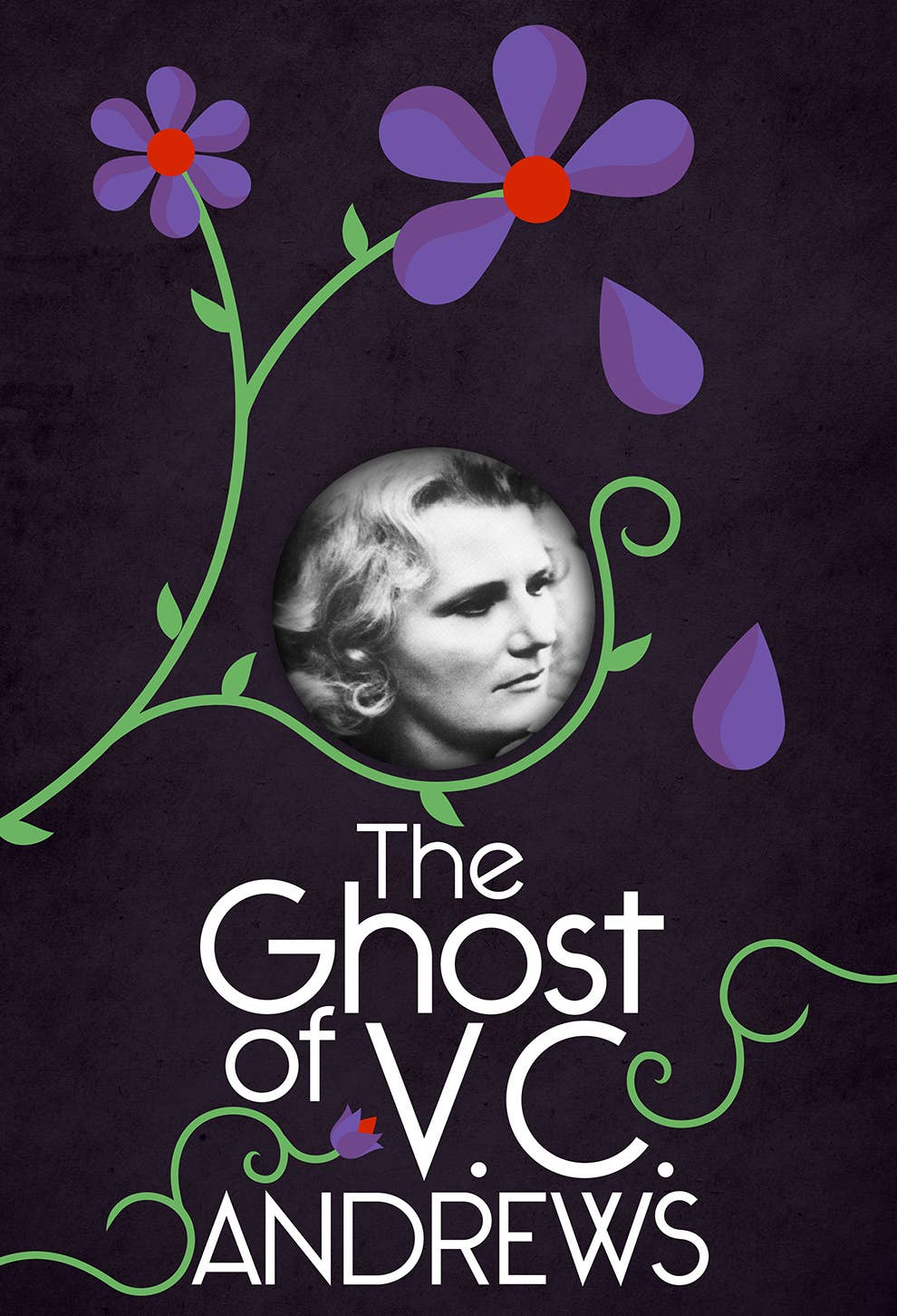 V.C. Andrews had been dead for years and no one seemed to notice.
"After a while it gets a little unnerving," said writer Andrew Neiderman over lunch at a restaurant in Palm Springs, recalling a 1989 meeting with three South Korean publishers, one of whom looked particularly perplexed. "I leaned over to the one who spoke English, and said, 'Can you tell me why she's been staring at me for the last half hour?'" The answer was due to a common mistake: She didn't understand why this hugely successful and beloved female author was, in fact, a 48-year-old man.

Neiderman has been ghostwriting the novels of V.C. Andrews since shortly after she died from breast cancer in December 1986. And though Andrews' death was not a secret (all the major newspapers carried her obituary), in a pre-internet age, it was easy enough to continue publishing books under her name so prolifically that the news of her death might have faded from your memory — if you had happened to hear of it at all. Keeping her alive — even if just in spirit — was simply smart business.
V.C. Andrews became a phenomenon upon the 1979 release of the gothic incest classic Flowers in the Attic, which has endured as a nostalgia-fueled oddity: Lifetime's TV movie version of it — starring Heather Graham, Ellen Burstyn, Kiernan Shipka, and Mason Dye — premieres Saturday night. As opposed to the dreadful 1987 feature film — with Louise Fletcher, Victoria Tennant, and Kristy Swanson — it is faithful to the book. (Among other things, it includes the sexual brother–sister relationship, which the previous version excised.) The groundswell of excitement for the Lifetime movie has been so great that the channel announced last week that it's already developing the sequel, Petals on the Wind.

In 2014, we're used to young adult books being a big part of mainstream culture. Since the first Twilight movie exploded in 2008, it's been boom times for YA book-to-screen franchises; The Hunger Games: Catching Fire was the top-grossing movie of last year. But it wasn't always like this: Flowers in the Attic's crossover from teen-to-adult zeitgeist was unique, and created the template for the young adult blockbuster. "This was certainly the Twilight and Hunger Games of our time, for my generation," said 46-year-old Rob Sharenow, Lifetime's executive vice president and general manager. "I can't think of another book series that had that grip on people."
In life, Andrews was a wheelchair-bound Southerner whose mother was her caretaker. As a best-selling author and unlikely purveyor of fantastical teen-girl nightmares, Andrews became wealthy during her short professional writing career. She had published seven novels at the time of her death; under Neiderman, whose name has never been printed within a V.C. Andrews book, her novels continue to come out at a clip of two a year. A new one, The Unwelcomed Child, will be released Monday.
As eerie as her books were, Andrews' tragic personal life and unlikely rise — which was not even impeded by the small matter of her death — have rendered her equally mysterious. For the first time, members of Andrews' family have agreed to be interviewed about the woman who terrified — and delighted — a generation of readers.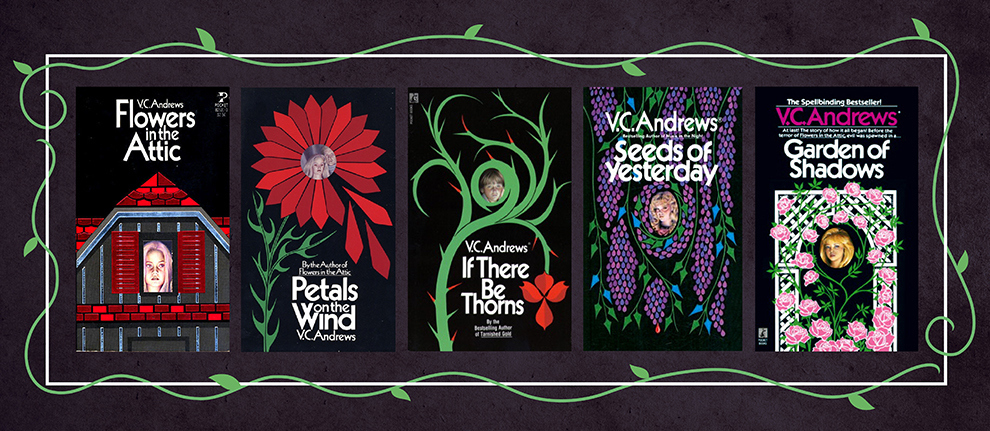 Any summation of Cleo Virginia Andrews' life reads like the back cover of one of her books. She was born on June 6, 1923, in Portsmouth, Va., and had two brothers, Bill and Gene. Press accounts differ on what caused her crippling spine, hips, legs, and neck problems (a People magazine story from October 1980 says it began with a "traumatic fall down a flight of stairs."). According to Gene Andrews, Virginia was diagnosed in her early teens with rheumatoid arthritis. Medical interventions at Johns Hopkins Hospital did not help. After unsuccessful surgeries, she was, at one point, in a full-body cast. In an email from Joan Andrews, Virginia's sister-in-law (the widow of Bill, who died in 2012), she wrote, "Virginia lived her adult life able to turn her head to a limited degree." And, Joan added, she was "always in pain." Andrews' brothers moved out of the family home, but Virginia continued to live with her parents; after her father died in 1957, it was just her and her mother Lillian. Andrews, who had talent in visual arts, made money doing commercial art for local businesses. And then she began to write. She mostly struck out at first, but got a few things published. The exhaustive V.C. Andrews fan site The Complete V.C. Andrews has a copy of her first letter to the literary agent Anita Diamant (who was also, not coincidentally, Andrew Neiderman's agent until Diamant died in 1996). It's dated Jan. 13, 1978, and begins:

"Using a pen name, I have written and sold without an agent, three Gothic Romances. Before that, I wrote confession stories, just to finance my more serious efforts. All the while I was writing other tales… one kept bearing hard on my mind, begging to be told."
Andrews then goes on to describe — with building suspense, and dramatic use of ellipses — the plot of Flowers in the Attic.
"A young wife is suddenly widowed," and though she has no job skills and is in debt, "she has one solace," which is that if she tricks her father into re-inheriting her in his will, "she is the sole heir to a tremendous fortune." In order to wait out her father's death, the widow must secretly stick her four children, whom he doesn't know exist, in his attic until he dies; the widow's mother, who has "no heart," is complicit in this plot. As the years pass, the youngest children, twins, "cannot grow" in the dark attic. And Cathy and Chris, the two older kids, "struggle to keep themselves sane, decent, honorable…but they are tested time and time again as they reach adolescence."
The letter concludes: "I call my novel, which is not truly fiction… FLOWERS IN THE ATTIC." (Andrews always said that a doctor who had cared for her during her teen hospital stays had been hidden away for years, and his story had stuck with her; he became the character of Chris Dollanganger.)
She now had an agent in Diamant. But until Humphrey Evans, an assistant at Diamant's agency, passed Andrews' short version (fewer than 100 pages) of the Flowers in the Attic manuscript to his friend Ann Patty, an editor in her twenties at Simon & Schuster's Pocket Books division, no one wanted to publish the book.
"I met an agent once who told me that it had been rejected by 24 publishers before it was bought," said Patty in a telephone interview.
Evans and Patty went to a Patti Smith concert at CBGB in New York, and after she came home, Patty read Flowers in the Attic. "I read it, and I thought, 'This is really amazing. It's like a crazy fairy tale,'" Patty said. "She had a particular style. You wouldn't call it a good style, but it was a style. It was so unique. I just thought I'd never read anything like this. Never."
Patty bought Flowers in the Attic, her first acquisition as an editor, for $7,500 to publish as a mass-market paperback, which was distributed widely, from bookstores to supermarkets to airports. She wrote Andrews a long letter about how she thought the book should develop plot-wise, and they worked on the manuscript back and forth through the mail. As the book's November 1979 publication date approached, Patty and her boss realized that they might need to ready a sequel — the feedback from bookstores, which had received the book in galley form, was ravenous.
Patty flew to Andrews' home in Virginia to meet her in person for the first time and wasn't sure what to expect. Though she relied on the wheelchair, Andrews stood to write. Joan Andrews described it this way: "Her early novels were written standing up at a chest-high desk using a typewriter. She would be at that desk sometimes 10 to 12 hours writing. She once showed me the soles of her shoes where they were worn through and the bones were protruding on the bottom of her feet."
"I thought she was an older Southern woman," Patty said about that first meeting. "I was really young, I had never published a book. So when I met her and found her to be crippled, it was like this huge shock. And then it all became clear: She was that teenager. If you think about her emotional life and her experiences and independence — which there was none — her life kind of stopped when she was about 14 or 15."
"She never had a romance," Andrew Neiderman said.
A rare — and frank — interview with Andrews was published in 1985 in a book called Faces of Fear: Encounters With the Creators of Modern Horror. In it, Andrews told Douglas E. Winter, "When I wrote Flowers in the Attic, all of Cathy's feelings about being in prison were my feelings. So that, when I read them now, I cry."
Andrews was on the verge of becoming a publishing sensation at the age of 56. And she was dependent on her mother to eat and take care of herself. She had dedicated Flowers in the Attic to her mother, but, according to Patty, Lillian Andrews never read any of her daughter's books.
"You could say that Virginia is locked in the attic and her mother is the grandmother," Patty said. "But she seemed normal. I would take Virginia out for a walk around the neighborhood. And I would pretend I was a kid and get on top of her wheelchair and we would zoom down hills. She would say, 'Don't tell Mom.'"

Within the first year of its publication, Flowers in the Attic sold almost 3 million copies. Though it hadn't been initially marketed as a young adult book, teenagers and middle schoolers found it quickly and went crazy over it. My own memories of reading it — as well as the quickly published sequels, Petals on the Wind (1980) and If There Be Thorns (1981), in what became known as the Dollanganger series — are circa seventh grade in 1982. We would read the books aloud on the school bus, laughing and gasping. The religious lunacy of the grandmother and the incest plot were of a campy, hilarious, thrilling piece in the mind of a pre-teenager, and not unlike watching General Hospital, which was also at its peak at the time. That you end up rooting in subsequent books for Cathy and Chris as a couple was simply mind-blowing.
Especially because upon rereading Flowers in the Attic, I was surprised to see that Cathy and Chris' first sexual encounter is, by most definitions, rape. As in, he forces her to have sex while he's in a rage, and eventually she sort of gives in, after which he says, "Don't hate me, Cathy, please don't hate me. I didn't mean to rape you, I swear to God." She replies: "You didn't rape me. I could have stopped you if I'd really wanted to." They then fall into mutual terror that Cathy will become pregnant. Yikes.
As a whole, reading Flowers in the Attic as an adult, I saw Andrews' skills in a new light: The book manages to balance the over-the-top drama of the tyrannical grandmother and betraying mother with the utter tedium of years-long captivity.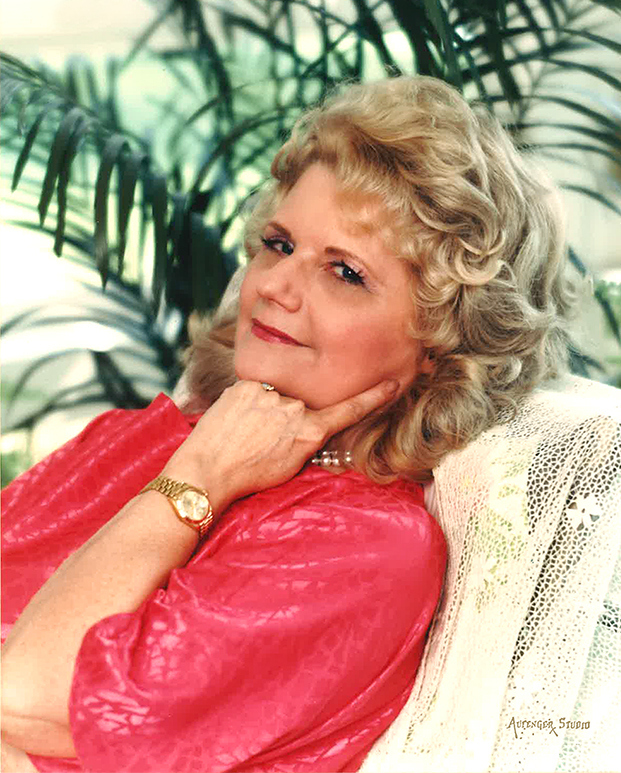 Sarah Weinman, news editor at Publishers Marketplace, described the book's appeal as timeless. "It's the same reason
Jane Eyre
resonated with people," she said. "It's why gothic novels have always found an audience; it's why romantic suspense has always done well. It's this feeling that readers can fall into; they get absorbed by all the characters. They get caught up in the calamities. There was a great melodrama to what V.C. Andrews was writing."
Girls weren't the only ones reading Flowers in the Attic, either. Lifetime's Sharenow remembers the V.C. Andrews tsunami well. "It was so controversial and exciting that my group of guy friends all read it during its peak of hotness," he said on the phone recently. "There's definitely a Dickensian feeling to the character structures. The wickedness of the grandmother is pure. And the extremity of the situation — you can't help but understand, and in some way relate to, the trauma of what these kids are going through. And, of course, the complexities of the forbidden love element, there's something very tantalizing about that, and fascinating. Those are things that don't go in and out of vogue."

Patty and Pocket Books paid Andrews a $50,000 advance for the next two Dollanganger books, the Flowers in the Attic sequels. It was a lot more than $7,500, but since the deal was done before Flowers was published and became such a hit, it was short of what she would make in a few years. But then, "the royalties started pouring in," Patty said. "I would say two to three years after publication, she was wealthy."
Andrews' life started to change. "She bought a beautiful estate home on the Chesapeake Bay in Virginia Beach," wrote Joan Andrews over email. And, according to Joan, Virginia got an IBM computer so she "could sit and write and her productivity increased." Perhaps most important, she bought a van that could comfortably fit her wheelchair. "She became very mobile and loved getting out and about," wrote Joan.
"She started to have much more of a life," said Patty.

She even traveled abroad. As the Dollanganger series continued to explode, Virginia was enjoying huge success in the U.K. as well as the U.S., and her British publisher wanted to celebrate her. Jonathan Lloyd, the company's sales director, remembered it well."She came with her mother," Lloyd said in a recent phone interview. "We had a big party and dinner, I think at Claridge's Hotel in London. I remember going up to her room, knocking on the door, and as if by magic, the door seemed to open. And there's a long corridor at the end in semi-darkness. At the end, there's this woman sitting in a wheelchair looking at me. All I could see was her violet eyes. Slowly the chair came toward me; I almost screamed!"

Lloyd escorted her downstairs. "She wasn't really used to parties," he said. "I remember she had rather a lot of drinks. My boss at the time used to smoke cigars, and we gave her a cigar. She got very wild. Her mother, in the end, said, 'I'm taking her away, I'm taking her upstairs.'"
While she was experimenting with actual personal interaction, her relationship with readers was growing more confident, even as she branched out from the Dollanganger family. There was the insane, gripping child-rape novel, My Sweet Audrina, which was published in 1982. But 1985's Heaven was the beginning of her next family saga, about the dirt-poor (but very good-looking) Casteels of West Virginia; Pocket gave her a $2 million advance for a two-book deal.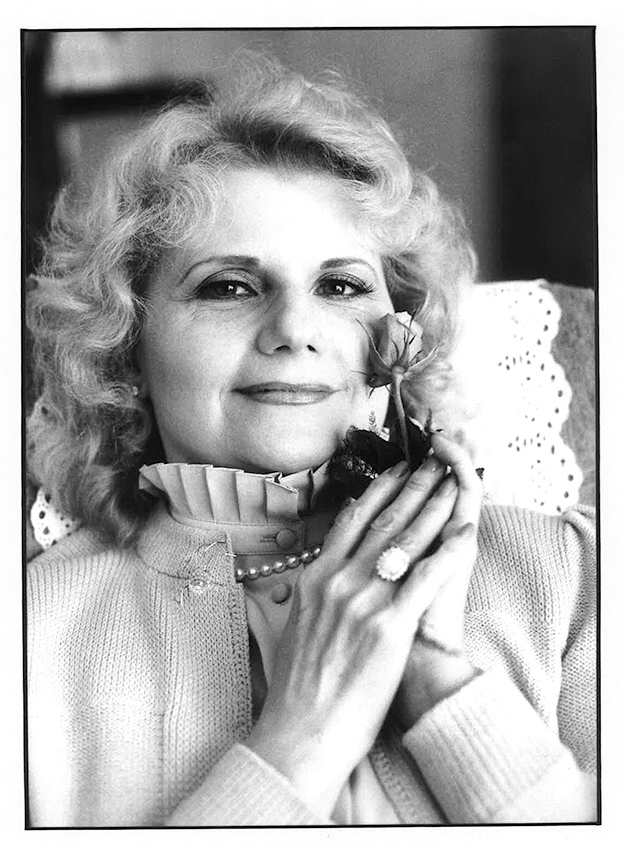 If Flowers in the Attic was inspired by a story Andrews had heard as young person, Heaven and the subsequent Casteel series derived from a memoir purchased for Andrews to adapt as fiction. According to Patty, Humphrey Evans came across a woman's true account of being sold by her father.
According to Joan Andrews, Virginia's devotion to writing Heaven and the sequel, Dark Angel, contributed to her death. "She knew she had a lump on her breast, but would not take care of the situation until she finished the current novel she was working on and also the sequel," Joan wrote. "By then the cancer had begun to spread."
Bill Andrews — Virginia's brother and Joan's husband —"even went to the Edgar Cayce Institute there in Virginia Beach and researched what could be done holistically, she so wanted to keep her strength up to continue writing," wrote Joan.
Andrews confided to Patty that she was sick. "She made me swear that I wouldn't tell anyone." Patty kept the secret, and two months before Andrews' death, Pocket Books offered her a $3 million contract for two more books — the third Casteel series novel, and a prequel to Flowers in the Attic that would tell the grandmother's story.
In the 1985 Faces of Fear interview, Andrews had complained that she wanted to "branch out" from the children-in-jeopardy genre she had created. But, she said, "I am supposed to stay in this niche, whatever it is, because there is so much money in it. I mean, I have tapped a gold mine and they don't want to let go of it."
Indeed, they did not. Andrews died on Dec. 19, 1986. Four days later, according to a Washington Post story, "a memo was prepared for Simon & Schuster's staff stating that 'V.C. was writing right up until the time of her death and there are a number of novels remaining to be published, including the prequel to Flowers in the Attic, which Pocket Books will release in the late fall of 1987.'"
The plan to bring V.C. Andrews back from the dead had been hatched.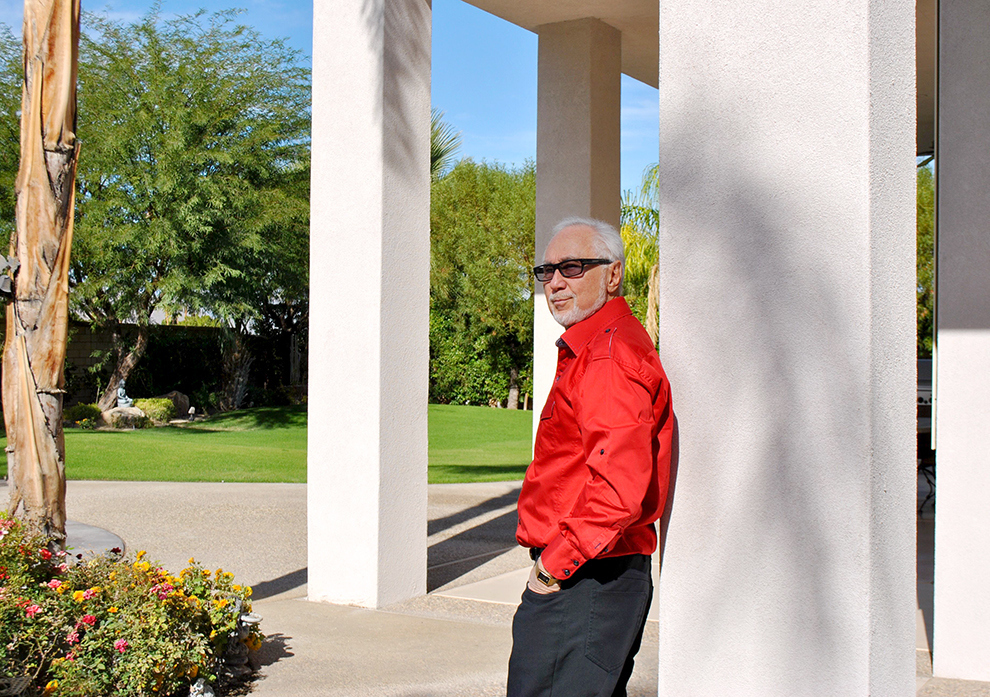 Andrew and Diane Neiderman live in a mid-century modern home in a quiet neighborhood in Palm Springs. Off the kitchen, he has a "rogue's gallery" wall of photographs with celebrities — James Gandolfini, Marcia Gay Harden, and the Palm Springs staple, Merv Griffin. His office, lined with wall-to-wall bookshelves, is dominated by a large desk. "I wrote on two different computers," Neiderman said. "I would turn my chair around and suddenly go into V.C. Andrews."
Neiderman was born in Brooklyn, but his family moved to the Catskills in upstate New York when he was a small child. He went to Fallsburg High School, graduated from the State University of New York at Albany, and then went back to Fallsburg to teach English at his old school. He directed school plays, coached wrestling, and taught summer school. A young teacher, he soon married a student named Diane Wilson. "Not my student," Neiderman was quick to say over lunch. "We were a secret romance."
"Today he would be brought up on charges," Diane said with a laugh. The couple have been together for 50 years, live in Palm Springs and in the Brentwood neighborhood of Los Angeles, and have two adult children and three grandchildren. He is 73, and white-haired with a neatly trimmed beard.
Before the move to California, while Neiderman was a full-time teacher, he was always writing. Neiderman's determination began to pay off in the '80s, when he began regularly releasing horror novels. (His biggest success under his own name is The Devil's Advocate, which was published in 1990 and adapted into a riotous 1997 movie co-starring Keanu Reeves and a particularly scream-y Al Pacino as Satan.)
Ann Patty was Neiderman's editor; Anita Diamant was his agent. He had just gotten a book contract that was enough money to stop teaching and move his family to Los Angeles when Diamant called him about taking over the writing of Garden of Shadows, the Flowers in the Attic prequel. "'You've got to come back and work on finishing this novel,'" he said he remembered her saying. According to Neiderman, Patty "thought she was going to write the books. She couldn't write one word."
Patty said that for legal reasons, she can't comment on anything that happened after Andrews died. But she did say this bit on the record: "When it became clear that someone else would need to be brought in, the agent wanted it to be Andy. So that's who it became. That maybe or maybe not would have been my choice."
Neiderman said that Diamant had asked him to audition to try to take over for Andrews when she was close to death. He had read all of her books, and sent in a sample mimicking her style — but didn't think anything would actually come of it.
Joan Andrews said that Virginia had read one of Neiderman's novels, 1981's Pin, and "she liked his writing style." The estate, which was now being run by her brothers, Gene and Bill, the managing partners of Vanda LLC, hired Neiderman to work on Garden of Shadows. "It was a perfect transition," wrote Joan. "We were delighted that her legacy would carry on since she was so determined to make a difference in this world."
V.C. Andrews is not the first writer to continue to produce new works after death. Sebastian Faulks wrote Devil May Care, a James Bond book, in 2008, and the cover read, "Sebastian Faulks writing as Ian Fleming." There's the case of Robert Ludlum, who died in 2001, but whose name was trademarked for several subsequent ghostwritten novels; there's Robert B. Parker, who died in 2010, but whose characters live on, written by multiple ghostwriters. And then there are series like Nancy Drew, which are entirely written by collections of writers-for-hire under one pen name. But the Neiderman-as-Andrews arrangement is different in that 27 years after embarking on writing his first V.C. Andrews books, he is still the sole ghostwriter writing them.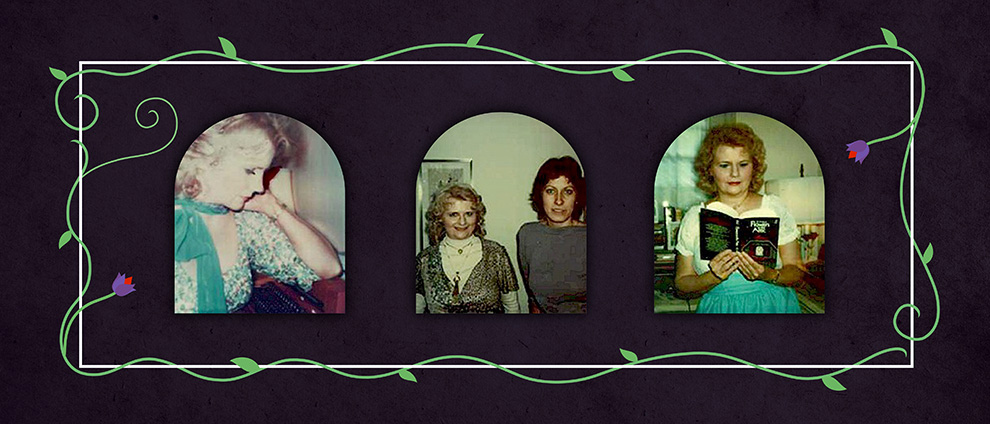 If fans had heard that Andrews had died, and thought to wonder how it was that her books continued to come out, those questions did not affect the sales of the posthumous books. In Neiderman's contracts, he agreed not to disclose that he was now the author. It was certainly in his financial interest to abide by the agreement; according to the Washington Post, Vanda received $1.5 million for Garden of Shadows, of which he received $250,000. For his second book, Fallen Hearts, the third in the Casteel series, he got $400,000. And in a contract for three more books, Vanda got $4.5 million, of which Neiderman got $1.75 million.
It was during that three-book contract that Pocket finally acknowledged within the books what should have been obvious enough. In 1990's Dawn, which kicked off a brand-new series (the Cutler series, for those keeping track), a vaguely worded letter from the Andrews family was included which read, in part: "Beginning with the final books in the Casteel series we have been working closely with a carefully selected writer to organize and complete Virginia's stories and to expand upon them by creating additional novels inspired by her wonderful storytelling genius." And it promised, "Other V.C. Andrews novels will be published in the coming years and we hope they continue to mean as much to you as ever."
As Weinman put it, "Looking back, just the thought that you could hide that she had died — it's just ridiculous."
It had pretty much worked, though. Additionally, being hazy about how much writing Andrews had left behind — almost none, in truth — had also worked well for several years. But Pocket's hand was forced when Harper Collins, Andrews' U.K. publisher, was outbid on Dawn and then made the ghostwriting public in a fit of pique. A 1991 New York Times story quotes the managing director of Harper Collins saying that had he published Dawn, he would have put Neiderman's name on the cover because "in English law you can't say a book is written by somebody who didn't write it." (If that is the case, every subsequent book has violated that law: To this day, they're published under the name "Virginia Andrews" by Simon & Schuster's U.K. division.)
In success, Vanda LLC faced another hurdle. The IRS auditor who oversaw the Andrews estate was one day browsing in a bookstore and noticed that a V.C. Andrews novel that had not been a part of the taxed estate was among the author's books. She found out about the ghostwriting, and decided that the name "V.C. Andrews" should have been an asset on which the family had paid taxes. She assessed the family taxes and penalties; they sued to get it back.
The lawsuit took place over two years in the early '90s, and the family did end up getting some money back from the IRS. But during the depositions for the lawsuit, the machinations behind V.C. Andrews Inc. were exposed — and it was ugly. Especially the deterioration of Ann Patty and Neiderman's working relationship.
In court papers quoted by the Washington Post, Neiderman paid Patty "in excess of $50,000 over several years" under duress. In Neiderman's deposition, he said, "money was demanded of me from [Patty] for her participation in the process… I mean, what you have here is a situation where the person who judges my work wants to participate in doing it and be paid for it, so it's kind of — I'm kind of squeezed, if you can understand that." He characterized the work Patty was doing as standard editing and analysis and, of course, she was still a full-time editor at Simon & Schuster.
But Andrews' estate attorney, Charles Payne, was not happy; he wrote a letter to Neiderman accusing him of breach of contract for subcontracting part of the work. Reached by telephone, Payne, who is 74, said he can't talk about V.C. Andrews, her family, or her estate because of attorney–client privilege (though he has not represented them for many years). But when asked specifically about Neiderman and Patty, he said, "He was being held up. He did not do that voluntarily. I wanted to put a stop to that because the more she demanded of him, the more he demanded of us. The confrontation was between me and Simon & Schuster, not between me and Andy. He was paying that reluctantly because he was afraid she would sabotage his manuscripts."
Discussing it now, Neiderman said he paid Patty because "at that time, I had no choice."
These are the things on which Ann Patty — who years later was the editor of Life of Pi — says she cannot comment. But she would say on the record that, yes, she was taken off the project. "The books that are being written now resemble not at all the books Virginia wrote. And a lot of her fans don't like the tide it's taken. And in fact many people have noticed that from the time I stopped having any involvement with the books, there was a radical change in them. Many people have noticed that."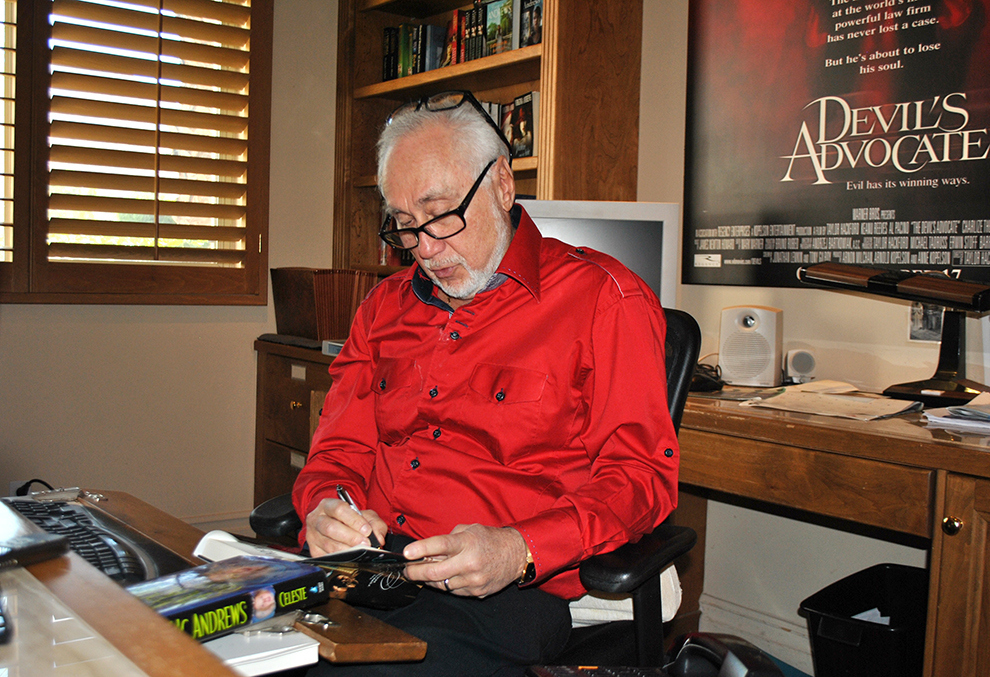 When I asked Neiderman how many V.C. Andrews novels he had written, he had to take out a copy of The Unwelcomed Child and count them himself. "At this moment: 68." He's told the stories of a girl twin forced to live as a boy after her favored brother died (Celeste); a story of precocious puberty (April's Shadow); and, in perhaps one of the bigger deviations from the Andrews formula, the tale of a reluctant girl vampire (Daughter of Darkness).
After The Unwelcomed Child, Neiderman has written one V.C. Andrews novel that will likely come out in the fall, and another that will probably be released a year from now. That will complete Vanda's current contract with Pocket. (He pointed out that this November will mark the 35th anniversary of the release of Flowers in the Attic; the copyright will be up, and Pocket will have to negotiate to renew it.) Beyond the current contract, he's been working on Christopher's Diary, which would tell Chris' point of view of Flowers in the Attic in a diary found by a present-day girl in the ashes of Foxworth Hall, where the Dollanganger kids were held captive.
Sales aren't what they used to be, of course. Nielsen BookScan, which accounts for approximately 75% of print sales (and no e-books), clocks 2013's two releases, Forbidden Sister (released in February) and Roxy's Story (released in September) at 37,458 and 7,235, respectively. (If the sales for Roxy's Story seem excessively low, Walmart had an exclusive early release on it that adds 50,000 to that number, Neiderman said.)
It's definitely a changing market, though. "The loss of Borders was a big blow," Neiderman said. "Barnes & Noble's situation was a big blow. If people don't move from mass market to e-books, you're going to lose the mass market."
Citing Twilight, Neiderman said, "I think the biggest thing is this: So-called YA novels have all become V.C. Andrews novels." Consequently, he works tirelessly to continue to promote the brand, traveling to Europe, trying to get the books adapted into movies and TV shows, and working the Facebook fan page, which has more than 141,000 likes. He continues to write novels under his own name, and is peddling the prequel to The Devil's Advocate, which tells the story of how Milton, the devil, came to New York and started his law firm.
Yet it wasn't until last year that Pocket acknowledged publicly that Neiderman has been writing the books; the company sent out a press release soliciting coverage to celebrate his 25th anniversary of writing as V.C. Andrews. (The math was slightly off, but still.) His name continues to be absent from the books themselves, but Neiderman says he doesn't care.
"I've seen my name on plenty of books," he said. "Everything about V.C. Andrews' novels is V.C. Andrews. I am writing them, but it's her characters, it's her style, it's the themes that she wanted."
We were sitting in his home office, completely surrounded by the books he's written.
"She was driven by the question that drives all of us," Neiderman said. "Why do people who are supposed to love each other harm each other in such ways?"