The night of June 17, Rose McGowan tweeted a screenshot of casting notes she had been sent for an audition. They read: "Please make sure you read the attached script before coming in so you understand the context of the scenes. Wardrobe Note: Black (or dark) form fitting tank that shows off cleavage (push up bras encouraged). And form fitting leggings or jeans." With the screenshot, McGowan tweeted: "casting note that came w/script I got today. For real. name of male star rhymes with Madam Panhandler hahahaha I die."
After tweeting it, she simply went to bed, not thinking much of it. When she awoke, the tweet had gone viral and was starting to be picked up by the media — it was, after all, about a high-profile project, Adam Sandler's new Netflix movie The Do Over. "I was like, oh dear — if you think that's bad," she remembered thinking. "I was mostly flummoxed by everybody thinking that was so horrible; it's just par for the course. It was more a stupidity offense — bad manners offend me. And then I was thinking, How many people's hands did that pass through before that was just sent out to every woman coming in?"
McGowan then said in a deadpan tone: "The role, by the way, is for a supermodel who's obsessed with Adam Sandler." She fell silent, looked at me pointedly, and started to laugh.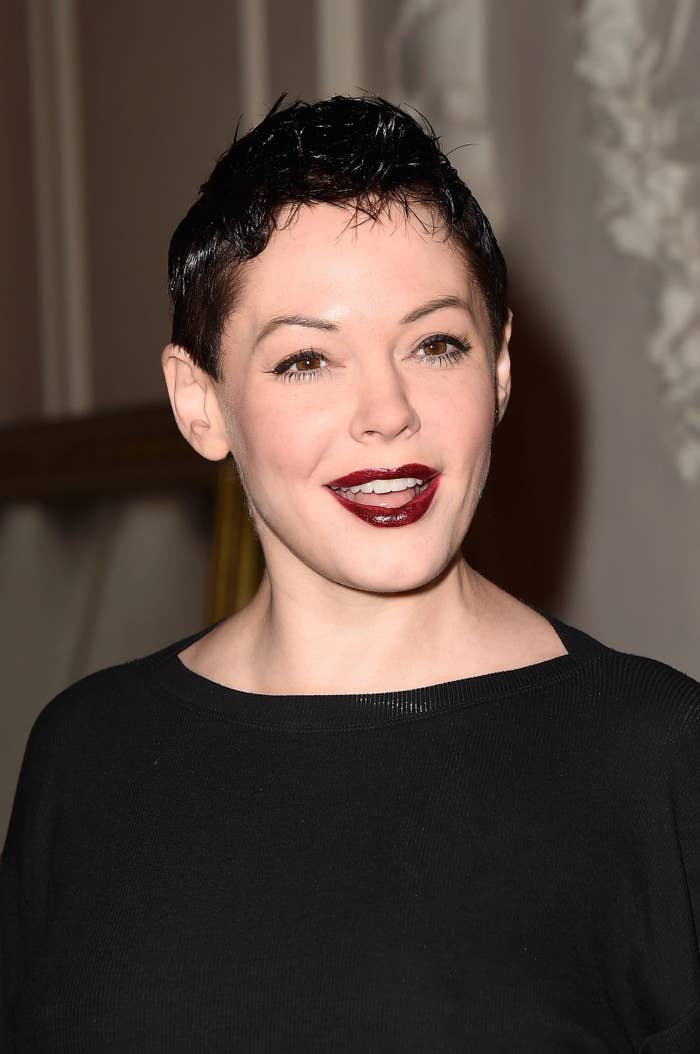 One week after her tweet about the Sandler audition, McGowan screened her short film Dawn — her directing debut, which had premiered at Sundance in 2014 — for the Film Society of Lincoln Center in New York City. "Which is one of the highlights of my career so far. It was a huge honor," McGowan said. As she left the stage after the Q&A, she checked her phone and saw an email from Innovative Artists, her agency — dropping her. "Like, 'We no longer want to work with you,'" she said. She felt a wave of "semi-panic — my ankles shook a little."
But McGowan worked through the fear. "And then I was like, fuck 'em! Fuck you," she said for emphasis. And then I just wrote back, 'You're hilarious.' Because I thought it was hilarious." She also tweeted about it, of course: "I just got fired by my wussy acting agent because I spoke up about the bullshit in Hollywood. Hahaha. ‪#douchebags ‪#awesome ‪#BRINGIT."
That tweet went viral too, and drew support on social media from Jessica Chastain ("Her treatment confirms the misogyny underpinning the industry. She should be celebrated for speaking out.") and producer Megan Ellison ("@rosemcgowan you're a fucking badass. The sexism that plagues our industry is disgusting and a disservice to humans everywhere. Fight on."). When a Twitter troll asked McGowan what she'd worn to be cast on Charmed — the long-running WB show on which McGowan played a witch — McGowan tweeted back, "Whatever I fucking wanted to." Then her Charmed co-star Holly Marie Combs joined the thread: "She was offered Charmed...... sight unseen. Probably at home in sweat pants. Next question please."
But the sequence of events wasn't just the usual tempest in Twitter's teapot — here today, gone 10 minutes later today. Two days after McGowan was dropped by Innovative, she went on Good Morning America, America's No. 1 morning show, to talk about, in her words, the "systemic abuse of women in Hollywood." Paula Faris, who interviewed her, told her GMA colleagues that McGowan offers "such great advice." "It's about telling the next girl, quote, 'she doesn't have to sell her body or her soul to be creative.' It's such a great message for women," Faris said.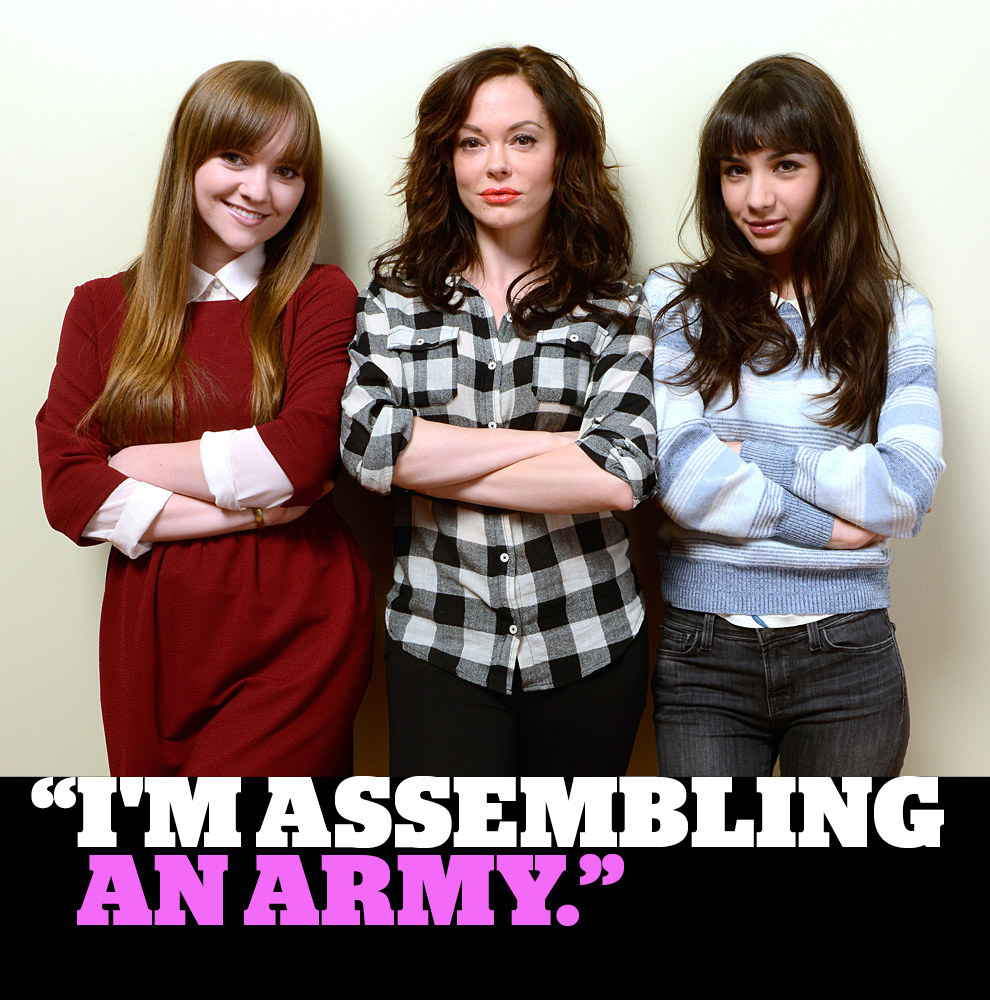 The difficulties women have had navigating Hollywood permeate every part of the business, from writers rooms to directors' chairs to below-the-line production jobs — and, of course, to acting, which can be rife with the most corrosively age-obsessed, looks-conscious, and sexualized aspects of film and television. But lately, there seems to be a rise in female actors' candor about and resistance to standard practices, whether it's Maggie Gyllenhaal telling The Wrap that at 37 she was deemed "too old" to play the love interest of a 55-year-old man, Amanda Seyfried talking about pay discrepancies between male and female actors, or Amy Schumer's "Last Fuckable Day" sketch, to name a few recent eruptions.
And then there is the fall of Bill Cosby. His alleged sexual crimes took place over decades during which he was protected by alleged industry colluders, emboldened by an American atmosphere that didn't want to think about such things. It took almost a literal village to change that over the past year and a half. But now, with Cosby's career and legacy reduced to ashes, there is finally one instance in which an alleged serial predator accused of using every lever of the entertainment business (the casting couch, mentorships, easy access to drugs, yes-men lawyers and publicists) has actually been brought down. That Jackie Fuchs of The Runaways recently told the Huffington Post that she was inspired to talk about being raped by the band's manager, Kim Fowley, in part because of the Cosby accusers is remarkable and noteworthy.
Whether there is a Cosby effect that is real and sustaining remains to be seen. But McGowan — who first starred in a movie, The Doom Generation, 20 years ago, but says now she wants only to direct and not to act anymore — has jumped squarely into this insurgent fray.
"This town is a very patriarchal figure," she said, sitting across the desk in the office of her airy mid-century home in the Hollywood Hills. "And I was raised here. By nobody. So I was raised basically by the men in this industry. How to be, what not to do — what to do. I was always like, fuck your rules. You suck."
Now she wants to do something about it.
"I'm assembling an army," she said.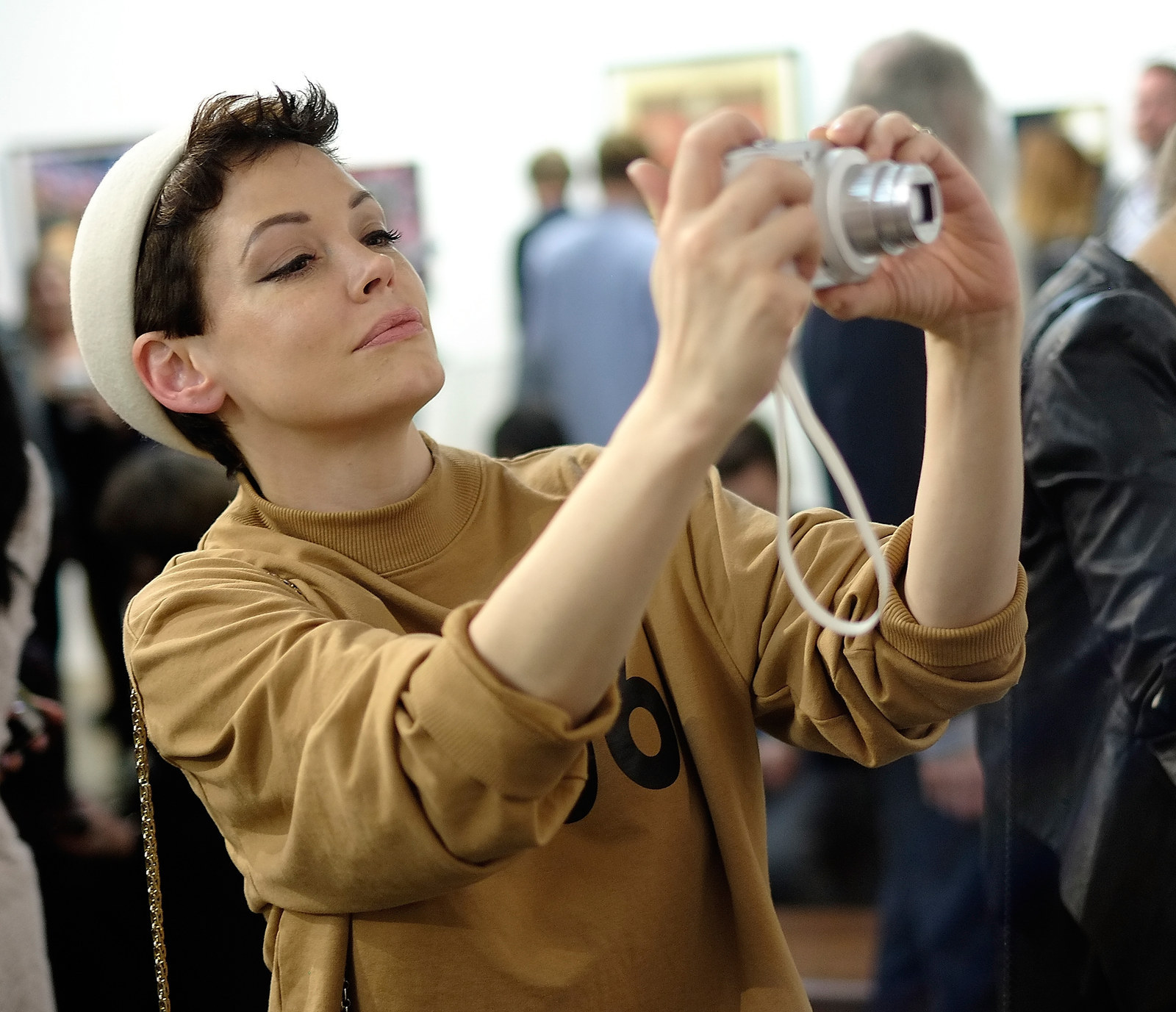 McGowan, 41, grew up in the Children of God cult. The hippie Christian organization, founded in Southern California by David Berg in the late 1960s, had international offshoots, and McGowan's father migrated to lead its chapter in Italy, where she was born. "To understand my father, he was dishonorably discharged from going to Vietnam, which was very lucky for him because he would have died immediately," McGowan said. "He was an amazing artist and just really thought he was going to change the world with love."

It didn't turn out that way. McGowan's upbringing was, she said, a "bit like growing up in the Medici court." There was the religious fanaticism to contend with: "They would come into my room every night and ask me if I believed in God: 'Have you let God into your heart today?' And I would say, 'No.' I was 3, and I was constantly in trouble." Also, she felt physically unsafe. "It was a high-wire act to stay alive," she said. "From about 3, every room I go into, I immediately look for what I would kill somebody with if I had to defend myself."
If the mention of Children of God brings anything specific to mind these days, it's the cult's legacy of sexual abuse. McGowan's family eventually escaped and moved to the United States when she was 10. According to her account in People magazine in 2011, when her father found out that Berg was beginning to ritualize pedophilia, they fled. "I was not molested because my dad was strong enough to realize that this hippie love had gone south," McGowan wrote at the time. Her father, to whom she was close, died in 2008; her mother, McGowan said, "gets irritated if I say anything about" being raised in a cult.
Yet there are things McGowan prizes about her early childhood. Life on the commune wasn't a practical existence: "Nobody taught me how to tie my shoes until I was 9, but I was reading Poe at 4," she said. She attributes her obsession with and knowledge of film to her father, who loved movies and would take them to a revival theater where they'd show "weird Italian classic films."
And she never thought about how she looked. "I don't remember ever seeing any mirrors," she said. "So I grew up without actually registering that I was a girl or a boy. Or registering that I was anything but a mind." Her father was an illustrator — "Besides being a cult leader, as it were," she said — and he would use McGowan and her sister Daisy as models. "I was cast as the boy," she said.
In the hallway outside her office, she has a collage of photographs through the years, and among them is an image of herself as a boyish-looking child with short hair. "That's what I looked like growing up," she said, pointing it out. "And then I put it next to all the other things you become."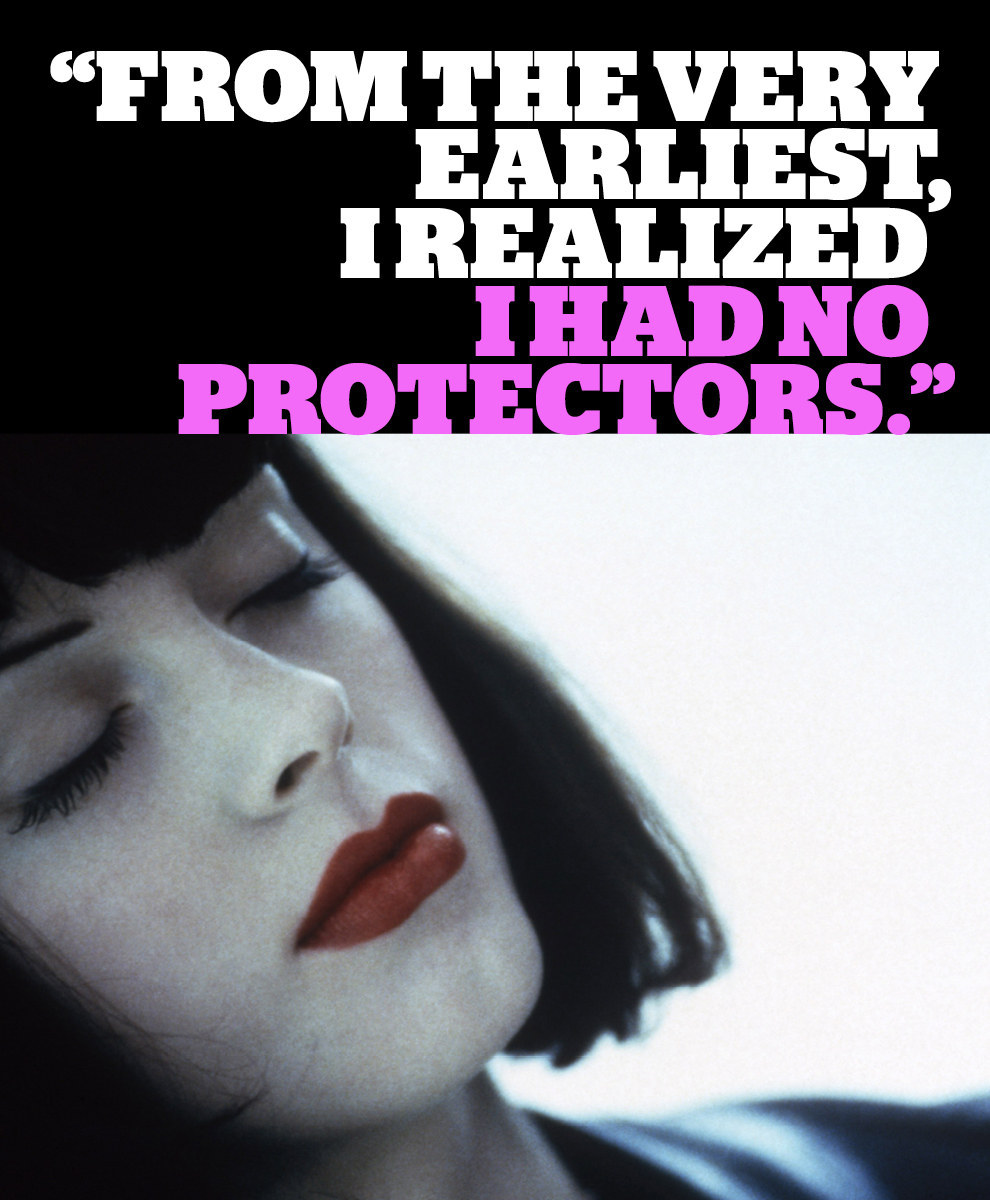 "Nothing directly led me to being famous, other than the fact that I knew I was going to be," McGowan said when asked how she ended up moving to Los Angeles and acting. Asking McGowan about causal or sequential biographical developments is more likely to result in artful answers rather than direct ones. At one point when I lost the thread of our conversation and said things were going in unexpected directions, McGowan exclaimed, "Therapy, baby!" and threw her head back to laugh.

In summary: Her post-cult childhood was set mostly in the Pacific Northwest, living with her mother, then on the streets as a runaway, then with her father. She went to beauty school, thinking she would pay for college by getting a job in a salon. "And then I got famous," she said. "So that put the kibosh on hairdressing."
She'd had a tiny part in Pauly Shore's 1992 Encino Man — "They didn't pay me, they didn't get me into the Screen Actors Guild, they just lied," she said of the experience — but it was the provocateur Gregg Araki's The Doom Generation in 1995 that was her first leading role. McGowan played the profane, speedy, hypersexual Amy Blue, and while Araki's visual style used her heavily lidded eyes and full pout to their vampiest effects, she also managed to bring out strength and even sweetness in the character. She had no formal acting training, but McGowan knew how to turn things in her favor. "The script for it was kind of written like these two guys have their thumb over her," she said, "and I was like, oh no, that's not going to happen."
"I love Doom Generation," McGowan continued, "because that character is based on me when I was 15, minus the sex stuff. Just that iron eggshell: If you push her too hard, she'd crack."
Yet the experience comes with asterisks. During her audition, with an actor she wouldn't name, McGowan said, "They laid me on top of him on a couch and he had a hard-on. I just had out of body experiences."
And as she shot the film, another actor McGowan wouldn't name fed her lines off camera as he simultaneously, she said, "was squeezing a water bottle into my crotch, and telling the director, 'Oh, I think it'll help her act better.'" Though she had no working knowledge of film sets, she tried to stand up for herself: "I went to punch the person that had been trying to take the water bottle and shove it up me while squeezing water on me, and the director said, 'Oh, children.'"
It all served to inform McGowan's current lay-it-all-bare, truth-telling direction. "From the very earliest, I realized I had no protectors," she said.
Araki refutes McGowan's versions of events. In an email to BuzzFeed News, he wrote: "I believe Rose is referring to the last scene shot on the last day of the film when I was crammed in the backseat of the picture car with the DP and soundman. Rose and her two co-stars were in the front seat doing a scene which involved them laughing and joking around and one of them spilled water on her lap — an action I did not see or condone. What I did see was Rose and this other actor screaming at each other — they had been fighting and bickering for the entire four week shoot. That was the day I quit The Doom Generation. I literally said stop the car, got out and said that's a wrap, this movie is finished." (Here is Araki's letter in full.)

In the other notable roles of her early acting career, McGowan played Tatum, the doomed best friend of Neve Campbell's character in 1996's Scream, and Courtney, a gleefully snarling sociopath in 1999's Jawbreaker. She worked steadily, but her dark intensity excluded her from girlfriend-on-the-side characters — the majority of roles for young women — and she was often cast instead in genre fare, as an archetypal bad girl, or both. Her engagement to Marilyn Manson in the late '90s added to her Goth glam mystique, and certainly got her attention for red carpet antics, but perhaps her career suffered as a result. In October 2001, she joined the cast of Charmed, becoming an unlikely star of The WB.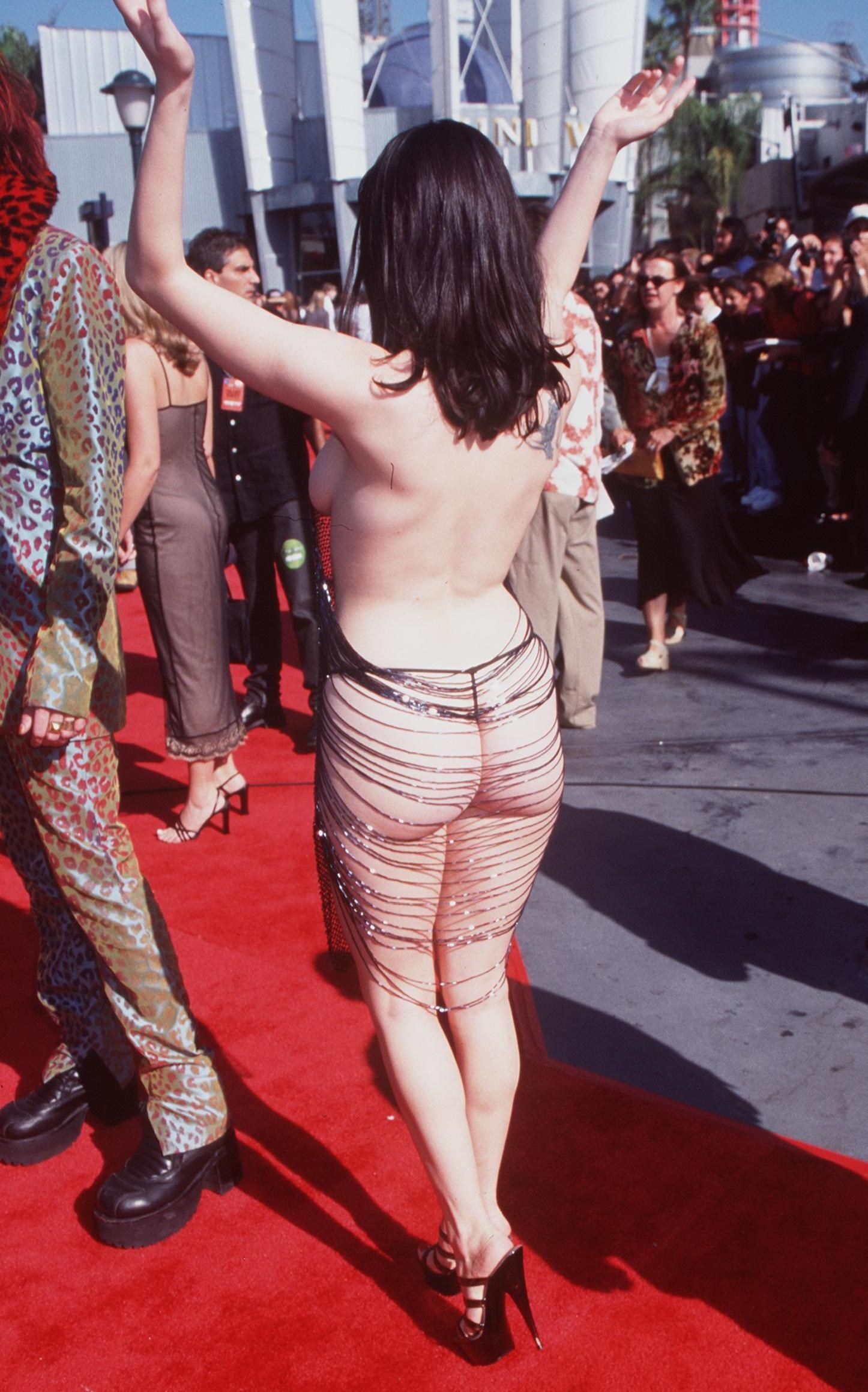 "I loved the people, I loved that show," McGowan said of Charmed. But: "It was very difficult for me to do. It was not my world." McGowan had thought she would continue working in film, but, she said wearily, "someone blacklisted me in the industry, and I couldn't get a job in movies. I have a bunch of brothers and sisters, and I had to help put them through college."
McGowan would not say who blacklisted her, nor did she say what form those recriminations took. She did say that when she signed on for Charmed, she told her agent and lawyer she would do the show for two years, and then unknowingly signed a five-year contract — which is how long she remained on the show. "I was kind of robbed of five years," she said.
It's a trap and a cycle, she said: "There's a point where you go on for long enough, and you're like, How am I going to make a living if I don't do this? I missed a window of going to school. I missed a window of developing other lives."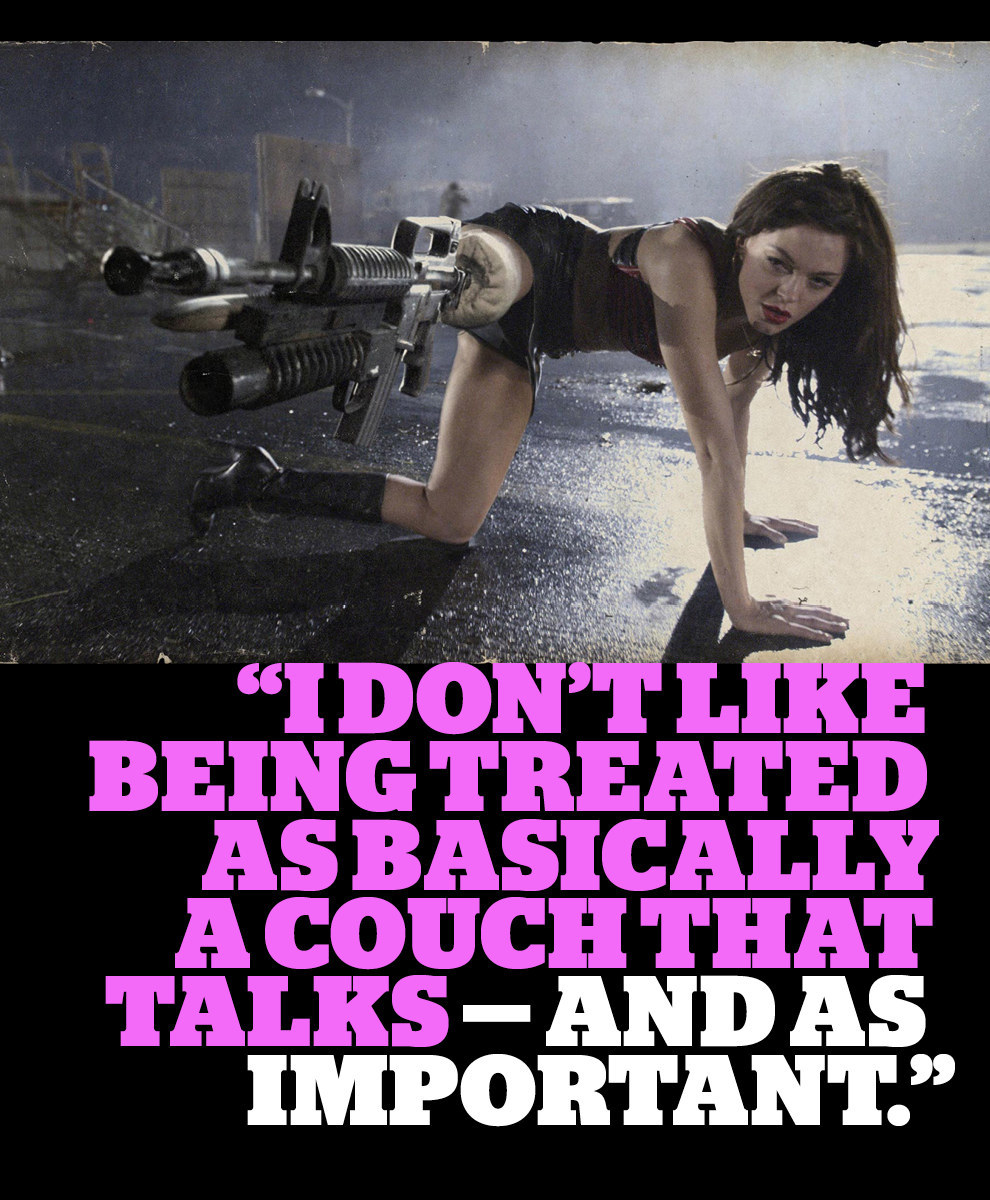 After Charmed concluded in May 2006, McGowan returned to movies, starring in Planet Terror, the Robert Rodriguez half of the Rodriguez–Quentin Tarantino 2007 double-feature novelty Grindhouse. McGowan played Cherry Darling, a go-go dancer whose leg is torn off by zombies only to be replaced by a machine gun she uses to great effect — a winking pastiche of midnight movie horror tropes and stripper/amputee fetishism.
Grindhouse was an infamous flop theatrically, and though it has gained fans since, McGowan has terrible memories of the experience. "I just don't like being treated as less-than," she said. "I don't like being treated as basically a couch that talks — and as important. I don't like being humiliated, or somebody trying to make you humiliated."
Yes, she was speaking there of Rodriguez, her former fiancé who left his wife for McGowan. "It was always reported on that we got together on that set, but that's a lie," she said. "I was in a relationship with him a year prior to the movie, actually."
McGowan said that a backbend she had to do for Planet Terror "caused severe nerve damage, and ultimately paralysis" in one of her arms, which she had to have three surgeries to try to repair. "See all the scars?" she said, holding up her right arm. "They took part of my elbow out." She said she had told Rodriguez as they filmed, "I can't hold this position" and "my arm is snapping."
According to McGowan, Rodriguez was unyielding. "He used to say, 'Pain is temporary; film is forever!'"
BuzzFeed News sent Rodriguez's publicist a detailed email about McGowan's version of shooting Planet Terror. Rodriguez responded: "It was a very fast and demanding shoot, but Rose was a pro." (McGowan and Rodriguez split in 2008, a year after the movie's release. She's now married to Davey Detail, a visual artist.)
Whether McGowan's frank disclosures make her seem either Cassandra-ish or ungrateful or Norma Rae–like, or some combination of those things — well, she doesn't care much about what anyone thinks. Her past realization about missing out on life's opportunities by relying solely on acting led her to hedge her bets, and she said she is an investor in a number of businesses (the only one she would discuss, because it's public already, is Drybar). She estimates that working in the entertainment industry "is probably about 40% of what I do."
In other words, McGowan is in a unique position to say — as she does say fairly often — fuck you. That's a stance and a cri de coeur, but she said she also tries to take direct action herself, whether that means addressing a group of female executives and producers and publishing her remarks ("Put female writers and directors on the TOP of your lists. Do it every time.") or by telling a producer on Charmed who always stared at her chest, "Surely, sir, you've seen my breasts for five years. Are they not boring yet?"
She said she would like to help change the laws of statutes of limitations that in many states preclude victims of sexual assault from bringing charges against their alleged rapists if too much time has passed. While discussing Bill Cosby, McGowan said, "That there's no way to prosecute this man is disgusting and vile on every possible level." She continued: "These rape and child molestation statutes of limitations — what the fuck? That's murder. You're killing somebody. You are taking part of someone's soul. It's happened to me."
McGowan's eyes filled with tears, and her voice became choked up. "It alters the course of your life; it's altered the course of my life."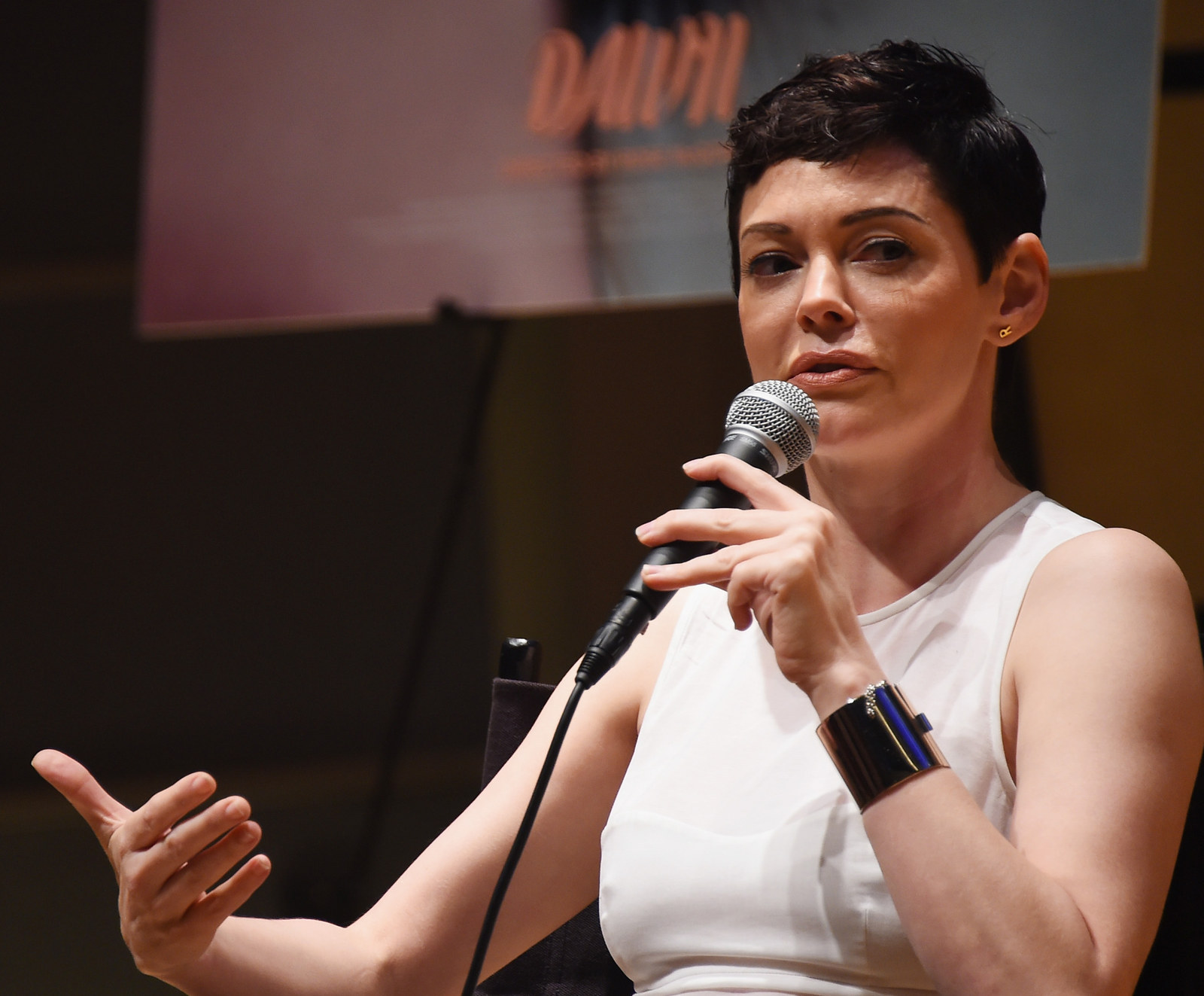 She said she found it painful to watch the Cosby accusers be "vilified" and mentioned Janice Dickinson as an example. Parroting the mockery of Dickinson, who came out in November to allege that Cosby had raped her in 1982, McGowan said, "Oh, she's a weirdo, she's had plastic surgery." And then: "Who the fuck cares? Somebody raped her. Shut up. I can tell, I look at her eyes: They're haunted. I know that look." Her voice caught in her throat again.
It's the complicity that McGowan can't stand anymore, and feeling like she has any part in that. I mentioned a rumored serial predator in the entertainment industry, a powerful figure who is often whispered about but never exposed. "I have faith," McGowan said. "There's a lot of people that don't deserve to be alive — put it that way. There's a lot of people who also get the face and body they deserve. There's a lot of destroyers, and there's the collusion.
"For anybody who reads this, anybody who's ever colluded on anything by being a weak human being, fuck you. How dare you."
It's probably not surprising that Dawn — about a repressed, overprotected teenage girl in the early 1960s who is lured into a terrible situation — is a cautionary story about violence against young women. "It is what happens when we set up girls — and sometimes guys — to be so über-perfect and polite that politeness ruins us," McGowan said.

A few months before she directed Dawn, the power in McGowan's house went out, and with nothing else to distract her she had an epiphany about her profession and her place in the acting world. "I was like, I hate acting." Pause. "I kind of always hated acting!" Pause. "I hate fantasy." Pause. "I kind of always hated fantasy!" She concluded: "That's what was wrong all these years!"
Her love of production had confused her, she said, and while working on Charmed, which shot on the historic Paramount lot, "I loved being under the rafters, and imagining the directors and the personalities they've seen, and the art that's been created under them," McGowan said. "I'd work with the art department, the camera department — that's what I loved doing. I just was in the wrong job."
McGowan is next scheduled to direct a feature called The Pines — an "art thriller," she said — that she hopes will begin shooting in the fall in upstate New York. In transitioning from acting to directing, she fired her manager after the disaster with Innovative. The manager had told her, she said: "'Do your work. You're not going to change anything, so stop trying.'" Her response was: "Have you met me? Apparently, you have not met me." When she let him go, he was, she said, "very relieved, I believe." (She now has a manager for directing.)
"I feel great," she said of this new stage of her life and career. "It feels fucking great, to be honest with you."
She realized recently that she's not so different from a politician — and she wants to be an effective one. "You get elected by the public," she said. "So why not try to change things? What's the harm, really? I mean, what have you got to lose? My father, in a birthday card he gave to me when I turned 11, wrote: 'Dear Rose — I've always admired your sense of justice. Happy birthday.'"
"And he was right," McGowan said. "I was born with a fist up."
UPDATE, Aug. 13, 2015 at 11:16 p.m.: This story was updated with a comment from Gregg Araki.