Rachel Lindsay, a Dallas lawyer, will be the first black lead in ABC's Bachelor franchise, BuzzFeed News confirmed Monday afternoon. Jimmy Kimmel made the announcement Monday night on Jimmy Kimmel Live!
With the help of Bachelor host Chris Harrison, Kimmel welcomed Lindsay to the stage.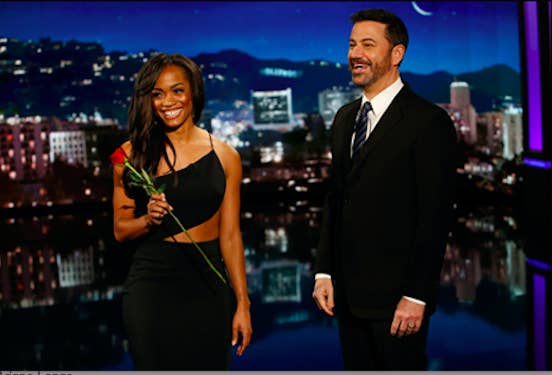 Kimmel asked, "I think it's safe to say your hometown date with Nick did not go as planned?"
Lindsay shrugged, and, appearing a bit nervous, said, "Well, yeah."
Kimmel pointed out that the announcement was a spoiler, since Lindsay is still on the show.
"It is," she said. "But you know, we're a couple of weeks out from filming, and we're ready to get this started. I'm ready to find love, find a husband." She said that she was approached to be the Bachelorette shortly after she was ejected from the show. The subject of race did not come up.
The franchise's creator, Mike Fleiss, has been hinting for the past week about this news.
The Bachelor premiered on ABC in March 2002, and The Bachelorette followed in January 2003. As network ratings erode, the franchise has been remarkably resilient, and The Bachelor is regularly among the top five most-watched shows in the 18-to-49 demographic. Yet through 21 seasons of The Bachelor and 12 of The Bachelorette, the only non-white lead has been Juan Pablo Galavis, who is Latino and was the Bachelor in 2013.
The Bachelor has been criticized — and even unsuccessfully sued — over its lack of diversity. Fleiss told Entertainment Weekly in 2011 that the search for people of color felt like "tokenism." He said: "Oh, we have to wedge African-American chicks in there! We always want to cast for ethnic diversity, it's just that for whatever reason, they don't come forward. I wish they would."
Lindsay, 31, has been competing for the affections of Nick Viall during the current 21st season of The Bachelor. Viall is a three-time loser in the franchise: He was the runner-up in both Andi Dorfman and Kaitlyn Bristowe's Bachelorette seasons, and he also appeared on Bachelor in Paradise this past summer.
Lindsay received the coveted "first impression rose" in the season premiere. She has been popular with fans. And her father is a federal judge who was appointed by Bill Clinton.