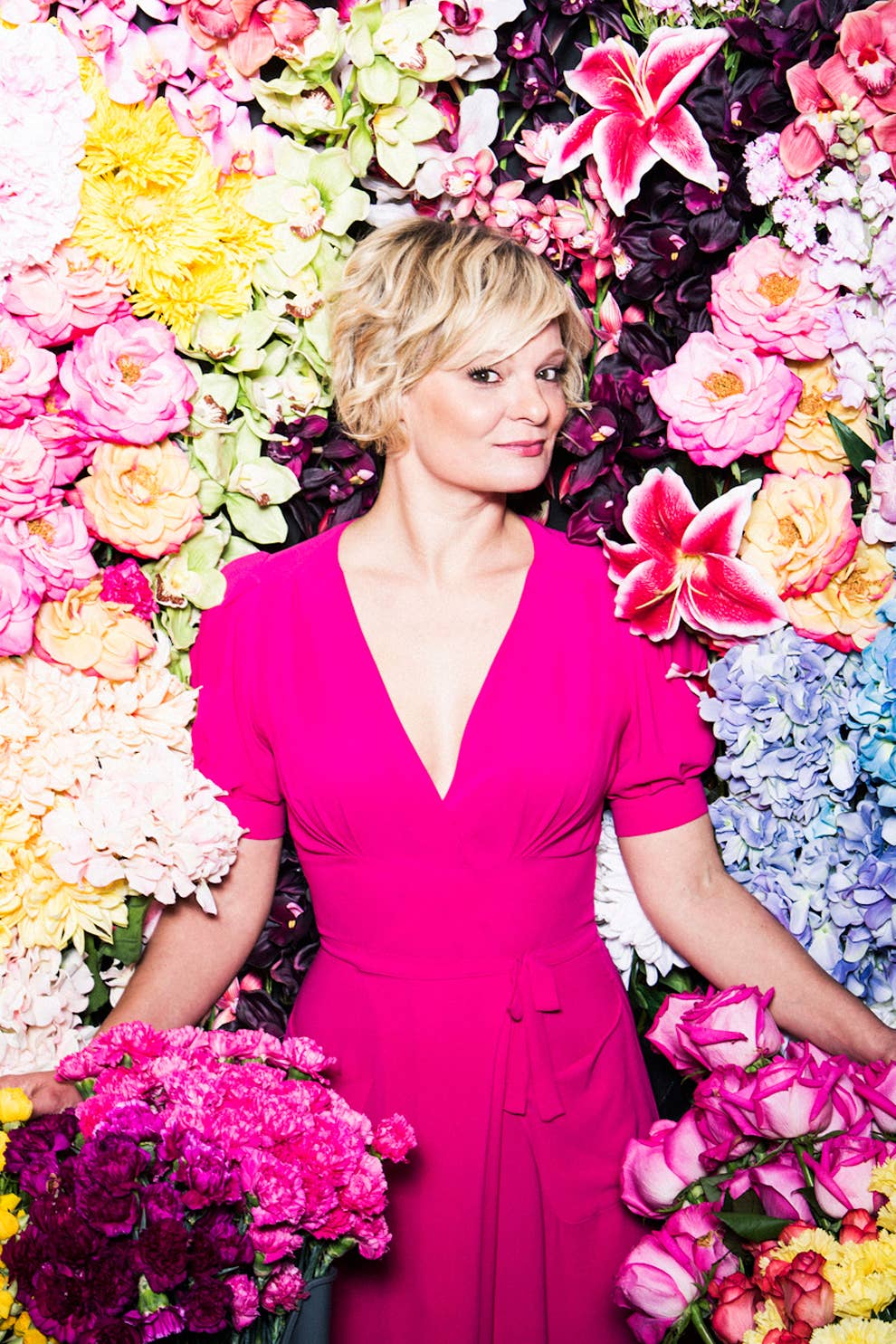 "Our lives as actors are so peripatetic. We're always all over the place, and we never know where we're going to be next. That period of intimacy you create when you're working on something is so important, and so vital. It's what everything springs out of — that trust, and that mutual respect. And it makes you grateful that you do this. Do you know what I mean?"
In someone who articulates her thoughts in well-contemplated sentences and paragraphs, and who magnifies her decisive ideas with an extensive vocabulary, Martha Plimpton's conversational tic — do you know what I mean? — begins to feel ironic after a while. Because it is impossible not to know what she means.
There are performers — not necessarily the movie stars, but the actors — who become unknowing touchstones of our lives because we grow up with and live alongside them: Plimpton is one of those. At 43, she has been famous, or at least recognizable, for more than 30 years, having been acting professionally since 1980. Her range is vast: She's excelled in classic stage roles and broad TV comedy. Despite all the perils that haunt kid stars, not to mention women in entertainment who dare age, she has created a place for herself in which she is both professionally prolific and a real person. From the consumed way she sounds when she's talking about her work, she appears not to have lost her passion for it — nor has she lost her patience or her nerve.
Along the way, Plimpton has been nominated for three Tony Awards and three Emmys (winning once, for Best Guest Actress in a Drama in 2011, for her portrayal of Patti Nyholm, a maddening, occasional courtroom foil for Julianna Margulies' Alicia on The Good Wife). She has been in more than 20 movies, both big and mainstream (The Goonies, Parenthood) and indie (I Shot Andy Warhol, Eye of God). She's currently appearing as the trenchant, broken-hearted Brooke in Jon Robin Baitz's Other Desert Cities at the Old Vic in London. Activism is a big part of her life as well: She co-founded the abortion rights-focused organization A Is For, and especially on the subject of abortion and lefty politics, she is a scathingly proficient user of the Twitter megaphone.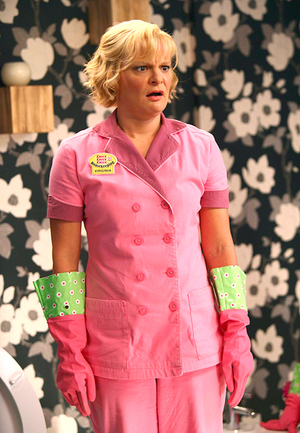 On Friday, Plimpton's most lasting role, as Virginia Chance on Fox's underappreciated comedy Raising Hope, will come to an end after four seasons. The show has revolved around the working-class Chance family's loving and insane efforts to raise little Hope, who was conceived during a one-night-stand Jimmy Chance (Lucas Neff) had with a hot serial killer who was then executed in prison. As Jimmy's mother and Hope's (young!) grandmother, Virginia has been the show's almost-reasonable/also ludicrous heart. Her loving constancy with her husband, Burt (Garret Dillahunt), has provided the show's screwball, Coen Brothers-like throughline.
Other than these four years on Raising Hope, Plimpton's career has been defined by the transience of film, theater, and TV guest spots — and for now at least, she's back to that more free, but less stable, way of life. She's used to it. "It's just part of the lesson of being an actor: Don't hold on to things," she said. "Just find a way to be good at letting go. Always, at all times."
And about saying goodbye to Raising Hope and Virginia, she said: "There were things about doing that character every week — every day — that were incredibly freeing and confidence-building and gave me a new relationship to work, and how to work, and how to be present and available and game. I will miss it. But I cannot complain. I don't feel in any way robbed of anything. Do you know what I mean?"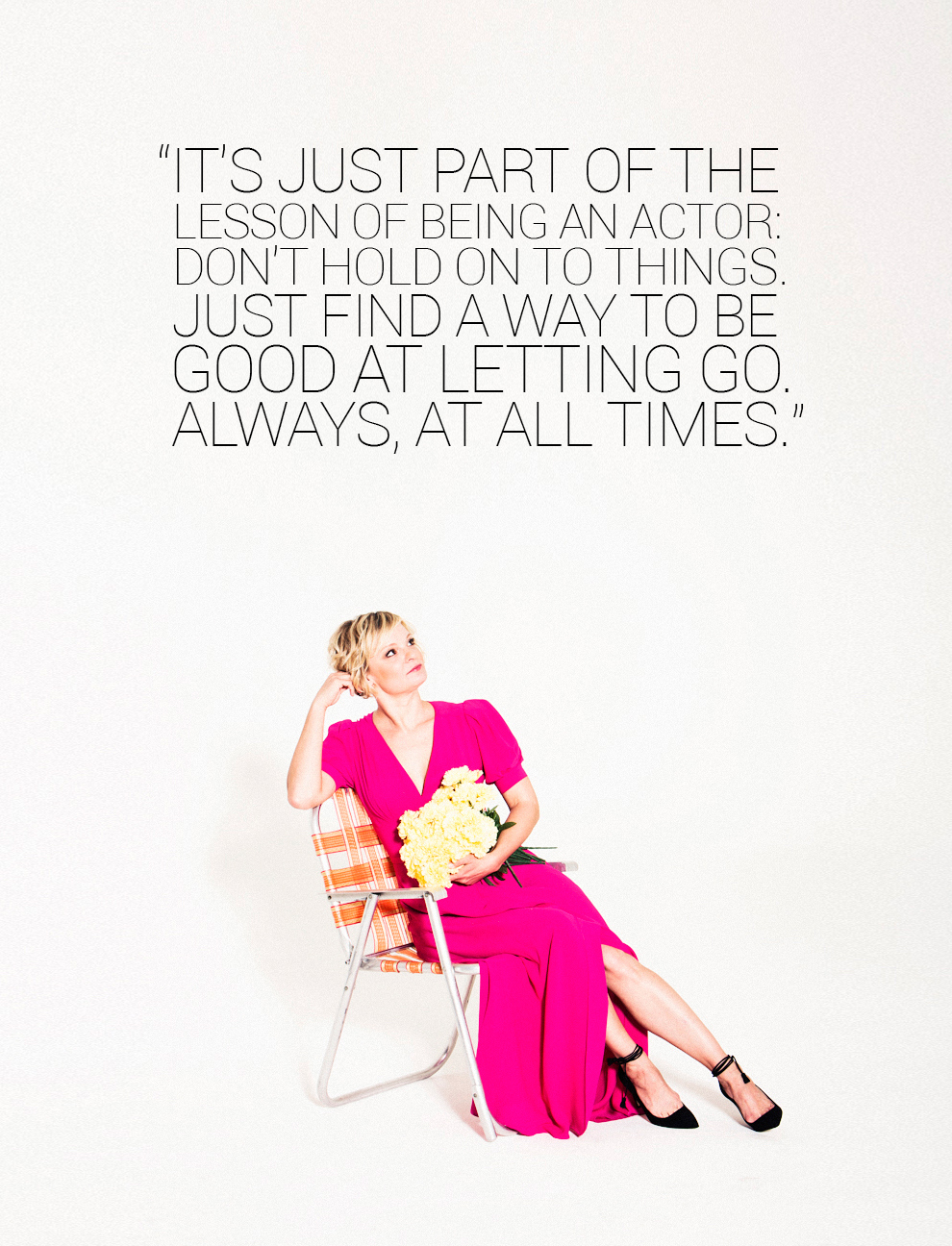 Plimpton's mother, Shelley Plimpton, started out as an actor in New York City. She played Crissy in the original production of Hair, which is where she met Martha's father, Keith Carradine, of the acting family of Carradines. Though Plimpton is close to her father now, Carradine was not around much during her childhood. She saw him "once a year for a few years there — when I was 6, 7, 8," she said. "Most of my teens there wasn't anything."
"It's not something I particularly like talking about," Plimpton continued during our first interview, which was over a hurried lunch on a day when she was busy doing press for Raising Hope. "I don't really feel like it's anybody's, you know, business. But of course, I love my father, I always have. He was a young man. And he had things to figure out."
The Plimptons lived first in the Chelsea Hotel, and then settled on the Upper West Side (in an apartment Martha has lived in since — her mother eventually moved to the West Coast). In late 1970s New York, it was possible to be inventive, weird, and perhaps even poor in the city. "We did not have a lot of money," Plimpton said. "I was raised by a sort of extended family of women — friends of my mother's." With her mother struggling as an actor, and then eventually tiring of the struggle and getting a 9-to-5 job, it was that network of friends who drew Plimpton into acting. "They were actors and artists and bohemians of varying stripes and colors and persuasions," she said.
The writer/director/composer Elizabeth Swados was in this group, and she cast Plimpton first in a workshop, and then in a musical at the Public called The Haggadah. Or, as Plimpton put it, "Me and my blonde head did this musical about the Exodus." (A young Julie Taymor, who would later direct The Lion King on Broadway, as well as the Spider-Man: Turn Off the Dark debacle, did the show's puppets.)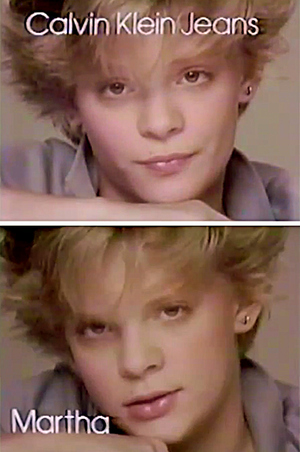 The Haggadah led to more plays and workshops — and also to an attention-getting Calvin Klein commercial, one in a series of Richard Avedon-directed, up-close monologues that also featured Andie MacDowell and Shari Belafonte in separate ads. The commercials were more personality-driven than jeans-flaunting — each model was identified by first name by chyron, branding them. It was more innocent than the previous campaign starring Brooke Shields, also by Avedon, that featured the infamous slogan, "Nothing comes between me and my Calvins," as intoned by the teenaged Shields, posed in full jailbait lure.
At age 11, Plimpton, a spiky-haired, New York-accented tomboy, was Shields' opposite. And while happily thinking about that curious turn in her career as she drank a glass of Sancerre at the Sunset Tower Hotel's bar, she doesn't look so different now. "I love those ads," Plimpton said. "I love them. I mean, come on, fucking Dick Avedon shot those things."
Recognition from the commercial got her first starring film role, playing a spiky-haired, Southern-accented tomboy named Jonsy — with Tommy Lee Jones as her father — in a small, sweet film called The River Rat. Jones wasn't a movie star yet; he was known mostly for Coal Miner's Daughter and a riveting, terrifying, and Emmy-winning performance as Gary Gilmore in the TV miniseries adaptation of Norman Mailer's The Executioner's Song. But he was as vivid a screen presence then as he is now, and the tween Plimpton managed both to match and warm him.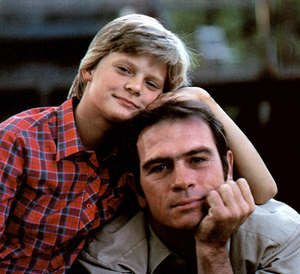 As for whether choosing acting was a conscious and active decision, or whether it just happened, Plimpton said, "I think it was a little bit of both." Regardless, she continued to get cast: In the pre-Disney-Princess-addicted youth world, the tomboy archetype was a common one, and Plimpton's tough kid exterior made her an inheritor of a pop culture legacy that included Scout Finch, Harriet the Spy, Peppermint Patty, and the young roles of Jodie Foster, Tatum O'Neal, and Kristy McNichol. The Goonies came next.
Plimpton called it "the experience of a lifetime," and said she had "a great, amazing time making the movie." She played Stef, the slightly nerdy girl who is actually cooler than anyone else in the movie. It was a big cast of kids, several of whom also had famous actor fathers (Sean Astin, Josh Brolin). Was that fun at the time — had she found her people?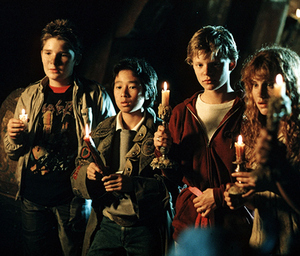 "I'll put it to you this way: Teenage girls and teenage boys — no. You know? It's
not
a good mix. I was, like, 13, 14. I was listening to Prince and Mozart on my headphones. I mean, I thought I was like — I was from
New York
. I thought I was smarter than everybody. You know? I think I just might have been just kind of an asshole. Do you know what I mean? And I know for sure that Corey Feldman was an asshole. I mean, he won't mind me saying it: He was. A fucking asshole. We were children! And children are assholes. When they're that age."
After a few more questions about The Goonies, which has become a touchstone of '80s nostalgia, she had enough, and made it clear, in no uncertain terms. "I've discussed it and talked about it and been interviewed about it so many times that I just kind of feel like there's literally nothing new to say about it. Literally. Literally." She was sort of laughing — and sort of not. Gesturing at her face, she said, "You'll notice my eyes have sort of glazed over."
But one parting shot: "I remember all of us making hardly any money off of it."
When I talked to Garret Dillahunt, Plimpton's Raising Hope co-star, about their working relationship and friendship, he said, "I never saw The Goonies. Which greatly pleased her."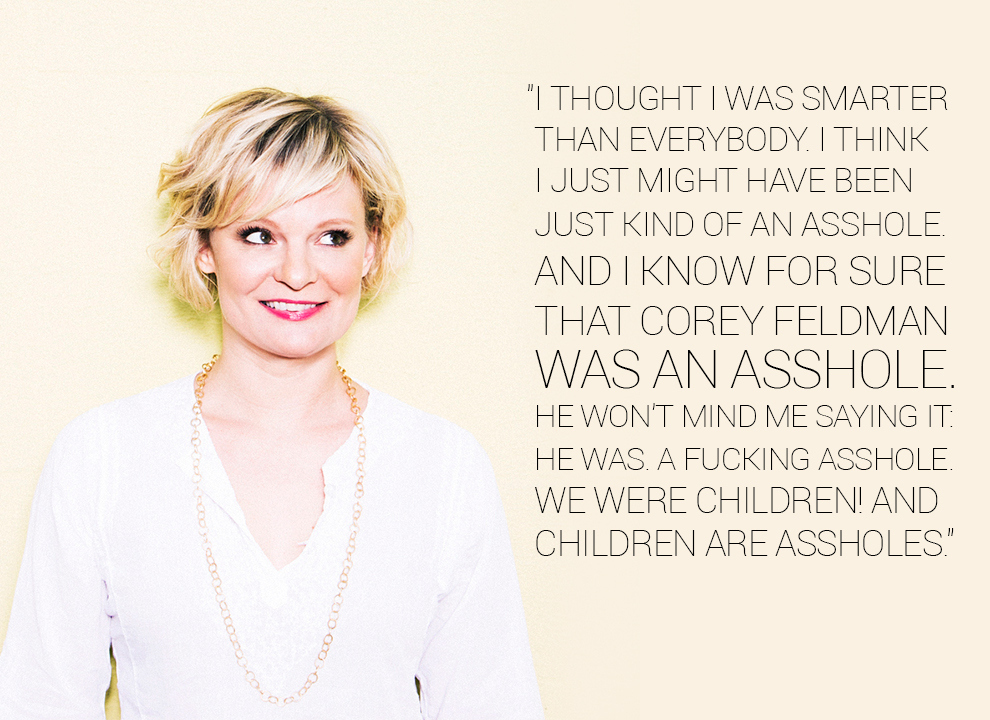 Jon Robin Baitz offered Plimpton the Other Desert Cities role shortly after she finished filming Raising Hope's fourth — and, now, final — season in January, and she jumped at it. Plimpton is the only American in the cast of a very American play that through a single wealthy family lays bare the trauma of the Vietnam War, the Reagan era, and the Sept. 11 attacks. Though she had been nervous about London audiences, both because of their known reserve and because of the content of the play itself. "These audiences are incredible," she said when we spoke on the phone recently. "They're so smart, and they're so present, and they're such enthusiastic theater-goers, that I have found the audiences actually extremely warm and extremely receptive." And in the city itself, "Every shopkeeper calls you 'darling,' and everyone says 'please' and 'thank you.'"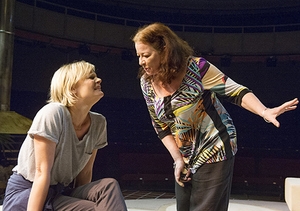 Other Desert Cities will run through May. If Fox had renewed Raising Hope, she would have returned to Los Angeles during the summer. That the show isn't coming back is not a surprise — before the start of the season, Fox had moved it to Friday nights, which is often a death knell. "When you're moving around so much on the schedule, I think it's clear that there's something not quite clicking for somebody, somewhere, I don't know who," Plimpton said. "The fact that they followed through with us regardless of that is pretty great of them. I feel like they did it really respectfully and really well, even though obviously if I ran a studio, we'd run for 20 years."
Greg Garcia (My Name Is Earl, The Millers), the show's creator who left before Raising Hope's final season, has a different take on the experience. "I left for a lot of reasons, but certainly one of the reasons was I saw no support for the show on a studio or network level," he said in a telephone interview. "It's a shame. It's a really good show. Had it been left in the same time slot from the beginning, had it gotten more support, I think it would have gotten a wider audience."
About Plimpton, though, Garcia said, "I adore her. And I would jump at the chance of being on a set with her again." He was originally looking at older actresses for Virginia — then he thought of Plimpton, citing 1996's Beautiful Girls as one of his favorite movies. "Then I was, like, mad at myself," he said. "Why was I not here earlier with this? I love Martha Plimpton, and she would kill at this role."
Plimpton had done plenty of New York actor bill-paying guest roles, from an arc on ER to requisite appearances on various Law & Orders. She also had shot a pilot for Showtime with Matthew Perry in which she would have been a series regular, but it didn't get picked up. When Raising Hope came along, she wasn't actively pursuing a television gig as a goal, despite the financial rewards. "Because there's so much rejection, and so much stress," she said. "But I was definitely open to it, obviously."
She thought the pilot script for Raising Hope was "hilarious," and really liked Garcia. "He was, like, a really decent, swell, really smart, very talented guy," she said. "I could just tell he wasn't a Hollywood dickbag." (Countered Garcia: "And I could tell right away that she wasn't an actress ditzcunt.")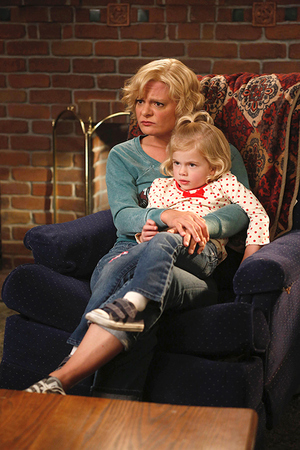 Plimpton said Garcia made everything go smoothly during the audition process. "And that moment when you have to sign that contract during the test process — to, like, literally sign six years of your life away — it was easy for me for the first time," she said. "And normally when you do that, it's really terrifying. Because you don't know how you're going to be able to look at these awful people day in and day out." She stopped, and laughed a loud laugh. "Do you know what I mean?"
Plimpton has been selective about her jobs because of the intimacy required in her work. And she is an intense and intimidating person to speak to whatever the circumstances — in our three conversations, I found her to be dryly funny and sharp as hell. She's also surprisingly blunt: When we talked on the phone to catch up, her greeting was, "This article sure is taking a long time!"
She has clearly found community in her work, and at Raising Hope, camaraderie too. When I asked Dillahunt and Garcia — independently — what their preconceptions of Plimpton were based on what they had seen her do, both cited a line from The Mosquito Coast in which her character tells River Phoenix's, "I think about you when I go to the bathroom."
"I used to say all the time to people," said Dillahunt. "Just because I thought it was hilarious if I said it. Never knowing that one day that sexy girl would be my wife." Garcia couldn't remember the exact quotation, but when reminded of the wording, said: "Yes! Yeah! Holy shit! She made me uncomfortable and made me have questions, and it's all coming out of that little girl. Yeah!"
"How bizarre!" Plimpton said when I told her about their mutual fixation on that line. Do people say it to her often? "It's not that common, but they will occasionally," she said. "And I always find it kind of creepy and weird."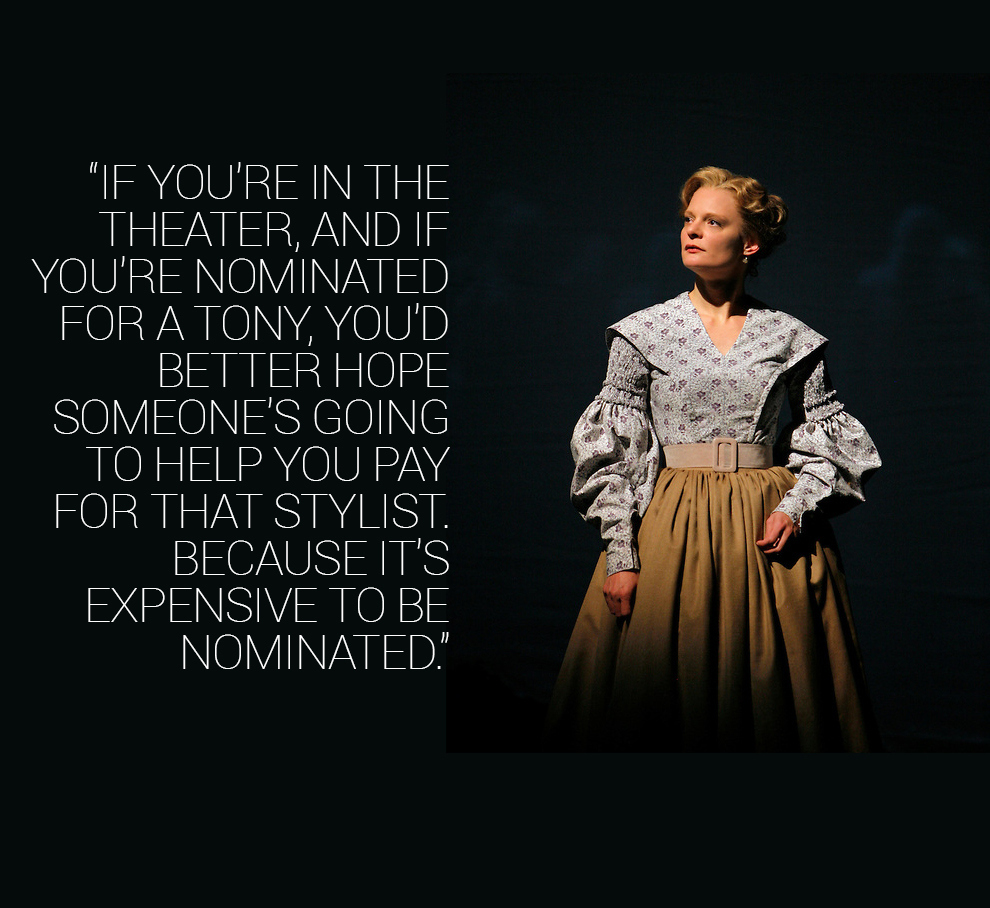 Raising Hope gave Plimpton financial stability, getting her out of a debt she had accrued from years during which she worked almost solely in high profile, often Tony-nominated theatrical productions. After an ascendant career as a teenaged movie actor — she appeared in Peter Weir's Mosquito Coast (1986), Sidney Lumet's Running on Empty (1988), Woody Allen's Another Woman (1988), and Ron Howard's Parenthood (1989), among others — Plimpton hit what she called "a real big dry spell there for a long time."
"My work in film was really sporadic: I never really, like, hit it," she said. "There may have also been a period where I thought maybe I should be doing bigger roles than maybe I was ever going to get? And certainly my taste level is so high that I may have been too picky at times. And so I may have slowed myself down."
Plimpton loves theater; it's not an also-ran choice. "It's not a process you get in any other medium," she said. "And I love the collaboration, I love the rehearsal process, I love being in the room and working on a play. Working on the text, and excavating it. And laughing about it, and making mistakes."
She paused. "It's also true that there are just more interesting parts for women in the theater. There's just more to do. I could play Hedda Gabler on stage, but no one will ever hire me to play Hedda Gabler in a movie. Do you know what I mean? Or a similar leading kind of role. There's just more to sink my teeth into. I don't have the face of a movie star. I have a face of a character actress. And there's not that much character work for women. There just isn't."
Plimpton has played not only Hedda Gabler on stage (in a Steppenwolf production; she is a member of the company), but Imogen in Cymbeline, and Helena in A Midsummer Night's Dream. Her Tony nominations have been for Top Girls, the revival of Pal Joey (she also sings), and for Tom Stoppard's epic three-play cycle, The Coast of Utopia (about which she said, "I can't think of a better experience.").
That's a small selection of her theater work; she has a remarkable resumé. An exhausting one, though. "I'd been working on stage — fortunately and luckily — kind of constantly. And I was finding myself physically wiped out," she said about her pre-Raising Hope run. "And you couple that with the fact that you're really not making any money, and you're falling further and further behind in your bills — if you're in the theater, and if you're nominated for a Tony, you'd better hope someone's going to help you pay for that stylist. Because it's expensive to be nominated."
Isn't that infuriating, though? Never mind the discrepancy between studio-backed TV and film wages and theater salaries; accomplished working theater actors should be able to live in New York City, even in its current rich-person, Mike Bloombergian incarnation that's so different from the 1970s Upper West Side of Plimpton's childhood. "It's everyone's situation, it's not unique to you," she said. "There's always someone working for less money than you in the theater. So if you're going to bitch about the LORT contract" — the League of Resident Theatres' minimum salaries — "then think about the guy working for $250 in some black box downtown. Or less. Or nothing."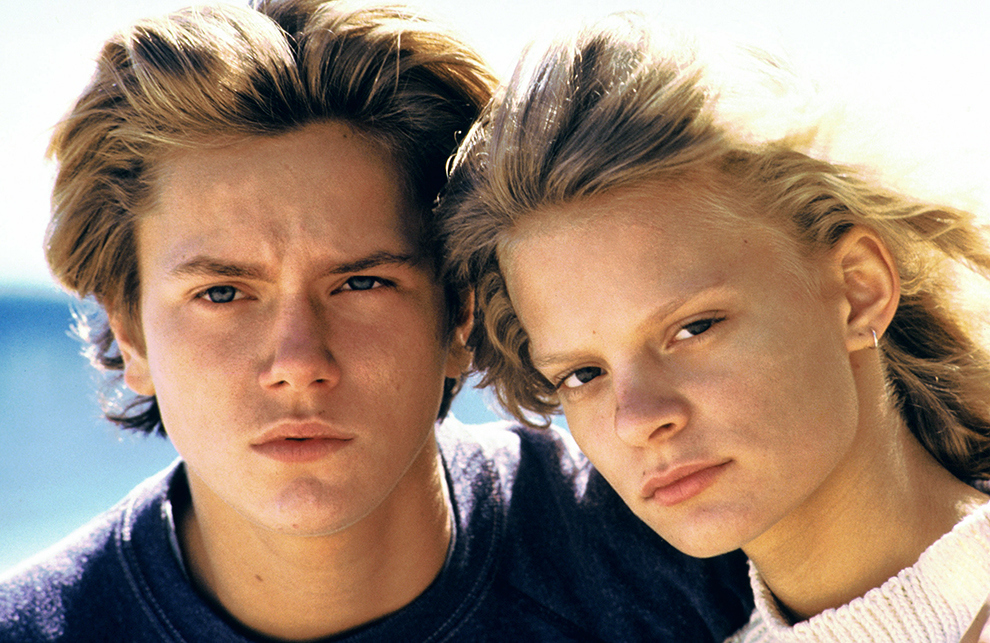 When you've been in the public eye for 33 years, starting from when you were a child — well, we all know what happens to a good number of those people. There's an extensive record of things Plimpton has said to journalists over the years, but nothing especially humiliating. I reminded her that when she was a committed vegan, she was quoted saying she was "trying to get away from wool — the farming of sheep is very inhumane." That was in 1990. "Yeah, yeah, come on. I was, like, 17!" Plimpton said, laughing.
Plimpton was also a focus of attention after River Phoenix, whom she had dated, died in 1993 at age 23 of a drug overdose. The two young, serious actors had met during The Mosquito Coast and also co-starred in Running on Empty. They broke up, from all reports, because of Phoenix's substance use. After his memorial service, Plimpton spoke damningly of those who chose to mythologize his too-short life, and how he died. "I don't want to be comforted by his death," she told Tad Friend in Esquire, "I think it's right that I'm angry about it, angry at the people who helped him stay sick, and angry at River."
I asked her whether she ever thought about what she said then, and what that was like to experience in public. "I don't talk about it anymore," Plimpton said. "And I haven't talked about it since then for a number of reasons. Chief among them is that if I did, that would be all anyone would ever say I had ever said about anything, ever. Do you know what I mean? I mean, literally, it would be as though we had never had this entire four-hour exchange."
Explaining further, she said: "So that's one reason why I don't talk about it anymore. Because I have a rich and full life. I don't need to repeat myself, and I certainly don't need to alter the terms of how I felt at that time. Or explain myself, or justify it to anyone. So I prefer to just leave it be. And so far that's worked for me!"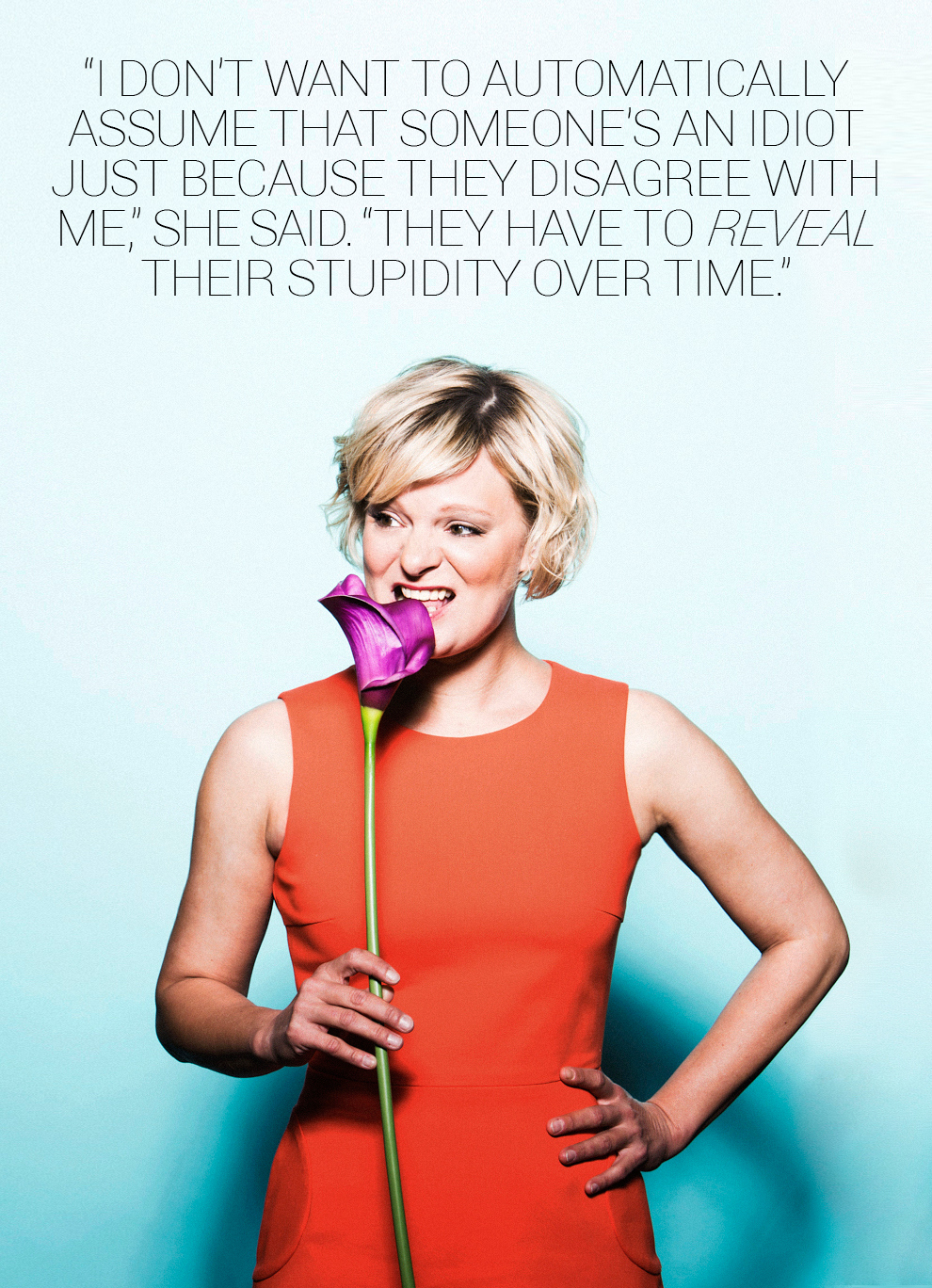 Plimpton's friend Sarah Thyre, the writer with whom she co-founded A Is For (along with Lizz Winstead, the co-creator of The Daily Show, who is no longer with the group), described Plimpton as unwavering. "I question things, and then I proceed as if I didn't have any doubts —because in my heart, I don't," said Thyre. "But Martha's one of those people who just truly doesn't question herself, and she just goes for it. I'm really, really proud to know her."
Alarmed at the profound erosion of abortion rights, especially on a state-by-state level, they started A Is For in 2012. The nonprofit raises money, of course — general donations go to the Center for Reproductive Rights, and a January fundraiser in Los Angeles named "A Night of a Thousand Vaginas!" went to the Texas Abortion Fund. But beyond direct action, it's a cultural shift Plimpton seeks.
When talking about a New York Magazine cover package about abortion published this past fall, Plimpton said she thought it was "great," and that she was "encouraged by people's willingness to speak," but "there was a subtle sort of undertone of affliction to it." She gathered steam, and spoke emphatically: "I'm looking forward to getting us to a place where this isn't such a negative subject. Where we don't assume that abortion has this sad, lonely, depressing feeling about it. Because for so many women, it's the reason they are able to live. It gives women an opportunity, a chance, to participate. To go to school. To realize their dreams."
As Thyre put it, "Martha really wants to change the way we talk about the 'A' word, and not have the definition and the driving form of the conversation come from the other side, which is how it's been for many years."
On Twitter, Plimpton often engages with people who disagree with her, whether the topic is those who blamed Philip Seymour Hoffman for his own death because he was an addict, Julianne Hough's disastrous blackfaced Halloween costume, the Affordable Care Act, or, of course, abortion. Why does she endure the pain of going back and forth with people who are most likely crazy?
"I don't want to automatically assume that someone's an idiot just because they disagree with me," she said. "They have to reveal their stupidity over time." She does end up on rolls, though, when she's arguing about inflammatory topics and simultaneously, as she calls it, "Blockin' and rockin'." Because the insults can be vicious, as anyone on Twitter knows. "It usually has to do with how ugly I am, and so I should shut up because I'm ugly," she said. "Or I should have been aborted — because I'm ugly and stupid. And should shut up. Or that I'm a has-been — that's always a fun one. That I'm a has-been who's ugly and should shut up. 'Ugly' always makes its way in there. And I just don't really want people who think that way to get away with it. I don't think that that's cool or OK. I don't want it to work on me. And I don't want it to work on other women."
It's not the way many — or any? — other celebrities act on social media, or in life. But Plimpton is different, and always has been.
"I'm a citizen and I'm a person," she said, patiently describing something that should always be the case, but is actually rare. "And I don't want my job or my career to get in the way of me being a citizen and a person."