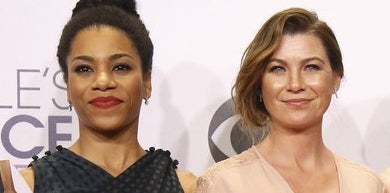 In its 11 seasons, Shonda Rhimes' Grey's Anatomy has delighted loyal viewers, and, simultaneously, pulled popular culture forward with its representations of people of color, working women, working parents, and LGBT characters. It has taken its audience through both gasp-inducing medical plots and the slow unfoldings of characters — all of whom revolve around Meredith Grey (Ellen Pompeo) — that we have now known for longer than most of us know the real people in our lives.
The ABC drama, is not, however, known for dropping in stories that it planted seasons before — it's never been filled with twisty mythology. But there is one exception: the character of Maggie Pierce (Kelly McCreary), the child Meredith's mother, Ellis (Kate Burton), conceived with Richard "The Chief" Webber (James Pickens Jr.) during their affair and given up for adoption, which Meredith was too young to remember clearly. Though we didn't know who she was at the time, Maggie appeared at the end of Season 10 to work at Grey Sloan Memorial Hospital. And her real reason for taking the job as the head of cardiology was to get to know her biological sister. Her mother's name, she told Richard in the Season 10 finale, was all over the hospital. "Ellis Grey," she said. "Did you know her?"
And with that, Maggie suddenly became a crucial part of the Grey's Anatomy tapestry. "We've known the Maggie storyline since Season 4; basically, since the beginning of the show," Rhimes told The Hollywood Reporter two months after the episode aired. "I knew the Richard-Ellis love child was a storyline since I planned the pilot. I was like, 'At some point, we're going to have the Richard-Ellis love child.'"
Since she planned the pilot! It was fascinating for the Grey's faithful.
In her half-season on the show so far, Maggie has proven to be serious, kind, nerdy, stable (unlike her sister, perhaps), and an excellent, confident doctor. She's also the product of a loving home with parents who raised her right (unlike her sister, for sure).
Over lunch recently at a cafe in the Atwater Village neighborhood of Los Angeles, McCreary told BuzzFeed News many things you probably don't know about her, including how she got to Grey's Anatomy, what it means to master "Scandal pace," and why she quit acting and almost never returned to it.
1.
McCreary grew up in Milwaukee, and lived there until she left to go to Barnard College in New York City.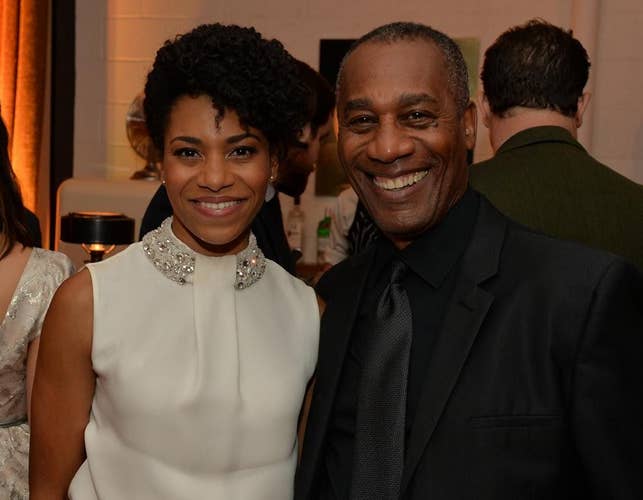 After graduating, she had a day job, but worked steadily on the New York stage. "I was doing great plays, I was working in great theaters," McCreary said.
At that point, she decided to expand her goals. "Maybe I'll try this TV and film world, and see if they want me!" McCreary remembered thinking. "And they didn't at first."
The rejection the actor was facing started to take its toll. "I did a play that I was terrible in, for one thing," McCreary said. (And no, she wouldn't name the play.) "I had a bad attitude the whole time. I was, like, 'What's the point of this anymore if I'm not having any fun?' I felt like I was making everyone else miserable. And I sucked. It was not a good performance."
During that time, McCreary had a transformative experience when she went to see another play that she hadn't gotten a role in. "The girl who had gotten the job was so good," she remembered. "I was, like, you know what? She can have 'em. She can have 'em all. I'm gonna get on the subway train and make a list of all the things I would be doing if I wasn't so focused on my career. And it was long."
On the list was learning Spanish. And so, she "quit acting, and moved to Spain," where she worked on a farm. What brought her back was a play she had workshopped — Dominique Morisseau's Follow Me to Nellie's — that was finally getting a production.
"That was one of the things that — I'm getting really emotional," McCreary noted through tears. "In that tough time, before I quit acting, that was one of the few creative things that had made me really happy. And then it was getting a production. So I was, like, I will totally go back to do this. I may never do anything again after it. But I know I'm going to have a great time: I love these people, and I love this play."
2.
Things turned around, and she began getting work — including her first television job as a series regular, on The CW's Emily Owens M.D.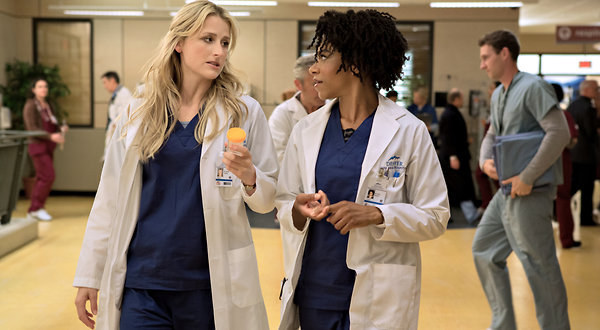 That show didn't last, but it nevertheless opened doors for McCreary and she decided she wanted to keep pushing forward into television and film.
"I came to L.A. for pilot season, and it was so brutal. So brutal," she said. "But still, I just want to be making forward progress. There's lots of ideas about being a superstar. But my idea of being a superstar is just going forward, and having new challenges and trying out new things. So that pilot season, even though I didn't book anything after coming off of a series, I still felt, like, Well, I've never been to L.A. before, and I got into a lot of rooms. I made it close to a lot of jobs, and that's progress. It was devastating, but also very satisfying. And then I went to New York and did a play that recharged me."
3.
Before she was cast on Grey's Anatomy, McCreary had a small part on Rhimes' Scandal.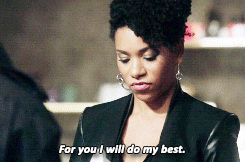 But her character bit it after two appearances. The two ShondaLand shows share a casting director, Linda Lowy, who has "been full of support," McCreary said. "I was lucky, because my experience on Scandal was really positive. And it got back to Shonda that I had not been a pain in the ass. And she happened to like my work. So I think that put me in a position to be in the running for Maggie."
Though Rhimes' writing is famous for its fast-talk, speeches, and surprising reveals, McCreary has found some differences in being on the two shows.
"There's the ShondaLand rhythm stuff, but on Grey's Anatomy, we don't speak as quickly as they do," she said. "On Scandal, I did have someone snap their fingers at me and say, 'Scandal pace! Scandal pace!' I was like, 'Does she breathe? Does she breathe when she speaks?' 'OK, one more time in Scandal pace.'"
4.
McCreary knew the importance of Grey's Anatomy well before her audition.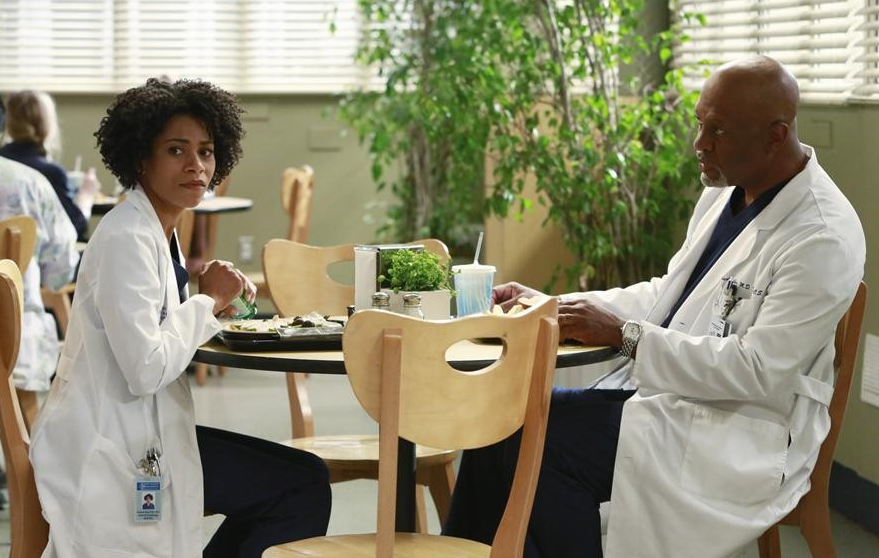 On Grey's, we can take it as a given that, of course Meredith Grey, a white woman, has a black sister. After all, her white mother had a years-long affair with a black man — which, again, we take for granted. It's easy to forget how much Rhimes has affected, if not revolutionized, those perceptions.
But McCreary has not forgotten. "I didn't see a lot of women who looked like me on TV when I was growing up," she said. "I remember when I saw Grey's Anatomy for the first time, my jaw just dropped: Look at this! Here's an Asian lead character who's not the sidekick, and here's a woman in love with a black man. It's just real for the first time."
And McCreary thinks that has global importance. "Entertainment is one of America's greatest exports. And the stories that we tell about people inform the world about how to think about people," she said. "The more normal it gets for people to see people of a gender or skin tone they wouldn't expect in jobs that they wouldn't expect, or speaking a way they wouldn't expect them to, the more it cultivates a sense that we share more than separates us. There's a lot danger in thinking of ourselves as separate from one another as we've seen in recent current events."
She added: "Let's face it, the Western beauty standard is white and skinny and long hair. And I don't look like that! But I still think of myself as attractive — and by the way, that should have nothing to do with whether I can have a job."
5.
When she was auditioning, McCreary thought her character on Grey's was named "Claudette."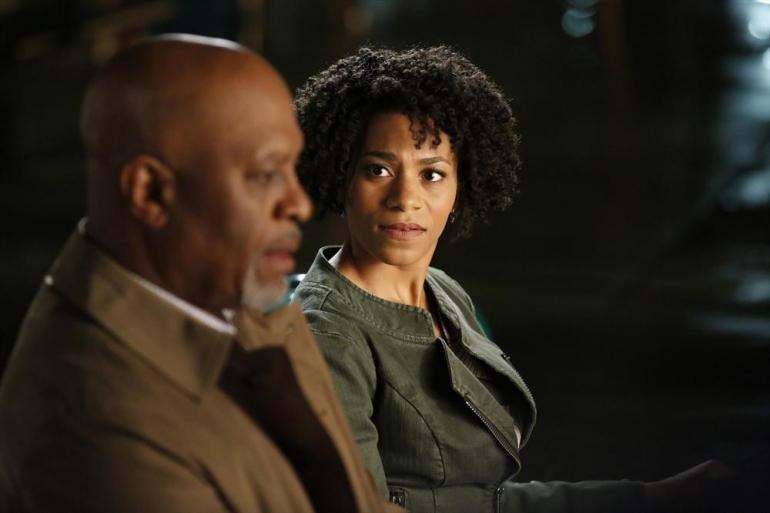 "Her name was Claudette on the dummy sides, which I didn't know were dummy sides," said McCreary, referring to the shortened parts of a script actors are given at auditions. "I knew that she was adopted, that she would recur, and she was going to be a very important storyline. That was all that my team conveyed to me."
After getting the part, and coming to the set, McCreary said, "Claudette was not my character's name. I was, like, Wait a minute, what the hell is going on?"
6.
Before the script reading for the finale, McCreary was told that Rhimes wanted to speak with her. She had no idea why she was being summoned.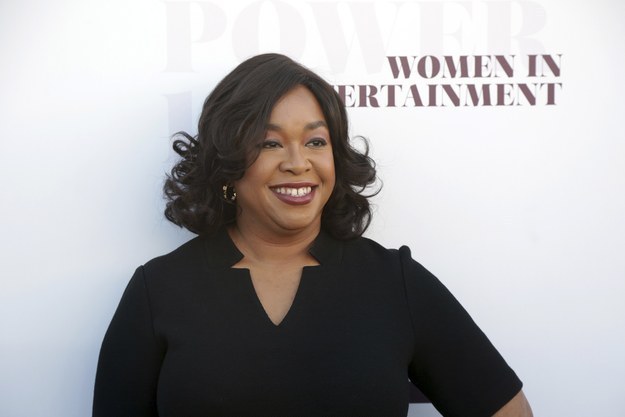 McCreary said that Rhimes got to the point quickly. "She was, like, 'So, you're the love child of Ellis and Richard Webber.' I was, like, 'Oh! That's important.'"
"I was all sort of abuzz myself," McCreary added. "I was sitting there at the table read with my little secret. I had been introduced as the guest star in the episode, and they were all very gracious and welcoming. But for me, I was thinking, This is a special moment for everyone. It's the final episode of the season, and it's Sandra Oh's final episode. I'm very much in the background in this scene in the bigger picture.
So I read along with everybody else, and I didn't actually know what was coming, because it was a cold read for everyone. We're all flipping through together and when we reached that moment where Maggie said, 'Yeah, my mother's name is all over this hospital. Ellis Grey — did you know her?' I remember looking across the table, and the first faces I saw were Jesse Williams and Sara Ramirez, and they were, like, 'Ohhhhhhhhhhhhhhhh!' There was just this cacophony for a good 30 seconds to a minute. I just was sitting there, like, 'Heehee!'"
7.
Pickens helped sooth her nerves in her early episodes.
"My earliest scenes were with Jim Pickens, who plays Webber," McCreary said. "And he really is as warm and kind as the chief comes across. And by the way, he's a phenomenal actor, and in those early days of nerves, it was a perfect environment to warm into the character and warm up myself in the world of Grey's."
8.
Grey's has been on since 2005, so the actors aren't having a party together every night.
9.
The Maggie-Meredith relationship started off disastrously, as viewers know — and McCreary and Pompeo have only just begun getting to know each other themselves.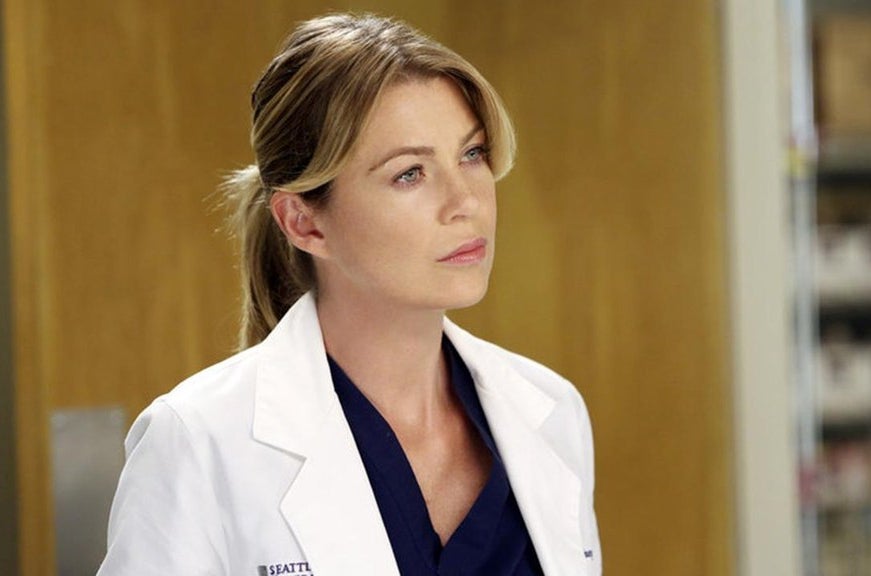 "It's funny, because with Ellen, Maggie and Meredith have gotten off to such a feisty start that, I don't know, maybe there was some unconscious part of me that was, like — I feel like I'm just starting to get to know Ellen," McCreary said. "I always know it's going to be a great scene when I do it with Ellen. But yeah, there was something about that Maggie and Meredith thing — that early stuff — that made me realize recently, I'm going to go talk to Ellen. I'm going to hang out with Ellen today."
She added, "She's made it very, very clear to me that her trailer door is open, and she's available to talk and work on stuff with."
10.
McCreary began as a guest star, but in the fall, she was made a series regular. It's the most permanent job she's ever had as an actor.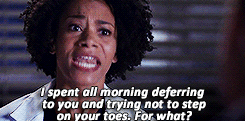 McCreary is looking forward to delving into Maggie, and settling in "for a really long and slow and dynamic transformation," she said.
Maggie will try to figure out who Meredith is to her, as well as what sort of person Richard is — and who Ellis was as well. "I would imagine that takes some courage to seek out answers to questions like that," McCreary said.
"And I think Maggie will eventually have a love interest," she added, which will be a new acting experience. "I've always been so curious about how actors negotiate those relationships between themselves. And what you get to learn about yourself too. There's definitely something selfish or narcissistic about my curiosity: As you uncover the fears and vulnerabilities about your character, you get to see that stuff in yourself too.
"And from what I understand, and from what I've heard about Grey's, is that the walls have ears, and anything that might be going on in your personal life, you might see it being played out — maybe not in your storyline, but somewhere on the show," McCreary continued with a laugh. "That really intimidated me at first. But I had a change in perspective. That could be really cool to see and confront and be challenged by. I think that's the main thing in this role for me. I've never had a role this size before. It's all challenging."
11.
The thing about acting, she said, as opposed to just auditioning all the time, is that it's wonderful when you finally get to do it.
"This is making something with other people," McCreary said. "You forget that you love it when you don't get to do it. And it just seems miserable.
"Then I get to do it, and it feels like something sacred and joyful!"
Grey's Anatomy airs on Thursdays at 8 p.m. on ABC.