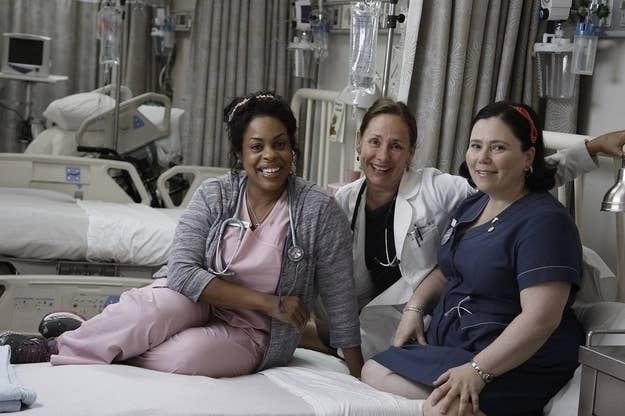 HBO has renewed Getting On, its under-the-radar comedy about women who work in the geriatric wing of a hospital, for a second season. The half-hour show has been picked up for another six episodes, and will film this summer for a premiere later in 2014.
Will Scheffer, who with his husband, Mark V. Olsen, adapted Getting On from the BBC original, said that though he had mostly been confident that HBO loved the show and wanted more of it, he had succumbed to nervousness during the limbo period. "I became worried: Is this going to happen?" he said on the telephone Tuesday. "I got fearful."
Getting On stars Laurie Metcalf as a wild-eyed, ambitious, incompetent doctor; Alex Borstein as a deluded, yearning nurse; and Niecy Nash as a reasonable human being (and also a nurse). When I interviewed Borstein in December, she called the show and the role "the pinnacle."
In anticipation of Getting On being renewed, Olsen and Scheffer, who are the sole writers on the show, have been working on the second season. But, he said, "Mark is more able to shove things aside and do the work, and I'm more skittish. I was definitely having a lot of, 'Oh god — this is really scary for me.'" And Scheffer was talking with the also-nervous cast more: "Taking care of them was taking a lot out of me," he said with a laugh. He said Borstein is the pessimist among them. "Unless it's signed on the dotted line, she won't relax," said Scheffer. "She'd say: 'What's taking so long? I can't go to the bathroom.' I felt the same way."
Now everyone is relieved. "We're obviously thrilled and excited about the pickup," Scheffer said. Michael Lombardo, HBO's programming president, called them last week with the news. "There's this personal sense about this show, which is rare with a network — even HBO. When Michael was able to tell us that we had this renewal, you could tell he was so personally happy."
Getting On premiered in late November, with no marketing, and gained a following through word of mouth and positive urgings from critics. Though Scheffer thinks Season 2 will get a bit more promotion, he's no longer worried.
"This is the kind of show that HBO wants to keep guerilla," he said. "And we feel that works for the show."