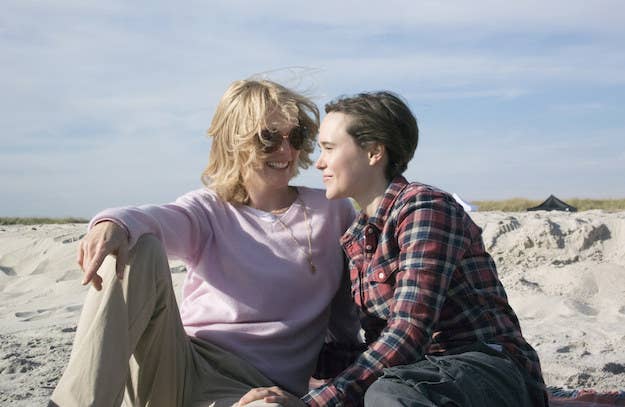 The breakneck pace of the same-sex marriage movement reached its legal conclusion in late June when the Supreme Court ruled in favor of marriage equality. This fall, the movie Freeheld — starring Julianne Moore and Ellen Page — will historicize how one lesbian couple fought for domestic partner benefits for same-sex couples a decade ago, helping to pave the way to today.
Freeheld, directed by Peter Sollett (Raising Victor Vargas, Nick and Norah's Infinite Playlist) and written by Ron Nyswaner (an Oscar nominee for Philadelphia), is based on the true story of Laurel Hester (Moore) and Stacie Andree (Page) and adapted from Cynthia Wade's Oscar-winning 2007 documentary short. When Laurel, a police detective in Ocean County, New Jersey, found out she had terminal lung cancer, she sought to leave her benefits to Stacie, her partner — only to be blocked (initially) by the county's governing body of Freeholders. Like so many pivotal figures in the LGBT civil rights movement, Hester was an unlikely activist, driven first by personal necessity and then by robust, full-throated determination. (She died in 2006, and the events of Freeheld are set between 2002 and 2006.)
In a telephone interview with BuzzFeed News, Freeheld's director Sollett said, "It's not often in the movies that we get to talk about our heroes. And to me, Laurel Hester is a hero — I knew that as soon as I came to know her story."
Freeheld tells two entwined stories, reflected in the film's first trailer, debuting exclusively on BuzzFeed: the love story of Laurel and Stacie (who meet, naturally, in a volleyball league), and later the escalating battle of Laurel's quest to make sure Stacie will receive her pension benefits.
"The political story and the personal story are one for me," Sollett said. "It's always our own sort of issues that pop up when we're falling in love. But unfortunately, on top of those, these women had to deal with the prejudice and the obstacles set up for them by their local government. But for me, they're one and the same: The personal is the political."
He said he was drawn to Freeheld because "it was simply the most beautiful script I had ever read." He continued, "It's a very rare thing to find a piece of material that so accurately expresses one's views about the world."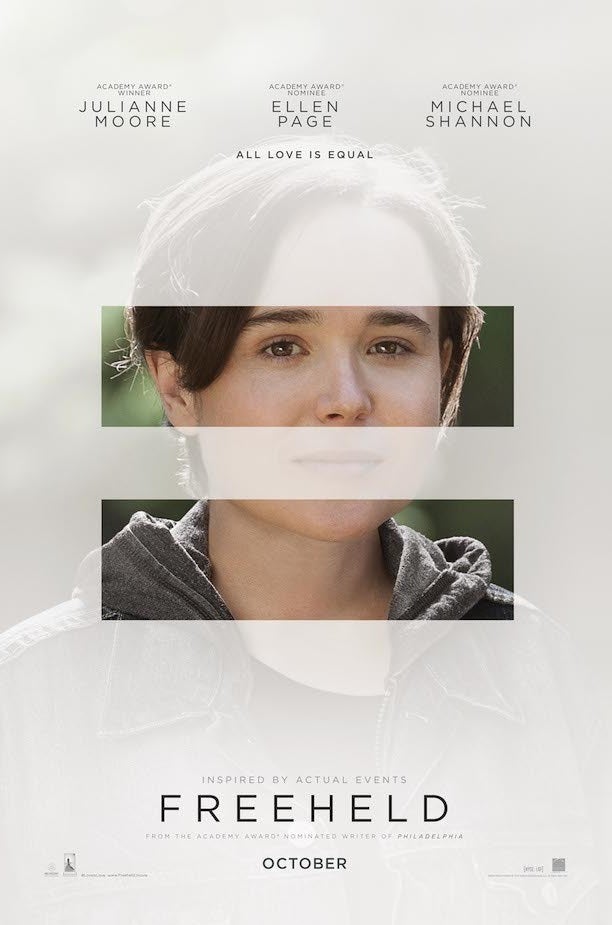 The exclusive posters for Freeheld featuring, from left to right, Page, Moore, and Shannon.
In the movie, Michael Shannon plays Dane Wells, Laurel's police partner and straight friend to whom she is closeted until she no longer has a choice. But if Laurel had underestimated him, she soon realizes how much of an ally he wants to be. Rounding out the main cast, Josh Charles plays a sympathetic Freeholder and Steve Carell breaks type as a brash LGBT activist who takes up Laurel's cause.
Sollett spoke of the three lead actors' different approaches. Moore was "research-oriented, and took the beautiful documentary and the journalism that was available on the subject and really internalized it." He said, "She made it her mission to become an expert on the life of Laurel Hester. And it infused her choices within the scenes, and this is an important guiding light for us because it kept us honest." To play Dane, Shannon spent time with Wells, who was often on set. "It was really Dane's warmth that I think brought Michael to such a large-hearted performance — the type of charismatic performance that I don't think people expect of him," Sollett said.
When he first met with Page, who is also a producer on Freeheld, she asked Sollett what he thought the movie was about. His response was simply: "It's a love story." In her role as Stacie, a mechanic who falls in love with the older, but less out Laurel, Sollett said, "With Ellen, an actress we know and love and I think audiences completely embrace, I don't think it's wrong to use the words 'breakthrough performance.'"
"She feels different, her physicality is different — the transformation is new," Sollett said of the actor, who came out in February 2014. "That was thrilling. She was incredibly excited about that; she was being more honest. I think she was exposing more of her personal life, more of herself."
Freeheld will be in limited release on Oct. 2, expanding on Oct. 16.