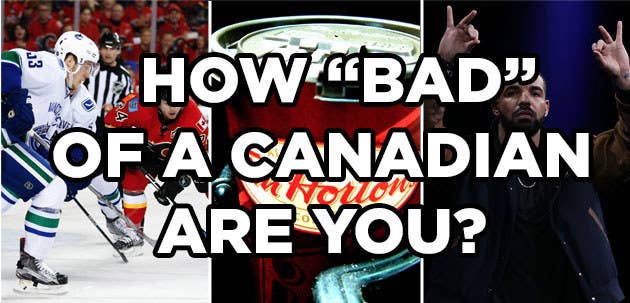 Jeff M for Short/Flickr

Ugh, never. Coffee is gross.

Occasionally, but pretty much only for Timbits.

Every morning. I need my double-double.

HOOK THAT COFFEE UP TO MY VEINS!

Kat Angus/BuzzFeed Canada

I always say sorry. Sorry, but that's just how I am. Sorry.

Sometimes, but only when I've actually done something worth apologizing for.

Never. Get out of my way, jerkwads.

I've said sorry to a door for bumping into it.

Todd Korol/Getty Images

Only when the Leafs are winning, so... no, not really.

I'm in the stands as often as I can, losing my voice from cheering and yelling at refs.

I watch hockey. I play hockey. My first word was "hockey." I don't think about anything other than hockey. Hockey.

Christopher Polk/Getty Images

The kid from Degrassi is a rapper now? Good for him.

I'm always riding through the 6ix with my woes.

"Started From The Bottom" is my jam.

Stephen Boisvert/Flickr

I once ate so much of it that I got scurvy.

I loved it as a kid, but now I prefer actual food.

Ew. What next, Zoodles? No.

Love it! Not for every meal, obviously, but sometimes that cheesy mix just hits the spot.

Thinkstock

Like a bear, I hibernate until spring. Call me when it's April.

Fresh snow is beautiful—but when it turns to slush, ugh.

I love being outside in the snow, but when the weather hits the negative double digits, no thank you.

Thinkstock

Any poutine is too much. I'll skip the heart attack, thanks.

One plate is more than enough. Then I need a nap.

I'll tell you when I've had enough, which hasn't happened yet.

If they made a Kraft Dinner poutine, I'd be in heaven.

Thinkstock

YES. With pancakes, sausage, coffee, ice cream, steak, potatoes—maple syrup in EVERYTHING.

Sure, on pancakes, but that's about it.

Roll it on some snow and shove it into my mouth hole.

Neil Kerr/Getty Images

Curling what? Like, my hair?

COME ON, BABY, PUT THE ROCK IN THE HOUSE!

Those little brooms look fun.

I don't pay much attention until the Winter Olympics, but then I go all out.

Ben A. Pruchnie/Getty Images

He's that Star Wars guy, right?

I loved him in Miss Congeniality!