1.
First off, a dachschund/Golden retriever mix? Nothing to smile about, for sure.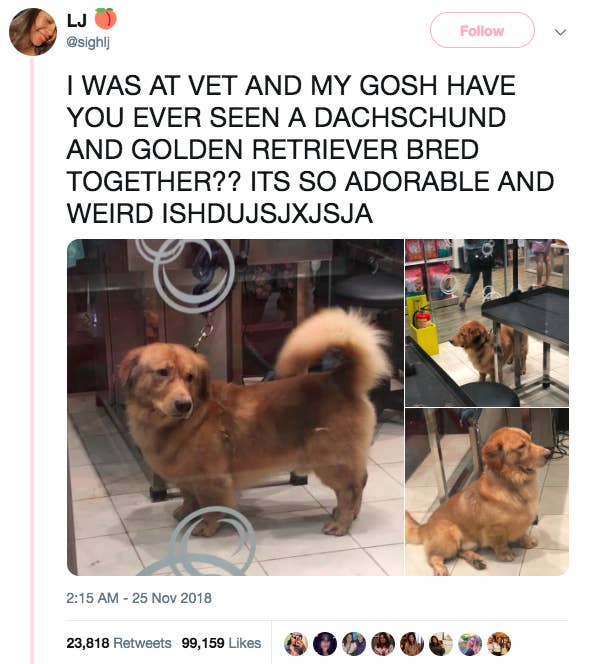 2.
What about a highland cow having a soak? Anything?
3.
What about this unexpected event at dinner?
4.
Surely this celebrity lookalike is worth a grin.
5.
Or this little boy being VICIOUSLY ATTACKED by a herd of ferocious beasts.
6.
Or a similar terrifying herd feasting on this poor cat?
7.
"Bee cute furry face"! How can you not smile at that?!
8.
Come on: This is a literal cloud come to life.
9.
A crow? A cat? Both? Neither?
10.
This sweet pup for sure will turn up the corners of your mouth.
11.
Or these very, very determined cats.
12.
Admit it: this dog elicited at least a chuckle from you.
13.
Or if that didn't work, this malingering pup should work:
14.
Still nothing? Okay, time to break out the big guns:
15.
How can you be so serious when you see a dog with his brick?
16.
Or a dog who, yes, is committing a crime, but for an understandable reason:
17.
I don't know how you can't smile when you see this besotted dalmation:
18.
I've laughed at this poor, sweet cat about 20 times already:
19.
Does this yearbook photo do anything for you?
20.
LOOK. LOOK AT THE GRASS PUPPY.
21.
All right, last chance. Are you smiling yet??
So, how'd you do?