1.
Como Hermione, de Harry Potter.
Vístete como la bruja más brillante de Hogwarts con una capa que te quede abajo de la rodilla y dale un giro estilo colegiala a tu look con una falda negra y un suéter con un estampado sencillo; unas botas y estarás lista para ir al trabajo en tu propia escoba.
2.
Como las chicas de The Craft.
Estas cuatro brujas adolescentes se convirtieron en verdaderos íconos de moda. Imita su estilo y apuesta por faldas a cuadros, suéteres negros, camisas blancas y sobretodo, gargantillas. Puntos extra si le agregas el toque gótico a tu look con un smoky eye en negro.
3.
Como Scarlet Witch, de Avengers: Age of Ultron.
La nueva integrante de los Avengers sabe que una chamarra de piel es todo lo que necesitas para lucir verdaderamente bad-ass. Acompaña la tuya de un vestido negro o deja que una falda en A y tu camisa favorita sean la fuente de tu poder.
4.
Como la Bruja, de Into the Woods.
No, no tienes que pintarte el cabello de azul para verte tan chic como Meryl Streep en ese papel. Un vestido en azul cerúleo y un poco de volumen en tu cabello serán los dos musts para lucir el lado bueno de esta bruja.
5.
Como Fiona Goode, de American Horror Story: Coven.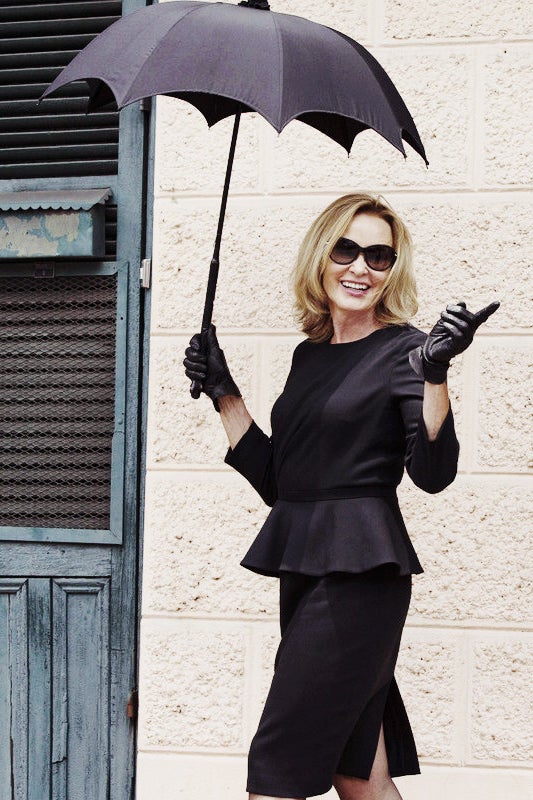 Las enseñanzas de esta Suprema van más allá de los encantamientos. Deja que su estilo clásico te inspire y llévalo a la oficina con una falda lápiz negra y un top o chamarra con holánes. No olvides los accesorios, esos guantes de piel serán justo lo que necesitas.
6.
Como Sabrina, de Sabrina: La Bruja Adolescente.
Aunque en Halloween sí saldrías con ese vestido de mangas dramáticas, el uniforme de bruja de Sabrina puede también inspirar tu look más relajado. Un vestido con mangas de abanico o con flecos y serás toda una bruja adolescente. Si tan sólo tuvieras un Salem para acompañarte...
7.
Como Theodora, de Oz, El Poderoso.
Theodora, mejor conocida como Elphaba en el mundo de Wicked, sí que sabe cómo llevar un vestido negro al otro nivel. Toma nota de su libro oscuro de estilo y lleva un chaleco o collar de plumas. ¡Hasta puedes hacerlo! Checa este tutorial y lleva tu lado malvado y glamouroso al siguiente nivel.
8.
Como la Bruja Blanca, de Las Crónicas de Narnia.
Podrá haber sido la responsable de los peores siglos de Narnia, pero vaya que sabía vestirse. Aunque no es necesario que lleves las rastas como esta bruja, un abrigo de peluche y un look total en blanco serán los elementos necesarios para lucir como esta reina de hielo.
9.
Como Zoe Benson, de American Horror Story: Coven.
Si Fiona era el epítome del vestir clásico en Coven, Zoe era el ícono bohemio que flechó nuestros corazones (y nos hizo comprar un sombrero como ese). Puedes llevar un maxi vestido negro como ella o irte por el lado más experimental y llevar capa sobre capa con jumpsuit negro y unas botas para morirte. Usa este look con precaución... 😈
10.
Las hermanas Sanderson, de Hocus Pocus.
¿Cómo olvidar a las brujas que marcaron nuestra infancia? Esos vestidos victorianos tal vez no lucirían tan bien hoy en día, pero los estampados y el terciopelo puedes traerlos de vuelta al siglo XXI. Un mini vestido con vibras setenteras y un sombrero de ala ancha y serás una hermana honoraria de estas hechiceras.
11.
Como Samantha, de Hechizada.
Y hablando de ondas setenteras, ¿qué tal inspirarte en Samantha para tu look de día? Unos botines con un vestido estampado y de telas ligeras y sólo te faltará mover la nariz para convertirte en su aprendiz.
12.
Como las hermanas Halliwell, de Charmed.
Estas hermanas nos dejaron en claro que los 90 también tenían su parte chic-gótica. ¿Quién diría que diez años después, esos vestidos lenceros serían la bomba? Saca tu lado más sexy y encantador y presume uno como el que tanto amaban llevar las Halliwell.