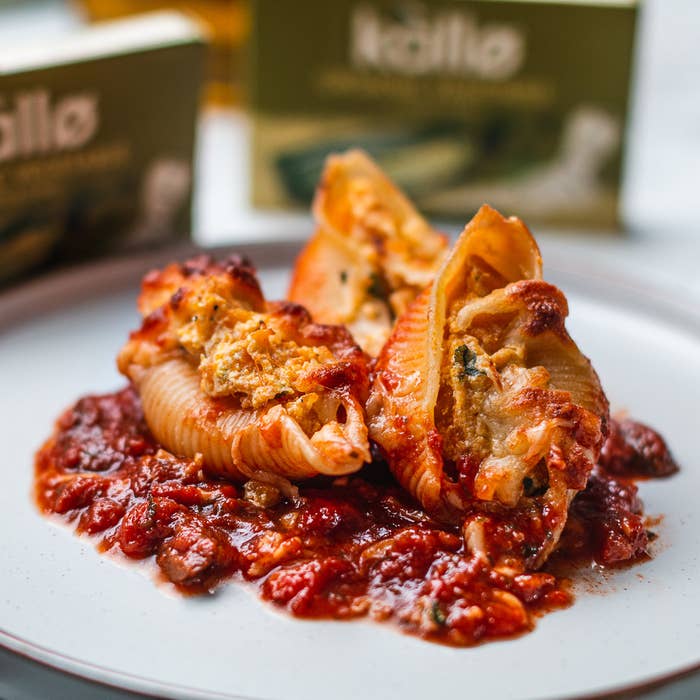 Ingredients
1 Kallo Organic Vegetable Stock Cube
200g conchiglioni pasta
2 tablespoons olive oil
1 onion, finely sliced
2 garlic cloves, finely chopped
500g pumpkin, peeled and deseeded
250g ricotta
2 tablespoons basil, chopped
Season to taste
¼ teaspoon black pepper
400ml tomato pasta sauce
70g mozzarella, crumbled
Preparations
1. Bring a large pot of water to a boil.
2. Cook the conchiglioni for 9 minutes, or until al dente. Drain the water, rinse under cold water, and set aside.
3. Place the same pot over a medium heat and add 2 tablespoons of olive oil. Add the onion and garlic. Stir and cook for 5–6 minutes.
4. Once the onions are translucent, add the pumpkin and crumble in 1 Kallo Organic Vegetable Stock Cube. Stir and cook for 1 minute until the stock cube is nicely dissolved. .
5. Add 500ml of water and simmer for 10 minutes, or until the pumpkin is tender.
Remove from the heat and drain the excess stock.
6. Using a fork, roughly mash the pumpkin (a little texture is good here). Next, add the ricotta, basil, salt, and pepper. Stir until combined. (Again, some texture is good here; it's nice to find a chunk of ricotta here and there!)
7. Preheat the oven to 190ºC.
8. Take a casserole dish or oven safe frying pan and pour the sauce in.
9. Stuff each pasta shell with a good amount of pumpkin filling and place on top of the dish.
10. Bake 30 minutes covered with foil, or until starting to brown on top.
11. Enjoy!