Roasted Veggie Flatbread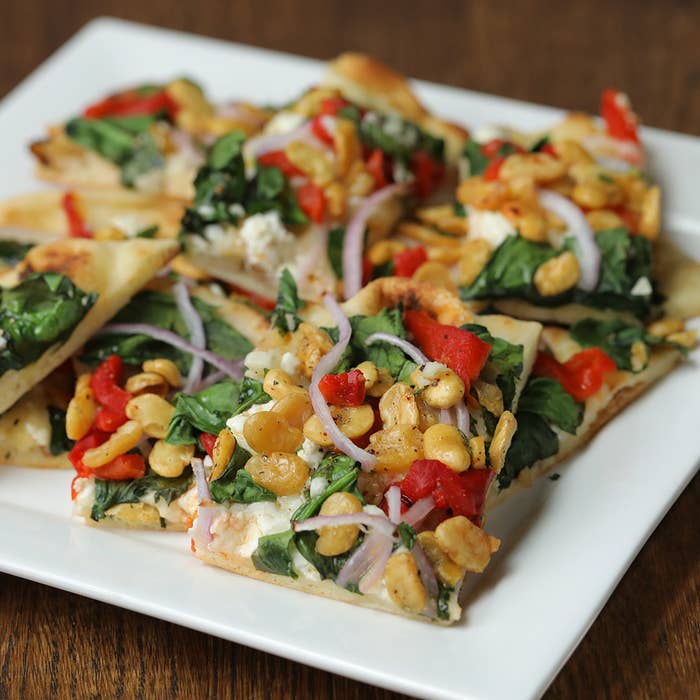 INGREDIENTS
Servings: 2
Flatbread
1 bunch spinach, washed and dry
½ cup roasted bell peppers
2 flatbreads or thin pizza crusts
1 tablespoon olive oil
1 cup mozzarella cheese
½ cup Feta cheese
Red onion, sliced
1 packet (5oz) KALA Simply Peppered Roasted Fava Beans
Dipping Dressing
3 tablespoons olive oil
2 tablespoons lemon juice
1 tablespoon mint leaves, chopped
1 tablespoon garlic, minced
½ teaspoon salt
¼ teaspoon pepper
PREPARATION
1. Preheat oven to 400˚F/ 200˚C.

2. Drizzle the flatbread with olive oil
.
3. Top with mozzarella, spinach, red bell peppers, red onion, and KALA beans. 

4. Bake for 10 minutes or until edges turn golden crisp. 

5. In the meantime, mix ingredients for garlic dressing. Whisk until well combined.
6. Slice flatbread and drizzle with the dressing. 

7. Enjoy!