Content Creator Nicole Wade isn't your typical social media influencer — she's a cat influencer! Her precious ginger feline, Honey, is the viral star of the @princesshoneybelle baking videos, which are pretty much the most wholesome, sweet, and mouthwatering videos you'll see on the Internet.
On TikTok, Honey assisted in sharing their 2022 earnings which came to $43,137 USD ($62,355 Australian dollars) before taxes and expenses. Given the cat's massive social media following, Wade has the ability to be choosy about her partnerships. She only works with brands she loves and averages about two ads per month.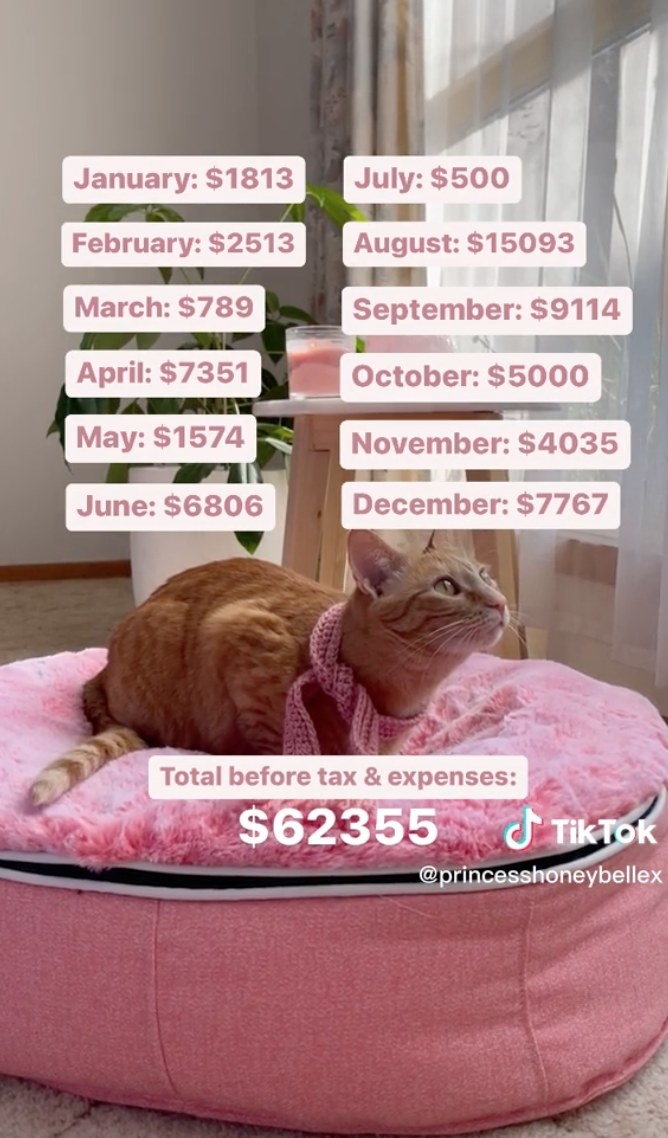 The post garnered over 15,000 comments, with many viewers chiming in to say they appreciate the candid conversation surrounding salary. "Well done on promoting honest transparency in both the total [and] also the ethical reasons you work with companies," said one commenter.
Others lamented that their own feline has yet to earn their keep: "Why y'all not supporting me instead of me supporting you?" said one commenter of their "freeloading cats." Some even weighed in to say that Honey's baking videos earn more than their annual salary.
Across many industries, pay transparency is on the rise. With companies and workers adhering to this trend, it's less taboo to keep talk of salaries hush-hush. For self-employed individuals, like content creators, it can be especially difficult to know what to charge partnering brands.
"Individuals get taken advantage of simply because they think they have no option but to accept a 'gift' in exchange for work when in reality they can be getting paid," said Wade in an interview with BuzzFeed. "Seeing other influencers share their income made me reflect on when I started as a content creator and how it would've been helpful to know this information."
While pay transparency can help creators or freelancers understand the typical salary in their industry, it can also show the very real month-to-month inconsistencies of being self-employed. "There is a lot of gatekeeping in the industry, and it can be difficult to know what to charge and what is possible," says Wade. "It's also good for others to see that like any contractor job, there can be lots of fluctuations in pay."
Wade says that those aspiring to build a personal brand that pays the bills will need to prepare to fully commit, but also remain patient. "It might take a while to earn an income," she shares. "It's helpful to connect with others that you can learn from, and help others when you can. Build genuine relationships and know your worth!"
For Wade and Honey (and Honey's feline siblings, Mocha and Kody), the most rewarding part of the job is hearing how much joy followers get from their content. "It's special to hear how it helps them get through their day, or how we inspired them to adopt a ginger kitty. It makes choosing this worth it."