1.
A three-tier cabinet corner shelf for neatly stacking and organizing the plates and bowls. Practically playing Jenga just to get a bowl or plate is old news!
Promising review: "I really love this storage rack as it is good looking and pretty sturdy. I have a set of red metal camping dishes that I store on this shelf. I have the large plates on the lower shelf, the bowls on the middle shelf, and my rec mixing bowls on the top shelf. I have the cups on the mug tree sitting next to this plate rack and it looks so pretty together. I recommend this plate rack to anyone that has a small kitchen but wants good and attractive storage for their dishes." —Cheyenne R.
Get it from Amazon for $14.97.
2.
A collapsible dish rack you can easily tuck in a cabinet to get it out of the way when it's empty, because you could really use the extra counter space.
Promising review: "I love this small dish drain! Overall it's so nice and compact. It's a perfect size for my small kitchen counter. It's easy to keep clean and drain the water out of and easy to remove the drip tray and place directly in the sink for draining dishes there. I use a dish mat along side it for bigger items like pots. My sister liked it so much she ordered one, too! Easy to collapse it down and put away if needed. Plus the material is quite sturdy." —RogueValGal
Get it from Amazon for $13.51+ (available in three colors and package quantities).
3.
A set of 10 color-coded food storage containers that won't leave you wondering which top goes with which container. To save you the most space, they can be easily stacked within each other. If you are a meal prep master and need to somehow fit 30 pieces into a small cupboard, you need these!
4.
A self-adhesive paper towel holder you need if you're tired of bulky paper towels taking up so much of your counter top space. All you have to do is either use the included screws or adhesive strips to mount the holder, add a roll of paper towels, and you're all set! Keep the counter clutter to a minimum with unconventional but functional methods.
You can also use screws if you'd prefer.
Promising review: "I was tired of the paper towels taking up counter space. I purchased this and it came with screws, and three adhesive straps so you can do either option. I did the adhesive strip and its still holding up." —Mymy
Get it from Amazon for $12.99+ (available in six finishes and two-packs).
5.
A comprehensive set of rainbow mixing bowls and measuring cups that comes with one large mixing bowl, a colander, a steel sieve strainer, a small mixing bowl, four measuring cups, and a tablespoon. Just imagine how much faster you could put up your dishes now that you don't have to try to make everything fit.
This set comes with a 4.8-quart large mixing bowl, 3.2-quart colander, 1.75-quart steel sieve strainer, 0.5-quart small mixing bowl with measurements, four measuring cups (1 cup, 1/2 cup, 1/3 cup, 1/4 cup), and one tablespoon. The plastic is BPA-free, and all pieces except for the steel sieve are dishwasher-safe.
Promising review: "This bowl and measuring set is great for someone who wants to add some color to their kitchen but doesn't want to give up a lot of space. I have a small kitchen with limited cabinet space, so this set was the perfect solution to my issue. The bowls are very sturdy and work well, and the measuring set is great. It is nice to have everything all in one place and not have to search for a bowl or a cup to measure when cooking. I take this out and I am ready to cook. The non-slip base on the bowls is a nice feature and keeps the bowl in place while mixing ingredients." —Trickster
Get a 9-piece set from Amazon for $32.21.
6.
A jar opener for when you've tried tapping the lid, running it it under hot water, and slapping the bottom of the jar; but the lid won't budge. You won't be stuck with a cursed jar, when you slap one of these bad boys under your cabinet! Plus, it takes up basically no space at all. 

Promising reviews: "I like that it is out of sight under a cabinet in my small kitchen. It makes opening jars very easy." —My thoughts
"Bought this for an elderly neighbor who was trying to get a plastic cola bottle open with pliers. We have one and have used it to open everything from a small nail polish bottle to large pickle jars. We are older ourselves and this gadget can be really helpful when you have times when your hands don't work like they used to. I have bought them for our kids also though to use at their homes because jars and bottles can be stubborn to open sometimes and this just makes it so much easier." —Mamabear

Get it from Amazon for $16.95+ (available in three quantities).
7.
A mixer attachment organizer that can be mounted on the wall and support three stand mixer attachments. If you're a pro at baking, or even a beginner who has all the tools, this is definitely something you should have in your kitchen.
3D Home Solution is a Texas-based small business that stocks lots of helpful kitchen products, including plenty of other accessories for your prized KitchenAid mixer.
Promising review: "The second handy item from this seller that I'm loving! For years now, my mixer heads have taken up valuable space in my cabinet and when you have limited space, you look for solutions. This gadget is now installed under a cabinet out of the way. I think it actually looks like a bit of kitchen sculpture. A clever solution to keep clutter at bay!" —esmosmom
Get it from 3D Home Solution on Etsy for $12 (available in three colors and with your choice of Command strips or wood screws for mounting). You can also get a version that just holds a single attachment here.
8.
A soap-dispensing sponge holder if you need to save space on your kitchen sink and spend less time washing dishes. Just fill the dispenser with your favorite liquid dish soap, pump the soap onto the sponge, and start sudsing.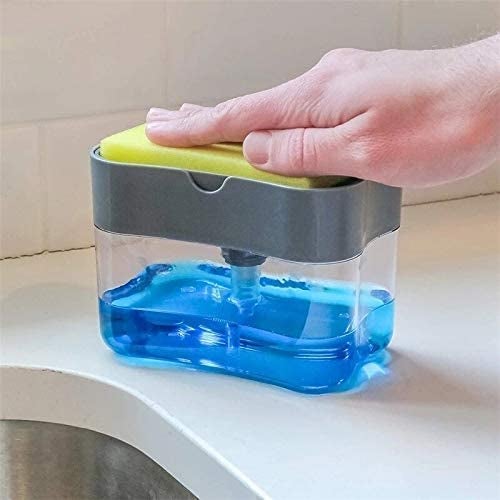 Promising reviews: "This product is unique and compact for a small kitchen and is a space saver." —SP
"Saw this soap dispenser on TikTok (like a bunch of other people did) and decided to get it and I LOVE IT! It's very practical and it doesn't take up too much space. I've only used it a couple of times but I feel like it controls how much soap you use, preventing you from using too much." —Helena
Get it from Amazon for $7.80.
9.
A cord organizer you can peel the adhesive off and place on any appliance. Keep your counter looking tidy in just a few seconds. Your kitchen will look 10 times better when you can easily hide the cords.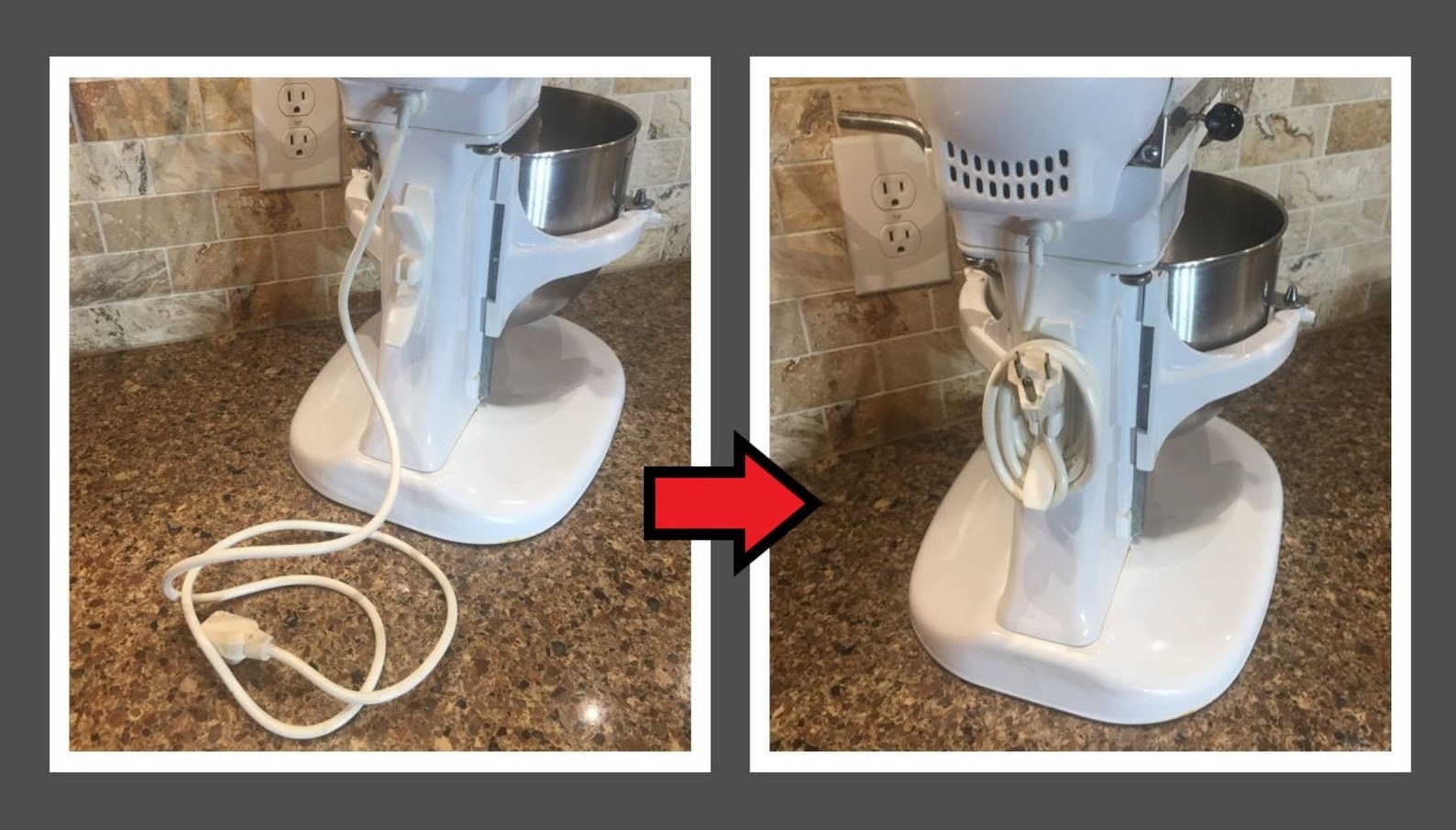 3D Home Solution is a small Etsy shop based in Texas that sells items to keep your home organized.

Promising reviews: "This little thing works so well at containing the cord. It makes my mixer all neat and tidy. I love this!" —Isabelleosborne21

Get it from 3D Home Solutions on Etsy for $8 (available in three colors).
10.
A wrap organizing box so you can stylishly store and easily find your plastic wrap, wax paper, and aluminum foil. It can also conveniently cut as much or as little as you need.
Parkway Home is a small business that sells items to help keep your home organized.
Promising review: "LOVE IT.... I was a little concerned that the depth of this would fit in my top drawer based on the measurements described, but it fits perfectly. It is a notch wider than necessary for standard size foil and plastic, but gives you that extra space if you wanted to go bigger. I highly recommend this!" —cmquade32
Get it from Parkway Home on Etsy for $25.49+ (available in three styles).
11.
An 11-in-1 Instant Pot Duo Crisp if you want to keep your dirty dishes to a minimum. Make delicious meals and stay on top of your meal prep with the touch of a button. In addition to being a pressure cooker and an air fryer, the IP Duo Crisp can also sauté, steam, sous vide, bake, broil, dehydrate, and more!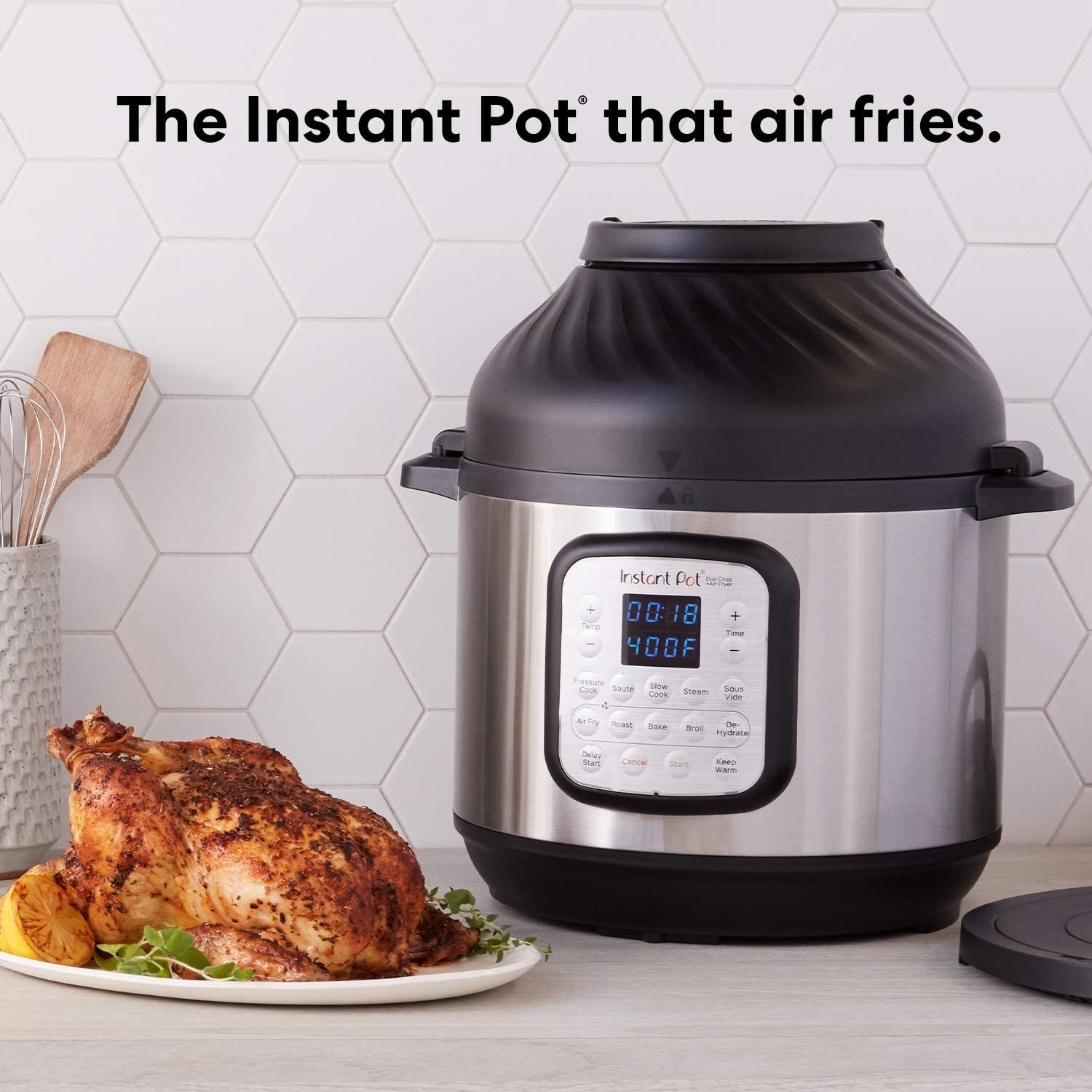 Promising review: "Seriously the best kitchen appliance I've ever owned. Super easy to use, very convenient, and the safety features are astounding. If you have the wrong lid on for what feature you are trying to use, it tells you. It tells you when to flip your food during air frying to ensure even cooking. It automatically turns off if it senses your food burning. We use this every day, from perfect rice, to quick frozen nuggets, steamed tamales, or sautéed veggies/meat. I even baked a small cake in mine and it came out moist and perfectly fluffy (better than my oven for sure). Our duo crisp stays out right on the counter because we use it so often. My only complaint is that the beeping to let us know our food is done is loud and too long. Ours beeps five times which seems a little excessive to me. We also use it so often that cleaning it becomes annoying, but we decided to purchase a second inner pot and solved that problem really quickly! Highly recommend for any size family, definitely for small kitchens and for any level of cook. Makes your life easier, guaranteed!" —Someone who never writes reviews
Get it from Amazon for $115.95+ (available in three styles and two sizes).
12.
A 6-quart air fryer because you love fried food but you're looking for ways to cook your meals without added oils. You can make anything from fries to wings to even a whole roast chicken. It even works wonders for reheating foods, if you're not a fan of using the microwave.
It has a six heating options: air fry, broil, roast, dehydrate, bake, and reheat.
Promising review: "Smaller footprint, takes up less space on my limited precious counter space. The touch pad is a little awkward. It isn't easy to operate the controls. Makes toast perfectly. Cooking fresh and frozen food is easy. Cleanup is easy. Update: July 2022 The little multi-function appliance is still working well. It makes it so easy to cook healthy meals for example, airfry salmon portions and crisps the skin perfectly and deliciously. I have used it to toast and dehydrate." —uMaMi
Get it from Amazon for $99+ (available in five styles and four additional sizes).
13.
A slim magnetic stove shelf that can help make cooking easier. Keep your favorite seasonings within reach so you don't have to waste time going to the spice cabinet. Take your kitchen's aesthetic and functionality to the next level.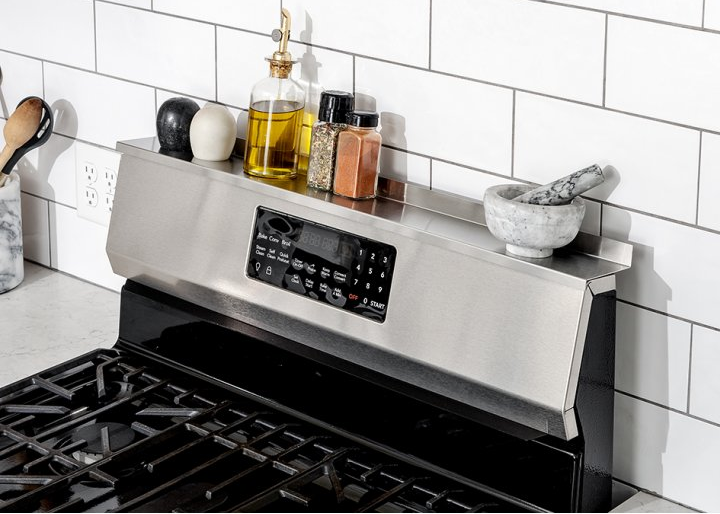 StoveShelf is a US-based small business that specializes in stove shelves for various sizes of stoves. 

Check out a Tiktok of the StoveShelf in action.
Promising review: "TI live in a small apartment with a small kitchen. The stove is situated so there is not much room to put items that you need near it. This shelf is ideal! It is magnetized so it just fits at the top and stays put! I can put my seasonings, or oil on it without a problem. I even liked the box it came in with the easy instructions! Take out of box, put on stove top, done! It is sturdy and can be easily cleaned. What more do you need?" —C. Grunert
Get it from Amazon for $39.99+ (available in six finishes and three sizes). 
14.
A magnetic knife and utensil holder to get rid of the knife block that takes up so much space on your countertop. The strip comes with mounting hardware and instructions, so you can put it to good use immediately.
Promising reviews: "Works really well for my small kitchen w/ limited counter and storage space." —NH
"I've been using this magnetic knife holder for a few months and am very happy with it. The mounting is very secure. I used wood screws to easily and quickly mount it to the side of my cabinet above my counter work surface. The very strong magnet holds all my knives securely. I have no worry of knives slipping off it. Once installed I got rid of the hulking knife block to free valuable count space. I don't know why I didn't do this years ago." —Jeffery B.
Get it from Amazon for $11.99+ (available in six sizes).
15.
Or, an in-drawer bamboo block if you have a drawer full of knives, and desperately need to store them somewhere safe. It has enough space to hold up to 16 knives, fits almost all standard kitchen drawers, and also has room for your knife sharpener.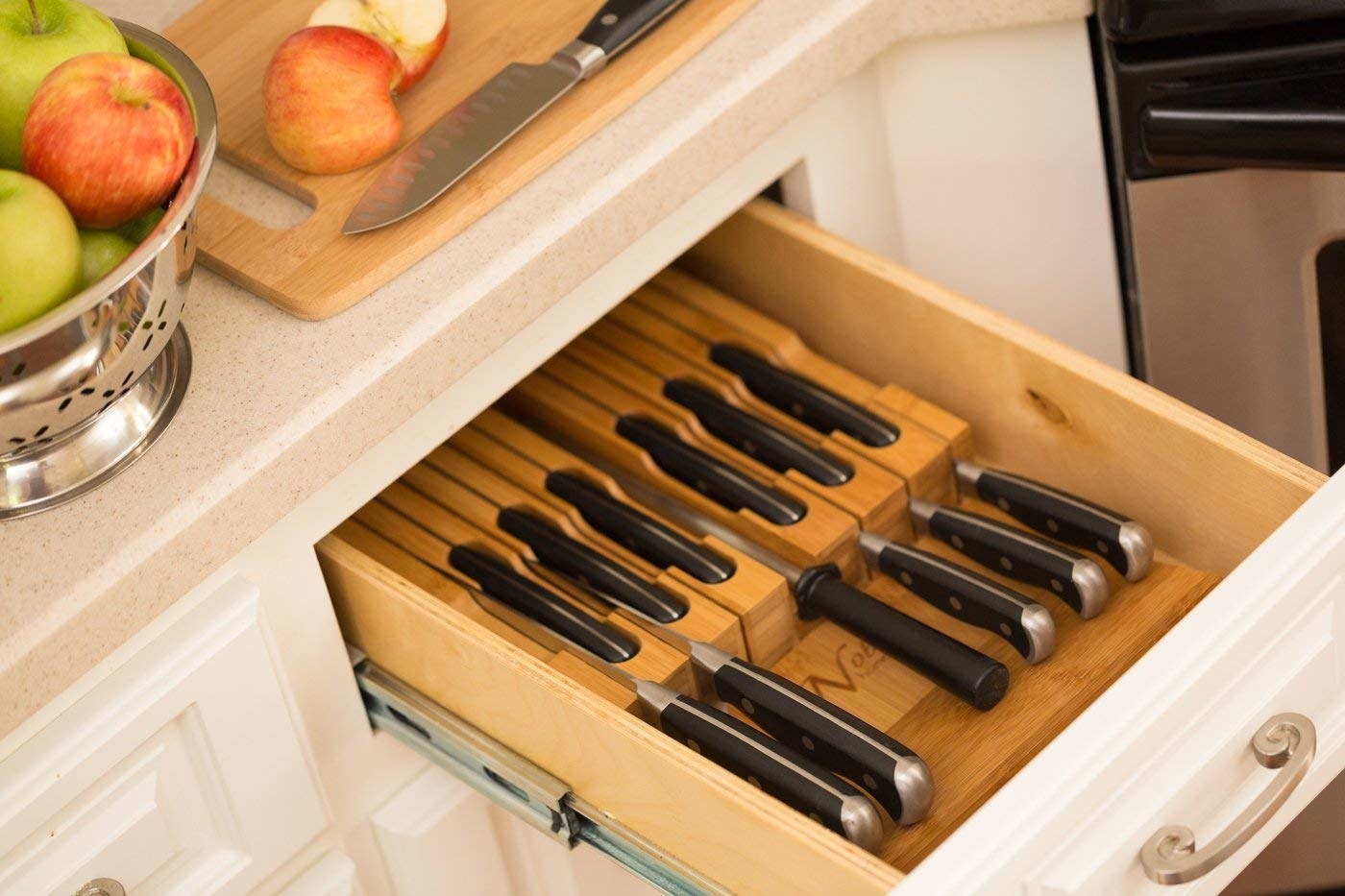 Promising review: "I love this product! Keeps my knife drawer organized and makes it easy to find the one I need because I keep them in a particular order. I purchased the one that holds 12 and now I wish I went with the 16 because I do want to add more knives to my collection. There is enough space to grab the knives comfortably. It would be fantastic if there was a slot for scissors and a cleaver somehow but overall, very satisfied with the product and plan on purchasing another." —Zoe
Get it from Amazon for $26.74+ (available in two sizes).