1.
A self-adhesive paper towel holder you need if you're tired of bulky paper towels taking up so much of your counter top space. All you have to do is either use the included screws or adhesive strips to mount the holder, add a roll of paper towels, and you're all set! Keep the counter clutter to a minimum with unconventional but functional methods.
You can also use screws if you'd prefer.
Promising review: "I was tired of the paper towels taking up counter space. I purchased this and it came with screws, and three adhesive straps so you can do either option. I did the adhesive strip and its still holding up." —Mymy
Get it from Amazon for $12.99+ (available in seven finishes and a pack of two).
2.
A three-tier cabinet corner shelf for neatly stacking and organizing the plates and bowls. Practically playing Jenga just to get a bowl or plate is old news!
Promising review: "I really love this storage rack as it is good looking and pretty sturdy. I have a set of red metal camping dishes that I store on this shelf. I have the large plates on the lower shelf, the bowls on the middle shelf, and my rec mixing bowls on the top shelf. I have the cups on the mug tree sitting next to this plate rack and it looks so pretty together. I recommend this plate rack to anyone that has a small kitchen but wants good and attractive storage for their dishes." —Cheyenne R.
Get it from Amazon for $14.97 (available in two colors and a set of two).
3.
A soap-dispensing sponge holder if you need to save space on your kitchen sink and spend less time washing dishes. Just fill the dispenser with your favorite liquid dish soap, pump the soap onto the sponge, and start sudsing.
Promising reviews: "Enjoy the 13-ounce capacity of the soap holder. I appreciate that the pump dispenses just enough detergent for washing or cleaning needs to reduce waste. Will purchase a few more for my laundry room and to give them as gifts for new home dwellers." —Grace Y.
Get it from Amazon for $9.49+ (available in five colors).
4.
A wrap organizing box so you can stylishly store and easily find your plastic wrap, wax paper, and aluminum foil. It can also conveniently cut as much or as little as you need.
Parkway Home is a small business that sells items to help keep your home organized.
Promising review: "LOVE IT.... I was a little concerned that the depth of this would fit in my top drawer based on the measurements described, but it fits perfectly. It is a notch wider than necessary for standard size foil and plastic, but gives you that extra space if you wanted to go bigger. I highly recommend this!" —cmquade32
Get it from Parkway Home on Etsy for $25.49+ (available in three styles).
5.
A slim magnetic stove shelf that can help make cooking easier. Keep your favorite seasonings within reach so you don't have to waste time going to the spice cabinet. Take your kitchen's aesthetic and functionality to the next level.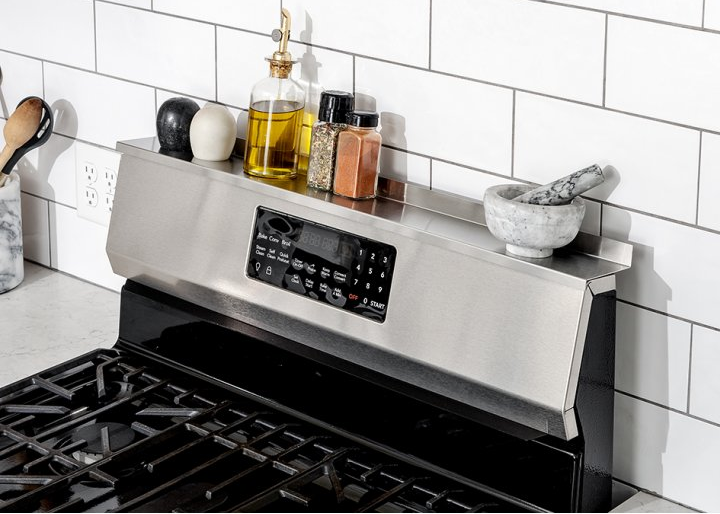 StoveShelf is a US-based small business that specializes in stove shelves for various sizes of stoves. 

Check out a Tiktok of the StoveShelf in action.
Promising review: "TI live in a small apartment with a small kitchen. The stove is situated so there is not much room to put items that you need near it. This shelf is ideal! It is magnetized so it just fits at the top and stays put! I can put my seasonings, or oil on it without a problem. I even liked the box it came in with the easy instructions! Take out of box, put on stove top, done! It is sturdy and can be easily cleaned. What more do you need?" —C. Grunert
Get it from Amazon for $39.99+ (available in six finishes and three sizes). 
6.
A magnetic knife and utensil holder to get rid of the knife block that takes up so much space on your countertop. The strip comes with mounting hardware and instructions, so you can put it to good use immediately.
Promising reviews: "I've been using this magnetic knife holder for a few months and am very happy with it. The mounting is very secure. I used wood screws to easily and quickly mount it to the side of my cabinet above my counter work surface. The very strong magnet holds all my knives securely. I have no worry of knives slipping off it. Once installed I got rid of the hulking knife block to free valuable count space. I don't know why I didn't do this years ago." —Jeffery B.
Get it from Amazon for $15.29+ (available in six lengths).
7.
Or, an in-drawer bamboo block if you have a drawer full of knives, and desperately need to store them somewhere safe. It has enough space to hold up to 16 knives, fits almost all standard kitchen drawers, and also has room for your knife sharpener.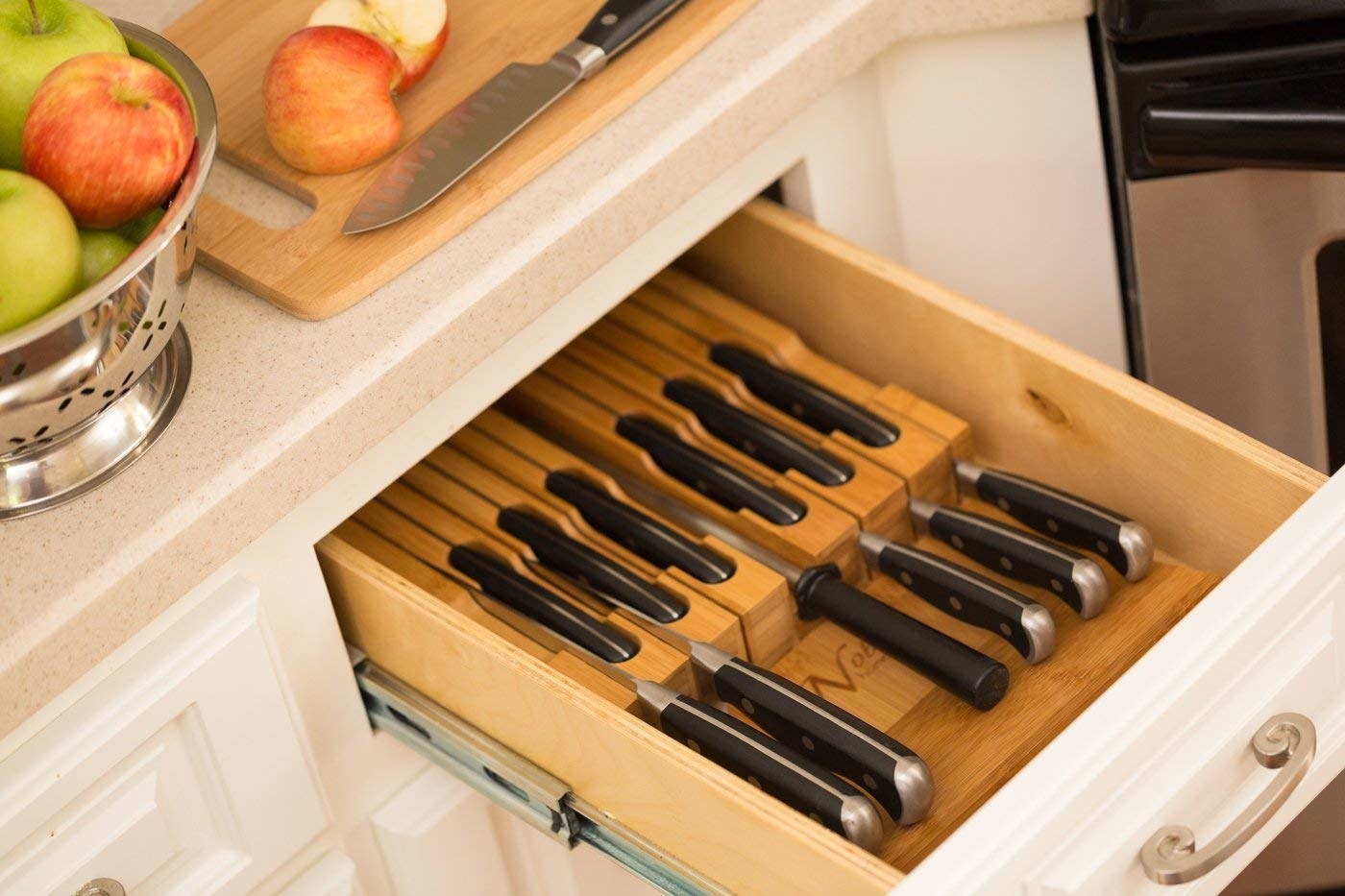 Promising review: "I love this product! Keeps my knife drawer organized and makes it easy to find the one I need because I keep them in a particular order. I purchased the one that holds 12 and now I wish I went with the 16 because I do want to add more knives to my collection. There is enough space to grab the knives comfortably. It would be fantastic if there was a slot for scissors and a cleaver somehow but overall, very satisfied with the product and plan on purchasing another." —Zoe
Get it from Amazon for $26.74+ (available in two sizes).
8.
A game-changing pan and pot lid organizer, because you should spend less time balancing pans and keep them scratch-free. You can stack your pots and pans horizontally or vertically, whichever maximizes storage space.
9.
A can-dispensing rack to take your cabinet or pantry from an unorganized mess to a storage space with some structure. Each rack can hold up to 36 cans, is easy to assemble, and has rubber pads to prevent sliding or scratching any surfaces. Now you have a solution for all of the canned foods you bought from those unbeatable 2-for-1 sales.
10.
A four-tier slim wheeled kitchen organizer you can easily fit in the small space between your refrigerator and countertop. Now you can simply pull out the cart, grab whatever you need, and quickly wheel it back.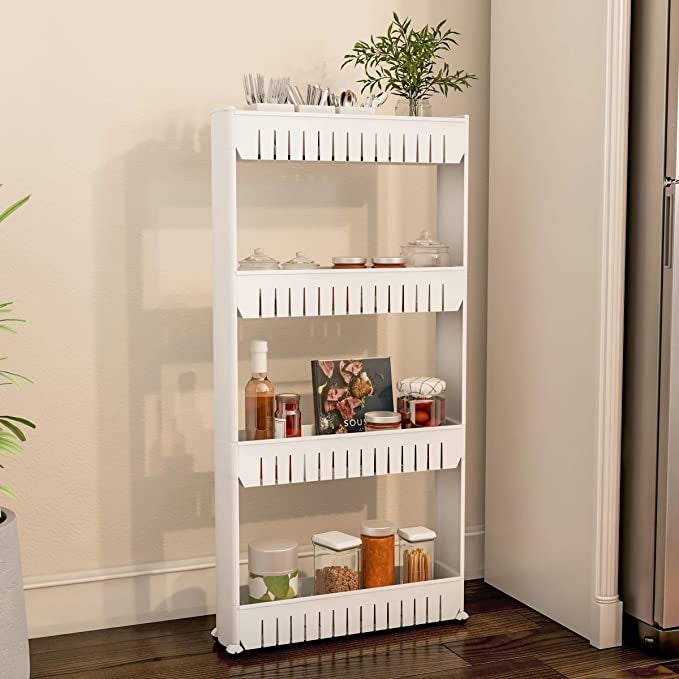 Promising review: "Put it together in under 5 minutes (just snapped together). Finally found a way to get all of my spices in one place and not use a lot of room in my very small kitchen. Fits well, lightweight, sturdy, and looks really good. Definitely recommend!" —1noseybird

Get it from Amazon for $25.11. 
11.
A slim organizer tray for your cutlery ready to make your silverware drawer look functional again. Every utensil has its proper place, but you don't need me to tell you that. You'll realize that once you see how gorgeously organized everything looks!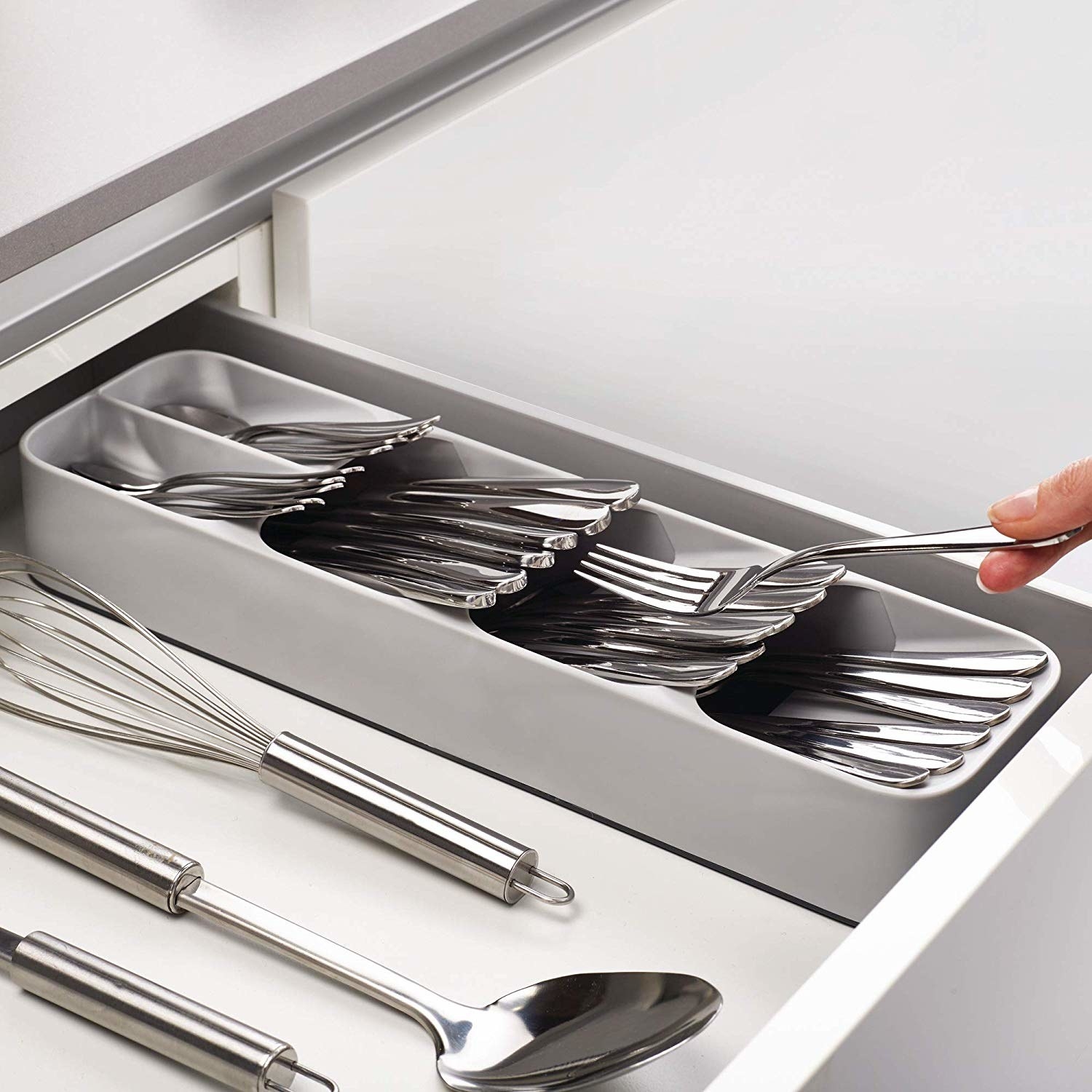 Promising review: "I have a tiny kitchen with only three drawers, so space is at a premium. My silverware organizer took up almost all of one drawer, so this organizer is a godsend. You can fit quite a few spoons etc. in each slot. My beater attachments fit perfectly into the top two hollows. You NEED this if you have a small kitchen with few drawers!" —mialro
Get it from Amazon for $11.99+ (available in three colors, three styles, and two sizes).
12.
A roll-up drying rack because thoroughly washing your fruits and veggies can be so much work. It's honestly super convenient to have when you need somewhere to put your wet produce; and then leave it to dry when you're done.

This rack is also great for drying dishes!
Promising review: "I purchased this two years ago as a possible aid in the dish washing that I manage at home and I have to tell you that I am using this way more often than expected. We have a dishwasher like most but some things can't be put in the dishwasher so this rack serves as an ideal place to dry food processor or juicer components after hand washing them. Truly a counter space saver with the double sink we have our small kitchen and the bonus is that it rolls up to be stored under the sink. Highly recommended." —grimmbro
Get it from Amazon for $8.99+ (available in six sizes and three colors).
13.
Or, an over-the-sink strainer board that'll give you a cutting board, strainer, and bowl all in one. Why move all over the kitchen, when you can do all of your prepping in one spot?
Promising review: "Bought this because I have a small kitchen and need extra room to prepare meals. Fits over my large sink. Rubber tips hold it in place. Basket colander is easily expandable or collapsible and holds weight. Great for chopping and rinsing. I use the colander for rinsing vegetables and draining pasta, etc. Basket colander comes completely out very easily. Dishwasher safe. I am glad I ordered it. It gives me the room I need to prep meals." —Ocean Girl
Get it from Amazon for $20.99+ (available in two colors).
14.
A cabinet door organizer with enough space for cutting boards, baking pans, cookie sheets, plastic wrap, aluminum foil, and more. This is exactly what you need if you're looking for more ways to use empty space and keep things organized with little effort. 
Promising review: "This organizer is so useful! I recently moved and ended up with a much smaller kitchen, so I've been doing everything I can to make sure there's a place for everything and no wasted space. Luckily, I have pretty wide cabinets, so this works out perfectly. I have one holding my cutting boards (four standard plastic boards) and another holding my foil, cling wrap, and parchment paper boxes. The organizer is super easy to assemble and it's completely versatile. Hang it over the cabinet door or attach it to the wall/cabinet door, which means it's great for renters and owners." —Kerry
Get it from Amazon for $16.97+ (also available in a pack of two).