1.
A to-do list so you can stay on top of your daily tasks. Remove the stress of falling behind by literally taking things one at a time. Celebrate the little accomplishments and treat yourself after you've finished your list. You deserve it!
Friends Kaylyn Minix and Michelle Askin founded Bloom, a small business creating the most adorable and productivity-boosting planners and desk accessories, after meeting at the University of Delaware.
Promising review: "Exactly what I was looking for! Perfect for planning the day and keeping me on task with what I want/need to accomplish." —Amazon Customer
Get it from Amazon for $7.95 (available in two patterns).
2.
A bag of shower steamers to help alleviate stress with a calming and relaxing lavender scent. Just place one on your shower floor (in a position that the water barely touches) and enjoy your shower like you normally would.

Promising review: "I bought these on a whim because I LOVE those Vicks shower tablets but wanted some nonminty scents for my steam showers. I tried the lavender about an hour ago and was pleasantly surprised by the lovely scent AND how long lasting it was. I followed the instructions on the package and placed the tablet just right outside the reach of the hot water stream on the floor of my shower. It was so long lasting, I actually considered saving the second half for another shower but decided to treat myself to an extra long steam session to use it up instead. I'm looking forward to trying the energizing scents tomorrow morning. Bonus points: now my entire house smells like a spa! Highly recommended! 5 out of 5 stars!!" —Lacey J.

Get them form Amazon for $29.99.
3.
A white noise machine that will help you clam your mind if you find yourself overwhelmed with thoughts. It's programmed with six relaxing nature sounds (white noise, thunder, ocean, rain, summer night, and brook), an auto-off timer (set for 15-, 30-, or 60-minute intervals), and volume controls. Use this at night or during your midday power nap to be lulled to sleep.

Promising review: "A simple and portable device, easy to use. Add batteries or use the provided AC adapter. It has six pre programmed settings. During the day in my office i put it on the OCEAN waves sound. At night to shut off my brain I put it on the SOFT RAIN sound. It also has a timer to automatically shut off but I leave it on. Medications are not any more effective or in a lot of ways worse. Change the sound to thunder or white noise or a summers night to just RELAX after some stress. For what it offers peace of mind, you cannot beat the price and value." —David
Get it from Amazon for $17.59+ (available in three colors).
4.
A breathing Buddah for you to relax your body with color-coordinated, guided meditation. It glows green when you should inhale, purple for holding your breath, and blue for exhaling. This beats trying to find the perfect YouTube video or calming playlist to help you practice your breathing.

Promising review: "I have an anxiety disorder and this is helping me sooooo much. Obviously, I'm on supplements, medications, and have a balanced diet and sleep schedule so this isn't the ONLY thing helping my anxiety disorder. When my anxiety gets bad though, even with all of my other helping methods, I really don't feel like pulling up an app or searching a guided breathing session and then trying to find one I can stand. This guy is soooo handy, super simple, and literally turns on and starts guiding your breathing with the touch of a button. I love this tiny man so much. It makes the leftover anxiety that isn't controlled with all of my other methods manageable. Also, he's soothing to squish." —Hale

Get it from Amazon for $21.95.
5.
A zen garden kit that you can play in when you need to take your mind off of intense situations. It comes with a bag of sand, a rake, cherry blossom trees, stones, a lotus flower, a bridge, and more. Let go of your problems and focus on drawing in the sand.

Promising review: "I was actually very impressed with this. The picture I posted is how it comes, which is a very good presentation of their product. I am new to these "zen gardens" but have found that I really enjoy them to wind down and just relax. On the size, this zen garden is a little bigger than an iPad I'd say. I personally didn't use any of the decorations as I want room to just draw in the sand for now. This set comes with tons of tools to use and they are all super cool. I give this 5/5 stars and recommend it to anyone that enjoys calming activities like coloring, drawing, etc." —Globs

Get it from Amazon for $39.97.
6.
A meal planner if you need a little help getting your weekly schedule back on track. If you're tired of eating out just because it's quick, then you should try using this to prepare for the next time you go shopping.
7.
A hilariously entertaining coloring book to distract you from whatever is causing you to be stressed. The book comes with coloring pages that will remind you of some of your favorite Keeping Up with the Kardashians moments. Get out your markers and colored pencils and shade your stress away.

Pop Cult Paper is a small business based in Canada that sells pop culture greeting cards, notepads, and coloring books.

Promising review: "This was a funny little stocking stuffer, attached a small package of gel coloring pens. Gave my girls quite a chuckle. Definitely a good quality item and I'm glad I got them." —Wendy Child
Get it from Pop Cult Paper on Etsy for $9.54.
8.
A 2-in-1 essential oil diffuser you can use to make your space feel more relaxing. Enjoy scents and lights to help keep you calm while you work. It also doubles as a humidifier!

This color-changing diffuser and humidifier comes with seven mood lights, each of which can be used in bright or dim mode. It also has an auto-off feature, so it'll shut off once you run out of water. With any diffuser, you'll need an excellent variety of essential oils to really set the mood.
Promising review: "Love it!!! It was smaller than what I expected but I actually don't mind it. I love the size since I wanted it for my home office (which is a smaller room). I bought a lemon essential oil since I love the citrusy scent. Working from home and being on the phone so much stresses me out, and the lights actually help me to relax more and feel more calm. Also, I like the noise from the mist because I can't fully focus when it's too quiet, so the constant noise makes work a little better (at least for me!). I really recommend to give it a try. I'm sure this little baby won't disappoint you :)" —Roxana Tortorella
Get it from Amazon for $15.99+ (available in five colors).
9.
An adult swaddle for anyone loves a good snuggly feeling to help them de-stress and drift to sleep. The Sleep Pod mimics the feeling of a hug to give you a good night's rest. It's more breathable than a weighted blanket so you won't be drenched in sweat.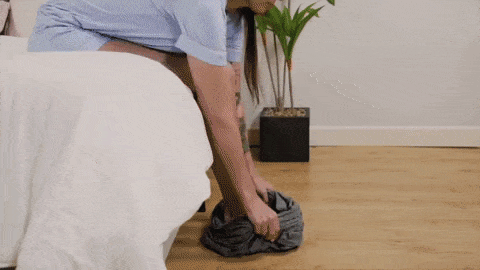 Promising review: "For a lifelong sufferer of miserable Restless Leg Syndrome, this is nothing short of a miracle! I was skeptical that the pod could help me, since nothing else has ever helped me, but I think since the pod contains my thrashing movements, I'm not waking myself up over and over at night. My dreams are typically very vivid and I usually don't feel like I had a chance to turn my mind off and disconnect. I think I am getting more REM sleep with the pod because I haven't remembered my dreams these past four nights. Also, I run hot so it's a pleasant surprise that the pod truly is breathable and not sweaty." —Jennifer C
Get it from Hatch Sleep for $79.99 (originally $119.99; available in three sizes). 
If you want to let your legs breathe, there's a new version called the Sleep Pod Move that uses the same compression technology but has at opening at the base so you can move while wearing it. You can also get the Sleep Pod Move from Amazon for $109.99+ (available in a hooded style and in six sizes).
10.
Some foam earplugs because you deserve a good night's sleep with no interruptions. Waking up feeling well-rested is an excellent way to start your day on a less stressful note.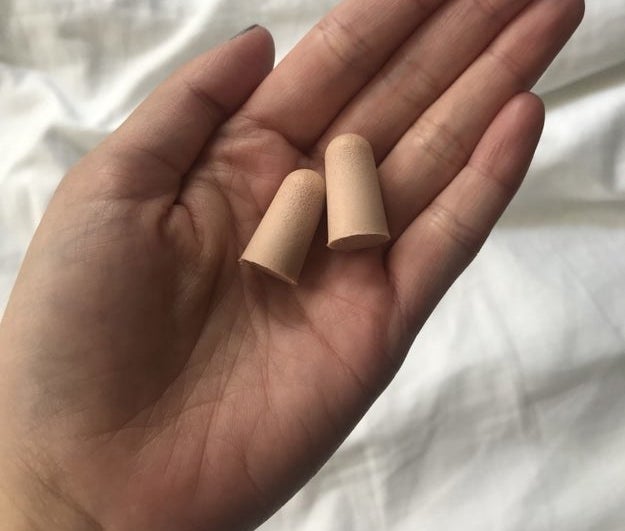 My BuzzFeed Shopping colleague Melanie Aman says: 
"I bought these earplugs to deal with noise coming from the restaurant below my apartment as well as downstairs neighbors who liked to hang out on their balcony (which was right below my bedroom window) and drink very loudly at 2 a.m. The white noise of the AC running wasn't enough to block out the sounds (and I'm not a super light sleeper), so I knew I needed something heavier duty. These didn't block every bit of sound, but they did a solid job, allowing me to sleep through the night without issue. I still use them at my new apartment because I am a glutton for punishment and moved into a prewar apartment with terrible sound insulation, two bars on either side of me, and neighbors with a patio who like to talk loudly at night."
Promising Review: "Got these because my boyfriend snores — loud — and I'm probably the lightest sleeper ever. Only time I get a good night's rest is when he isn't in bed. So one night at 3 a.m. I got fed up and looked for the best solutions and was not about to spend $250 on 'the best noise cancelling' earbuds. Got these, put them in. They cancel out a good amount, I can still hear the snoring faintly but when I have my phone next to me with a rain soundtrack playing it overrides his snoring. I also don't wake up to random sounds made by the dogs or the dishwasher or the wind or other small things that would usually rip me out of my sleep. I've had these for maybe three nights, slept entirely through one, and only woke up once or twice the other nights but not due to sound. They help me fall asleep and best of all keep me asleep. 1000/10." —Saxon
Get a bottle of 50 earplugs from Amazon for $8.99.
11.
An adorable ceramic incense-holding frog because there is something so soothing about watching smoke designs rise from an incense stick. And it's a million times better when an adorable little frog is holding the stick!

12.
A relaxing three-tier tabletop water fountain to keep you calm while you face those work deadlines. It has a built-in pump that automatically circulates water, and is turned on and off with the flick of a switch (when plugged in). Use it to unwind after a hard day, when drifting off to sleep, or during your meditation sessions.

13.
Some Apple AirPods (or upgrade to the Pro version!) for those moments when you need to drown out the world, and maybe listen to white noise, sound bowls, or relaxing elevator music to calm your nerves. You can also ask Siri to call your favorite person, so you can distract your mind.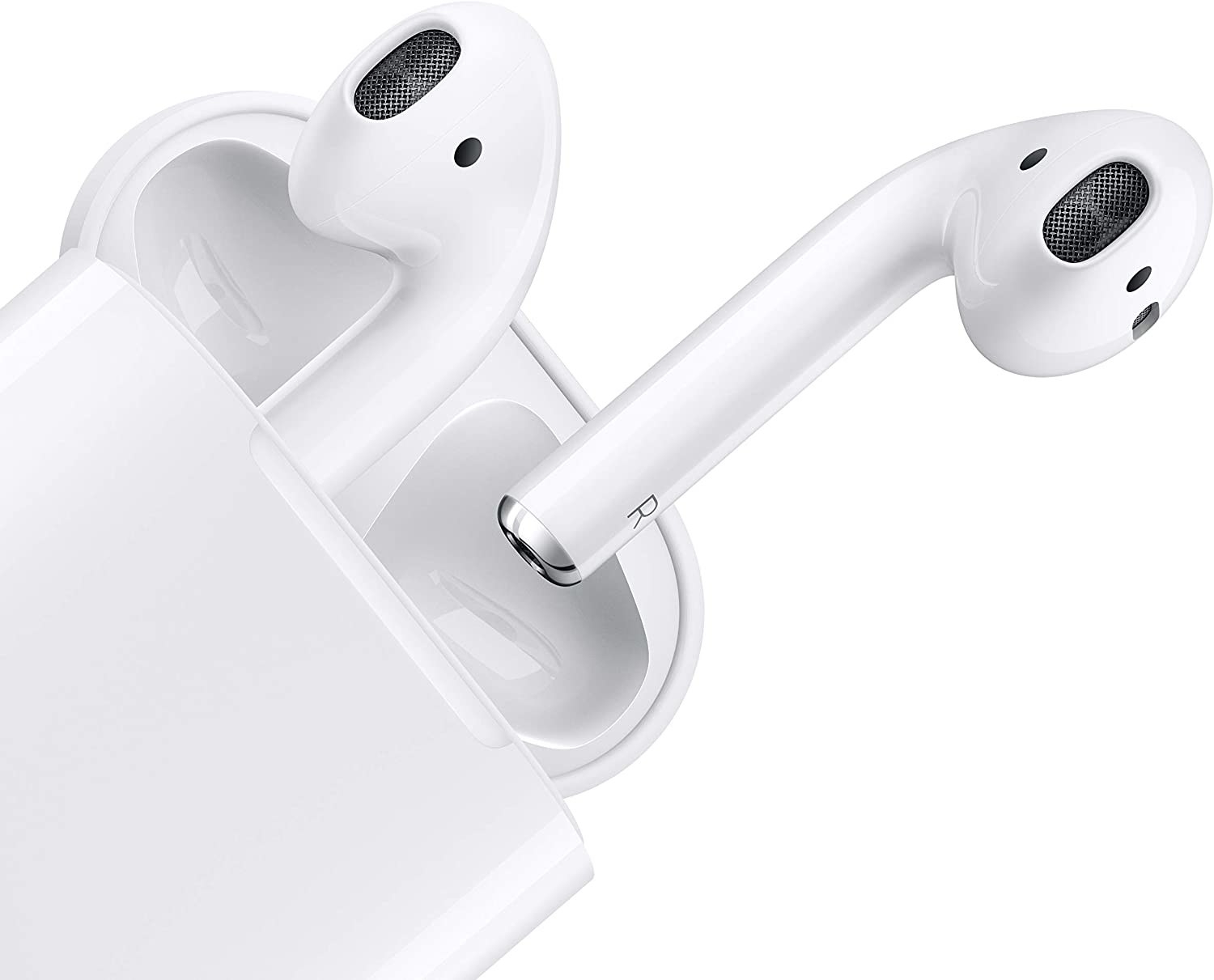 Promising review: "Excellent, pretty useful, easy to use, and reliable. At first I had some doubts about it being reliable to my Mac as some Bluetooth speakers sometimes cut off, but these work great and are really comfortable to my ears. Aesthetically, they look great to me. Worth every penny." —Ivan
Get them from Amazon: the AirPods for $99.99.
14.
A simple mug warmer so your coffee, tea, or cocoa can stay nice and hot. Treat yourself to something warm and soothing to help release the tension from your body.
This mug warmer does *not* have an auto-off feature, so we recommend also getting an auto-off outlet, like this one from Amazon for $16.95, if you're prone to forgetting to unplug things.
Promising review: "I like a good cuppa joe. My first one goes down quickly, but I like to leisurely enjoy the subsequent one (or two or...), and really no one likes a room temp coffee. (So why is it a room temp coffee tastes cold, but a room temp soda tastes hot?). Enter this good ol' time Mr. Coffee mug warmer. Keeps hot things hot, just like it should. The cord is sufficiently long so I do not need an extension cord. The on/off control switch is mounted on the top of the unit and not on the power cord like some. It slowly builds in temp but after 10 minutes or so, it is at temp and keeps coffee at a hot enough temp for enjoyment — toasty warm but not scalding." —Chuck & Karen
Get it from Amazon for $14.49.