Baked Avocado Tacos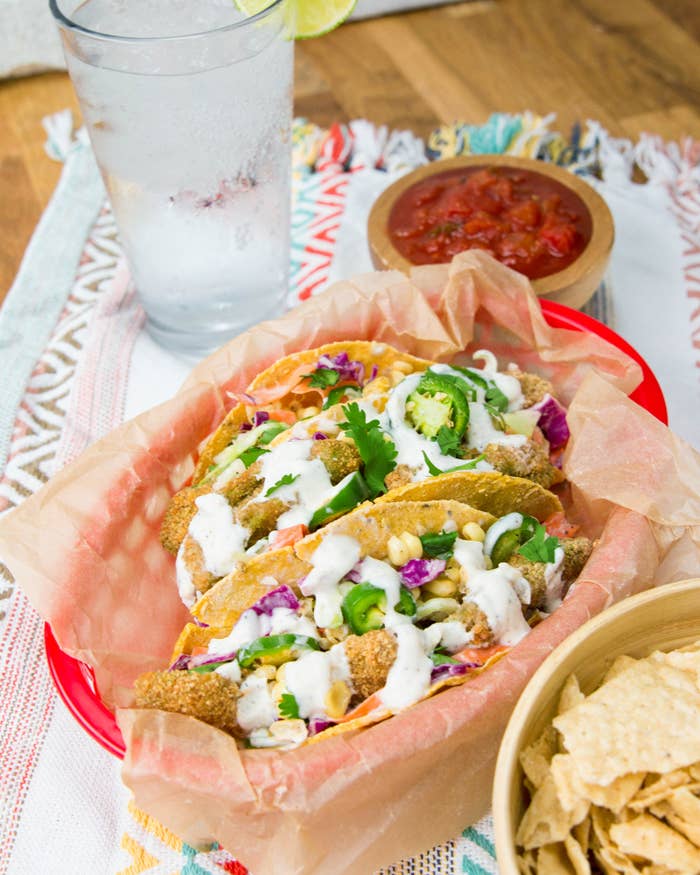 INGREDIENTS
½ cup whole wheat flour
½ teaspoon salt
¼ teaspoon pepper
2 large eggs
1½ cups whole wheat bread crumbs
½ teaspoon paprika
½ teaspoon garlic powder
½ teaspoon cumin
2 firm avocados
¾ cup plain yogurt
¾ teaspoons salt
½ teaspoon pepper
3 cloves fresh garlic, finely minced
1 lime, juiced
½ cup green cabbage, finely sliced
½ cup red cabbage, finely sliced
½ cup shredded carrots
1 pack corn tortillas
PREPARATION
1. Preheat an oven to 350°F (175°C)
2. Add the flour, salt, and pepper to a bowl and whisk to combine.
3. In a separate bowl, crack the eggs and whisk.
4. In a third bowl, add the bread crumbs, garlic powder, cumin, and paprika, and whisk to combine.
5. Halve the avocados, cutting from the stem to the base. Remove and discard the pits. Cut each half into ½ inch-wide slices then remove and discard the skin.
6. Working with one avocado slice at a time, dip in the flour mixture, then egg, and finally bread crumbs, making sure each are fully coated.
7. Place the avocado slices 1-inch apart on a parchment paper-lined baking sheet.
8. Transfer the baking sheet to the oven and bake for 10 minutes. Flip the avocados and continue baking until golden brown, 10 to 15 more minutes.
9. In a medium bowl, mix together the yogurt, salt, pepper, garlic, and lime juice. Cover and refrigerate until you're ready to serve.
10. Add the red and green cabbage and the carrots to a large bowl, then stir in half of the yogurt sauce until well combined.
11. Remove the baking sheet from the oven and let the avocado slices cool 2 to 3 minutes before serving.
12. Place three avocado slices on a single tortilla and top with slaw and toppings of your choice.
13. Enjoy!