Realization
These moments of realization make me wonder what it would be like to walk in someone else's shoes—someone who couldn't afford groceries, copes with a fatal illness, or battles a drug addiction. Better yet, what is it like to be the hero in that story—the person who comes to the rescue when times are the most difficult? How does it feel to know you're truly making a difference in the world?
Almost as an answered prayer, Wanda Crowe walked in as I waited tables on a Wednesday evening. We talked about our jobs, and Wanda informed me of how much she loves hers. She told me she was an addictions counselor at ShareHouse, a facility for drug and alcohol addiction recovery.
Her job immediately sparked my attention. What was her career like? One where someone else's life was in your hands, so to speak. Wanda told me everything I wanted to know.
About ShareHouse
ShareHouse provides resources and support for people with chemical dependencies, allowing them to "achieve their full potential, enhance their quality of life, and promote meaningful participation in family and community."
ShareHouse consists of five facilities: ShareHouse, Inc., the main outpatient center, Genesis and Transitions Mental Health Center, for dual diagnoses—people with mental health issues and chemical dependency issues, Robinson's Recovery Center, a facility that started as residency for the meth program, Sister's Path, housing for women and children (includes day care), and Stepping Stones, a residency for women and children, similar to Sister's Path, located in New York Mills.
"We really strive to serve people… and we want to help," Wanda explained. "We're not going anywhere, we've been here 40 years."
A Day in the Life of an Addictions Counselor
Wanda, now a licensed counselor in Minnesota, North Dakota, and Michigan, obtained a Bachelor's degree in Human Services and Psychology, but she would have never been able to tell you this is where she'd end up with her degree.
"To be completely honest with you, I fell into it," she admitted. Wanda began her career in family therapy, took a job with an adolescent addiction program that led to child protection counseling, and eventually adult chemical dependency. She now has 19 years of experience in the industry.
Her role today as an addictions counselor involves facilitating evening group sessions for the intensive outpatient program (IOP). Ten to 14 people attend three times a week.
During the meetings, Wanda covers several questions, including:
* Addiction: What's your drug of choice? How has your addiction progressed? How long been using? How many days have you been clean and sober?
* Physical Expenses: How much money have you spent—and not just on the addition, but on DUI charges, treatment costs, gambling, etc.?
* Non-Physical Expenses: What relationships has it costed you? How have your children suffered? How has your education (high school or college plans) suffered?
* Gratefulness: What are you grateful for? "When they first come in they don't know," Wanda said. "Well, did you get up today? Yep? Well, that works."
* Positive Affirmation: What is a positive affirmation about yourself?
Through group, Wanda aims to teach.
"People in the group think alcohol and drugs are the only addictive issues… It can be gambling or it can be food—there's a gamut of things—exercise, work," she explained."They ask me, so what are your addictions? And I say, 'Ahh… coffee, shoes, and chocolate.' Which they laugh at me and say that's not really an addiction, but it can be."
In the last few weeks of the program, Wanda requires each patient to write a letter to their drug of choice—a goodbye letter. "By that time, they should be clean," she said. "But it's a disease so it's prone to relapse." In the letter, each individual looks at the past and present, and where they would like to see themselves in the future.
"They don't know it when they're doing it, but I always take a copy," Wanda said. "After they complete programming a month later I'll mail it to them—just to remind them of where they've been and the promises they've made to themselves."
Underneath the addiction, there's a person.
Wanda also facilitates evaluations for chemical addictions (Tuesdays are for walk-ins). The evaluations can last for an hour and a half to two hours.
"When I first started working in this field, we talked about the addiction only," Wanda said. "We've really progressed and grown over the years and now we look at six different dimensions. We want to make sure we are treating the whole person, not just the addiction. Underneath the addiction, there's a person."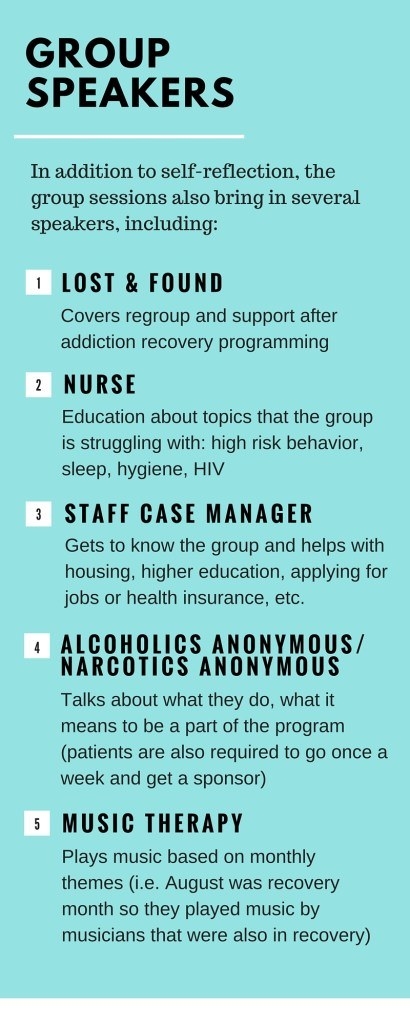 Lessons Learned
You can imagine Wanda may have learned a few things about herself, addiction, and life over the last 19 years. But she's quick to admit, "I'm fallible. Addiction can touch your own life and you don't even know it." While Wanda's addictions may not be chemically-related, she has seen the diversity in addictions and how society views drug and alcohol addicts.
As for addiction, "Nobody's immune," Wanda said. Those two words struck me like I'd been hit like a bus. "It doesn't matter how much money you make. It doesn't matter what family you were brought up in—nobody's immune." Even the seemingly happiest of people can be caught by addiction.
Nobody's immune.
Wanda has also learned a lot about life. "Major life things happen to us," she explained. "Maybe you lose a spouse or have been married 40 years and get a divorce. Or you retired and it's not what you wanted. We've learned that addiction in the older population is prevalent because people don't know how to deal with those major life-changing issues. So you find the thing that works for you, numbs you, makes you feel better, whether it's healthy or not. Some people gain 30 pounds and some people go to the bar every night."
And it's true. When we trip and fall, we turn to the thing that will make us feel better. Whether it's chocolate and junk food, a loved one, work, or addictive chemicals—we all deal our own way. "I'm very direct with people, and not in a harsh way, but respectfully direct," she said. "Because you have to be if you want to help people make change."
The Hardest Part
After hearing about her experiences and all she has done to serve others, I thought to myself, doesn't she burn out? This has to be a hard job.
Wanda admitted that one of the hardest parts is the tie that she develops with her patients. "We get to know our folks when they start coming to group. You want the best for them," she said. In the end, no matter what recommendations Wanda gives them, her patients can choose for themselves what they think is best for their health. Wanda's job is to support them.
"I'm going to be here," she tells them. "There will be a program here and if you don't deal with some of this stuff, you will be back. You know, the deeper-seated stuff—the shame, the guilt, and the resentment of things."
Sometimes it's not great. Sometimes there's an obituary in the paper and we cry in our staff meetings.
Wanda's believes the actual addiction is 10 percent of the problem. The remaining 90 percent are the feelings that we don't deal with. Though she tried to sugarcoat her feelings at first, Wanda's eyes showed me the truth. They glistened as she said, "Sometimes it's not great. Sometimes there's an obituary in the paper, and we cry in our staff meetings because… it's sad. People die. People are dying from this addiction."
We're human and it gets hard sometimes. We get scared for our folks.
At Last, Fulfillment
As with any job that comes with struggles, we hang around for the part that puts a smile on our faces. When I asked Wanda what the most fulfilling part of her job was, her eyes lit up. "When somebody gets it… and then passes it on," she said. Wanda provides her patients with the skills and resources they need, but ultimately they need to figure it out for themselves.
"It's so good because [the group] learns from each other. Sometimes I feel like the change agent, and I'm just there to keep things flowing in the group." The diversity between age, gender, prison status, and recovery point all contributes to each individual's learning.
To those looking to pursue a similar career, Wanda said, "It's rewarding, humbling, and you don't have to have been an addict." Some have asked her, "If you don't have an addiction, how can you do this job?" Her response? "Well, I'm pretty sure a cardiologist doesn't have to have heart surgery to be a cardiologist."
In the end, Wanda reassured me that her job is indeed rewarding. She is nothing short of a hero. "If you have a passion for others and you want to give back, do it. You never know what your scope of influence is," Wanda said."You may be making a difference and you don't even realize you're doing it."
Wanda, you are making a difference, and I applaud you. You are the type of person who makes this world a better place.
This post was created by a member of BuzzFeed Community, where anyone can post awesome lists and creations.
Learn more
or
post your buzz!