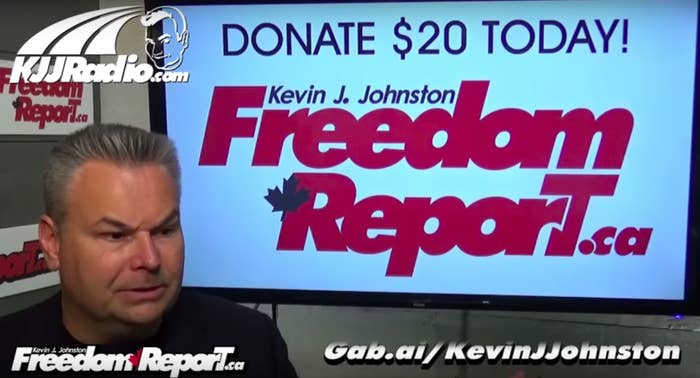 Kevin J. Johnston may be facing criminal charges for promoting hatred against Muslims in Canada, but that, apparently, hasn't stopped him from travelling to Myanmar to comment on the plight of the Rohingya Muslim minority, who the UN says are facing ethnic cleansing.
The bizarre saga comes as the the Myanmese government faces pressure from the international community to stop the violence against its Rohingya population, and to allow the safe return of thousands who have fled to neighbouring countries.
Yet the government has been less than cooperative, and operating in the northern Rakhine state where much of the violence has occurred has been difficult for journalists and human rights monitors. Two award-winning Reuters journalists are currently sitting in a jail cell, facing jail time for their work uncovering human rights abuses.
And yet Johnston, who runs a small radio and YouTube channel — where he usually obsesses over the presence of Muslims and mosques in his native Canada — has been welcomed by the Myanmar government.
Johnston's videos have no more than a few hundred views each, and he remains a relatively marginal figure, but he has nevertheless been invited on as a guest for alt-right conspiracy sites like InfoWars and the Rebel.
In an interview with BuzzFeed News, Johnston insisted that he covered the expenses himself, and that, while he met with various government and military officials while in the country, it was an independent trip.
Johnston said the state military provided him with access to the country's ravaged north, and also told him where not to go. "Because the army generals there were familiar with our work, they let us in there," he said.
Johnston rejected the idea that he was used to spread state propaganda, insisting that the government allowed him to the closed-off part of the country because he was the only person willing to tell the truth in the region. He insisted that the United Nations, Reuters, and a variety of other independent actors in the region were beholden to Saudi Arabia, Islam, or were otherwise invested in discrediting the Myanmar government.
The consensus among all credible international observers is that the state military has led a brutal crackdown in the northern Rakhine province in recent months. Medicins Sans Frontieres estimated at the end of 2017 that the death toll had climbed to as high as 13,000 in just a matter of months.
"We are the only journalists allowed into Burma, and we're going to get to the bottom of this Rohingya story once and for all," Johnston said in one video. "We have been treated like gold everywhere we have gone," he says in another.
Johnston headed to Myanmar, accompanied by San Francisco–based musician Rick Heizman. The Daily Beast reported on their visit Wednesday, looking more closely at Heizman's background as a de facto spokesperson for the troubled nation's government.
While Heizman has long had an interest in the Southeast Asian country, Johnston's motivation is less clear.
Johnston was charged with promoting hatred last year by Ontario police after a lengthy investigation and a litany of complaints about his radio and YouTube show, the Freedom Report, which has peddled in a variety of myths and falsehoods about the province's Muslim population.
His most infamous episode issued a $1,000 bounty for anyone who could record a video of students at a Toronto-area high school "spewing hate speech" during Friday prayers. Johnston has little to no following in Canada.
Which makes his trip to Myanmar all the more perplexing.
In hours of rambling video posted from his trip, Johnston jumps around from giddy excitement over his trip to decrying the "fake" hate crime charges against him, to contending that the international reporting on the ongoing crisis in Rakhine is "fake news." He lays blame on the media and the United Nations for propagating lies about the situation in Myanmar, instead insisting that everything is fine in the country, based on his tour.
In his videos, Johnston repeatedly accuses the Muslim minority of a litany of crimes, echoing the sentiment of the government, which insists most Rohingya — who have been excluded from citizenship in Myanmar since 1982 and are often referred to as undocumented immigrants from Bangladesh — are terrorists. He also pulls out a variety of anti-Islamic sentiment tropes regarding "no-go zones" and Shariah law.
The real danger is that the government may use Johnston as a tool, says Amarnath Amarasingam, a security researcher and postdoctoral fellow at the University of Waterloo.
"Inviting someone like Johnston to Rakhine state is deeply problematic," Amarasingam told BuzzFeed News. "It shows that the Burmese government isn't really interested in showing the world what is really happening. Instead, they want someone who they can use and manipulate to pass on a choreographed message to the outside world."
A GoFundMe page set up to fund a documentary by Johnston about his trip appears to have been removed from the site.