The Softest Frosted Sugar Cookies Ever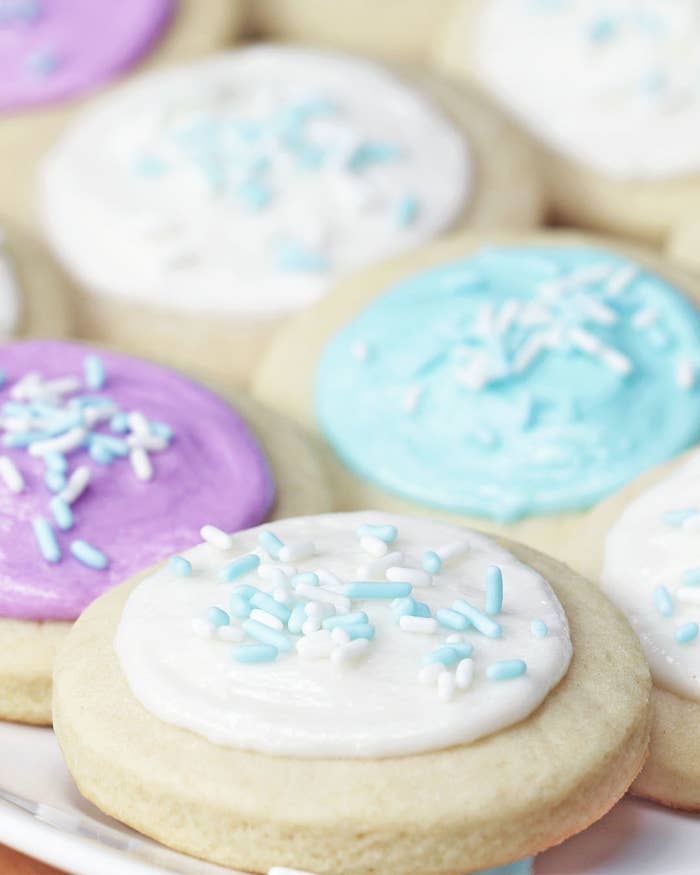 INGREDIENTS
Cookies
3½ cups flour
1½ teaspoons baking soda
¼ teaspoon salt
¾ cup sugar
1 cup unsalted butter, at room temperature
1 egg
½ cup sour cream
1 teaspoon vanilla
Frosting
½ cup unsalted butter, at room temperature
2 cups powdered sugar
2 tablespoons milk
PREPARATION
1. Preheat oven to 300˚F (150˚C).
2. In a bowl add the flour, baking soda, and salt and whisk to combine.
3. In a large bowl, add the butter and sugar and cream together using a hand mixer until light and fluffy, about 5 minutes.
4. Add the egg and mix until fully incorporated. Add sour cream and vanilla and mix until creamy.
5. Add the flour mixture, one third at a time, until fully combined. Shape the dough into a rectangle and wrap in plastic wrap.
6. Chill dough for 1 hour in the refrigerator.
7. Remove the plastic wrap from the dough and lightly flour an even surface.
8. Roll out dough about ½-inch thick. Cut out circles using a glass or cookie cutter.
9. Transfer cookies to a parchment paper–lined baking sheet, leaving about 1-inch in between cookies.
10. Bake for 8 minutes until bottom is golden brown, and the top of cookies are pale.
11. Let cookies cool on pan or wire rack.
12. In a bowl, beat the butter until fluffy with a hand mixer. Sift in powdered sugar and mix until incorporated. Add milk and continue to beat until mixture is smooth and velvety.
13. Frost cookies and decorate as you wish. Enjoy!