Chili Cheese-Stuffed Tots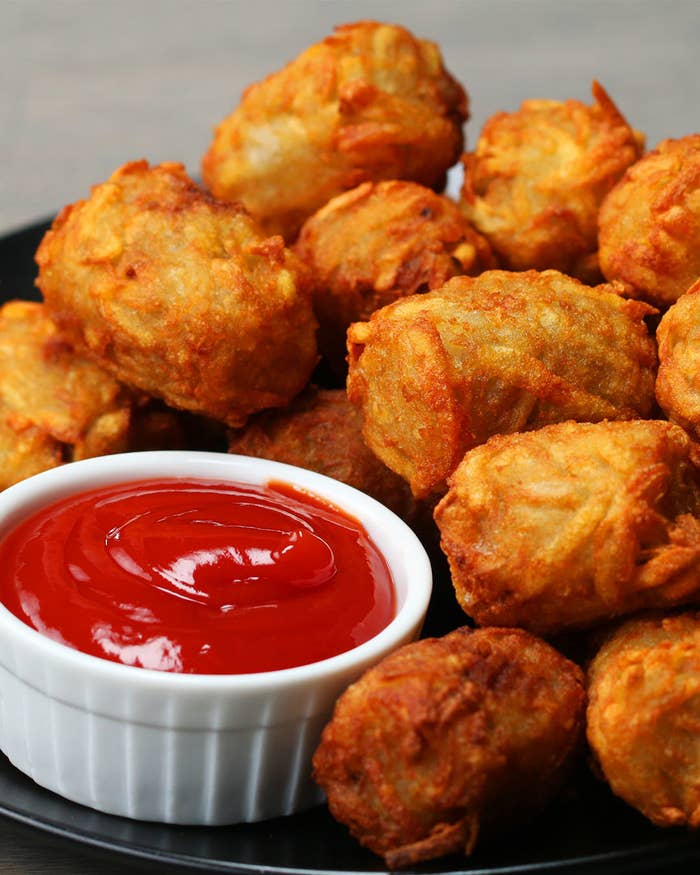 INGREDIENTS
1 pound ground beef
½ teaspoon cayenne pepper
1 teaspoon cumin
1 teaspoon onion powder
1 teaspoon garlic powder
1 teaspoon pepper
Salt to taste
⅓ cup ketchup
4 cups grated potatoes
2 tablespoons flour
8 ounces cheddar cheese, cubed
Oil, for frying
PREPARATION
1. Heat a pan over medium-high heat. Add the ground beef and break up into smaller bits using a spoon or spatula.
2. Add the cayenne, cumin, onion powder, garlic powder, pepper, and salt, then mix until evenly incorporated.
3. Add ketchup. Mix thoroughly allowing beef to cook all the way through.
4. Remove the pan from heat, and drain excess fat.
5. Add the grated potatoes to a bowl, and add in the flour and 1 teaspoon of salt. 6. Stir to combine.
7. Using the palm of your hand, spread 1 tablespoon of the potatoes into a thin pancake.
8. Add 1 teaspoon of the beef, then press a cheese cube into the middle. Fold potato over beef and cheese, then create a fist around the tot while using your opposite hand to flatten both sides, creating the cylindrical tot form.
9. Heat vegetable oil over high heat until temperature reaches 360˚F (182˚C).
10. Fry the tots in batches for about 5 minutes, until golden brown.
11. Transfer fried tots to a paper towel-lined plate to drain. Serve immediately.
12. Enjoy!