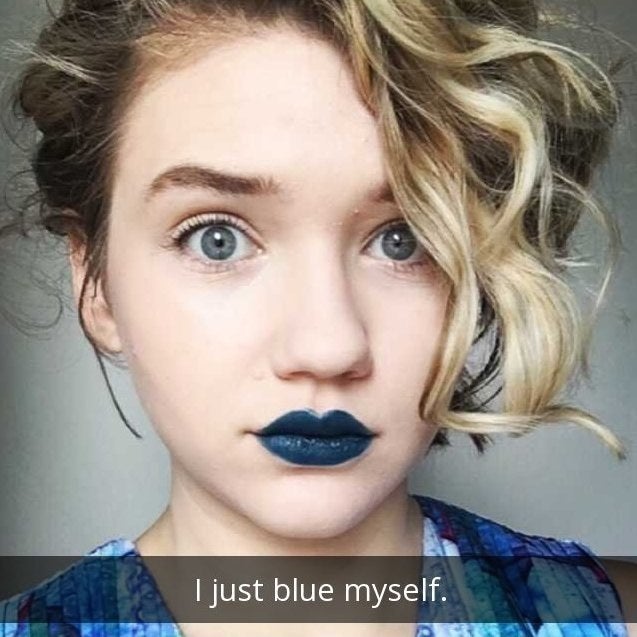 I 👏 love 👏 lipstick 👏. If I'm not wearing it, I'm probably ill. BUT, I tend to stick to reds, pinks, and burgundies. I ~want~ to try all sorts of colors, but I get self-conscious about how it'd look on the pale corpse color of my skin and get stuck in a beauty rut. So when it came to this gorge blue Make Up For Ever lipstick, I was like OK LET'S DO IT.
This lipstick goes on like a dream. The formula is gr8 — super pigmented and not cakey or drying at all. The pointed tip makes it really easy to apply, and I didn't have to fix any edges with a lip brush. And the vibrant color lasts and lasts, so you don't have to touch up on the hour.
And as for the blue? I kind of felt like a glam Tobias Fünke (hence the Snapchat). I don't know if it'll replace my favorite reds, but it was fun to go a little out of my comfort zone. The cream formula is so great, I definitely want to try this lipstick in basically every color (it comes in 45!). —Maitland Quitmeyer
Get one at Sephora for $22.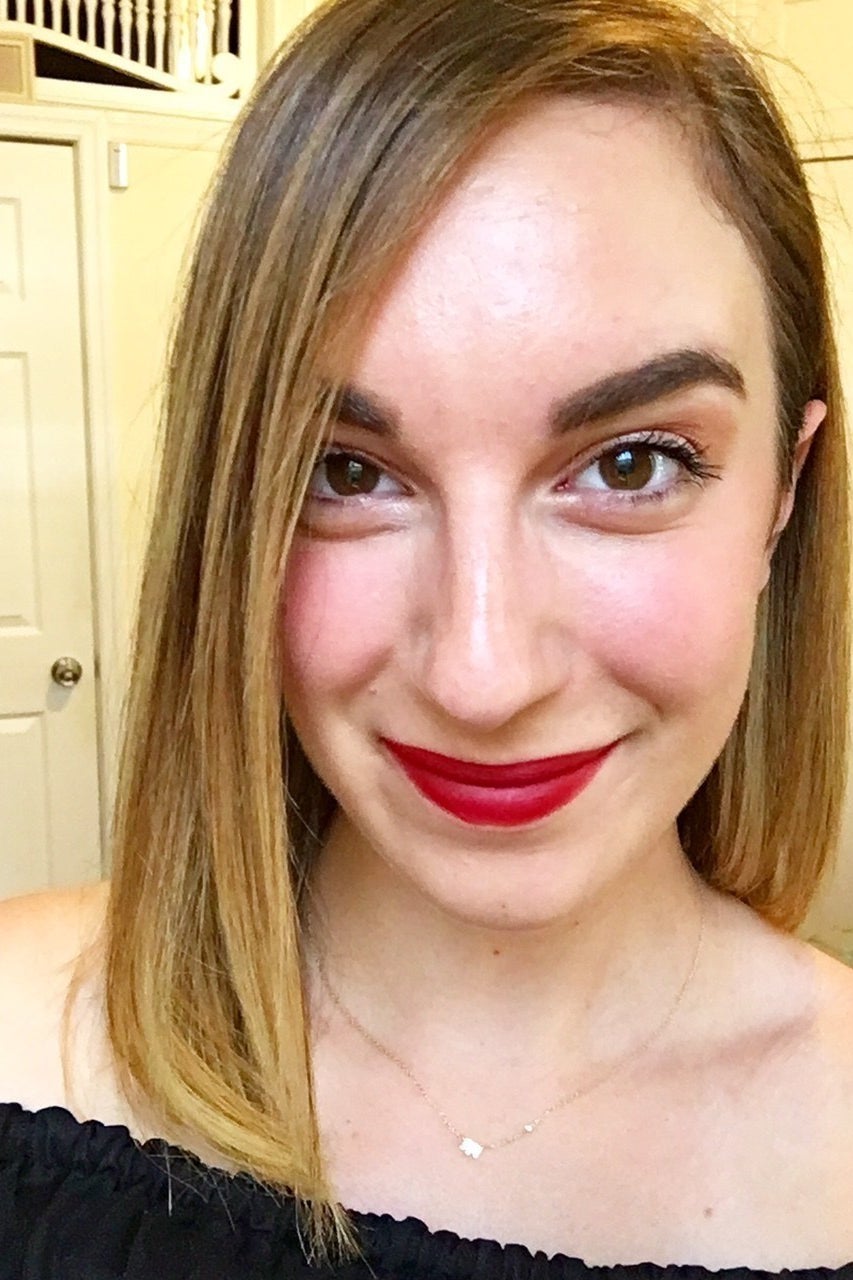 Over the last 10 years or so, I've spent so much time testing and experimenting with lip colors that I've physically carved out space in my shoebox-sized apartment to make a permanent space for them. In fact, if I went home tonight to find my apartment door swung wide open, valuables strewn about in the clear aftermath of a break-in, the first place I'd check for damage wouldn't be my TV stand or my laptop sleeve. It would be my lipstick bin.
While I've (almost) never turned down trying a new product, it's rare that a lipstick will find a permanent home in my home. The Bite Beauty Multistick is officially on my lease. It's not technically a "lipstick" but a "multistick," a creamy, pigmented tube of color that's designed to be applied on your lips, cheeks, eyes, wherever. Personally, I just wear this shade — it's called Mochi — on my lips and cheeks, but do whatever makes you happy, fam.
To apply this on my cheeks, I dab the stick of the product onto the apples of my cheeks about three times, then blend with my fingers to blur any lines or splotches. The color is buildable and blendable, but also manages to stay put once you've done your applying. On my lips, I apply it the same way I would lipstick: Swipe, swipe, smoosh. As a lipstick, it manages to hug your lips without making you look very ~made up.~ After a few drinks and food, you'll need to reapply, but the fresh application will blend right in with the first, which makes the whole process feel like a non-issue.
The best part of this stick is how low-maintenance it is. It's one product that works in a few different ways, it's easy to apply, it's small enough to fit in your purse and to take on vacation. Yes, every lipstick can be applied to your cheeks too, but the formula on this multistick really lends itself to delivering on the promise of working well in multiple ways. Oh, and it's available in 18 different colors, so you're bound to find a shade or two you'll want in your apartment. —Augusta Falletta
Get it at Sephora for $24.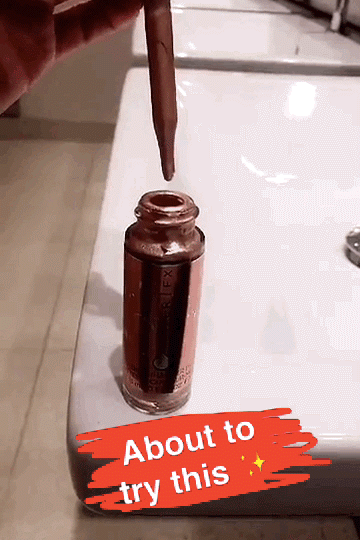 I don't really understand the whole highlighter craze. Maybe it's because I look like I'm constantly wearing natural highlighter (aka sweat), and I don't think it's a cute look on me. But I decided to give these drops a chance because they seemed a little different than all the other kinds of highlighters I've tried in the past. The instructions say you can add these to your favorite foundation, primer, serum, and moisturizer. I put one drop on my hand to see how shimmery it actually was, and holy cow, SO MUCH SHINE! I was a little intimidated by it, tbh.
I mixed two drops with my liquid foundation and prayed that my face I didn't look like a disco ball. IT DIDN'T. It gave me a very subtle bronze tone that my foundation alone doesn't give me, so that was nice, but it wasn't all that noticeable. I decided to embrace the highlighter revolution and I put an extra drop on each cheekbone. It looked PERFECT. Shiny but delicate at the same time. I really loved it and would definitely wear again. It's a little pricey, but a tiny drop goes a long way, so I think it's worth investing in. —Daniela Cadena
Get it at Sephora for $42.
Here's how it looks on me: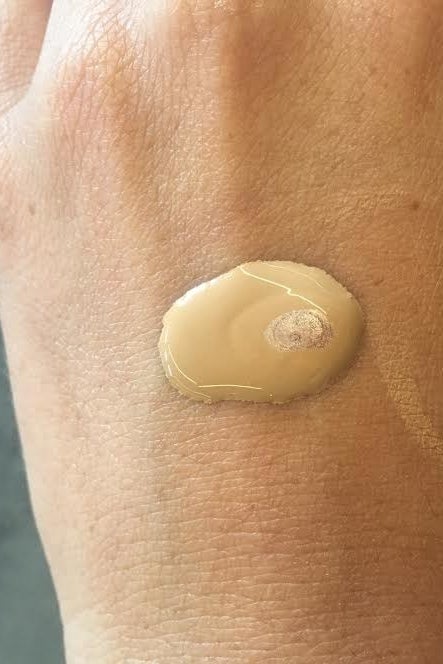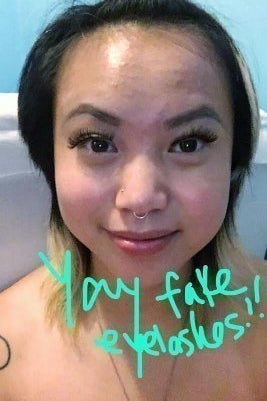 As someone who's never worn fake eyelashes before, I was scared of putting these on since I've always imagined that fake eyelashes would look ridiculous on me. But these House of Lashes kits were pretty easy to apply, and they made my eyes look so much prettier! Not that I wanted to admit it, but my eyes with fake lashes seemed bigger, bolder, and obviously more seductive. Even though it felt like I had mini curtains over my eyes, the lashes weren't heavy enough to weigh them down. "Timeless" was the easiest to apply and "Everlasting," with its tousled lashes, was the most challenging. None of them took longer than five minutes (remember, this is coming from someone who's putting on fake eyelashes for the first time).
As for the glue, it was strong enough to quickly attach the lashes to my lash line but it wasn't powerful enough to rip out any of my natural lashes, which was a prior concern of mine. The only thing I didn't like about the glue was that it left a sticky residue on my eyelids for a while even after I washed them. I'm not sure I'd wear these often or wear them for more than a couple hours, but I definitely liked how they looked. As for how they felt? Still undecided. I'd say, if you want a heart-stopping, spine-tingling photo for your Tinder profile, then absolutely put these on. —Christina Lan
Get them at Sephora for $14.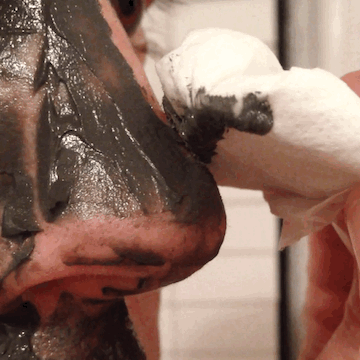 Apologies in advance for all the Harry Potter references. I'm not typically a huge fan of face masks. At best, they can make my skin feel as if I had just washed it a la my normal skin-care routine, which doesn't involve me not trying to touch my face for 15 minutes straight while my skin gets tight AF. LIKE, I'M HERE FOR CLEAR SKIN AND NOT TO FEEL LIKE I DRANK POLYJUICE POTION, PEOPLE.
For this reason, I am pretty excited about the Dr. Brandt Skincare Magnetight Age-Defier mask. The kit includes a silky black cream mask, a small plastic spatula, and a triangular magnet. The application is super simple: Use the spatula to apply an even layer of the cream mask, let sit for five to ten minutes, and then LET THE MAGIC BEGIN. You wrap the magnet (it's essentially the Resurrection Stone) in a tissue and then use it to remove the mask. Mask removal can be super messy (especially if you're like me and you hate washing your hair and you end up with shit all in your hairline), but the magnet literally attracts the magnetized face mask to it so it comes off super easily. The result: Your skin feels crazy smooth (kind of like after you use a mattifying face primer and your skin *feels* like how your photoshopped skin would *look*).
It's basically dark magic — someone, hide it in the Forbidden Forest ASAP. —Alison Caporimo
Get it at Sephora for $75.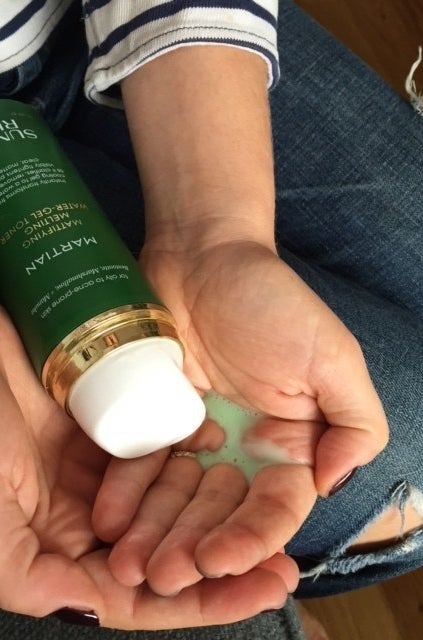 I am solidly in my thirties, and would like to say that I'm well past getting acne, but hahaha NO. My skin, especially in the summer, can be super oily and gross, and especially prone to zits. So. Infuriating.
So I was especially excited to try Sunday Riley's Martian Mattifying Melting Water Gel Toner. The summer sweat cycle was really getting to me, and my breakouts were viciously nonstop. So how does this stuff work? The toner contains bentonite clay, which mattifies and reduces pore size, along with marshmallow and green tea, which is supposed to cool the skin. You clean your skin, and then apply the toner. It'll feel pretty cool, and almost stings the skin, but only eventually as it settles into your face. It apparently works by using witch hazel to tone, while black cumin and magnolia bark provide antibacterial properties.
I tried this product as a base underneath my daily makeup routine, and it did work really well as a mattifier, but I can't say it did much in the way of helping to clear up my acne stuff. That's where Sunday Riley's U.F.O. Ultra-Clarifying Face Oil comes in. It contains 1.5% salicylic acid, and is a completely different way of treating acne. Because it's an oil, it won't dry out your skin the way most other acne treatments do. Used in combination with the water-gel toner, it'll make your skin feel clean and dry. I used the mattifying toner first, and then spot-treated my acne with the face oil after. After a couple of weeks, my skin was in impeccable condition. —Julie Gerstein
Get them both at Sephora for $55 and $80.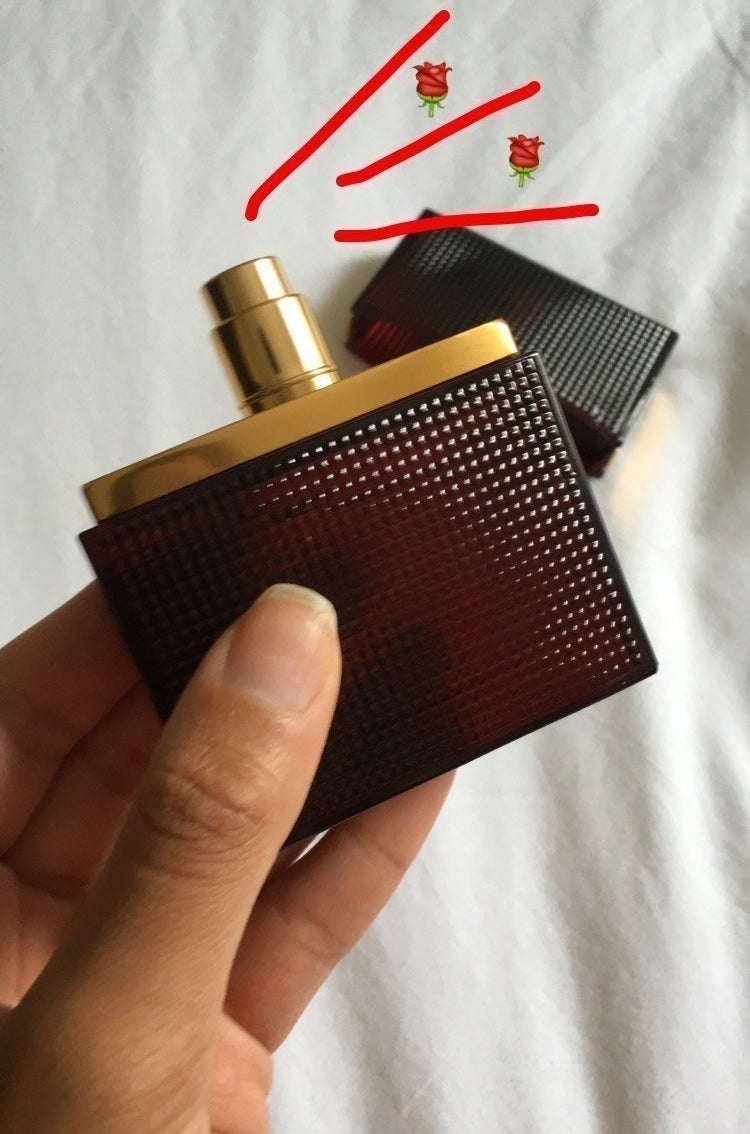 Despite what I was expecting, I am happy/disappointed to report that neither of the newest perfumes (which, I have to say, come in some of the ugliest bottles I have ever seen) from the Olson twins' Elizabeth and James line smell like cigarettes and money.
I knew that the Nirvana Rose perfume could have gone either way; I'm not one of those people who hates all rose fragrances, but I don't love them all either. Nirvana Rose turned out to be a super-light floral that I liked much better than I expected. (It definitely doesn't have the powdery "old lady" smell that is often associated with rose, so even rose haters might want to give it a try. It reminds me a lot of Stella — which I think of as a classic rose scent — but a bit lighter. However, NYMag.com counters that it smells nothing like roses, so... ¯\_(ツ)_/¯ Regardless of whether or not it smells like actual roses, it's definitely a very light and pretty floral.
Onto the Nirvana Bourbon, which Sephora says is "a provocative blend of sultry vanilla bourbon, oakwood, and a hint of tuberose ... a bold, oriental-woody scent with intoxicating confidence." As someone who recently purchased a liter of bourbon at Costco (DID YOU KNOW THAT WAS A THING?! I DID NOT, UNTIL TWO MONTHS AGO!!) I'm pretttttty sure I know what bourbon smells like. This perfume doesn't smell at all like bourbon, which is A-OK with me. It mostly just smells like a nice, warm vanilla. I wore this one all day and it took me a while to decide how I felt about it. Finally I concluded that I didn't love it on me, but I know that if someone else were wearing it, I'd be like, "Wow, you smell great! What are you wearing?" and would totally mean it. It's objectively good, but not really me.
For the next Elizabeth and James fragrance, I vote for pizza. —Rachel Wilkerson Miller
Get Nirvana Bourbon and Nirvana Rose at Sephora, $85