Amazon Is Selling A Pro-Anorexia Novelty Shirt And The Internet Is Not Happy
Warning: This post contains discussion of eating disorders.
People are upset after discovering that Amazon is selling a hooded sweatshirt that reads "Anorexia: Like bulimia except with self control."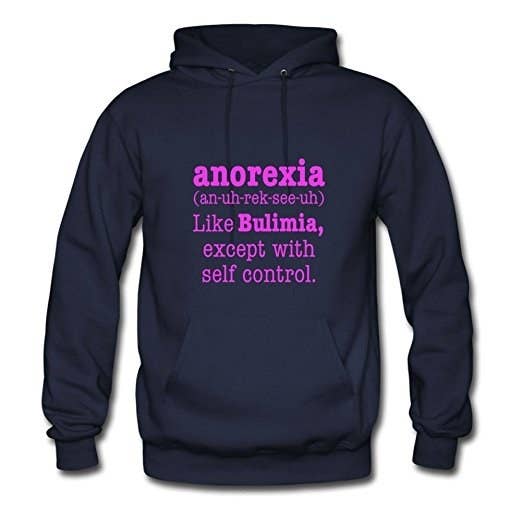 The shirt, which retails for $24 to $32 (depending on size), has been sold on the site since 2015 but only recently gained notice.
Predictably, people are deeply unhappy about the shirt, and are leaving critical reviews on the seller's page.

Claire Mysko, CEO of the National Eating Disorders Association, told BuzzFeed, "Jokes about eating disorders are dangerous and cliché. This hoodie propagates the myth that eating disorders are trivial and mere issues of willpower or self-control."
"Stereotypes like this result in increased stigma and are barriers that prevent people from seeking help. Anorexia is not a 'lifestyle choice,' it is a mental health disorder with socio-biological influences. We ask that Amazon stand with
those affected by these deadly illnesses and remove the sweatshirt from their store."
BuzzFeed has reached out to Amazon for comment.