1.
Larry King, host of Larry King Live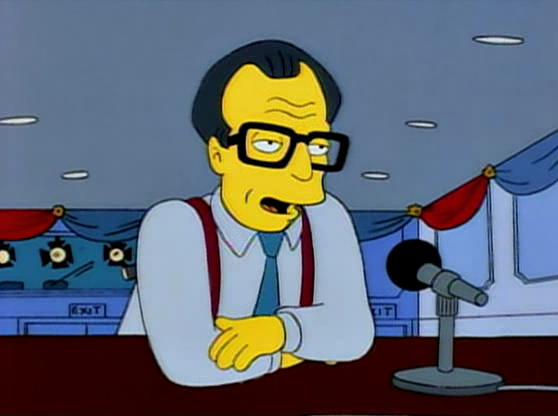 Season 2
Episode: "One Fish, Two Fish, Blowfish, Blue Fish"
The longtime talk show host has a small part here — Homer's distraught and believes he's about to die, and falls asleep to Larry King reading the Bible on television. Yup, that's pretty much it.
2.
The Ramones, legendary punk band
Season 5
Episode: Rosebud
The Ramones were apparently huge Simpsons fans, which is how they ended up written into the episode.
3.
Robert Goulet, stage and recording singer
Season 5
Episode: "$pringfield (Or, How I Learned to Stop Worrying and Love Legalized Gambling)"
The whole episode revolves around a time when Springfield becomes gambling-obsessed. When Bart finds out that he's technically too young to legally gamble, he starts his own casino in his tree house and gets Robert Goulet to play there.
4.
Ernest Borgnine, actor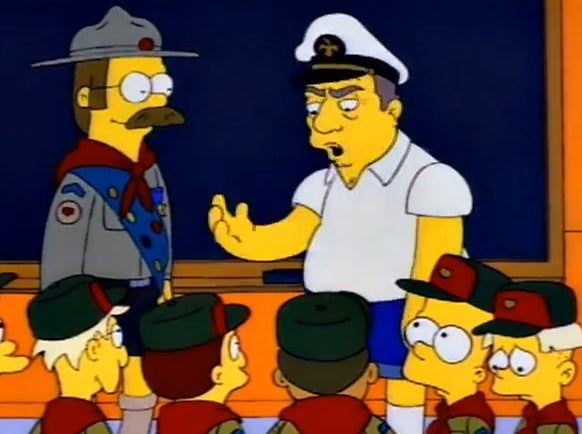 Season 5
Episode: "Boy-Scoutz 'n the Hood"
Borgnine plays a special "celebrity dad" in Bart's troupe of Junior Campers.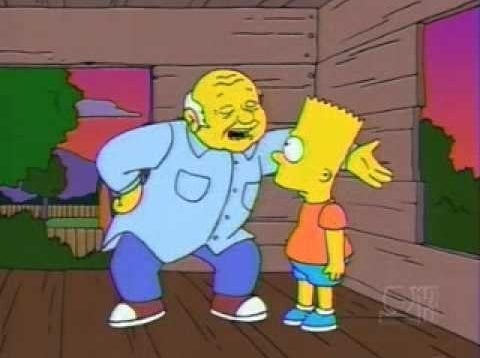 Season 5
Episode: "Radioactive Man"
Milhouse wants to pursue acting but feels discouraged. So former child star Mickey Rooney steps in to offer encouragement.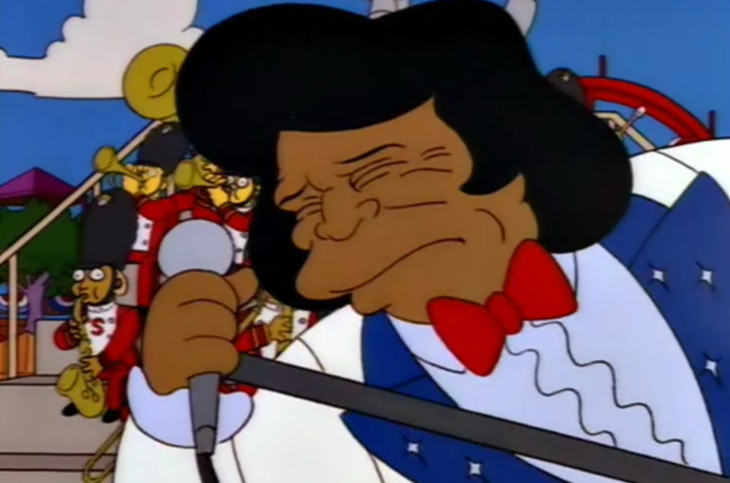 Season 5
Episode: "Bart's Inner Child"
After Springfield embraces Bart's spontaneous attitude, they host a Do What You Feel Festival, and James Brown sings his classic hit, "I Got You (I Feel Good). It's pretty over the top.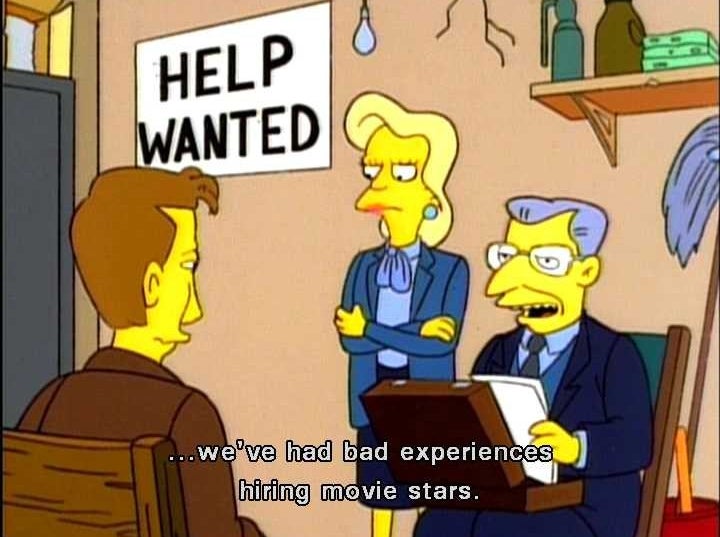 Season 5
Episode: "Homer and Apu"
After Apu is fired from his job at the Kwik-E-Mart, he's replaced by Nixon actor James Woods.
8.
Dick Cavett, talk show host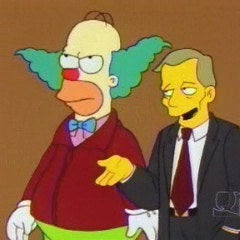 Season 6
Episode: "Homie the Clown"
Noted talk show host Dick Cavett stars as himself, alongside Homer impersonating Krusty the Clown.
9.
Paul and Linda McCartney, Beatle and photographer
Season 7
Episode: "Lisa the Vegetarian"
Former Beatle Paul and his wife, Linda, play old friends of Apu's who help Lisa deal with being the sole vegetarian in her family.
10.
Peter Frampton, musician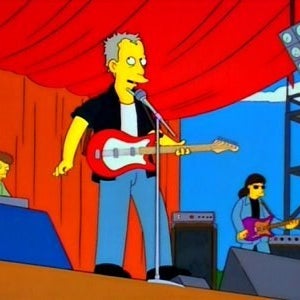 Season 7
Episode: "Homerpalooza"
Peter Frampton played with bands like Humble Pie and The Herd before going on to release his own records as a solo musician (probably your dad owned a copy of Frampton Comes Alive). In this episode, Peter Frampton comes to town to play Homer's music fest but gets mad when Homer destroys his large inflatable pig, Cypress Hill steal his orchestra and Sonic Youth and Marge steal food from him.
11.
Sonic Youth, indie band
Season 7
Episode: "Homerpalooza"
Sonic Youth come to play Homer's music fest, Homerpalooza, along with Smashing Pumpkins, Cypress Hill, and Peter Frampton. They taunt Peter Frampton mercilessly.
12.
Stephen Jay Gould, paleontologist and science writer
Season 9
Episode: "Lisa the Skeptic"
Gould was a noted paleontologist and the creator of the theory of punctuated equilibrium, which argues that evolution features long periods of stability punctuated by short periods of change. In the episode, Lisa asks Gould to test the skeleton of an alleged "angel" that turns up at an archeological site in Springfield.
13.
Alec Baldwin and Kim Basinger, actors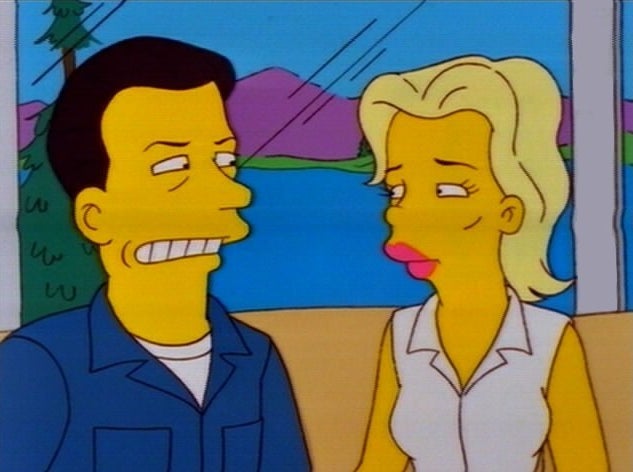 Season 10
Episode: "When You Dish Upon A Star"
Homer goes to work for (now former) celeb couple Alec Baldwin and Kim Basinger, who've requested that he maintain a vow of confidentiality. But of course Homer can't keep his mouth shut.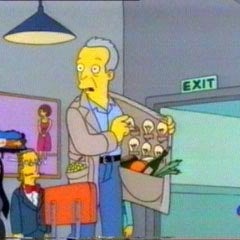 Season 10
Episode: "Mom and Pop Art"
American pop artist Jasper Johns appears in this episode, which is about Homer's brief rise and fall as a contemporary artist. It looks like he's a bit of klepto too.
15.
Britney Spears, singer
Season 11
Episode: "The Mansion Family"
Brit-Brit co-hosts the Springfield Pride Awards with Kent Brockman, and gives an award to the oldest Springfieldian in the crowd, which is, of course, Mr. Burns.
16.
Stephen Hawking, theoretical physicist and cosmologist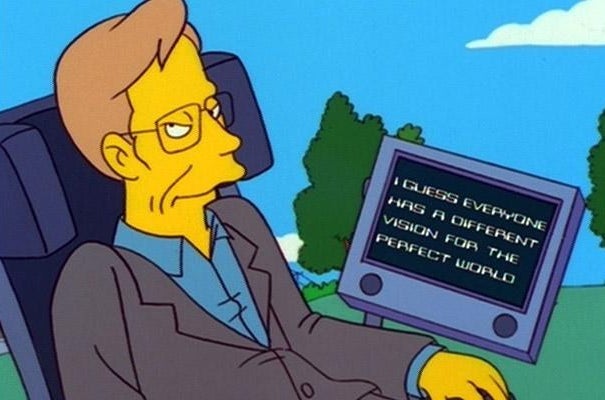 Season 10
Episode: "They Saved Lisa's Brain"
Stephen Hawking shows up to do battle with the Springfield chapter of Mensa, and (sort of) bonds with Homer.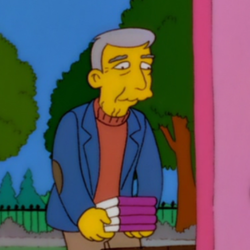 Season 12
Episode: "Insane Clown Poppy"
The Rabbit Run author is one of several Lisa and the Simpson family encounters (along with Amy Tan, Tom Wolfe, and Stephen King) at the Springfield Festival of Books.
Season 12
Episode: "New Kids on the Blecch"
Bart and Milhouse form a band called the Party Posse and NSYNC play a pivotal role in thwarting the Party Posse's attempts to destroy Mad magazine. (It's a long story).
19.
James Lipton, actor, host of Inside the Actor's Studio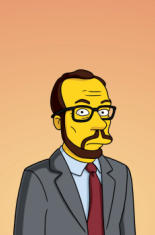 Season 13
Episode: "The Sweetest Apu"
Lipton has a small cameo in this episode, which is primarily focused on the time when Apu cheats on his wife, Majula. Lipton also appears in the Season 22 episode "Homer the Father."
20.
Robert Pinsky, poet laureate and Slate poetry editor
Season 13
Episode: "Little Girl in the Big Ten"
Poet and author Pinsky camoed as himself, hosting a reading that Lisa and a couple of new college friends attend.
21.
Paul Newman, actor and salad dressing mogul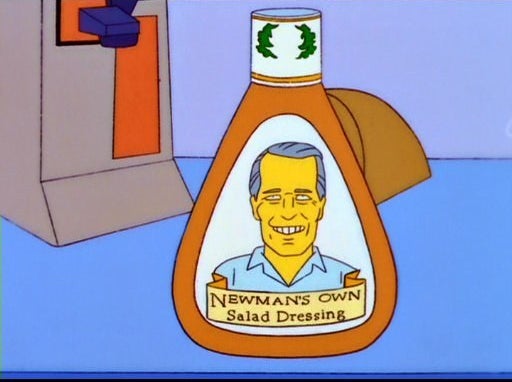 Season 13
Episode: "The Blunder Years"
Paul Newman played himself as a bottle of salad dressing. He had only one line, but managed to record it, according to producers, "without any rigamarole."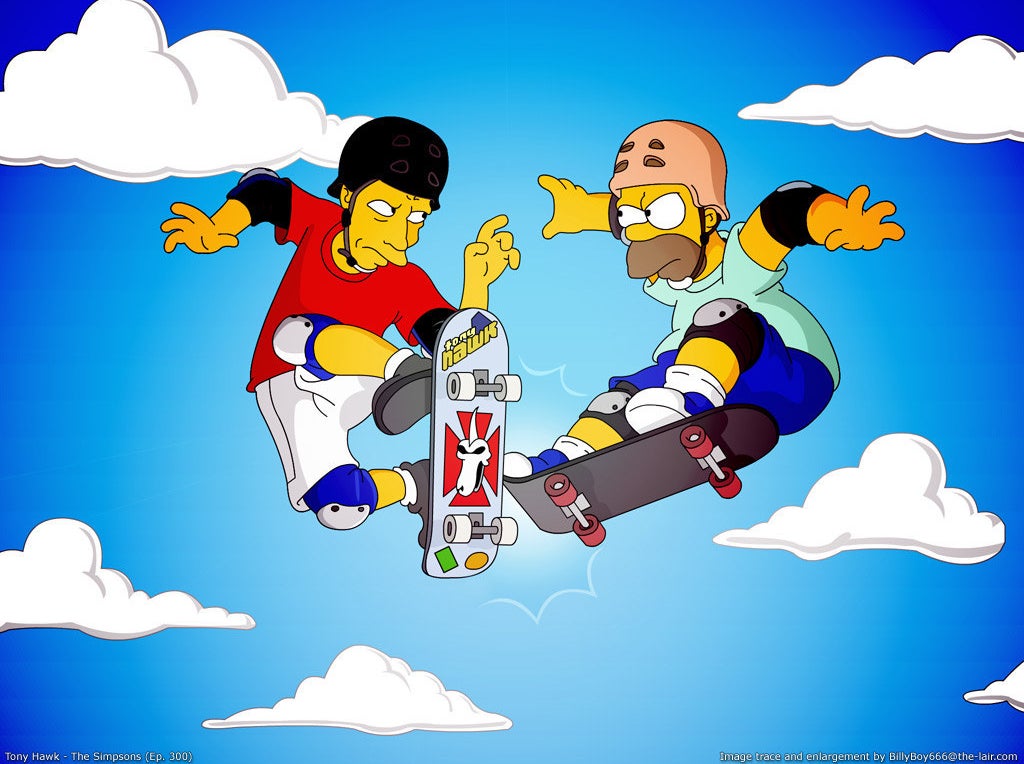 Season 13
Episode: "Barting Over"
When Bart moves out of his parent's house and into a downtown loft, he becomes neighbors with Tony Hawk.
Season 13
Episode: "Barting Over"
Bart moves into a loft downtown where his neighbor Tony Hawk throws a party and Blink-182 plays.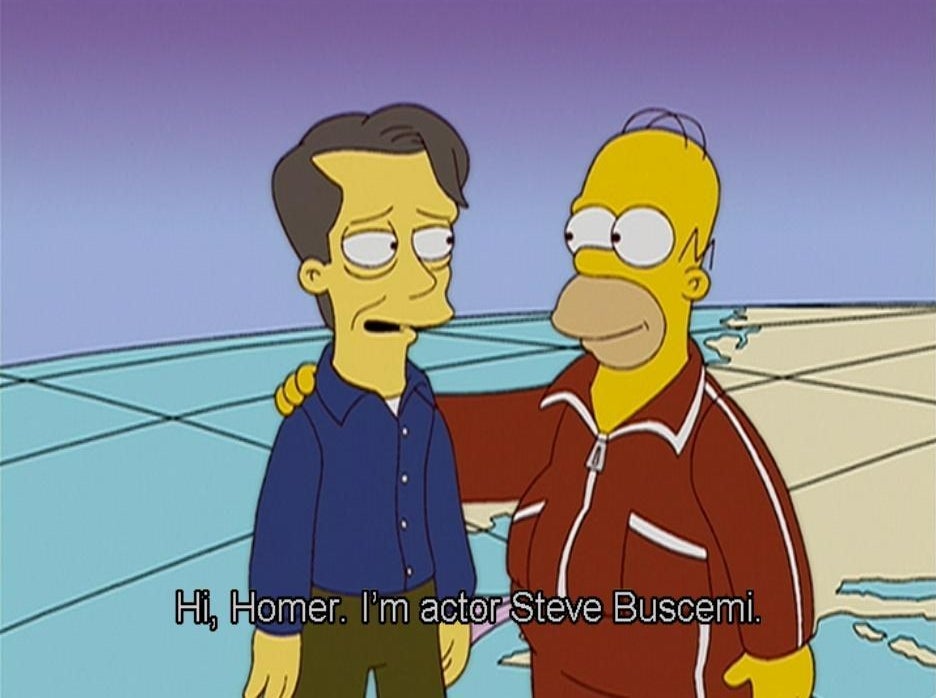 Season 14
Episode: "Brake My Wife, Please"
Steve Buscemi appears as himself, along with Jackson Browne, as walking buddies of Homer's.
25.
George Plimpton, journalist and founding editor of the Paris Review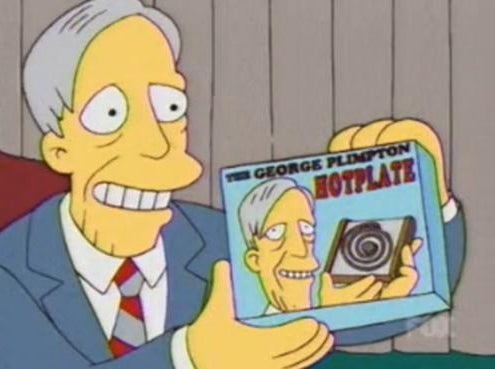 Season 14
Episode: "I'm Spelling as Fast as I Can"

Lisa excels as spelling, and makes it to the Spellympics, where George Plimpton serves as one of the judges. If she wins, she'll take home a scholarship to a Seven Sisters school — and a free George Plimpton hot plate.
26.
Mary-Kate and Ashley Olsen, actresses and fashion designers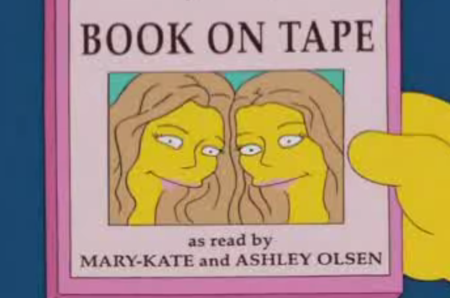 Season 15
Episode: "Diatribe of a Mad Housewife"
The Olsens are tasked with reading a books-on-tape version of Marge's book, The Harpooned Heart.
27.
Thomas Pynchon, reclusive author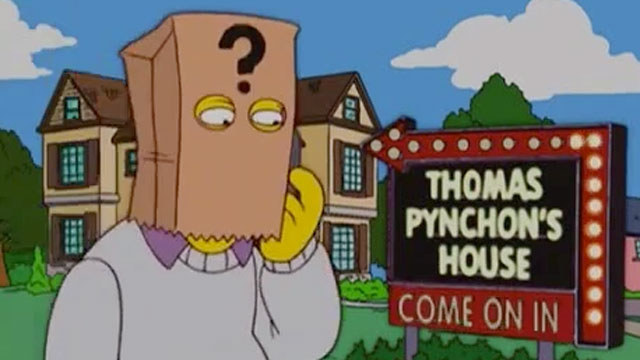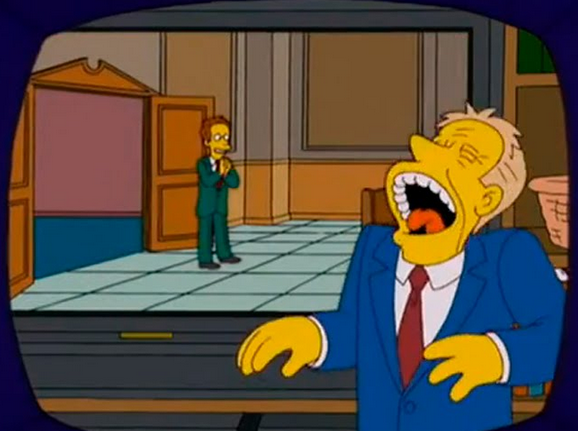 Season 16
Episode: "On a Clear Day I Can't See My Sister"
After Lisa takes out a restraining order against Bart, he's forced by Chief Wiggum to watch a video starring Busey called "Get Outta My Dreams — And Also Out Of My Car."
29.
Michael Chabon, Jonathan Franzen, Tom Wolfe, and Gore Vidal, authors
Seaspn 18
Episode: Moe'N'a Lisa
Chabon, Franzen, Wolfe and Vidal play attendees at the Wordloaf writer's convention, where Moe and Lisa are invited after Lisa pens a poem out of scraps of Moe's thoughts and emotions.
30.
Jon Stewart, The Daily Show host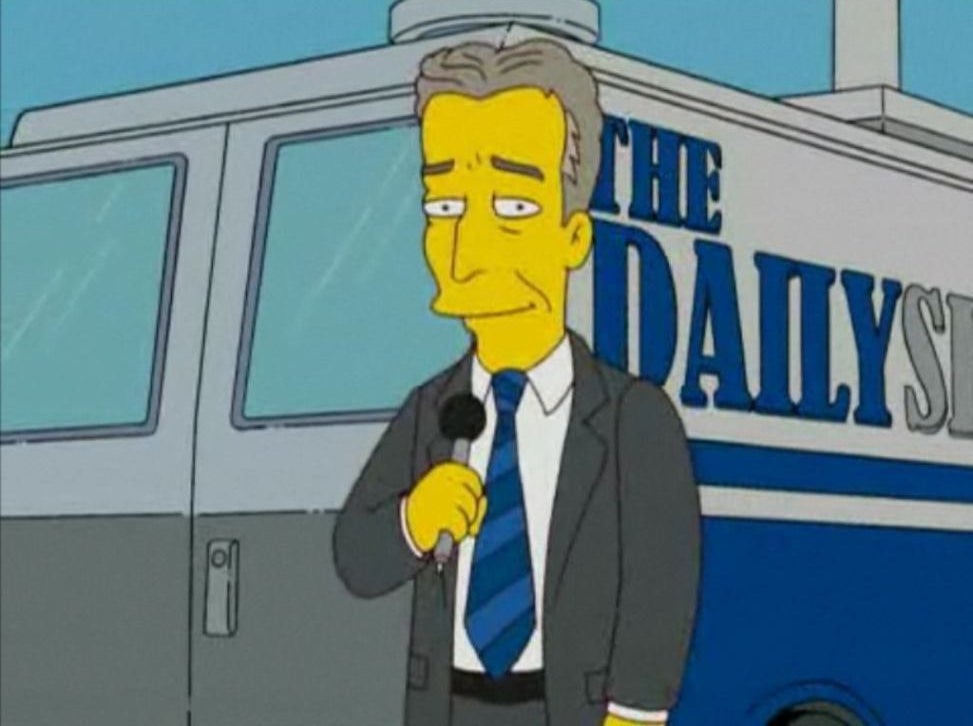 Season 19
Episode: "E Pluribus Wiggum"
The Daily Show host and Dan Rather both guest star as themselves in this episode, in which national media flock to Springfield to cover the presidential primary and the potential election of 8-year-old Ralph Wiggum.
31.
Eartha Kitt, singer and actress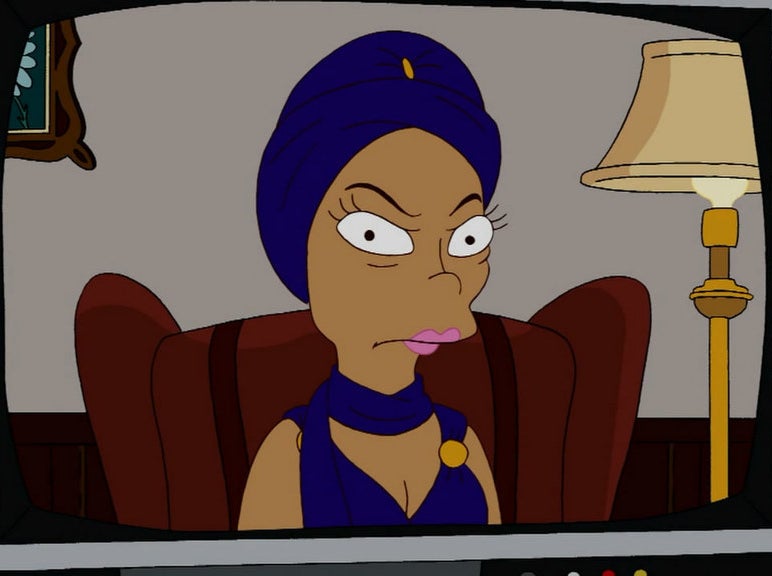 Season 21
Episode: "Once Upon a Time in Springfield"
Kitt was once called by Orson Welles "the most exciting woman in the world," and was known for her breathy renditions of classics songs. She was also known for taking on the classic role of Catwoman in the final season of the Batman TV series. She was once married to Krusty the Klown but isn't a fan of him. In a taped recording, she testifies that she and Krusty were only wed for six brief hours, but he was asleep for five of the six.
32.
Cheech and Chong, actors and weed enthusiasts
Season 22
Episode: A Midsummer's Nice Dream
The Simpson family attends a live Cheech and Chong show that devolves after Tommy Chong decides that he's totally over performing, and Homer takes his place.
33.
Mark Zuckerberg, Facebook founder
Season 22
Episode: "Loan-a Lisa"
Lisa attempts to convince Nelson to stay in school, but her plan backfires when she introduces him to several mega-successful business leaders who have all dropped out. Facebook overlord Zuckerberg stars as one of several successful entrepreneurs, including Bill Gates and Richard Branson, who've dropped out of college.
34.
Anthony Bourdain, Gordon Ramsey, and Mario Batali, chefs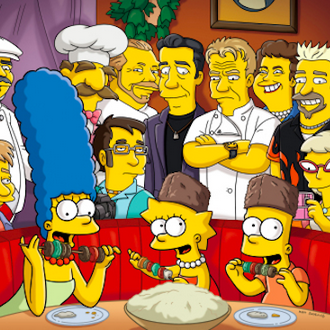 Season 23
Episode: The Food Wife
The chefs play themselves in a dream sequence.
35.
Shepard Fairey, artist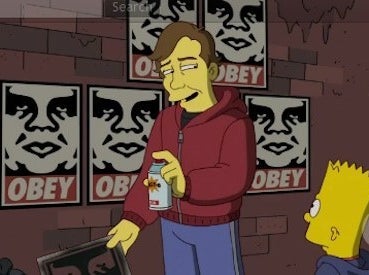 Season 23
Episode: "Exit Through the Kwik-E Mart"
Fairey — the creator of the ubiquitous Obey clothing line and logo — along with fellow artists Ron English, Kenny Scharf, and Robbie Conal, encounter Bart out graffiti-ing one night, and encourage him by offering him a solo show at an art gallery. But it turns out the art show is just a ruse in order to trap Bart: Fairey is actually an undercover police officer attempting to arrest graffiti artists.
36.
Julian Assange, Wikileaks creator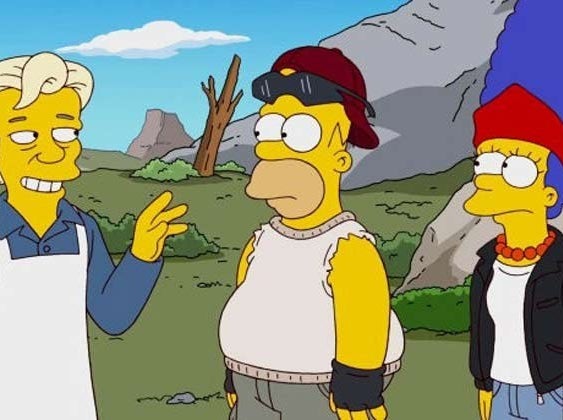 Season 23
Episode: "At Long Last Leave"
After the Simpsons are evicted from Springfield, they move to a sparsely populated area called the Outlands. There, they meet their unfriendly next door neighbor, Julian Assange, mastermind of Wikileaks. Marge does not like him.
37.
Sigur Rós, Icelandic band
Season 24
Episode: "The Saga of Carl"
Homer's friend Carl flees to his home country of Iceland with their shared lottery winnings. With the help of Sigur Rós and Iceland's then-Prime Minister Jóhanna Sigurðardóttir, Homer's able to track down Carl and get his money back.