A clip from The Today Show has gone viral after an Australian reporter claimed that Aussies don't have the same understanding of a "history of police violence" as Americans do.
The comment came as the reporter thanked a black man for speaking to her during the protests — saying: "I really appreciate you giving your perspective mate, because people in Australia don't have the understanding of the history of police killings and things here."
But Australians were quick to point out that, in reality, we have a long, tragic and ongoing history of police violence against Aboriginal and Torres Strait Islander peoples in Australia.
The hashtag #AboriginalLivesMatter soon began trending on Twitter, with people calling out our country's erasure of the history of violence against Blak Australians.
Some people also called out the lack of diversity in Australia's media landscape — which further contributes to the ignorant commentary surrounding racial injustices on home soil.
Communities around the world are continuing to come together in grief and rage to protest against police brutality and systemic racism. To get involved, please consider attending some of the upcoming Australian protests below.
Times and dates are correct at time of publication.
Sydney/Cadi: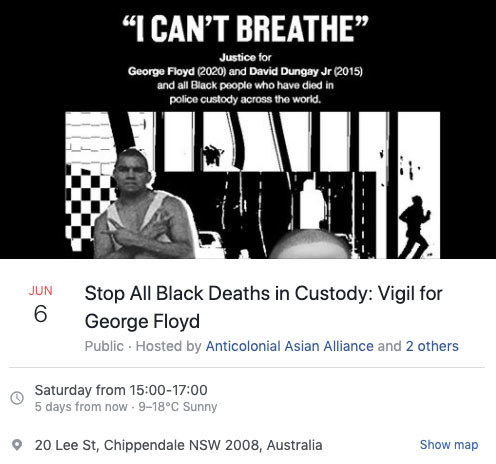 Melbourne/Naarm:
Brisbane/Meanjin:
Perth/Boorloo:
Adelaide/Tarndanyangga:
For more info on how Australians can support the Black Lives Matter movement, check out the resource below:
Please stay safe. Speak out against the violence and deaths of black people in custody. Black Lives Matter.