It was only a matter of time before people tried to cash in on Pokémon Go, and now it's happening: people are selling their accounts on eBay.
Most of these listings include a comprehensive list of every Pokémon they've caught and their stats.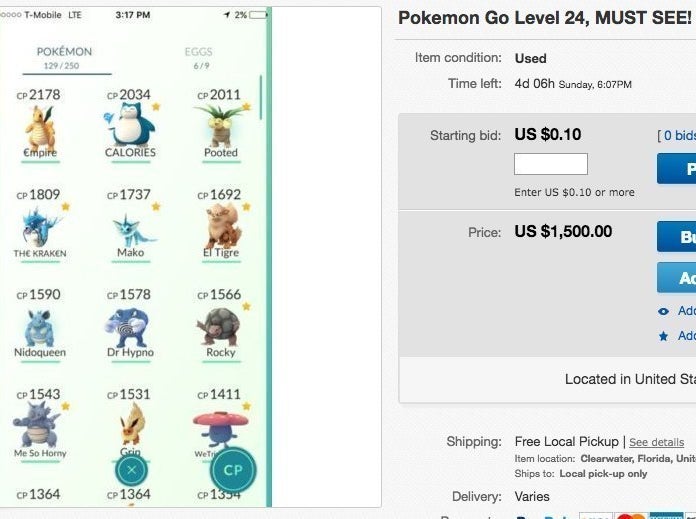 This seller wrote that they made their account on July 7 and has "grinded it everyday since."
"This account is one of the top accounts in my area, with over 1,600 Pokémon caught and over 100 km walked," they wrote. "Skip the grind, and have almost all of the most wanted Pokémon out right now."
Of course, just because people are listing their accounts in the thousands doesn't mean they'll actually sell for that much. But, people are definitely bidding on the less expensive accounts. This Level 24 account (with a Dragonite AND a Snorlax!!!) sold for $800.

And this Level 14 account (which isn't even that great, tbh??) is currently going for $42, and has a whopping 29 bids.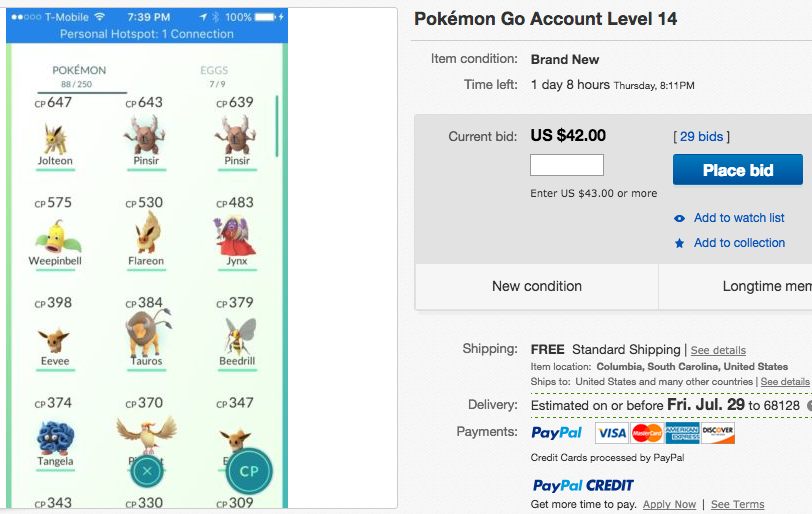 But don't be so quick to sell your account. You could face prosecution for doing so — or worse — have your Pokémon Go account terminated.
The app's Terms of Service prohibit using the game "for any commercial purpose" including gathering in-app items "for sale outside the app" and choosing to "sell, resell, rent, or lease the app or your account."
The terms also say they can "remove or disable access to any Content, at any time and without notice" if users violate the terms. They "may also consult and cooperate with law enforcement authorities to prosecute users who violate the law."
So, you'll probably want to go out and get those Pokémon on your own.