A game advertising Future and Kanye West's collaboration "I Won" was released on Wednesday. In the game, the two artists sit on the beach, throwing chains at women, and turning them into trophies.
The game prompted negative reactions from fans and non-fans alike: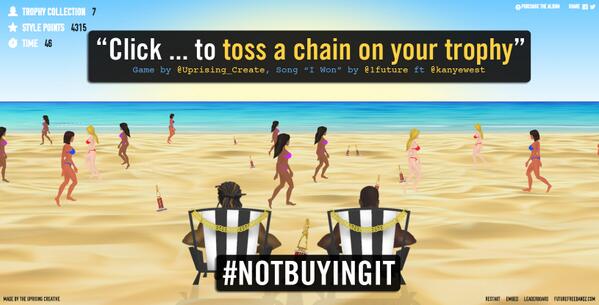 It was designed by The Uprising Creative, a Chicago and L.A. studio that specializes in "advergames."
Uprising had previously made games promoting other singles, like Juicy J's "Bandz A Make Her Dance."
So where did the idea to turn women into trophies in this game come from? Uprising's Brian Schopfel, who worked on the "I Won" game, said he designed it based on the song's official video:
He also stated that the game is meant to be a literal interpretation of the "I Won" lyrics:
Before "I Won" was released, Future was already trying to clarify its meaning.
Future's label, Epic, declined to comment about negative reactions to the game.
Uprising's Schopfel said that, amidst criticism from mainstream outlets, "reaction [to the game] from fans was very positive."