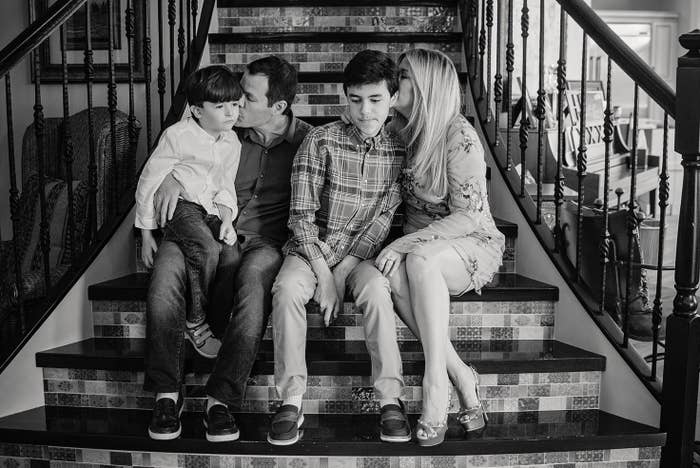 "THERE'S NOTHING SPECIAL ABOUT MY CHILD WITH AUTISM"
Like all loving parents, Brenda Popritkin, co-founder of the Disorderly Blondes Autism Podcast, is convinced that Dylan, her first-born (now 17-years-old) who is on the Autism spectrum, is the greatest human being ever! What she is not willing to entertain however, is fanciful references to the "specialness" of Dylan and other children like him, which may have the effect of (1) casting a rose-colored perception of Autism in the minds of the general public, and (2) worse yet, muffle the voices of those trying to broadcast the very real needs of Autistic children, which society is far from understanding or helping to meet. "Dylan has his sweet qualities, he's innocent and unspoiled by this world, but he is not Rain Man," said Popritkin. "I am constantly thinking: How do I leave this world a better place for Dylan? I am kept awake at night by stupid little things that other parents may not have to consider because their Autistic child has a sibling or other family-member caretaker, like what's going to happen when I die and Dylan doesn't have his Mickey Mouse DVD with him and those around him don't know that this could trigger a meltdown?"
I - AUTISM IS NOT A SUPERPOWER FOR EVERYONE, IF FOR ANYONE
At the root of the discord within the Autism community, is the terminology. What exactly does "Autism" mean? "(I)t could describe somebody who's pretty independent, cognitively intact, but has social phobias and sensory difficulties," said Jill Escher, who is President of the National Council on Severe Autism, a non-profit organization supporting Autism education and advocacy, and is also mom to an autistic daughter and an autistic son. "And then it could also describe my kids who are not verbal, can't get themselves dressed, can't say their name, can't brush their teeth, and have no capacity for abstract thought," Escher observed that conversations regarding a word with no clear definition would inevitably lead to conflicts. "Some people like Greta Thunberg say: "Autism is my superpower,'" added Escher. "Well I don't know what (Thunberg has), but whatever (she has) it's not a superpower that my kids have - yet (my kids and Thunberg) happen to have the same (Autism) label.
In her article, The Rebranding of Autism, Jane McCready, who is the mom to an autistic son, compared Thunberg's ability to deliver a "world-changing" speech at the United Nations with her son's own high accomplishments - that is, being able to say a phrase like: "Go outside play?" Regardless McCready pointed out that "(t)o get a diagnosis of Autism you need to demonstrate not 'superpowers' but clinical impairments in key areas of functioning."
II - MOST AUTISTIC CHILDREN NEED SERVICES, NOT LIBERATION
While overbroad terms like "Autism" undermine the ability of members of this community to see eye-to-eye, attempts to set the confines of the narratives and force the use of a "vetted" lexicon have led to outright strife. After a "Communication Guide to Journalists" was issued in the United Kingdom, attempting to influence how the media covered stories about Autism, McCready observed that the "language policing (erased) half of the Autism picture. And it (was) the half with (her) son in it." McCready has referred to this movement as the "whitewashing" of Autism, and online comments evidence that there is no courtesy reserved for parents of autistic children who, like McCready, don't fall in line with those seeking to hijack Autism.
According to Escher, there is serious bullying exerted by a small, but vocal minority in the Autism community who have succeeded in creating a "culture of fear around the public discourse on Autism." Escher explained: "You're not allowed to use the word "severe," or "suffering." (However) if you take away our rhetorical tools, with which we need to convey our realities, guess what? We can't convey our realities anymore. We can only convey a Disneyfied version of (our realities), and that doesn't do anybody any good."
Popritkin has made clear that no one will tell her how to speak about the severity of her child's autism - even if Dylan is nowhere close to the most severe of cases on the spectrum. "First, don't tell me how to express myself because it's my child and I speak about him however I want. Second, I have been doing this way too long to be told how to address his condition, as nobody knows my child better than me. Three, he doesn't have a voice when it comes to his care because he cannot address adult topics," asserted Popritkin. "Don't tell me that I can't be his voice when I am the only voice he has when it comes to his rights. Dylan barely knows his name. I could ask him today how old he is and he'll say five. I'll have him focus, ask again and then maybe he'll say 17."
But why does one terminology versus another, and full as opposed to limited disclosure of what it's like living with Autism matter so much? One reason why it's imperative for parents like Popritkin is that candid-expression is the only way to educate others and advocate for the resources her child needs. "The real 'right language' to use about Autism is the truth about what their difficulties are, and therefore what services society needs to step up and provide," stated McCready.
On the other hand, and no less legitimate an interest, it's important to have the public focus on the capabilities, not disabilities, of those on the high end of the spectrum. "I'm sure there are some very high functioning people who can obtain competitive jobs in the community given the right support. No question about that. But to say that's true for the vast majority of people with severe forms of autism, Impossible! Delusional!" exclaimed Escher, explaining that there's a movement that looks upon neurodiversity as the new wave in the civil rights movement. "This (persons on the Autism spectrum) is not an oppressed minority group. This is a new population, that never existed before, that is afflicted with very serious developmental dysfunction, and it's not about social liberation. This is a medical story; this is a biology story that requires us to think hard about what is happening and how we are going to care for these people. My kids don't need liberating. They need services, they need protection and care.
Popritkin, along with Kristy Vannatta, her Disorderly Blondes Autism Podcast Co-Founder, is supporting the Town of Miami Lakes' inclusion initiatives and the efforts of a local restaurant to train and hire high-functioning autistic persons. "It's great. We're championing that!" exclaimed Popritkin, adding however that the parents of the more-severely-diagnosed children just want to feel supported in turn. "To do justice, you have to mention the entire spectrum - from one side to the other. You cannot talk about a rainbow if you're only talking about the color red."
III - AUTISTIC CHILDREN DO NOT NEED TO BE DE-PATHOLOGIZED TO BE WORTHY OF LOVE
While Popritkin is pleased to see the superstar on the Autism spectrum who causes everyone to marvel at his display of exceptional ability, Popritkin worries that the downside to this is that the public may come to understand that those outlier cases represent the Autism norm. "No one is equally posting stories about the 18-year-old in a diaper, the 18-year-old pooping and smearing it on the wall," explained Popritkin. "Those are not stories that people want to hear. They're not Hallmark-quality stories. You're not going to make a movie about it."
Similarly, Escher observed that it was unnecessary to bestow extraordinary attributes upon those on the Autism spectrum, to love them. "People are seeing these kids who are very different. And what they want to see in them is not the disability, which is very obvious to anybody who takes a look at them, (but) the specialness - that something positive these people have to offer. And while I don't take that approach personally, I fully understand it because, the last thing I want is for these disabled children, and now increasingly adults, to be vilified or stigmatized or somehow seen as less than fully human," Escher confessed. "But this has the downside of trivializing a very serious disability. I believe we can see somebody as fully human, fully worthy, fully deserving of our love and attention even if they have some disorder, even if they have a pathology, to me they're not mutually exclusive. You want our kids to be part of the community in every way we could imagine, while we also acknowledge how severe this situation is and we also fight to understand what happened to them? What is causing this incredible wave of mental disability? What can we do therapeutically to change these trajectories? What can we do to help these people instead of fantasizing about what they might be capable of? Because you can't make policy based on fantasy."