Did Nicki Minaj Really Cancel Her Show At Summer Jam To Stand Up For Women?
The rapper refused to perform after a radio personality from the station hosting the concert insulted her single "Starships." She claims she pulled out of the show to make a feminist statement. Do you buy it?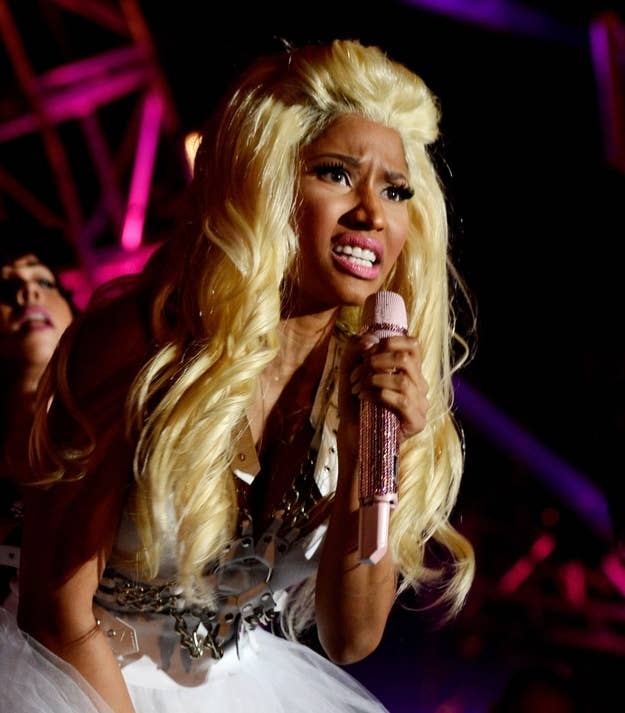 Hours before Nicki Minaj was scheduled to headline the Hot 97 Summer Jam concert in New Jersey on Sunday, a DJ from the sponsoring radio station poked fun at her current single, "Starships."
"I know there are some chicks here waiting to sing 'Starships' later — I'm not talking to y'all right now," morning personality Peter Rosenberg said while introducing rapper Kendrick Lamar on stage. "I'm here to talk about real hip-hop shit."
Word got back to the Minaj team, including her mentor and the head of her record label Lil' Wayne, who pulled her from the lineup. Hot 97 and fans who bought tickets have been criticizing the cancellation for days. Popular Hot 97 host Funkmaster Flex said Minaj "lost the streets" and oddly threatened to ruin her career by turning her fans against her.
Meanwhile, Minaj has been defending her and Lil' Wayne's decision to pull out of the concert. She alleges that Rosenberg's insult wasn't directed at her music, but her gender: she was the only female artist slated to perform that night — and the only performer mocked by Rosenberg.
"Every woman needs to know it doesn't matter what people say about you. After a certain amount of time, and you put in a certain amount of work, and I put in my work, you deserve respect," Minaj said on Monday night on Hot 97, during a two-hour argument with Flex. "I'm very proud of my team, and the way they stood behind me. And I'm very happy to show my female fans in that audience, and even my gay fans in that audience, when I'm coming to your home, respect me."
The next morning, on air with Hot 97's rival station, Power 105.1, she denied using her gender to foster sympathy for her decision to cancel her show:
"I'm not using the female card — I am a female. It is what it is. Like I said last night, you should think about that before you attack the only woman on the bill. Something should've kicked in and said, you know what, 'Wow, I may not like two or three songs, but she is holding it down for every women in hip-hop right now at this moment.'"
Minaj is probably the most successful female rapper in the world right now. Her album Pink Friday: Roman Reloaded tops both the Billboard Rap and R&B charts, while "Starships" has been on the Billboard Hot 100 chart for 15 weeks straight. But that kind of success is the exception, not the rule, for women in hip-hop, which has always been dominated by men performers and producers.
Minaj's statements on Power 105.1 were widely dismissed on Twitter:
Others hit on a more interesting point. Minaj is notorious for her beefs with other female rap artists (especially Lil' Kim), but tearing down other women — whether in the tabloids or your lyrics — isn't exactly empowering to women:
Minaj may have had a point — it wasn't cool that she was the only woman on the lineup and then ridiculed by its organizers for putting out a massively successful top 40 dance single, whether or not it suits Peter Rosenberg's personal taste. However, it's hard to tell if she's actually trying to make a feminist statement or she just canceled her performance because she's a celebrity, and therefore special enough to be able to cancel concerts last-minute because someone said the wrong thing — despite the 55,000 who bought tickets to see her perform.