275 Ways Americans Hurt Themselves — Badly — Playing With Fireworks
Last year, U.S. emergency departments treated an estimated 14,000 fireworks-related injuries. Here's how a random sample of them happened. Advice: Don't set off a smoke bomb in a closed room.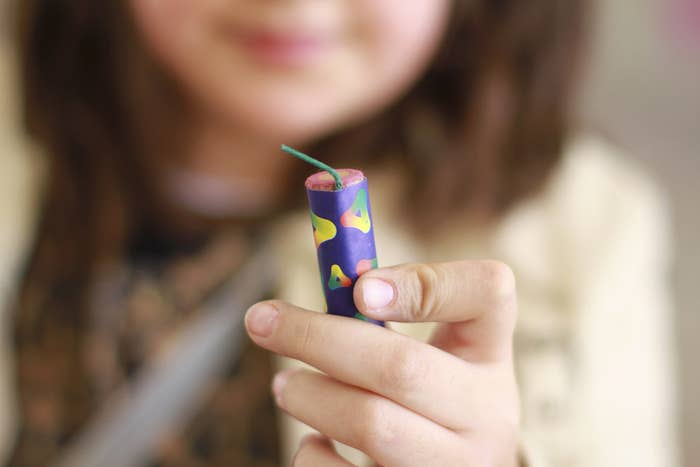 To keep our pyrotechnically-inclined country safe, the U.S. Consumer Product Safety Commission keeps tabs on the impressively-varied ways that fireworks land us in ER.
At a random sample of emergency departments, 275 patients arrived with fireworks-related injuries last year. (That number led the commission, in its annual report on firework safety, to estimate that Americans suffered a total of 14,000 fireworks-related injuries in 2013.)
For each injury, the selected hospitals have to supply a short "narrative." Here are all 275 of these microstories, grouped by diagnosis, in their entirety:
Amputation

10YOM FINGER AMPUTATION/ BURNS / ABRASIONS WHEN TYPE N DEVICE MADE FROM SPARKLERS, ROCKET, FOIL EXPLODED BEFORE THROWN

LEFT AMPUTATION OF THUMB,INDEX AND MIDDLE FINGERTIPS..43YOM MADE A HOME MADE FIRECRACKER AND IT BLEW UP INJURED FINGERS.

50 YR OLD MALE HAD FIREWORK EXPLODE IMN HAND AMPUTATING THUM B AND ABRA DING HEAD

25 YOM WAS HOLDING A ROMAN CANDLE (TYPE I) WHICH WENT OFF IN HAND. DX: L SMALL FINGER TIP AMPUTATION, FX.

28YOM-THUMB NEAR AMP-"HOMEMADE BOMB"-SPARKLERS WRAPPED IN ALUMINUM FOIL COVERED W/ ELECTRICAL TAPE) TO BLOW UP TREE STUMP-BLEW UP HAND-@ HOME

26 YOM IGNITED A SPARKLER BOMB (TYPE L) WHICH EXPLODED. DX: BLAST INJ, COMMIN/DISPL TIBIAL FX, NEAR TRAUMATIC AMPUTATION L LEG.

26 YOM HAD A SPARKLER BOMB EXPLODE IN HAND. DX: COMPLETE TRAUMATIC AMPUTATION L HAND, BILAT LOWER EXTREMITY LACS, BILAT CORNEAL ABR.

Dislocation

33YM PULLED SHOULDER OUT OF IT SOCKET WHILE THROWING FIREWORKS >>D/L/ TYPE R

Hemorrhage

8YR M TYPE P FIREWORK EXPLODED IN HIS FACE;DX EYEBALL HEMORRHAGE

Anoxia

6YOF AT A NEIGHBORS HOUSE WHERE FIREWORKS WERE BEING LIT OFF SHE INHALE D SOME OF THE SMOKE AND STARTED TO WHEEZE ASTHMA ATTACK

13 YOM USING A SMOKE BOMB IN A CLOSED ROOM. SMOKE INHALATION

Avulsion

22MOM SKIN AVULSIONS TO FACE, SWELLING TO LIPS WATCHING FIREWORKS WITH FAMILY 100YRDS AWAY FROM NEIGHBOR WHEN ONE WENT INTO THE DIRT HITTING P

19YOF THOUGHT SHE WAS LIGHTING A CANDLE BUT IT WAS A FIRE CRACKER DX: FINGER AVULSION

Puncture

34 Y/O B/F RECEIVED PUNCTURED WOUND TO FOOT WHEN SHOT BY FIRE CRACKERAT HOME. TYPE P

11YOM OUTSIDE IN HIS TRAILER PARK WITH KIDS SETTING OFF FIREWORKS TYPE P SCARED NEIGHBOR'S DOG WHO GOT LOOSE FROM CHAIN, BIT PT; PUNCTURED LEG

Dermatitis, Conjunctivitis

9YM WAS @ BASKETBALL CAMP&HELD SPARKLERS YTD NOW WITH RASH TO HANDS >>DERMATITIS/ TYPER L

4 YOM RUBBING EYE WHILE SHOOTING (TYPE R FIREWORKS), C/O EYE PAIN. DX. CONJUNCTIVITIS

9YR F PLAYING WITH TYPE L FIREWORK (SPARKLER) AND SPRKLER WENT IN EYE. PT WAS WEARING GLASSES;DX CONJUNCTIVITIS EYEBALL

9 YOM WAS PLAYING W/ SPARKLERS LAST NIGHT, FIREWORKS WENT OFF NEAR HEAD ,MOM NOT SURE IF FIREWORK OR SPARKLER HIT EYE. TYPE L AND R. DX: CONJ

Internal organ injury

14 YOF FIREWORKS EXPLODED, NOW HAS DECREASED HEARING. DX TM PERFORATION FIREWORK TYPE NOT STATED

48YOM-TM PERFORATION-A FIRECRACKER WENT OFF BY PT'S EAR-4 DAYS PTA-TYPE A-LWOT

23YOM LIGHTING OFF FIREWORKS FOR NEW YEARS WHEN A MORTAR ROUND WENT OFF NEAR EAR NOW UNABLE TO HEAR FROM EAR RUPTURED EAR DRUM

25YOF HAD FIREWORK EXPLODE NEAR FACE 3 DAYS AGO DX: TYMPANIC MEMBRANE ( TM ) PERFORATION - TRAUMATIC. TYPE R

Foreign body

6YOF EXPOSED TO SMOKE BOMB, EYE PAIN; SOOT REMOVED FROM EYE

RT HAND AND LEG BLAST INJURY WITH FB.33YOM PUT A SPARKLER INTO INTO A METAL PIPE AND IT EXPLODED.TYPE L

8 YO M FIRECRACKER POPPED, ASHES WENT INTO L EYE DX R EYE FOREIGN BODY

7YR F FIRECRACKER POPPER POWDER IN EYE;DX FOREIGN BODY EYE

3YR M WOOD CHIPS FROM SMALL FIRECRACKER BAG IN EYE;DX FOREIGN BODY EYE

6 YOM TURNED AROUND AND WAS HIT BY A "***" USED FOR LIGHTING FIREWORKS( TYPE R). DX: FB EYE.

23 YOM HAD MORTAR FIREWORK EXPLODE INTO EYE. DX: FB R EYE, BLAST INJURY, FACIAL LAC.

12 YOM HIT WITH BACK END OF ROMAN CANDLE TO EYE AT FRIEND'S HOUSE. DX: FOREIGN BODY EYE, EYE CONTUSION.

58YF WATCHING FIREWORKS, LOOKED UP&SUDDENLY FELT BURNING SENS IN EYE >>FB REMOVAL TYPE R

35YOM-EYE FB-UNKNOWN DEBRIS/ ASHES BLEW INTO EYE WHILE WATCHING FIREWOR KS-TYPE M

4MO M TUNNING WITH TYPE L SPARKLER AND IT FLEW IN EYE;DX FOREIGN BODY E YE

14YM WAS LIGHTING FIREWORKS&?STH FLEW INTO EYE >>R/O RETAINED FB/ TYPE R

Fracture

9 YOM PLAYING WITH FIREWORKS IN STREET WHEN HE AND FRIEND WERE STRUCK B Y CAR. TYPE R. DX: FRACTURE HUMERUS.

23YOM WAS LIGHTING AN UNK FIRECRACKER AND IT WENT OFF IN HAND HAND FRACTURE FIREWORKS TYPE-P

47YM LIGHTING FIRE WORKS, "QUARTER STICK" WHICH EXPLODED IN HIS HAND >>BLAST INJ., ARM FX/ TYPE R

32YOM-WRIST FX-"HOLDING A TUBE SHOOTING FIREWORK"-ROCKET BLASTED OFF & TORQUETED HIS HAND-CAUSED INSTANT PAIN-TYPE E

45YM ETOH INTOX'D LOOKING DOWN IN BARREL OF FIREWORKS WHEN 3 FIRED OFF HITTING HIS FACE>>FACIAL BONE FX/RUPTURED GLOBE

55YOM-OPEN FINGER FXS-POLISH MAN FISHING IN THE RIVER W/ EXPLOSIVES-A " LITTLE FIRE CRACKER BLEW UP IN PT'S HAND"-TYPE A

27YOM HAD TYPE J FOUNTAIN FIREWORK HIT FINGER CAUSING DX FRACTURE FINGE R

Strain or Sprain

17YOM FELL AND ROLLED ANKLE LIGHTING FIREWORKS (TYPE R) SPRAIN TO RIGHT ANKLE@

LUMBAR STR. 53 YOM FELL WHEN RUNNING BACKWARS AFTER LIGHTING A FIREWORK . TYPE R

32 YOM FELL IN THE ROAD WHILE HAVING A BOTTLE ROCKET WAR CO PAIN IN THE NECK DX CERVICAL STRAIN "TYPE E"

32 YOF FELL WHILE TRYING TO RUN AWAY FROM UNKNOWN (TYPE R) FIREWORK WHICH WAS COMING TOWARD HER AT PARTY. DX: CERVICAL/SHOULDER STRAIN.

7YOF FELL OFF PLAYHOUSE WHILE WATCHING TYPE R FIREWORKS AT HOME; NECK S TRAIN

18 YO FEMALE IN THE CITY WATCHING FIREWORKS, TYPE P AND THE CROWD GOT P ANICKED AND PT FELL AND TWISTED ANKLE. DX SPRAIN

Contusions, Abrasions

10 YO F,C/O RT EYE PAIN, IRRITATION,PHOTOPHOBIA FROM YELLOW POWDER WHIL E PLAYING WITH "SNAP", DX CONJUNCTIVAL ABRASION

4 YO M BURN TO EYE FROM FIREWORKS HAPPENED WHEN SPARKS FROM AN M-80 FLE W INTO EYE M-80 IS THE TYPE C

14YOM WAS HOLDING A ROMAN CANDLE, TYPE I, AND SPARKS FLEW IN RIGHT EYE, RIGHT EYE CORNEAL ABRASION, NO FIRE DEPARTMENT

34 YOM WAS A SPECTATOR AT FRIEND'S HOME WHEN MORTAR FIREWORK (TYPE R) EXPLODED NEAR HIS FACE. DX: CORNEAL ABR L.

7 YO FEMALE RUNNING WITH FIREWORK IN HAND, FELL, SPARKLER GOT IN EYE. DX CORNEAL ABRASION. FIREWORKS TYPE L

18 YOM WAS HIT BY RELOADABLE MORTAR SHEL (TYPE H) WHICH TIPPED OVER & SHOT TOWARDS HIM. DX: L EYE BLAST INJ, L CORNEAL ABR, CENTRAL EDEMA.

17YOM FIREWORKS FOUNTAIN HIT IN CHEST JUMPED BACK AND FELL, CHEST WALL CONTUSION (TYPE G FIREWORKS)@

14YOF-CORNEAL AB-WATCHING FIREWORKS WHEN A PIECE OF ASH HIT EYE-TYPE M

13YM A FIRECRACKER IN A PLASTIC BOTTLE THROWN @ HOME EXPLODED IN FACE >>CORNEAL ABR/ TYPE A

A 23 YR OLD FE HAD A FIREWORK ESXPLODE & HAS ABRASIONS TO BILATERAL UPP ER LEGS AND HIP DX ABRASIONS

42 YR OLD MALE WAQTCHING FIREWORKS AND SOMETHING WENT IN EYE WITH CORNE AL ABRASION,TYPE R

5YOF GOT A SPARK FROM A FIREWORKS, TYPE P, INTO LEFT EYE, LEFT EYE CORNEAL ABRASION

13YR F HIT IN FACE WITH TYPE E1 FIREWORK, A BOTTLE ROCKET;DX CORNEAL AB RASION

29 YO MALE SETTING FIREWORKS OFF, GOT SOMETHING IN EYE. DX CORNEAL ABR ASION. FIREWORK TYPE R

5YOM SITTING ON PORCH WITH MOM THROWING TYPE A FIRECRACKERS OFF PORCH I NTO GRASS, UNSURE IF FIRECRACKER HIT IN EYE OR MOM'S CIGARETTE;CORN ABR

5YOM GOT ASH IN EYE CORNEAL ABRASION FROM FIREWORKS UNSPECIFIED TYPE R

31 YOM WAS BURNED AFTER LIGHTING A FIRECRACKER (TYPE P). DX: INFECTED ABR FINGER.

35 YO M INJURY TO LEG FROM FIREWORKS ABRASION LEG

6YR M HIT WITH *** FIREWORKS;DX EYE CONTUSION

36YOF WITH CONTUSION TO HEAD AFTER BEING STRUCK IN TEMPLE WITH FIREWORK .(UNKNOWN TYPE).

27YF WAS WATCHING FIREWORKS TONIGHT&AS SHE WAS LEAVING FELT ?STH WENT I NTO EYE>>CORNEAL ABR TYPE R

24YOM KNELT TO LIGHT FIREWORK AND IT TOOK OFF HIT IN THE FACE AND GOT G ASH TO LEFT LEG, ABRASION FOREHEAD (TYPE E) "SHOT TO REMEMBER"@

16 MOF DOG BITE LT SCALP WHILE OUTSIDE W/FAMILY SHOOTING (TYPE R) FIREWORKS DOG SCARED. DX CONT/ABRASION SCALP, DOG BITE

33YOF C/O LT EYE INJURY AFTER A ROMAN CANDLE TYPE "I" BLEW UP LAST NIGH T. DX CORNEAL ABRASION

27YOF WAS HIT IN EYE WITH *** CANDLEDX: CORNEAL AB LT EYE. TYPE I DX: CORNEAL AB LT EYE. TYPE I

9 YOM FIREWORKS (TYPE R) EXPLODED IN FACE, BILAT EYE PAI N DX: BILAT CORNEAL ABRASION

Laceration

45YOM WATCHING FIREWORKS WHEN A ROCKET SHOT INTO FACE LACERATION FACE T YPE D

31YOM LIGHTING MORTAR TYPE FIREWORK THAT MISFIRED, THREW IT AND IT EXPL ODED IN HIS HAND/ COMPLEX LAC RT HAND (TYPE R)

48 YOM WAS HIT BY UNKNOWN (TYPE R) FIREWORK WHICH WAS FLYING AROUND. DX: FACIAL LAC/CONT, SUBCONJUNCTIVAL HEMORRHAGE, R CORNEAL ABR.

LT FOREARM LAC, 18 YOM MADE A FIREWORK OUT OF A WINE BOTTLE WHEN IT EXP LIDED

12YOF LIGHTING FIREWORKS AND ONE CAME DOWN AND HIT FACE... FACIAL LACER ATION UNKNOWN TYPE R

16YR M FIRECRACKER OF UNKNOWN TYPE BLEW UP IN PT HAND;DX HAND LACERATIO N

16YOM FIREWORKS\EXPLODED IN HANDS, FIREWORKS(NS) IN BOTTLE & EXPLODED, DX. THERMAL BURN HANDS, ABRAS, LACS ANT NECK, R UPPER EXT, R SHIN

RT THIGH LAC.22YOM PUT A SPARKLER INTO A METAL PIPE AND IT EXPLODED.TYP E L

17YOM SUSTAINED INJURY TO HAND WHEN A FIRECRACKER (TYPE R) EXPLODEDIN H IS HAND. DX - BLAST INJURY, PALMAR LAC, 5TH METACARPAL HEAD FX

A 24 YR OLD MALE STATES FIRECRACKER BLEW UP IN HIS HAND DX HAND LACERATION

34YOM C/O OF PAIN TO HAND/FACE.LIGHTING "TYPE P" FIRECRACKER. ETOH 2 06.DX LACS TO HAND/FACE LEFT BEFORE COMPLETING TREATMENT

RT EYEBROW LAC.44YOM PUT A HOMEMADE BOTTLE ROCKET INTO A PVC PIPE AND IT BLEW UP.TYPE E2.

34 YOM HIT SHARP EDGE OF BROKEN TOILET W/HAND AFTER UNKNOWN (TYPE R) FIREWORKS WERE LIT OFF. DX: R HAND LAC 2.5 CM.

15YM HOLDING FIRECRAKER BALL&WAS HITTING IT WITH HAMMER WHEN IT EXPLODE D CUTTING HAND>>LAC

51 YOM HAD A FIREWORK EXPLODE IN FRONT OF HIS EYE. DX: RUPTURED GLOBE R EYE, FACE LACS, 2ND DEG AV BLOCK, TM RUPTURE.

45YM LIGHTING UP A FIRECRACKER WHICH EXPLODED IN HIS CHEST/ARM >>LACS/ TYPE A

16 YOF FIREWORKS , TYPE NOT KNOWN HIT PT IN R EYE DX: GLOBE LAC

19YOF WAS HIT BY A FIREWORK , TYPE P, THAT WAS THROWN AT LEG AND EXPLODED, RIGHT KNEE LACERATION AND SUPERFICIAL BURN, NO FD

16YM ACC A FIRE WORK, M80 BLEW UP INTO HIS FACE, NO LOC >>EYEBROW LAC/ TYPE C

50YOM SUSTAINED A HAND LACERATION AFTER A FIRECRACKER BLEW UP IN IT TYP E A

75YOM WITH LAC TO FOREHEAD AFTER A FIREWORK FELL FROM AIR AND HIT F ACE. DX FACIAL LAC%

29YOM C/O LAC TO R PALM S/P FIREWORK ACCIDENT, LIGHTING A FIRECRACKER AND IT EXPLODED IN L HAND DX: LAC OF THE UPPER EXT, HAND

10 YO M WITH AN UNDESCRIBED TYPE OF FIREWORK THAT GOT "STUCK " IN ARM D X: LAC AND SKIN ABRASIONS

34YOM HAD A FIRE WORK ROCKET SHOOT AT HIM AND HE PUT HAND UP TO BLOCK I T LACERATION FINGER TYPE D

23 YO F INJURED HAND ON FIREWORKS TYPE R/LAC HAND

42 YOM WAS HIT BY FIREWORKS (TYPE R) WHICH EXPLODED IN FIRE AT NEIGHBOR'S. FD NS.DX: LAC L HAND, R ANKLE SPRAIN, FIREWORKS ACCIDENT.

29 YOM FIREWORKS EXPLODED IN HAND, SUSTAINED LAC BETWEEN LT THUMB & INDEX FINGER. DX LAC

Burns, thermal

44 YOF WAS HOLDING A ROMAN CANDLE WHICH EXPLODED. DX: SECOND DEG BURN L HAND.

26YOM-HAS BURNS TO 1ST/2ND FINGERS/HAND-SET OFF FIREWORKS THIS A-NOON-T YPE E1-BOTTLE ROCKETS-NO FD DX 1ST/2ND DEGREE BURNS TO FINGERS/HA

2YF WAS IN *** WHEN SUSTAINED BURN TO B/L HANDS ON FIREWORKS, MOM WANTE D FOLLOW UP>>BURN

27YOF PARTIAL THICKNESS BURN RT BREAST,SHE WAS HOLDING HER CHILD THAT HAD A LIT SPARKLER,TYPE L,CHILD DROPPED SPARKLER DOWN HER SHIRT

34 YOM BURNED FOREARM WHEN FIREWORKS EXPLODED TYPE R DX: FOREARM BURNS ----NO FD

11YOM PLACED ANOTHER FIREWORK SHELL IN TUBE CANISTER (TYPE H) WHEN PREV IOUS SHELL EXPLODED, BURNS TO 2ND DEGREE FOREHEAD, BURN EYE@

BURN TO FOREARM 26 YO F BURNED FOREARM SHOOTING FIREWORKS TYPE OF FIREWORKS NOT STATED

20 YOF RT EAR PAIN. LARGER FIREWORK SET OFF AND FELL OVER AND SHOT OUT SPARKS. DX: RT OUTER EAR BURN, TYPE R FIREWORK

22M WF GRABBED A SPARKLER HAS BURN TO FINGERS TYPE L SECOND DEGREE BURN MULTIPLE FINGERS, 1ST DEGREE BURN THUMB

3YOM WITH BURN TO NECK AFTER IT WAS TOUCHED WITH A SPARKLER FIREWORK (T YPE L)

RT INDEX FINGER BURN.8YOM PICKED UP A SPARKLER AND IT BURNED FINGER.TYP E L

11YOM CHEEK BURN WHEN BOTTLE ROCKET FIREWORK TYPE E1 HIT LEFT CHEEK

25 YOM MADE A HOMEMADE FIREWORK (TYPE N) WHICH EXPLODED. DX: FACIAL BURN, UPPER EXTREMITY BURN.

2YOF INJ.RT.2,3,4, FINGERS AT HOME LAST NIGHT WHEN GRABBED A HOT - TYPE L SPARKLER. DX; 1ST. & 2ND.DEG. BURNS RT 2,3,4, FINGERS.

50YOF FIREWORK FELL OVER BEFORE GOING OFF A PIECE OF ARTILLERY SHELL LA NDED ON BETW FOOT AND SHOE THERMAL BURN FOOT TYPE R

45 YOM WAS TRYING TO PUT OUT A FIRE FROM FIREWORK (TYPE R UNKNOWN) W/ HIS HAND LAST PM. DX: PT BURN R HAND.

16 YO MALE AT A BLOCK PARTY AND A FIRECRACKER, TYPE P WENT UP PTS SHIRT AND BURNED CHEST. DX BURN

15 YWM BURNED HAND ON A SPARKLER AT HOME TYPE L 2ND DEGREE BURN TO RT HAND

19MOM-FOOT BURN W/ INFECTION-STEPPED ON A LIT SPARKLER-1 WEEK PTA-AREA BECAME INFECTED-TYPE L

26 Y O M BURN HAND HOLDING A LIT FIREWORK WHILE INTOXICATED

48YOM WITH FACIAL BURN FROM FIRE WORK EXPLOS. DX: BURN TO FACE NO FIRE DEPT ON SCEEN

3YOF HAD SPARKLER ASH GO DOWN BACK OF SHIRT 2ND DEGREE BURN OF BACK

13YOM PLAYING W/ FIREWORKS TYPE E AND BURNED HAND; THERMAL HAND BURN

18YOM HAD HOMEMADE SPARKLERS EXPLODE IN HAND WHEN LIGHTING IT. WAS BUND LE OF SPARKLERS WRAPPED W/ MECHANICAL TAPE.TYPE L. DX:BURNS TO FINGERS

35YOM WITH BURNS AFTER LIGHTING 25 SPARKLERS (TYPE L) CAUSED EXPLOSION LIGHTINGTHEM ALL DX BURN OF HAND LEFT AND RIGHT **

12YOM LIGHTING A FIRECRACKER AND IT WERNT OFF IN HAND THERMAL BURN TO H AND TYPE A

26 YO F INJURED HAND WITH FIRE CRACKER TYPE R/BURN HAND

6 YOM FIREWORKS, KIND NOT KNOWN HIT PT IN NECK DX: 2ND DEGREE BURN TYPE R

3 YOF WAS BURNED BY FIREWORKS (TYPE R UNKNOWN) GOING OFF ALL AROUND HER. DX: FACIAL LACS, SOFT TISSUE AVULSION, SUPERF BURNS R EAR & FOOT

22MOF BURNED HAND ON A SPARKLER (TYPE L)/ 1ST AND 2ND DEGREE BURN RT HA ND

11 YOM ATTEMPTING TO SET OFF A FIREWORK BOMB WHEN IT EXPLODED IN HIS HA ND. TYPE K. DX: BURN FINGER.

7YOF RUNNING WHILE BAREFOOT, STEPPED ON TYPE L SPARKLER EMBER; BURN TO TOE

DX L PALM PARTIAL THICKNESS BURN: 24YOM W BURNING SPARKLES W THEY IGINI TED IN R HAND CAUSING BURNS TO PALMAR FINGER & PALM (TYPE L)

24 YOF HAD FIREWORK (TYPE R) GOT OFF NEAR FACE WHILE SITTING ON PORCH. DX: FACIAL BURN.

14YOM SUSTAINED A THERMAL BURN TO LOWER LEG AFTER BEING HIT WITH A FIRE WORK TYPE K

21YOF WAS AT FIREWORKS THIS EVENING AT *** AND FEELS LIKE SHE GOTA FIRE WORK IN HER EYE DX: 1ST DEGREE BURN EYE TYPE R

10 YOM PLAYING WITH SPARKLERS 6 DAYS AGO WHEN A SPARK FELL DOWN INTO HI S SHOE. TYPE L. DX: BURN ANKLE.

13YOF WITH SIBLING PLAYING WITH TYPE L SPARKLER FIREWORKS, ACCIDENTALLY LIT A TARP ON FIRE AT HOME, TRIED TO PUT OUT W/HAND; HAND BRN, NO FD

28 YY/O FEMALE WAS GOING TO SET OFF FIREWORKS WHEN FUSE BURNED HER LEFT FINGERS DX 2ND DEGREE BURN TO INDEX & MIDDLE FINGERS

12 YR OLD MALE HOLDING JUMPING JACK FIREWORK AND HAND CAUGHT A SPARK,TH REW IT ON FLOOR AND BURNED HAND,TYPE K, FD??

6YOM STEPPED ON SPARKLER AND BURNED FOOT TYPE L

18YOM HAD A M 80 FIRE WORK BLOW UP IN HIS HAND/ BURN MULT FINGERS RT HA ND ( TYPE C FIREWORK)

12YOF PRESENTS W/ BURN TO ABD DUE TO A FIRECRACKER, TYPE P DX BURN TO A BD 5%TBSA

39YOM HAD A SMOKE BOMB GO OFF IN LEFT HAND, LEFT HAND AND FINGERS BURN, SMOKE BOMB TYPE K , NO FIRE DEPARTMENT

13YOF BURNED THUMB ON A SPARKLER, TYPE L, THAT SHE WAS HOLDING, LEFT THUMB 1ST DEGREE BURN, NO FD

6YR M HIT BY TYPE E1 FIREWORK, BOTTLEROCKET;DX BURN TO CHEST & UPPER AR M

9 YOM HOLDING A FIREWORK BOMB AND IT WENT OFF. TYPE K. DX: BURN FINGE RS.

37YOF WITH BURNS TO UPPER LEGS FROM FIREWORKS TYPE R THAT ENTERED THECR OWD

45YOM BURNED HAND WHILE LIGHTING SPARKLERS TYPE L

35YOF WITH BURN TO L FINGERS WHILE HOLDING A "WHISTLER" FIRECRACKER, TY PE P. DX BURNS TO FINGERS%

14 YOM ROMAN CANDLE EXPLODED IN HIS HAND. TYPE I DX: BURN HAND.

36YOF FIREWORKS BURN LT LEG/THIGH, HIT BY ROGUE FIREWORKS-4 DAYS AGOSWE LLING/ERYTHEMA DX: 2ND DEGREE BURN LEG, CELLULITIS TYPE R

3YOF BURNED LEFT CHEEK WITH SPARKLER (TYPE L) 2ND DEGREE BURN OF FACE

6YOM BURNED HAND ON SPARKLERS. BURN - SECOND DEGREE LEFT HAND*

12 YO M STABILIZED AND TRANSFERRED TO ANOTHER FACILITY AFTER COMING INT O CONTACT WITH A "SMIKE BOMB" FACIAL/CHEST THERMAL BURNS

19MO MALE W/ FINGER BURN. 1 WK AGO CHILD REACHED OUT FOR "LIGHTED SMOKE BOMB TYPE OBJECT" & BURNED FINGER. WORSENING BURN. NOT FDA. DX:BURN.

26 YOM FIREWORKS POWDER IN ASHTRAY, PT PUT A CIGARETTE TO IT DX: 2ND DEGREE BURN TO R HAND

3YOF PLAYING WITH SPARKLERS AT HOME AND SUSTAINED A THERMAL BURN TO CHE ST

23 YOM WAS LIGHTING MORTAR FIREWORK WHICH EXPLODED IN HIS HAND. DX: BURN/LAC HAND, BLAST INJURY HAND, CORNEAL FB/ULCER, ETOH INTOX.

PT WAS BENT OVER PICKING UP WOOD ANOTHER PERSON LIT FIREWORKS AND IT TU RNED OVER AND HIT PT IN UPPER LEG2 DEGREE BURN LEG 39YOM

31YO M WAS INEBRIATED & STRUCK A SPINING SPARKLER IN HIS PANTS. WOKE UP NEXT MORNING W/ BURNED PANTS & PENIS PAIN. DX: BURN, GENITALS.

22YOF AT HOME LIT A FIRECRACKER AND HELD ONTO IT TO LONG IT BLOW UP IN L HAND/ DX L WRIST BURNS NO FD

44YOM WITH BURNS TO FACE AFTER A FIRECRACKER WENT OFF IN HIS EYE.+SWELL ING TO L EYE. DX 2ND DEGREE BURNS TO FACE%

7 YOM HAND BURN WHEN HOLDING TYPE L SPARKLER FIREWORKS

17YOF WAS STANDING NEXT TO FIREWORKS (TYPE R) WHICH WERE BIGGER THAN SHE THOUGHT & WAS BURNED. DX: BURNS R HAND/WRIST/ARM/SHOULDER/NECK

38YOF BURNED RT THUMB WHILE LIGHTING A SPARKLER TYPE L

17MO F PT SITTING IN MOMS LAP ON PORCH WHEN TYPE P FIREWORK LANDED ON T HEM;DX LEG BURN

A 32YOF WAS AT A FAMILY FUNCTION WHEN FIREWORK FELL OVER AND SHOT AT HE R, HIT TO BREAST WITH FIREWORK, BURN - TYPE R

PT WAS HIT IN FACE BY SPARKS FROM A TYPE A FIRECRACKER EXPLOSION. 1ST DEGREE BURN, FACE. 4 YOF*

39YOF PT PRESENTS TO ER C/O BURN R HAND ON FIREWORKS AT HOME.TYPE R/1S T DEG BURN TO R HAND - SPECIFIC FIREWORKS NOT STATED

3YOM 2ND DEGREE BURN TO FOOT STEPPED ON A HOT SPARKLER ( TYPE L)

5 YO M PLAYING WITH FIREWORKS HAD FIRECRAKER EXPLODE IN FACE DX: THERMA L BURN TO FACE - FIREWORK TYPE UNKNOWN

8YOM WITH BURNS TO FINGER FROM LIGHTING A SPARKLER TYPE L

BURNED BY FIREWORKS. (FIREWORK--AERIAL BURST SHELL). 2ND DEGREE BURN WRIST, LEFT. 24 YOF*

47 Y/O MALE WAS SETTING OF FIRECRACKERS WHILE INTOXICATED ONE HIT HIM IN UPPER LEG AT HOME TYPE P DX 2ND DEGREE BURN TO LEFT THIGH

23YOF WAS HOLDING FIREWORKS IN HAND WHEN IT WENT EXPLODED, 2ND DEGREE BURN TO LEFT HAND, NO FD

54YOM HAD SHELL FIREWORK EXPLODE IN HAND DX 2ND DEGREE BURN HAND

66YOM WAS WATCHING FIREWORKS WHEN A ROCKET WENT SIDE WAYS INTO THE CROW D STRUCK IN THE CHEST THERMAL BURN TO CHEST TYPE R

67 YO MALE PREPARING FIREWORKS FOR EVENT AND BLACK POWEDER BLEW UP IN F ACE THERMAL BURNS TO FACE TYPE R

7YOF WITH BURN TO UPPER ARM AFTER A FIREWORK LANDED IN THEIR SEATING AR EA AND WENT OFF. 3RD DEGREE BURN. TYPE R FIREWORK

9 YOM BOTTLE ROCKET WHEN OFF IN HIS HAND. TYPE E1. DX: BURN FINGER.

15 YOM WAS SITTING WATCHING FIREWORKS AT NEIGHBOR'S WHEN UNKNOWN (TYPE R) ONE HIT HIM. DX: FIRST DEG BURN R HAND, CONT.

12 YOM WAS BYSTANDER WHEN UNKNOWN (TYPE R) FIREWORK EXPLODED. DX: SECOND DEG BURN CHEST, FACE AND HAND.

27YOF BURNED RIGHT THUMB ON SPARKLER WAS LIGHTING WITH CIGARETTE LIGHTE R TYPE L FIREWORK HAD BEEN DRINKING 5 GLASSES OF ETOH

24 YOF WAS HOLDING SPARKLERS TYPE L; THEY EXPLODED BURNING HANDS DX: B URNS HAND

2 YOM PATIENT WAS PLAYING OUTSIDE IN THE YARD YESTERDAY AND DID PLAY WI TH FIREWORKS. TYPE R DX: BURN ANKLE.

10MOF WAS IN STROLLER IN DIAPER ONLY WHEN FATHER INADVERTENTLY TOSSEDA FIREWORK TYPE R INTO INTO STROLLER SUSTAINING THERMAL BURN TO BACK

9 YOM STATES BLACKCAT FIREWORKS WENT OFF IN HAND TYPE R DX: BURNS TO H AND-----------NO FD

18YOM MAKING A SMOKE BOMB AND IT EXPLODED. ( TYPE N)/ 2ND DEGREE BURN F INGER AND THUMB

18 YOM LIGHTING MORTAR FIREWORKS & THROWING THEM OUT SUNROOF IN CAR. ONE LANDED IN PT'S LAP CATCHING SHIRT ON FIRE.FD NS.DX:BURNS HANDS,BACK

23YOM W/BURNS FACE,ARMS,HANDS & THIGH(8%TBSA)2/2 MOVING FIREWORK FUSES OUTSIDE THRIFT SHOP,FUSES IGNITED,SHIRT CAUGHT ON FIRE.FD PRESENT.+THC.

14YOM FULL THICKNESS BURNS TO HAND OPEND A ROCKET MOTOR& WAS TOUCHING T HE POWDER IN THE ROCKET & IT EXPLODED IN HIS HAND

A 25YOM BURNED HAND WHILE LIGHTING SPARKLERS, TYPE L

16YOM @ FRNDS WHO HAD LOTS OF FIREWRX PUT FIREWRX 2GETHER THT WLD SPIN& XPLODE TYPE N PT RUNNING WHN IT XPLODED BURNED LEG PENIS D BURNS PENIS

42YOF BURNED THUMB WHILE LIGHTING A SPARKLER DX: 2ND DEGREE BURN THUMB. TYPE L

4 YOM WAS PLAYING W/SPARKLER (TYPE L) WHEN A PIECE WENT INTO EYE. DX: FIRST DEG BURN R EYE.

35YOF WITH BURN TO THIGH AFTER *** SHELL EXPLODED 100 FEET AWAY.SECOND DEGREE BURN. FIREWORK TYPE H

37 YOM WAS STANDING OVER A MORTAR (TYPE R) DX: CONT OF SCROTUM, BURN OF GENITALIA.

13 YO M THERMAL BURN TO HAND FROM NON SPEC TYPE OF FIREWORKS

18 YOM WAS HOLDING TUBE & MORTAR ROUND (TYPE H) WAS PUT IN UPSIDE DOWN & EXPLODED IN TUBE. DX: BILAT HAND BURNS.

4 YOM BURN TO L ELBOW FROM FIREWORKS (NOT STATED) DX: 2ND DEGREE BURN TYPE R

5YOM WATCHING FIREWORKS TYPE R AT HOME WHEN ONE MISFIRED AND HIT PATIEN T INTHE KNEE AREA ON BOTH LEGS, FIRE DEPARTMENT ON SCENE; KNEE BURNS

4YOF-FOOT BURN-STEPPED ON A HOT FIRECRACKER-@ GRANDMA'S HOUSE-TYPE A

28YOM WALKING DOWN STAIRS,BAG OF TYPE R F/W EXPLODED IN FRONT OF PT;BUR NIN B/L LE./HANDS/ BLISTERS RT ANKLE/SHIN DX:1ST/2ND DEGREE BURN,MULTI

27YOF BURNED ON THUMB WHEN SHE TRIED TO EXTINGUISH LIT FIRECRACKER, TYP E P. FIRECRACKER DID NOT EXPLODE DX BURN FINGER PAIN **

14 YOM PLAYING WITH BOTTLE ROCKETS 5 DAYS AGO WHEN ONE EXPLODED IN AIR. TYPE E1. DX: BURN EYELID.

5YM ACC STEPPED ON SPAKLER/?FIRE WORK BURNING FOOT >>BURN

14 YO MALE BURNED FINGER ON FIREWORKS. DX BURN

23 YOM BURN TO R HAND ON FIREWORKS (TYPE R) DX: HAND BURN

33 YR OLD MALE GOT GUN POWDER FROM FIREWORKS ON HANDS THEN LIT CIGARETT E AND FLAMES SHOT UP BURNING HANDS AND FACE,UNK IF FIRE DEPT

15YOF BURNED RT FOREARM ON FIREWORK

+ 2 YOM BURNED RT LOWER PART OF LOWER JAW WITH SPARKLER LAST NIGHT DX FACIAL BURN

=15 YOM BURNED HAND W/SPARKLER, FLAME PORTION LANDED ON HAND. DX. SECOND DEGREE BURN HAND

A 60 YR OLD FE BURNED PALM OF HAND ON A FIREWORK WHEN IT ACCIDENTALLY W ENT OFF IN HER HAND DX 2ND BURN

9 YO MALE LIT A SPARKLER IN HOUSE AND SHIRT CAUGHT ON FIRE. DX BURN, C HEST NO FD

9YOM BURNED LT 2ND DIGIT WITH SPARKLER TYPE L

27YM ACC BURNT THE FINGER TIPS OF LT HAND WHILE PLAYING WITH FIREWORKS, SPARKLERS>>HAND BURN, TYPE A

2 Y/O M GRABBED A LIT SPARKLER WHILE AT HOME. HAS A SMALL BURN.-TYPE L DX 2ND DEGREE BURN R HAND

33YOM LIT A PACK OF SPARKLER, TYPE L, AND THEY BURNED HAND, LEFT HAND AND FINGERS 2ND DEGREE BURNS, NO FD

12 YOM LIGHTING A ROMAN CANDLE WHEN IT EXPLODED IN HIS HAND. TYPE I. DX: BURN HAND.

7 YO MALE PLAYING WITH FRIENDS AND FIRECRACKERS (TYPE P) AND ONE WENT O FF AND BURNED PTS FACE

11YOF SUSTAINED INJURY TO INNER THIGH WHEN A FIREWORK TYPE R WAS SET O FF &FLEW TOWARD HER, LANDED ON INNER THIGH, BURNED THROUGH JEANS

22YOF AT COTTAGE HAD A SPARK FROM FIREWORK HIT HER IN L CHEEK/ DX THERMAL BURN L CHEEK NO FD TYPE R

DX 2ND DEG BURN, UNSP SITE: 23YOM SUS BURN TO R LAT FOOT F FIREWORK, 2D 4CM IN DIA & POEN. TYPE R

48YOF LIGHTING FIREWORKS W A LIGHTER AND BURNED THUMB ...2ND DEGREE BU RN TO THUMB. UNKNOWN TYPE

10 YOM HAD A FIRECRACKER, TYPE A, EXPLODE , FLY UP & HIT HIM IN THE FACE, BELOW HIS EYE- BLURRY VISION.DX; RT. CHEEK BURN, RT CORNEAL EDEMA

14 YOM LIT A BOX OF FIREWORKS WHICH HAD BEEN SPRAYED W/SPRAY PAINT. FD NS. DX: 1ST/2ND DEG BURN FACE.

FIREWORK WENT OFF WHILE PATIENT WAS LIGHTING AND BURNED THUMB 2ND DEG REE BURN FINGER 37YOM

2YOF SMALL 2ND DEGREE BURNS TO THUMB & INDEX FINGER PICKED UP A BURING SPARKLER OUTSIDE

12 YOM WAS WATCHING FIREWORKS IN NEIGHBOR'S YARD; HE WAS AT HOME. BOTTL E ROCKET HIT HIM; BURN, RT. ANKLE. FIRE; NO FD TYPE (E-1)

15MOF WITH BURNS TO R HAND FINGERS WHILE GRABBING A SPARKLERS FIREWORK, TYPE L. 1ST, 2ND AND 3RD DIGITS. DX BURNS TO FINGERS%

6 YOM HAD FIREWORKS (TYPE R) GO OFF OF FOOT WEARING ***. DX: BURN R FO OT FIRST DEGREE.

4YOM HURT EYE GOT HIT WITH SPARKLER FIREWORK DX: BURN TO CORNEA TYPE SPARKLER TYPE L

12YOM HIT IN EYE BY BOTTLE ROCKET (TYPE E1)/ BURN INJURY RT EYE

A 2YOF BURNED HAND ON FIREWORK, TYPE R

6 Y/O BF WAS SHOOTING BOTTLE ROCKETS AND ONE EXPLODED IN FACE FIRE DEPT DID NOT ATTEND TYPE E1

13YOM BURN FACE/ EYE FROM ROMAN CANDLE TYPE I

3 YOM, BURN,TRUCK BY FIRECRACKER WHILE WATCHING DISPLAY DX: 2ND DEGREE BURN FACE, THUMB TYPE P FIREWORK

A 5YOM WAS HIT BY "MOBILE ROCKETS" FIREWORK THAT FELL OVER AND WENT TOW ARD PT, BURN TO THIGH, SHOULDER, ARM, TYPE E

27 YOM BLEW UP 6LBS OF COPPER THERMITE WHILE MAKING HOMEMADE FIREWORKS. (TYPE N) DX: EXTENSIVE PT BURNS FACE, TORSO, BILAT UPPER EXTREMITIES.

4YOF BURNED FOOT ON SPARKLER TYPE L

5YM GOT BURN FROM SPRAKLER/FIREWORK TO THE FOOT/TOE >>BURN/ TYPE R

24 YR OLD FEMALE LIGHTING FIREWORKS OFF ROOF DECK WHEN ONE EXPLODED BUR NING LOWER LEG,UNK TYPE

36YOM WAS BURNED BY A FIREWORK ON 7/4 DX: BURN LT LOWER LEG TYPE R

16YOF WITH BURN TO FACE AFTER A SPARKLER FIREWORK IGNITED THE HAIRSPRAY IN HER HEAR. TYPE L

5YR M LIT "***" TO A SMOKE BOMB, AND THEN FELL ONTO IT;DX CORNEAL BURN

Other/Not Stated

7YOF BUG BITES AFTER BEING OUTSIDE WATCHING FIREWORKS DX: INSECT BITES FOREHEAD - TYPE R FIREWORKS

13 YOF GRABBED AN OLD FIREWORK FROM CABINET AND LIT IT, THE FIREWORK EXPLODED IN PT'S RIGHT HAND CAUSING BLAST INJURY

12 YOM BIBA WITH DAD WHO STATES THAT AN M80 FIRECRACKER EXPLODED IN HIS RT HAND. DX HAND TRAUMA%

31YOF C/O R EAR PAIN AFTER FIREWORKS LAST NIGHT, POPPING CAUSED EAR PX TYPER R DX: TINNITUS, EAR PAIN, EUSTACHIAN TUBE DYSFUNCTION

3YOF LT EAR PAIN AFTER FIREWORKS WENT OFFDX: OTITIS EXTERNA TYPE R EA R INFECTION

28 YR OLD MALE PLAYING BASKETBALL WHEN FIREWORKS WERE SET OFF WITH BILA TERAL HEARING LOSS

PAIN LOW TRUNK 48YOM PICKED UP FIREWORKS DX: BACK PAIN

MINOR L EYE INJ/11YOM WHILE AT FAIR 1 HR AGO THINKS HE MAY HAVE GOTTEN HOT PIECE OF ASH FROM FIREWORKS IN L EYE. NO BURN OR TRAUMA.

53YO M WAS WATCHING FIREWORKS WITH HIS FAMILY ON ROOF OF HOUSE WHEN HE FELL 7 FEET OFF ROOF LANDING ON BACK SIDE. TYPE R. DX: LOW BACK PAIN.

33 YO MALE EXPLOSIVE INJURY TO LEFT HAND 1ST, 2ND, AND 3RD DIGIT FROM F OREWORKS DX EXPLOSIVE INJURY TYPE R

5 YOF, PLAYING WITH SPARKLERS, HAD PAIN, REDNEES & SOME DRAINAGE FROM E YE, ALSO HEADACHE LWBS TYPE L FIREWORK

16 YOM SUSTAINED A ROMAN CANDLE (TYPE I) PROJECTILE TO HIS EYE. DX: R EYE INJURY, FIREWORKS INJURY.

25YOF THINKS SHE GOT FIREWORKS DEBRIS IN EYE ON THE 3RD NOTICED PINK IN EYE TYPE R

45YOF WITH PAIN TO UPPER TRUNK AFTER BEING SHOT BY FIREWORKS ON JULY 3R D. CONTINUES WITH PAIN

8YOM WITH EARACHE AFTER ARTILLARY SHELL OF UNKN TYPE EXPLODED NEAR HIM. DX EXPLOSIVE ACOUSTIC TRAUMA TO EAR.

11YOF HAD A FIRE CRACKER GO OFF RIGHT BY EAR HAVING TINNITUS EAR PAIN T YPE A

FATHER WAS LIGHTING A FIREBALL ,CHILD 30 FT AWAY. FIREBALL WENT EVERYWH ER HIT PT IN THE EYE RUPTURE EYE 11YOM

15YOF SITTING IN GRASS WATCHING TYPE M FIREWORKS, INSECT BITE ON THIGH, GOT HOME & HAD REDNESS, ITCHING; INSECT BITE/INFECTION

72 YOF WAS EXPOSED TO FIREWORKS (TYPE R UNKNOWN) SMOKE ON THE FOURTH OF JULY. DX: CHEST PX, ASTHMA EXAC, SOB, HYPOXIA, L RIB PX.

59 YOF DEVELOPED ACUTE OTITIS EXTERNA TO BILAT. EARS S/P PLUGGING BILAT . EARS W/ COTTON BALLS 3 NIGHTS AGO BECAUSE OF FIREWORK NOISE-TYPE R.*

6 YOM FAMILY WAS PUTTING OFF FIREWORKS, ONE FELL OVER AND BEGAN SHOOTIN G AROUND, PT. RAN AND FELL OFF LEDGE ONTO CONCRETE. TYPE R. DX: FALL

DX INJ TO R THIGH F FIREWORKS: 30YOM FIREWORK MORTAR VS. R THIGH YTDY. SEEN AT *** TOLD TO F/U HERE TODAY. TYPE R

6YOM EYE INJURY WHEN WATCHING LOCAL FIREWORK DISPLAY POSSIBLE ASH IN EY E TYPE R

32YOF STOOD ON HER FEET FOR 130 HOURS IN THE LAST WEEK SELLING FIREWORK S C/O BILAT FOOT PAIN TYPE R

19 YOM WAS THROWING A DUD SPARKLER BOMB (TYPE L) INTO A FIRE WHEN IT EXPLODED. FD NS. DX: BLAST INJURY L HAND, LAC, BLOOD BLISTERS.

27 YOF LOOKING UP @ (TYPE R)FIREWORKS WHEN FALLING DEBRIS CONTACTED LT EYE C/P LT EYE BURNING. DX LT EYE INJURY

A 20YOM WAS AT FIREWORKS DEMONSTRATION WHEN FIREWORK WENT AWRY AND HIT PTS EYE, DX BLUNT TRAUMA TO EYE, TYPE R

43 YO FEMALE FOOT PAIN, SLIPPED WHILE AT FIREWORKS. DX LEFT WITHOUT BE ING SEEN. UNKNOWN FIREWORK TYPE